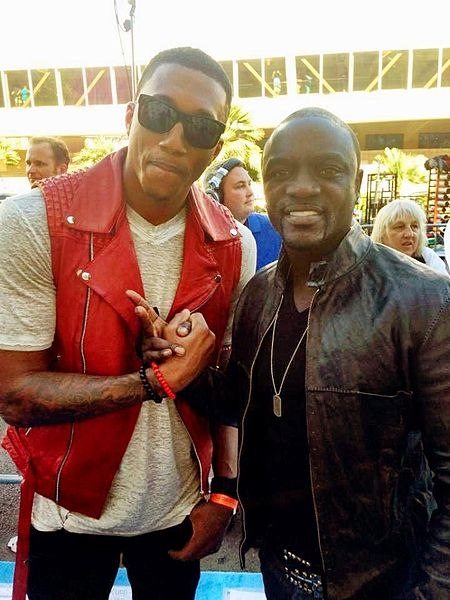 -Lecrae (left) and Akon (right) at the 2013 Billboard Music Awards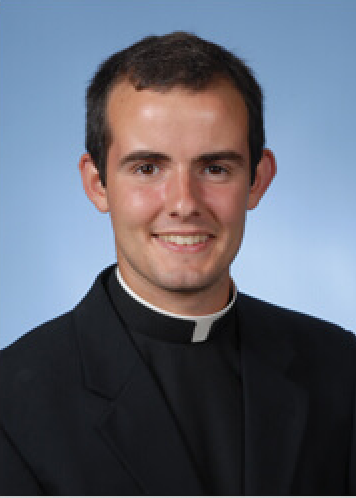 -by Fr. Joseph Gill
"Lecrae Moore grew up on the wrong side of the tracks. Single mom, drug abuse, the gangsta lifestyle – the whole nine yards. He was headed down a path to nowhere when two unexpected doses of mercy brought him a whole new life.
He had just been arrested for dealing drugs and was sitting in the back of a police car, waiting to be hauled off to jail, while the officer was searching his car for more drugs. After a minute, the officer came back, holding a Bible. The officer asked why the Bible was in this drug dealer's car.
Lecrae admitted that it was just a good-luck charm that he got from his devout grandmother, and said, "Yeah, I need to start living by it."
The office responded, "If you promise me you will start reading your Bible and start living it, I'll let you go."
Lecrae was stunned – he quickly agreed, and the officer let him go.
But change didn't happen all of a sudden. He still struggled with his own wounds and addictions and sins. He was reading his Bible, but then would go out and party and deal drugs and hook up with women. It took one more act of mercy to change his heart…
He happened to be invited by a friend to go to a Christian retreat, where God's grace touched his heart. From the depths of his soul, he prayed, "God, if You are real, get me out of this [sinful lifestyle] – do whatever You need to do, but don't kill me." A short while later, he was driving down the highway and lost control of his car, which flipped and got totally destroyed. He was wearing no seatbelt, but somehow emerged from that wreck completely unscathed. This was the (rather abrupt!) answer to his prayer, and he completely changed his life and gave it fully to Christ. Two acts of mercy – one from the police officer, and one directly from God – made him one of the best Christian rap artists in the world: multi-platinum, Grammy-winning, a powerful force for Christ.
Aquinas defined "justice" as giving to each one what we owe them. But mercy can be defined as giving someone what we do not owe them. A second chance, forgiveness with no strings attached, an undeserved kindness, a surprise gift. We are not owed these things – but they are small mercies that can change the entire trajectory of a life.
In fact, mercy can change the entire trajectory of the world. Ever since Genesis, the world needed a re-start, a do-over. And the Resurrection is that re-start. Notice what John says – "On the first day of the week…" What happened on the first day of the week? Creation began. Now on this "first day", we see a New Creation. No longer do we see a mortal man in Adam, now we see an immortal and glorified Man in Jesus. When He encounters His disciples, how does He greet them? "Peace" – in Hebrew, "Shalom". Shalom means far more than just peace – it means wholeness, completeness, right order. After all the disorder that we introduced into the world through sin, on Easter Sunday Christ comes to put it back in order, to undo the chaos, sin, and death. Act 1 of human history, an act written as a tragedy, is over. Act 2 has now begun, an act written by mercy.
Mercy is what allows us to participate in Act 2. Mercy doesn't mean that our sins don't matter; it means that our sins matter, and they are forgiven. I have found, as a priest, that people have one of two reactions when I talk about sin and mercy. Some people think their sins are too big, too horrible to be forgiven, and they fear approaching Jesus out of shame. Other people think they don't sin at all – they say they are "pretty good people". But both are errors to avoid. As Jesus revealed to St. Faustina, "The greater the sinner, the greater the right they have to My Mercy" – we put limits on God's power if we don't believe He can forgive our sins!
At the same time, St. John writes, "If we say we are without sin, we are a liar" for "all have sinned and are deprived of the glory of God." In fact, it says in Scripture that "the righteous man sins seven times a day." And that's a good man! Sin isn't just the breaking of a rule, but falling-short of the standard of living like Christ. And none of us live like Him perfectly. We're not as holy as we should be. So mercy is for all of us – people with huge sins, and people with daily faults who strive to be more like Jesus. That is why all of us should go to Confession, monthly if you can. Don't wait until next Lent!
But to accept the mercy of God requires two things. First, once we have become a new creation through His mercy, we must live like we are a new creation. Mercy is not a license to sin. Sometimes we think, "Oh, I'll commit this sin, and I'll just go to Confession on Saturday." My friends, that is the sin of presumption – presuming that God will give you the grace of forgiveness. No, if we wish to have mercy, we must "go and sin no more," as Our Lord told the adulterous woman.
Second, we must extend that mercy to others. In the famous book Les Miserables, the homeless ex-criminal Jean Valjean was given lodging at the home of a bishop. He repaid such a kindness by stealing the bishop's silverware. When police caught him, the bishop pretends that he gave him the silverware, and tells him to take the silver candlesticks he "forgot". Moved by such an undeserved mercy, Jean Valjean becomes an honest man and uses his life to help others.
God wants mercy to come to others through us. Notice that in the Gospels He gives His Apostles (the first bishops) the power to forgive sins. He could have made it so that we pray to God directly for forgiveness, but He wants mercy to flow through human beings. That is true, not only in Confession, but also in the daily mercy that we show to others. We hold our tongue and don't criticize our spouse for their small faults; we don't get back at our siblings who offended us; we assume the best of others, even if they don't deserve it. A great way to give mercy is to perform the "Works of Mercy" – feeding the hungry, sheltering the homeless, and the like. Daily we have the opportunity to show mercy to those around us.
How many times have we received mercies undeserved? Too many to count – especially the confidence that all our sins are forgiven, every time we walk out of the Confessional. Mercy has turned the page, and given us a second chance. We have received it – now we must give it."
Love, Lord, have mercy on me, a sinner,
Matthew