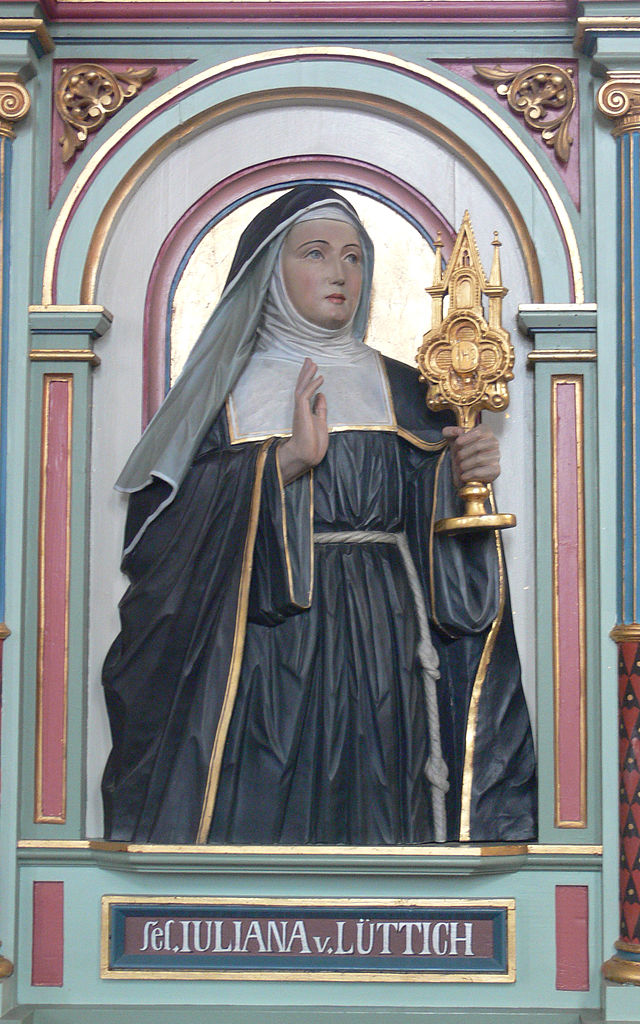 On Wednesday, 17 November [2010], at the General Audience in St Peter's Square, the Holy Father Pope Benedict XVI commented on St Juliana of Cornillon, better known as Juliana of Liege, who lived in the 12th century. The following is a translation of the Pope's Catechesis, which was given in Italian.
Dear Brothers and Sisters,
This morning too I would like to introduce a female figure to you. She is little known but the Church is deeply indebted to her, not only because of the holiness of her life but also because, with her great fervour, she contributed to the institution of one of the most important solemn Liturgies of the year: Corpus Christi.
She is St Juliana de Cornillon, also known as St Juliana of Liège. We know several facts about her life, mainly from a Biography that was probably written by a contemporary cleric; it is a collection of various testimonies of people who were directly acquainted with the Saint.
Juliana was born near Liège, Belgium between 1191 and 1192. It is important to emphasize this place because at that time the Diocese of Liège was, so to speak, a true "Eucharistic Upper Room". Before Juliana, eminent theologians had illustrated the supreme value of the Sacrament of the Eucharist and, again in Liège, there were groups of women generously dedicated to Eucharistic worship and to fervent communion. Guided by exemplary priests, they lived together, devoting themselves to prayer and to charitable works.
Orphaned at the age of five, Juliana, together with her sister Agnes, was entrusted to the care of the Augustinian nuns at the convent and leprosarium of Mont-Cornillon.
She was taught mainly by a sister called "Sapienza" [wisdom], who was in charge of her spiritual development to the time Juliana received the religious habit and thus became an Augustinian nun.
She became so learned that she could read the words of the Church Fathers, of St Augustine and St Bernard in particular, in Latin. In addition to a keen intelligence, Juliana showed a special propensity for contemplation from the outset. She had a profound sense of Christ's presence, which she experienced by living the Sacrament of the Eucharist especially intensely and by pausing frequently to meditate upon Jesus' words: "And lo, I am with you always, to the close of the age" (Mt 28:20).
When Juliana was 16 she had her first vision which recurred subsequently several times during her Eucharistic adoration. Her vision presented the moon in its full splendour, crossed diametrically by a dark stripe. The Lord made her understand the meaning of what had appeared to her. The moon symbolized the life of the Church on earth, the opaque line, on the other hand, represented the absence of a liturgical feast for whose institution Juliana was asked to plead effectively: namely, a feast in which believers would be able to adore the Eucharist so as to increase in faith, to advance in the practice of the virtues and to make reparation for offences to the Most Holy Sacrament.
Juliana, who in the meantime had become Prioress of the convent, kept this revelation that had filled her heart with joy a secret for about 20 years. She then confided it to two other fervent adorers of the Eucharist, Blessed Eva, who lived as a hermit, and Isabella, who had joined her at the Monastery of Mont-Cornillon. The three women established a sort of "spiritual alliance" for the purpose of glorifying the Most Holy Sacrament.
They also chose to involve a highly regarded Priest, John of Lausanne, who was a canon of the Church of St Martin in Liège. They asked him to consult theologians and clerics on what was important to them. Their affirmative response was encouraging.
What happened to Juliana of Cornillon occurs frequently in the lives of Saints. To have confirmation that an inspiration comes from God it is always necessary to be immersed in prayer to wait patiently, to seek friendship and exchanges with other good souls and to submit all things to the judgement of the Pastors of the Church.
It was in fact Bishop Robert Torote, Liège who, after initial hesitation, accepted the proposal of Juliana and her companions and first introduced the Solemnity of Corpus Christi in his diocese. Later other Bishops following his example instituted this Feast in the territories entrusted to their pastoral care.
However, to increase their faith the Lord often asks Saints to sustain trials. This also happened to Juliana who had to bear the harsh opposition of certain members of the clergy and even of the superior on whom her monastery depended.
Of her own free will, therefore, Juliana left the Convent of Mont-Cornillon with several companions. For 10 years — from 1248 to 1258 —she stayed as a guest at various monasteries of Cistercian sisters.
She edified all with her humility, she had no words of criticism or reproach for her adversaries and continued zealously to spread Eucharistic worship.
She died at Fosses-La-Ville, Belgium, in 1258. In the cell where she lay the Blessed Sacrament was exposed and, according to her biographer's account, Juliana died contemplating with a last effusion to love Jesus in the Eucharist whom she had always loved, honoured and adored. Jacques Pantaléon of Troyes was also won over to the good cause of the Feast of Corpus Christi during his ministry as Archdeacon in Lièges. It was he who, having become Pope with the name of Urban IV in 1264, instituted the Solemnity of Corpus Christi on the Thursday after Pentecost as a feast of precept for the universal Church.
In the Bull of its institution, entitled Transiturus de hoc mundo, (11 Aug. 1264), Pope Urban even referred discreetly to Juliana's mystical experiences, corroborating their authenticity. He wrote: "Although the Eucharist is celebrated solemnly every day, we deem it fitting that at least once a year it be celebrated with greater honour and a solemn commemoration.
"Indeed we grasp the other things we commemorate with our spirit and our mind, but this does not mean that we obtain their real presence. On the contrary, in this sacramental commemoration of Christ, even though in a different form, Jesus Christ is present with us in his own substance. While he was about to ascend into Heaven he said 'And lo, I am with you always, to the close of the age' (Matthew 28:20) ".
The Pontiff made a point of setting an example by celebrating the solemnity of Corpus Christi in Orvieto, the town where he was then residing. Indeed, he ordered that the famous Corporal with the traces of the Eucharistic miracle which had occurred in Bolsena the previous year, 1263 , be kept in Orvieto Cathedral — where it still is today.
While a priest was consecrating the bread and the wine he was overcome by strong doubts about the Real Presence of the Body and Blood of Christ in the sacrament of the Eucharist. A few drops of blood began miraculously to ooze from the consecrated Host, thereby confirming what our faith professes.
Urban IV asked one of the greatest theologians of history, St Thomas Aquinas — who at that time was accompanying the Pope and was in Orvieto — to compose the texts of the Liturgical Office for this great feast. They are masterpieces, still in use in the Church today, in which theology and poetry are fuse. These texts pluck at the heartstrings in an expression of praise and gratitude to the Most Holy Sacrament, while the mind, penetrating the mystery with wonder, recognizes in the Eucharist the Living and Real Presence of Jesus, of his Sacrifice of love that reconciles us with the Father, and gives us salvation.
Although after the death of Urban IV the celebration of the Feast of Corpus Christi was limited to certain regions of France, Germany, Hungary and Northern Italy, it was another Pontiff, John XXII, who in 1317 reestablished it for the universal Church. Since then the Feast experienced a wonderful development and is still deeply appreciated by the Christian people.
I would like to affirm with joy that today there is a "Eucharistic springtime" in the Church: How many people pause in silence before the Tabernacle to engage in a loving conversation with Jesus! It is comforting to know that many groups of young people have rediscovered the beauty of praying in adoration before the Most Blessed Sacrament.
I am thinking, for example, of our Eucharistic adoration in Hyde Park, London. I pray that this Eucharistic "springtime" may spread increasingly in every parish and in particular in Belgium, St Juliana's homeland.
Venerable John Paul II said in his Encyclical Ecclesia de Eucharistia: "In many places, adoration of the Blessed Sacrament is also an important daily practice and becomes an inexhaustible source of holiness. The devout participation of the faithful in the Eucharistic procession on the Solemnity of the Body and Blood of Christ is a grace from the Lord which yearly brings joy to those who take part in it. Other positive signs of Eucharistic faith and love might also be mentioned" (n. 10).
In remembering St Juliana of Cornillon let us also renew our faith in the Real Presence of Christ in the Eucharist. As we are taught by the Compendium of the Catechism of the Catholic Church, "Jesus Christ is present in the Eucharist in a unique and incomparable way. He is present in a true, real and substantial way, with his Body and his Blood, with his Soul and his Divinity. In the Eucharist, therefore, there is present in a sacramental way, that is, under the Eucharistic Species of bread and wine, Christ whole and entire, God and Man" (n. 282).
Dear friends, fidelity to the encounter with the Christ in the Eucharist in Holy Mass on Sunday is essential for the journey of faith, but let us also seek to pay frequent visits to the Lord present in the Tabernacle! In gazing in adoration at the consecrated Host, we discover the gift of God's love, we discover Jesus' Passion and Cross and likewise his Resurrection. It is precisely through our gazing in adoration that the Lord draws us towards him into his mystery in order to transform us as he transforms the bread and the wine.
The Saints never failed to find strength, consolation and joy in the Eucharistic encounter. Let us repeat before the Lord present in the Most Blessed Sacrament the words of the Eucharistic hymn "Adoro te devote": [Devoutly I adore Thee]: Make me believe ever more in you, "Draw me deeply into faith, / Into Your hope, into Your love".
Thank you.
Pope Benedict XVI
Taken from:
L'Osservatore Romano
Weekly Edition in English
24 November 2010, page 18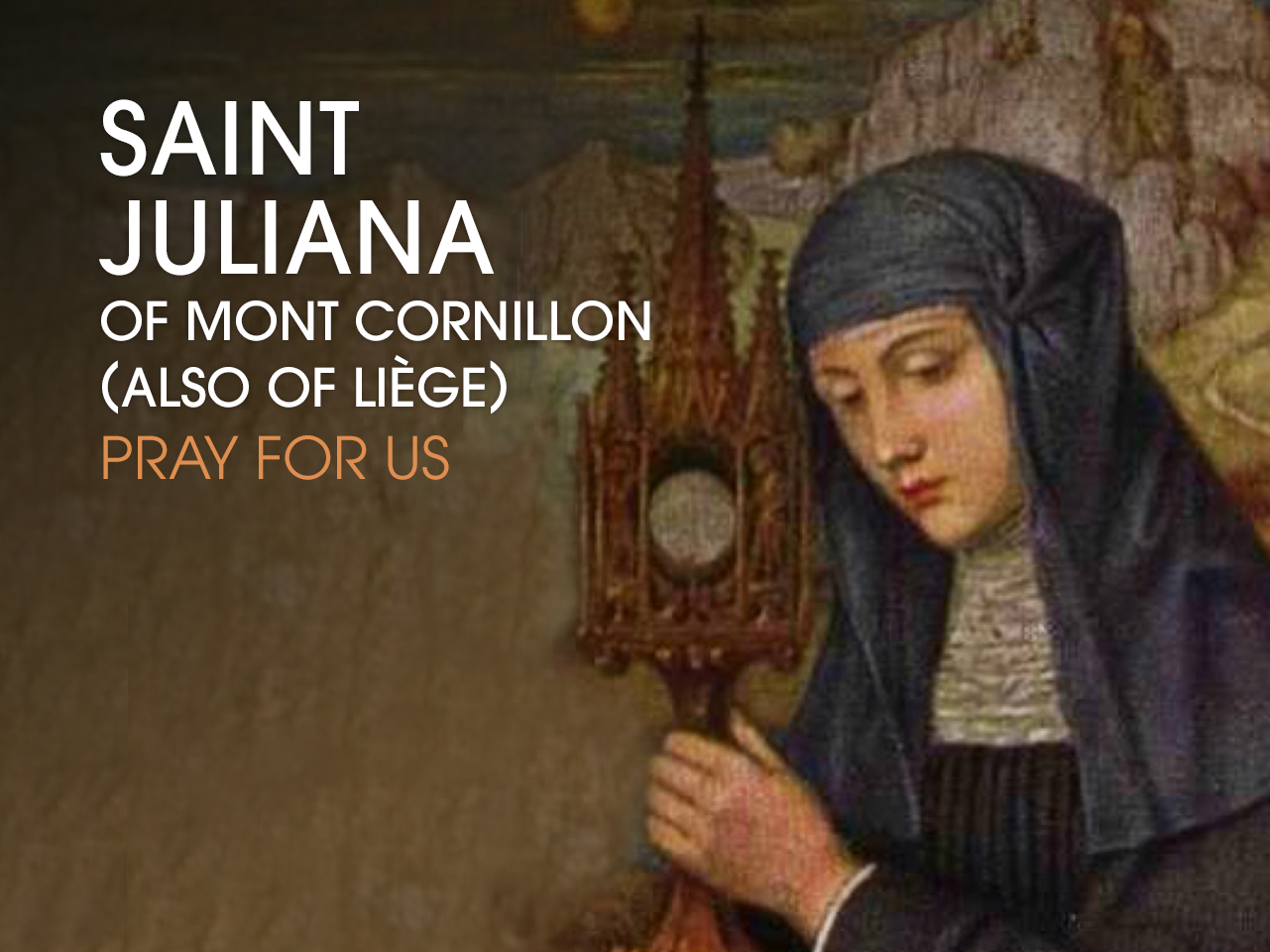 ✠
(Opusculum 57, in festo Corporis Christi, lect. 1-4)
"O precious and wonderful banquet!
Since it was the will of God's only-begotten Son that men should share in his divinity, he assumed our nature in order that by becoming man he might make men gods. Moreover, when he took our flesh he dedicated the whole of its substance to our salvation. He offered his body to God the Father on the altar of the cross as a sacrifice for our reconciliation. He shed his blood for our ransom and purification, so that we might be redeemed from our wretched state of bondage and cleansed from all sin. But to ensure that the memory of so great a gift would abide with us for ever, he left his body as food and his blood as drink for the faithful to consume in the form of bread and wine.
O precious and wonderful banquet, that brings us salvation and contains all sweetness! Could anything be of more intrinsic value? Under the old law it was the flesh of calves and goats that was offered, but here Christ himself, the true God, is set before us as our food. What could be more wonderful than this? No other sacrament has greater healing power; through it sins are purged away, virtues are increased, and the soul is enriched with an abundance of every spiritual gift. It is offered in the Church for the living and the dead, so that what was instituted for the salvation of all may be for the benefit of all. Yet, in the end, no one can fully express the sweetness of this sacrament, in which spiritual delight is tasted at its very source, and in which we renew the memory of that surpassing love for us which Christ revealed in his passion.
It was to impress the vastness of this love more firmly upon the hearts of the faithful that our Lord instituted this sacrament at the Last Supper. As he was on the point of leaving the world to go to the Father, after celebrating the Passover with his disciples, he left it as a perpetual memorial of his passion. It was the fulfilment of ancient figures and the greatest of all his miracles, while for those who were to experience the sorrow of his departure, it was destined to be a unique and abiding consolation."
-Beethoven, Symphony 7, Allegretto
Sacris solemniis
iuncta sint gaudia,
et ex praecordiis
sonent praeconia;
recedant vetera,
nova sint omnia,
corda, voces, et opera.
Noctis recolitur
cena novissima,
qua Christus creditur
agnum et azyma
dedisse fratribus,
iuxta legitima
priscis indulta patribus.
Post agnum typicum,
expletis epulis,
Corpus Dominicum
datum discipulis,
sic totum omnibus,
quod totum singulis,
eius fatemur manibus.
Dedit fragilibus
corporis ferculum,
dedit et tristibus
sanguinis poculum,
dicens: Accipite
quod trado vasculum;
omnes ex eo bibite.
Sic sacrificium
istud instituit,
cuius officium
committi voluit
solis presbyteris,
quibus sic congruit,
ut sumant, et dent ceteris.
Panis angelicus
fit panis hominum;
dat panis caelicus
figuris terminum;
O res mirabilis:
manducat Dominum
pauper, servus et humilis.
Te, trina Deitas
unaque, poscimus:
sic nos tu visita,
sicut te colimus;
per tuas semitas
duc nos quo tendimus,
ad lucem quam inhabitas.
✠
At this our solemn feast
let holy joys abound,
and from the inmost breast
let songs of praise resound;
let ancient rites depart,
and all be new around,
in every act, and voice, and heart.
Remember we that eve,
when, the Last Supper spread,
Christ, as we all believe,
the Lamb, with leavenless bread,
among His brethren shared,
and thus the Law obeyed,
of all unto their sire declared.
The typic Lamb consumed,
the legal Feast complete,
the Lord unto the Twelve
His Body gave to eat;
the whole to all, no less
the whole to each did mete
with His own hands, as we confess.
He gave them, weak and frail,
His Flesh, their Food to be;
on them, downcast and sad,
His Blood bestowed He:
and thus to them He spake,
"Receive this Cup from Me,
and all of you of this partake."
So He this Sacrifice
to institute did will,
and charged His priests alone
that office to fulfill:
to them He did confide:
to whom it pertains still
to take, and the rest divide.
Thus Angels' Bread is made
the Bread of man today:
the Living Bread from heaven
with figures dost away:
O wondrous gift indeed!
the poor and lowly may
upon their Lord and Master feed.
Thee, therefore, we implore,
O Godhead, One in Three,
so may Thou visit us
as we now worship Thee;
and lead us on Thy way,
That we at last may see
the light wherein Thou dwellest aye.
✠
Adóro te devóte, látens Déitas,
Quæ sub his figúris, vere látitas:
Tibi se cor meum totum súbjicit,
Quia, te contémplans, totum déficit.
Visus, tactus, gustus, in te fállitur,
Sed audítu solo tuto créditur:
Credo quidquid díxit Dei Fílius;
Nil hoc verbo veritátis vérius.
In cruce latébat sola Déitas,
At hic látet simul et humánitas:
Ambo támen crédens átque cónfitens,
Peto quod petívit latro pœnitens.
Plagas, sicut Thomas, non intúeor,
Deum támen meum te confíteor.
Fac me tibi sémper mágis crédere,
In te spem habére, te dilígere.
O memoriále mortis Dómini,
Panis vivus, vitam præstans hómini,
Præsta meæ menti de te vívere,
Et te illi semper dulce sápere.
Pie pellicáne, Jesu Dómine,
Me immúndum munda tuo sánguine,
Cujus una stilla salvum fácere,
Totum mundum quit ab ómni scélere.
Jesu, quem velátum nunc aspício,
Oro fíat illud, quod tam sítio:
Ut, te reveláta cernens fácie,
Visu sim beátus tuæ glóriæ. Amen.
✠
I devoutly adore you, O hidden Deity,
Truly hidden beneath these appearances.
My whole heart submits to you,
And in contemplating you, It surrenders itself completely.
Sight, touch, taste are all deceived in their judgment of you,
But hearing suffices firmly to believe.
I believe all that the Son of God has spoken;
There is nothing truer than this word of truth.
On the cross only the divinity was hidden,
But here the humanity is also hidden.
Yet believing and confessing both,
I ask for what the repentant thief asked.
I do not see the wounds as Thomas did,
But I confess that you are my God.
Make me believe more and more in you,
Hope in you, and love you.
O memorial of our Lord's death!
Living bread that gives life to man,
Grant my soul to live on you,
And always to savor your sweetness.
Lord Jesus, Good Pelican,
wash my filthiness and clean me with your blood,
One drop of which can free
the entire world of all its sins.
Jesus, whom now I see hidden,
I ask you to fulfill what I so desire:
That the sight of your face being unveiled
I may have the happiness of seeing your glory. Amen.
✠
Pange, lingua, gloriósi
Córporis mystérium,
Sanguinísque pretiósi,
Quem in mundi prétium
Fructus ventris generósi
Rex effúdit géntium.
Nobis datus, nobis natus
Ex intácta Vírgine,
Et in mundo conversátus,
Sparso verbi sémine,
Sui moras incolátus
Miro clausit órdine.
In suprémæ nocte coenæ
Recúmbens cum frátribus
Observáta lege plene
Cibis in legálibus,
Cibum turbæ duodénæ
Se dat suis mánibus.
Verbum caro, panem verum
Verbo carnem éfficit:
Fitque sanguis Christi merum,
Et si sensus déficit,
Ad firmándum cor sincérum
Sola fides súfficit.
Tantum ergo sacraméntum
Venerémur cérnui:
Et antíquum documéntum
Novo cedat rítui:
Præstet fides suppleméntum
Sénsuum deféctui.
Genitóri, Genitóque
Laus et jubilátio,
Salus, honor, virtus quoque
Sit et benedíctio:
Procedénti ab utróque
Compar sit laudátio.
Amen. Alleluja.
✠
Sing, my tongue, the Saviour's glory,
Of His Flesh, the mystery sing;
Of the Blood, all price exceeding,
Shed by our Immortal King,
Destined, for the world's redemption,
From a noble Womb to spring.
Of a pure and spotless Virgin
Born for us on earth below,
He, as Man, with man conversing,
Stayed, the seeds of truth to sow;
Then He closed in solemn order
Wondrously His Life of woe.
On the night of that Last Supper,
Seated with His chosen band,
He, the Paschal Victim eating,
First fulfils the Law's command;
Then as Food to all his brethren
Gives Himself with His own Hand.
Word-made-Flesh, the bread of nature
By His Word to Flesh He turns;
Wine into His Blood He changes:
What though sense no change discerns.
Only be the heart in earnest,
Faith her lesson quickly learns.
Down in adoration falling,
Lo, the sacred Host we hail,
Lo, o'er ancient forms departing
Newer rites of grace prevail:
Faith for all defects supplying,
When the feeble senses fail.
To the Everlasting Father
And the Son who comes on high
With the Holy Ghost proceeding
Forth from each eternally,
Be salvation, honor, blessing,
Might and endless majesty.
Amen. Alleluia.
✠
Verbum supernum prodiens,
Nec Patris linquens dexteram,
Ad opus suum exiens,
Venit ad vitæ vesperam.
In mortem a discipulo
Suis tradendus æmulis,
Prius in vitæ ferculo
Se tradidit discipulis.
Quibus sub bina specie
Carnem dedit et sanguinem;
Ut duplicis substantiæ
Totum cibaret hominem.
Se nascens dedit socium,
Convescens in edulium,
Se moriens in pretium,
Se regnans dat in præmium.
O salutaris hostia,
Quæ cæli pandis ostium,
Bella premunt hostilia;
Da robur, fer auxilium.
Uni trinoque Domino
Sit sempiterna gloria:
Qui vitam sine termino
Nobis donet in patria.
✠
The heavenly Word proceeding forth,
Yet leaving not his Father's side,
And going to His work on Earth,
Has reached at length life's eventide.
By false disciple to be given
To foemen for His blood athirst,
Himself, the living bread from heaven,
He gave to his disciples first.
In twofold form of sacrament,
He gave His flesh, He gave His blood,
That man, of soul and body blent,
Might wholly feed on mystic food.
In birth man's fellow-man was He,
His meat while sitting at the board;
He died, our ransomer to be,
He reigns to be our great reward.
O saving Victim, opening wide
The gate of heaven to man below;
Our foes press hard on every side,
Thine aid supply, Thy strength bestow.
All praise and thanks to thee ascend
For evermore, blessed One in Three;
O grant us life that shall not end,
In our true native land with Thee.
"Take note of those who hold heterodox opinions on the grace of Jesus Christ which has come to us, and see how contrary their opinions are to the mind of God. . . . They abstain from the Eucharist and from prayer because they do not confess that the Eucharist is the flesh of our Savior Jesus Christ. . . . They who deny the gift of God are perishing in their disputes." –St Ignatius of Antioch (Letter to the Smyrnaeans 6:2-7:1 [A.D. 110]).
"We call this food Eucharist. . . . For not as common bread nor common drink do we receive these; but since Jesus Christ our Savior was made incarnate by the word of God and had both flesh and blood for our salvation, so too, as we have been taught, the food which has been made into the Eucharist by the eucharistic prayer set down by him, and by the change of which our blood and flesh is nurtured, is both the flesh and the blood of that incarnated Jesus." –St Justin Maryr (First Apology 66 [A.D. 151]).
"Without illusions, without ideological utopias, we walk the streets of the world, bringing with us the body of the Lord, like the Virgin Mary in the mystery of the visitation."
– Pope Emeritus Benedict XVI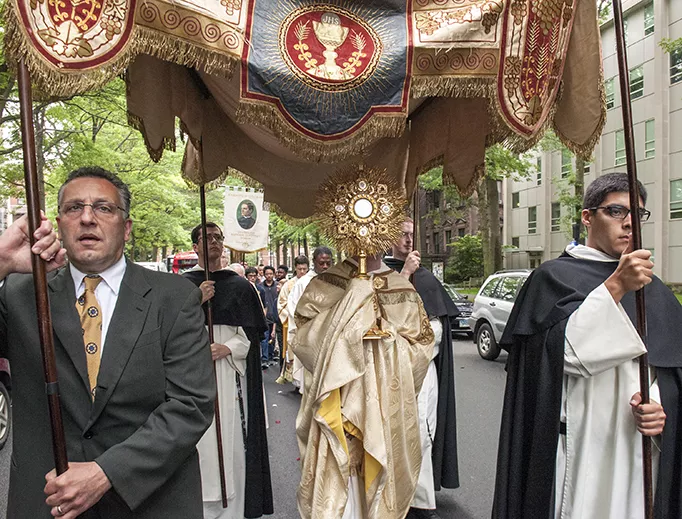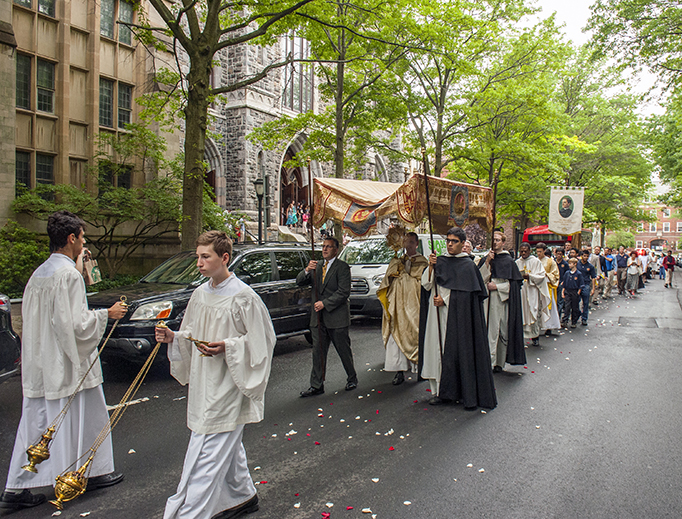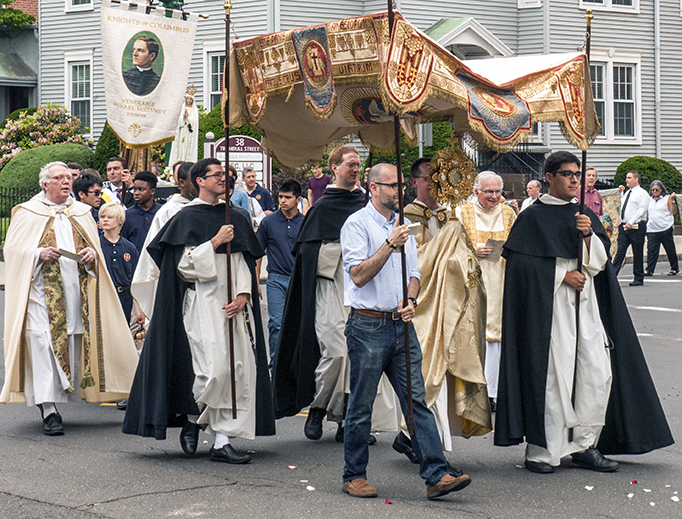 Love,
Matthew