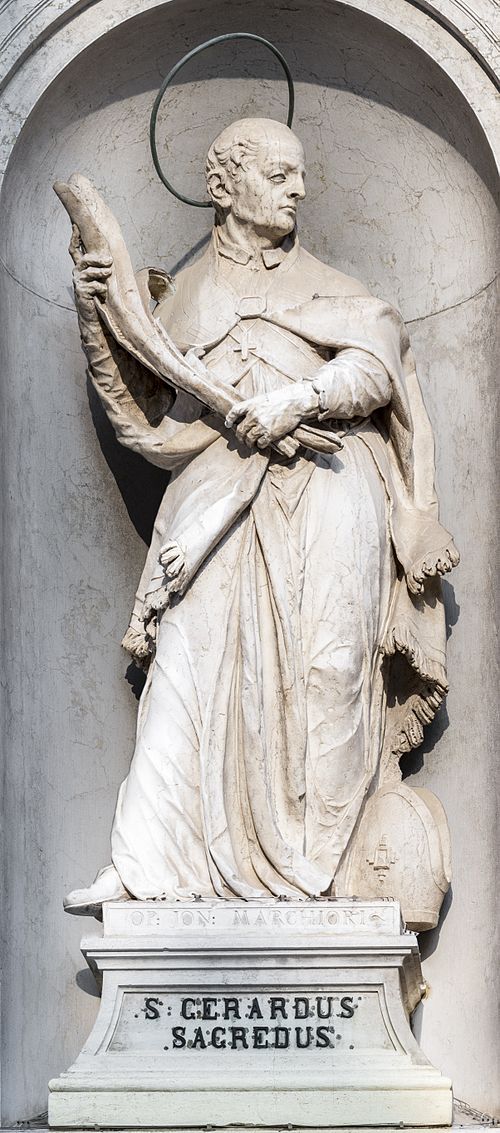 "Today, the Catholic Church celebrates the joyous martyr, St. Gerard of Csanád. The Legenda Minor S. Gerardi (ca. 1080) records that he was born around 970. He was a Benedictine monk who was made bishop of Marosvár (later named Csanád) in the Kingdom of Hungary. The region contained many Greek Orthodox inhabitants alongside numerous pagan communities in what was then a part of Hungary's "wild west." In addition to Gerard's success at catechesis and exegesis, he converted many of the local pagans with gentleness and zeal. When the King of Hungary, St. Stephen, died in 1038, a period of political chaos ensued, and it was in this turmoil that St. Gerard was martyred. Several accounts of his martyrdom describe him, buoyed by the grace of God, rolling down a hill in a spiked barrel. Found still alive at the bottom of the hill, he was bludgeoned to death. Throughout this episode, and others in his life, various sources pay attention to Gerard's joy, rooted in his deep love for Jesus Christ.
When we think of joy, perhaps images of victorious sports teams or holding a newborn baby come to mind. The Christian perspective goes deeper. Reflecting on its essence, Pope St. Paul VI taught that joy is "the spiritual sharing in the unfathomable joy […] which is in the heart of Jesus Christ glorified" (Gaudete in Domino 2). Drawing from St. Thomas Aquinas, Paul VI clarifies that joy is happiness "in the strict sense, when man, on the level of his higher faculties, finds his peace and satisfaction in the possession of a known and loved good" (see ST I-II, q. 31, a. 3). There is a distinction between the lower forms of happiness and joy in that "joy, which is about God, is caused by charity" (ST II-II, q. 28, a. 4). To the degree that our happiness is rooted in earthly things or in our love of God helps us differentiate between happiness and true, spiritual joy, respectively.
Drawing from the lives of the saints, perhaps the clearest expression of joy is given to us in the gospel, when Elizabeth felt John the Baptist "leap for joy" at the approach of Jesus in the Blessed Mother's womb (Lk 1:44). The presence of God, even in the womb of his mother, was enough to send the baby John into a fit of joy! Saint Felicity, on her way to the arena for her execution, was in such a state of joy that she walked with "shining steps as the true wife of Christ, the darling of God" (The Passion of Perpetua and Felicity). We too, when we unite our gladness and anguish to Jesus' Passion and Resurrection, can exude joy in responding to the love of God as his treasured sons and daughters. In so doing, we become magnetic Christians on account of our joyful tranquility, which in turn draws others to Christ.
As Catholics, we are called to witness to the "joy that we have in the celebration of the death and resurrection of the Lord" (Guadete in Domino 3). Joy, as that ultimate state of happiness described by Pope St. Paul VI, reflects the love that we are granted from the Father. The grace that God provided St. Gerard allowed him to endure his martyrdom and become God's instrument for the conversion of the Magyar pagans, who eventually would embrace the faith. May the Holy Spirit also grant us the gift of joy as we persevere in the Christian life. Saint Gerard of Csanád, pray for us!"
O God, Who were pleased to give light to your Church by adorning blessed Gerard with the victory of martyrdom, graciously grant that, as he imitated the Lord's Passion, so we may, by following in his footsteps, be worthy to attain eternal joys. Through our Lord Jesus Christ, your Son, who lives and reigns with you in the unity of the Holy Spirit, one God, for ever and ever. Amen.
The sign of a Christian is JOY amongst our crosses. Not fake smiles, but because of our deep contemplative relationship with Him, all is JOY!!!!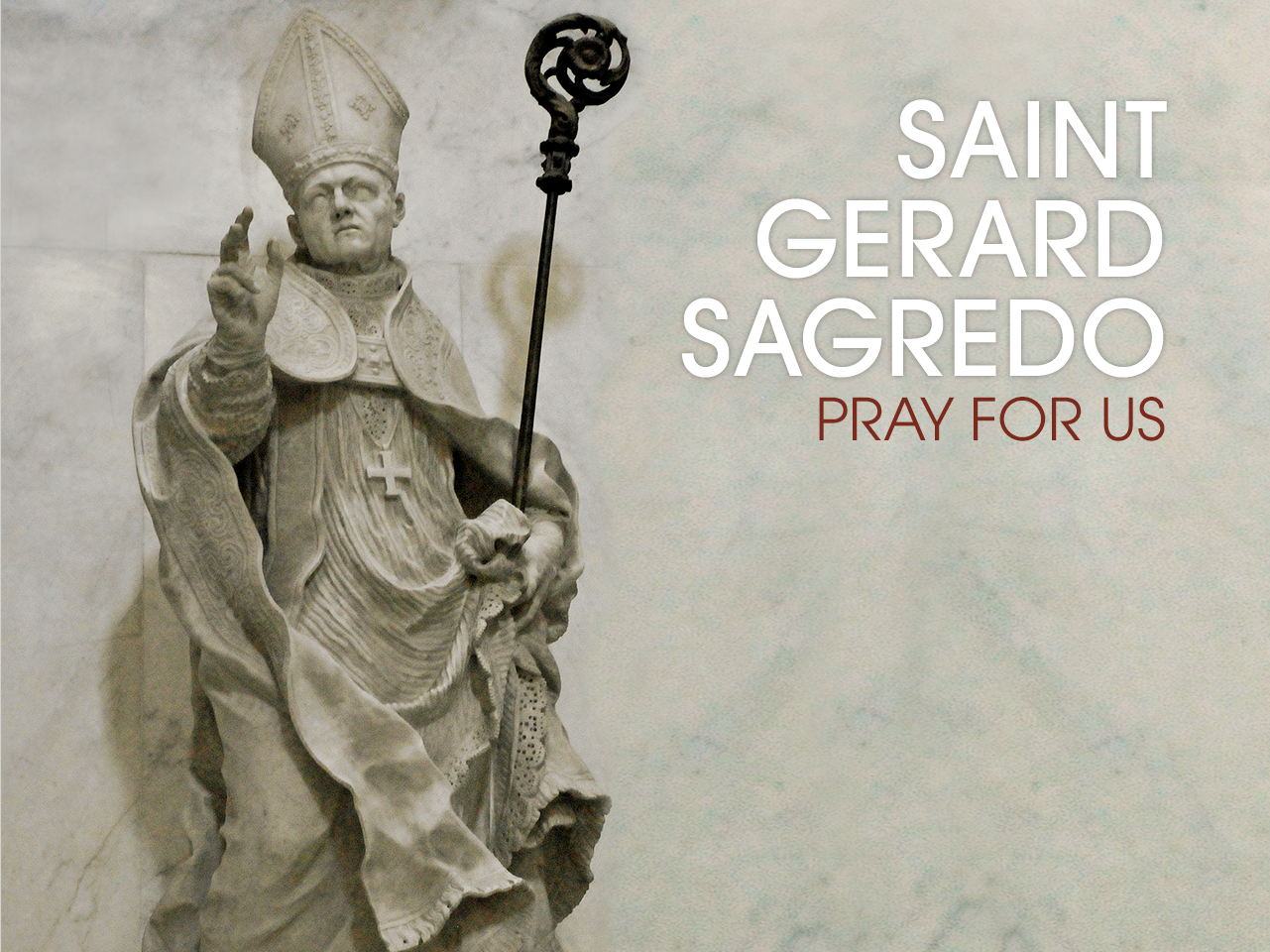 Love,
Matthew