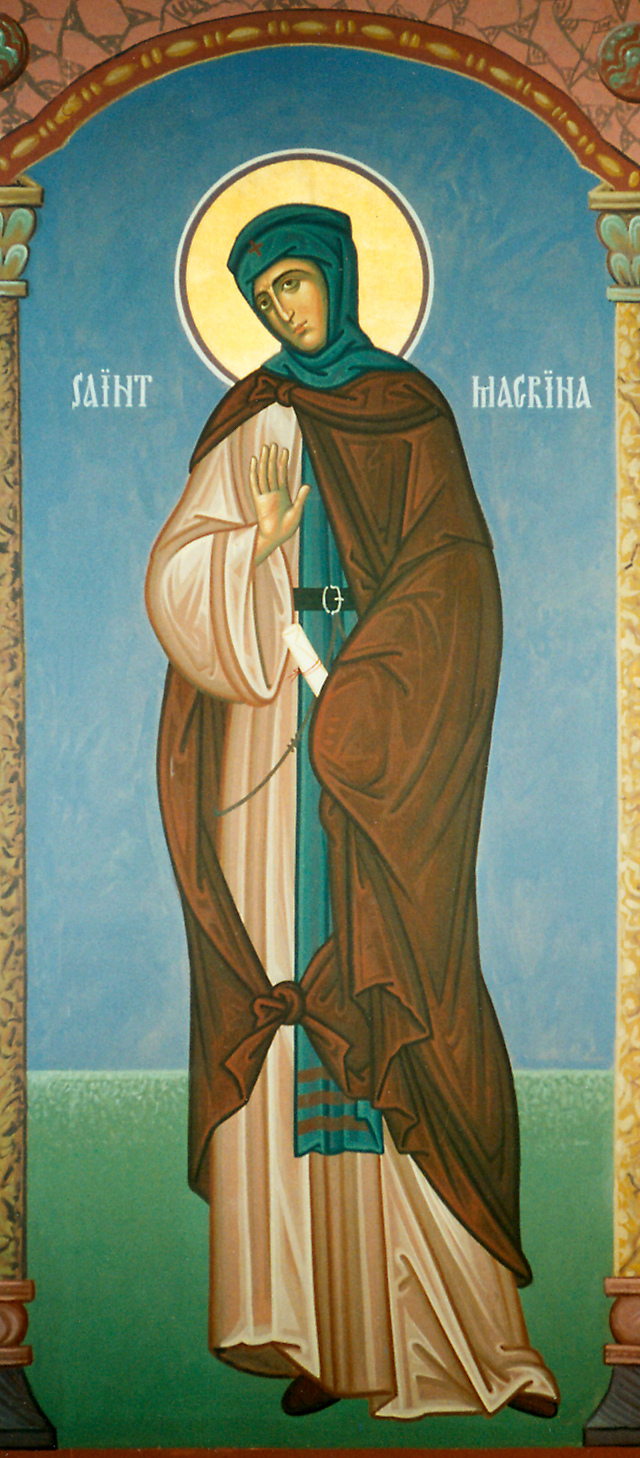 Her father arranged for her to marry but her fiancé died before the wedding. After having been betrothed to her fiancé, Macrina did not believe it was appropriate to marry another man, but saw Christ as her eternal bridegroom.  Instead, she devoted herself to her religion, becoming a nun.
When all her siblings had grown, including Sts Basil the Great & St Gregory Nazianzus, and left the parental home, Saint Macrina convinced her mother, Saint Emilia, to leave the world, to set their slaves free, and to settle in a women's monastery. Several of their servants followed their example. Having taken monastic vows, they lived together as one family, they prayed together, they worked together, they possessed everything in common, and in this manner of life nothing distinguished one from another.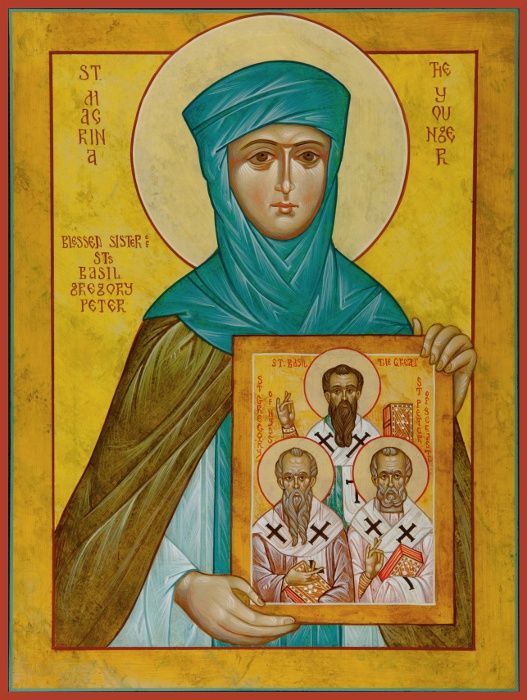 After the death of her mother, Saint Macrina guided the sisters of the monastery. She enjoyed the deep respect of all who knew her. Strictness towards herself and temperance in everything were characteristic of the saint all her life. She slept on boards and had no possessions. Saint Macrina was granted the gift of wonderworking. There was an instance (told by the sisters of the monastery to Saint Gregory of Nyssa after the death of Saint Macrina), when she healed a girl of an eye-affliction. Through the prayers of the saint, there was no shortage of wheat at her monastery in times of famine.
Macrina had a profound influence upon her brothers and her mother with her adherence to an ascetic ideal. Her brother Gregory of Nyssa wrote a work entitled Life of Macrina in which he describes her sanctity throughout her life. Macrina lived a chaste and humble life, devoting her time to prayer and the spiritual education of her younger brother, Peter. Gregory presents her as one who consciously rejected all Classical education, choosing instead devoted study of Scripture and other sacred writings.
In 379, Macrina died at her family's estate in Pontus, which with the help of her younger brother Peter she had turned into a monastery and convent. Gregory of Nyssa composed a "Dialogue on the Soul and Resurrection" (peri psyches kai anastaseos), entitled ta Makrinia (P.G. XLVI, 12 sq.), to commemorate Macrina, in which Gregory purports to describe the conversation he had with Macrina on her deathbed, in a literary form modelled on Plato's Phaedo. Even on her deathbed, Macrina continued to live a life of sanctity, as she refused a bed, and instead chose to lie on the ground.
Saint Macrina is significant in that her brother, Saint Gregory of Nyssa, was able to set standards for being a holy Early Christian woman. He believed that virginity reflected the "radiant purity of God."
Universalism
Universalists, including Hosea Ballou and J. W. Hanson, claim Macrina as a Universalist in her teachings, citing works which they believe demonstrate Macrina's belief that the wicked would all eventually confess Christ.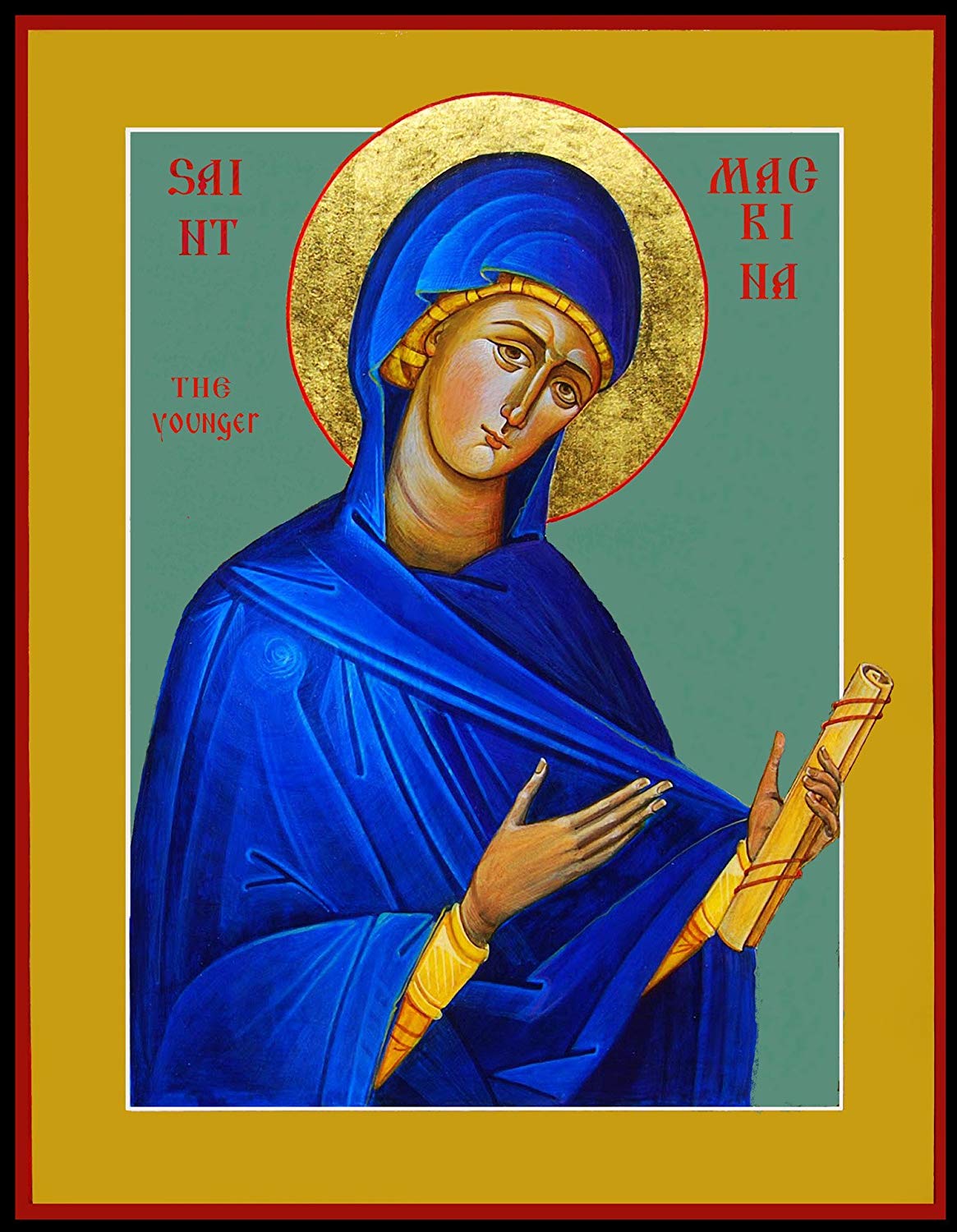 Troparion — Tone 8
The image of God was truly preserved in you, O Mother, / For you took up the Cross and followed Christ. / By so doing, you taught us to disregard the flesh, for it passes away, / But to care instead for the soul, since it is immortal. / Therefore your spirit, O Holy Mother Macrina, rejoices with the Angels!
Love & faith,
Matthew