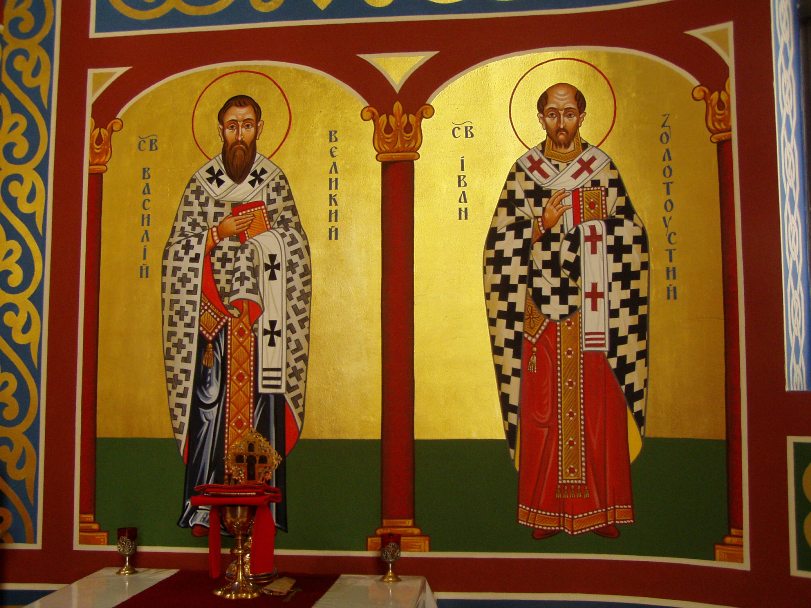 Talk about FAITH!!!!!  RCIA participants have INFINITELY MORE FAITH, holiness, and humility than I EVER could dream to have.  Do you realize what those who convert to Catholicism sacrifice???  Go through???  May we always be a Church worthy of such living saints!!!!  They humble me by their witness, constantly.  I tremble before the strength & the power & the witness of such FAITH!!!!  I doubt, sincerely, I would ever have the courage to consider their courage and the price they have paid.  Deo Gratias!!!
"A reflection on the importance of friendship in ecumenical dialogue in honor of the feast day of St. Basil of Caesarea and St. Gregory Nazianzus, two early Church Fathers with a deep and life-long friendship.
St. Gregory Nazianzus and St. Basil of Caesarea
The Catholic Church on 2 January celebrates the feast day of St. Basil of Caesarea and St. Gregory Nazianzus, two fourth century Church Fathers known for their deep theological reflections and devoted adherence to Orthodoxy as bishops in Asia Minor (present-day Turkey). St. Basil, Bishop of Caesarea, is considered an early important influence in the development of monasticism, the liturgy, and the doctrine of the Trinity. St. Gregory Nazianzus, called "The Theologian" by the Orthodox Church, was the Bishop of Constantinople, and is known for his strong opposition to the Arian heresy, and his "prodigious" scholarly output, in the words of Pope Emeritus Benedict XVI. 1 The two men's lives crossed several times, including while studying in Caesarea in Cappadocia (also present-day Turkey), and later in Athens. They enjoyed an intimate life-long friendship, so much so that Gregory wrote of Basil,
"Then not only did I feel full veneration for my great Basil because of the seriousness of his morals and the maturity and wisdom of his speeches, but he induced others who did not yet know him to be like him… The same eagerness for knowledge motivated us…. This was our competition: not who was first but who allowed the other to be first. It seemed as if we had one soul in two bodies."2
Their mutual love of Christ, and mutual passion for seeking the truth, provided them the substance of this profoundly important friendship. In 371, Basil even urged Gregory to work with him, side-by-side, as Bishop of Sasima, a position the contemplative Gregory was disinclined to take. Reflecting not only on the theological significance of their lives but also their mutual relationship is an occasion to consider how friendship and the pursuit of truth can be connected, sometimes in mutual harmony, other times with deep and difficult disagreement and division. It is in light of Basil and Gregory that I wish to share a story from my own life that exemplifies how friendship and the pursuit of truth can present great challenges to a friendship, but ultimately can be an occasion for sanctification and deeper relational intimacy, as, ideally, it should.3
Five years ago I spent three cold, long, hard months in Afghanistan for work. A little over a month after arriving, several of my co-workers were killed in a terrorist attack. Also unnerving were the Taliban fighters who had snuck into Kabul to launch frequent rocket attacks towards the downtown area where most Westerners lived and worked, several landing within 100 meters of my living quarters. Compounding the ever-present uncertainty of when the next 107mm would strike, the Taliban stormed a nearby building and engaged in a day-long firefight with Afghan police while we waited it out in a bunker; stray bullets from the battle even hit buildings on my compound. To add insult to injury, in my personal life, my long-distance relationship with a girlfriend of the time was falling apart.
In the midst of all this, I clung hard to my Reformed faith, listening to the sermons of my PCA pastor back in the States. I found time for the White Horse Inn podcast while I did laundry on Saturdays. I even gave out old copies of Modern Reformation to military chaplains and evangelical coworkers. I suppose in a way I thought my peculiar form of Christianity was being tested in the refiner's fire. Sure, Reformed theology sounded Biblically and intellectually compelling, but would it hold up in the foxhole? I was anxious to prove that it did.
One day during that interminably long winter I called my best friend, Barrett Turner, a student in his last year at Covenant Theological Seminary in St. Louis, Missouri. We joked and caught up on the latest news. Then, his mood turned a bit serious, as if he knew that what he was going to tell me would probably hurt or upset me. He said that he and his wife, after long and prayerful reflection, had decided to enter the Catholic Church at the upcoming Easter vigil. "Just great", I thought, "with all the other crap in my life, now this!" Not that this was a total shock; we had been engaged in a lengthy theological back-and-forth on many of his frustrations and dilemmas with the Reformed faith and subsequent interest in Catholicism. Some of these conversations had even involved the pastors at my PCA church, whom I consulted with a variety of my friend's questions and concerns.
All the same, to hear that my worst fears had come to fruition was deeply painful and discouraging. This was my best friend. We had both explored and ultimately accepted Reformed Christianity while in college. We had lived together, studied together, sought to evangelize together. We had dressed up as ninjas and raided a Christian girls' sorority party together, pilfering a number of their desserts (I fell down the stairs and sprained my ankle on our way out the door; but it was worth it). I was the best man at his wedding, where the presiding minister was our favorite PCA pastor. We had both gone off to seminary after college, he to Covenant and I to Reformed Theological Seminary in Washington, D.C. Yet his studies had been for a prospective career as a pastor or professor, mine were part-time with the objective of deepening my own theological knowledge and keeping my options open for possible later ministry or service in the PCA. Now this man that I had admired so much had seemingly gone of the theological deep-end, which, I was concerned, might have grave implications for his soul and those of his wife and son.
I confess there was a lot of rationalizations and psychologizing in the weeks and months that followed as I tried to make sense of my friend's decision. Why didn't he consult me before deciding to swim the Tiber? Isn't our friendship worth that much?, I thought. I know he said he was doing this for sincere theological, philosophical, and historical reasons, but I figured there must be some other explanation. I mean, he was wrong, wasn't he? All of my explanations were less than charitable and quite stupid (I'm not afraid to say "stupid," since they were my own). It's probably because he went to Covenant instead of a better, more intellectually serious and faithfully-Reformed seminary, like Westminster, I thought. He needed better theological training and answers to his questions, and he didn't get them. Or maybe he was under the undue influence of his wife Beth, who I had always suspected was a little too sympathetic to Catholicism. She always used to talk about that "Female Saints" class she took at UVA. (Holla!!!  Wahoo-wa!!!!) Why should I care what St. Teresa of such-and-such thinks about God? Isn't the Bible enough? They probably didn't even understand Catholicism, anyway. I grew up Catholic and had left the Church as a child with my parents. I had grown up spending hours and hours hearing and talking about the problems with Catholicism, especially given much of my extended family was still Catholic. My friends don't know the first thing about being Catholic, I remember thinking; they didn't grow up in it like I did. They don't really understand.
In retrospect I see how deeply prideful and unsympathetic these thoughts were. So often my desire was not so much to see God glorified, but to prove myself right. Presupposing not that I needed to humbly listen and learn, but that I already had the answers. Looking so hard for the supposed "thorn" in the Catholic converts' eye, yet so oblivious to my own. Yet couldn't anyone have said the same thing about me and my Protestantism, that I had become an evangelical or Reformed not for motives of truth and God's glory, but for any number of deep-seated psychological or emotional needs? In truth, Christ calls us to love our neighbor as ourselves, a calling that requires us to exemplify a love that is eager not so much to prove ourselves right, or win an argument, but that seeks to presuppose the best, rather than the worst motives in others. We, like Christ, must be long-suffering with others, (Ed. as I pray they will be, and obviously NEED, to have long-suffering patience with me!  🙂 ) especially with those we are keen to unfairly caricature. Alas, like St. Paul, I needed the film removed from my self-righteous eyes, a process that would take time and require the work of the Holy Spirit, and the patient, prayerful companionship of those who loved me.
I came home to Virginia, and not too long after, got word from my friend that he would be moving to Virginia with his family to pursue a graduate degree at Catholic University. I confess I had mixed emotions – it would be good to see them more often, but now there was this great obstacle to our friendship. Maybe this will be my opportunity to straighten him and his wife out, I thought. They arrived that summer and immediately started developing friendships with people in the Catholic community in Washington, D.C., but they certainly didn't ignore me. I'd see them for meals, and Barrett and I spent time together bike riding, grabbing a beer, and the like. It was a bit unnerving though, having to spend all this time around Catholics just to be with my friend and his family. Even little things really bothered me. Once at their house Beth told some anecdote that involved her going to confession. Oh brother, I thought. Can't they just tone down the Catholic stuff while I'm here? Don't even get me started on how praying before meals now involved crossing themselves at the dinner table.  (Mara was a little Orthodox there for a while at the beginning, still have to watch for that, but I think we have proper Latin rite established now.  Deo Gratias.  🙂 )
I suppose what surprised me was how deeply my friend and his wife still loved me and valued our friendship. They knew something now stood between us, but they tried so hard to make me welcome in their lives. I was also surprised at how they seemed to be growing in holiness and virtue. I thought that since they were embracing a false faith with dangerous beliefs that they'd start regressing, especially with all the less emphasis on the Bible and Jesus (so I thought). The opposite seemed true, the more I spent time with them. It wasn't long before we started having the theological conversations. I asked for the explanations behind why all of this had happened, the extended version. I started pressing with questions, particularly those as a Reformed Christian that had been most compelling to me in contemplating the problems with Catholicism. Hasn't the Church modified it's supposed inerrant teaching, especially with the changing moods and cultures of the times? Doesn't all this emphasis on the saints and Mary detract from the glory of God? What about all the corruption, the immorality, the wickedness done in the name of the Catholic Church? Aren't so many of the Catholic Church's teachings not founded on the Bible? And so on.
Yet my friends asked the same questions when they were contemplating Catholicism, and their answers, though not always immediately compelling, were at least reasonable and worthy of further reflection. They countered with questions of their own, going after some of the most fundamental tenets of Reformed Christianity, and even general Protestant principles: the premise of the "Bible alone" or sola scriptura, the formulation and contents of the Biblical canon, Luther's call for "faith alone" or sola fide. Was the "Bible alone" even a Biblical idea? (2 Tim 3:16, calls it good.  It is.  Luther insisted on the ALONE in each of his principles.  ALONE is unscriptural.  Read Romans correctly, in context, it was written to a JEWISH community, for whom the Law was all.  Of course, Paul would write what he wrote to a JEWISH community.  Were they Gentiles, would he have written similarly?  Not happenin'.  🙂 )On what authority do we even accept the contents of the Biblical canon as truly from God?  ("I would not believed in the Gospel myself if the authority of the Catholic Church did not influence me to do so."-St Augustine of Hippo, Bishop, "Against the letter of Mani, 5,6," 397 A.D.)  Was "faith alone," and Luther's rejection of what he styled a "salvation by works" truly faithful to Jesus and the Apostle Paul? I had heard criticisms of these beliefs before, but never so sophisticatedly presented or deeply troubling for my evangelical faith. I realized I was a bit in over my head. My friend had graduated with the highest honors at seminary, and had a strong command of Greek, Hebrew, Biblical exegesis, and Christian history. I was starting to feel, much to my annoyance, like a bit of a theological novice. Wasn't I the one in college who knew more than him about history and religion?
But more than all this, I still deeply valued my friendship with both of them. At that time, we had been friends for almost ten years, and had been through a lot together. I loved them. If they had made a terrible decision by becoming Catholic, it was a duty, an obligation of our friendship, that I urge them to get out before they did real damage to their lives or souls. As Proverbs 18:24 observers, "A man of many companions may come to ruin, but there is a friend who sticks closer than a brother" (ESV). Through our conversations, I realized I really hadn't taken the time to listen, to understand, to appreciate my friends' perspectives. I needed to start thinking at a much more sophisticated level, praying with a deeper earnestness and urgency. I had pridefully thought myself an expert on Protestantism and Catholicism. I wasn't sure now I was proficient in either. It was time to eat some humble pie, hit the books, and consult all my mentors in the Reformed faith. Like St. Gregory's observation of St. Basil, Barrett and his wife Beth's pursuit of wisdom and truth proved infectious. Thus proceeded a Summer and Fall of intense reading, praying, reflecting, and conversing, both with Protestants and Catholics. I don't need to re-tell all the details, many of which can be found here. Needless to say, the Protestant position was becoming less and less compelling, and more and more problematic as I studied the centuries-old debates.
Friendship was what initiated this opportunity for a deeper and more honest examination of Truth. Once I was able to stop the polemics, the psychologizing, the uncharitable and prideful ways of thinking and communicating that had so often defined my interactions with Catholics, I was able to start listening to my friends. Indeed, this is what is required of all of us if we want to get to the Truth, which is so often communicated not just through books and articles, but in personal and intimate interactions between people who care about one another. Indeed Truth, according to our Christian faith, is much more than an abstract concept; it is a person, Jesus Christ, who is Truth incarnate (John 14:6). As John writes in his Gospel, "And the Word became flesh and dwelt among us, and we have seen his glory, glory as of the only Son from the Father, full of grace and truth" (John 1:14, ESV).
Theological, historical, and logical arguments are all important, and in many ways drive and provoke the necessary reflections and conversations for ecumenical dialogue. But just as important is a willingness to see our interlocutors not solely as "sparring partners," but as real people, (Ed. SINCERE!!!) with real convictions, and real stories that need to be heard and appreciated. This is equally true of Protestants and Catholics. Yet if we believe those people whom we deeply love and care about have made decisions that will endanger their lives, their futures, and possibly their souls, we have an obligation to reach out, in love, and mutually pursue Truth together. Furthermore, it is often through friendship that the most difficult and painful truths are often communicated – things we do not want to hear, that challenge us, that complicate what we thought to be simple and straightforward, that frustrate our plans or intentions. (Ed. It is the people who LOVE US that will make the effort, take the risk of truth, the least of which is theological, the most of which is about our unchallenged, damaging behaviors/habits.)  Yet when (Ed. dangerous, dangerous) truth is involved, wouldn't we rather hear it than not, especially from those whom we know truly love us and have our interests at heart, who are willing to risk even friendship to communicate hard truths? As Christ himself said, "Greater love has no one than this, that someone lay down his life for his friends. You are my friends if you do what I command you" (John 15:13, ESV).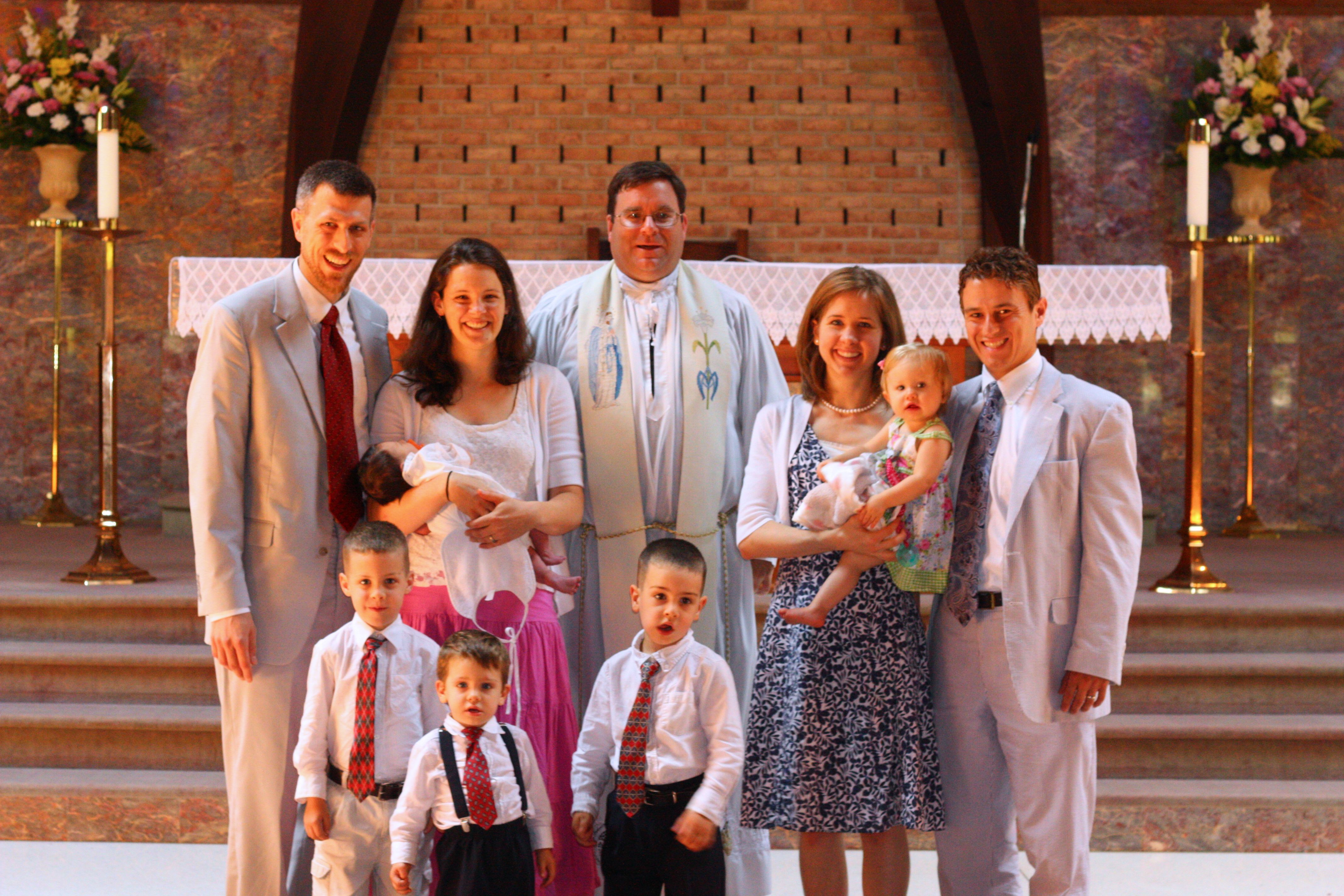 The Turner and Chalk families at Turner boy #4's baptism, officiated by Fr. Matthew Zuberbueler (center back)
I hope that this feast day commemorating a wonderful deep friendship in Christian history – that of St. Basil of Caesarea and St. Gregory Nazianzus — would be an occasion for renewed attempts at understanding and contemplating, at a truly thoughtful and charitable level, why so many of us have turned to the Catholic Church. We of course, in turn, will need to try our best to listen to and appreciate our Protestant brothers and sisters, who have many questions, as well as many sincere and valuable insights and beliefs of their own. May God spur a renewed desire for ecumenical dialogue amongst friends, and may we pursue the Truth, as it leads to God, no matter what sacrifices it requires, all for the glory of God.
St. Basil of Caesarea and St. Gregory of Nazianzus, who exemplified true Christian friendship in your mutual love of Christ and pursuit of truth, pray for us!
Pope Benedict XVI, The Fathers, (Our Sunday Visitor, Huntington, Indiana) p. 73-90.
St. Basil, Orationes 43: 16, 20; SC 384: 154-156, 164.
This is not to suggest that any of my friendships bear more than a very weak and vague resemblance to Basil and Gregory's in either depth of relational intimacy or theological or spiritual sophistication!"
Love,
Matthew