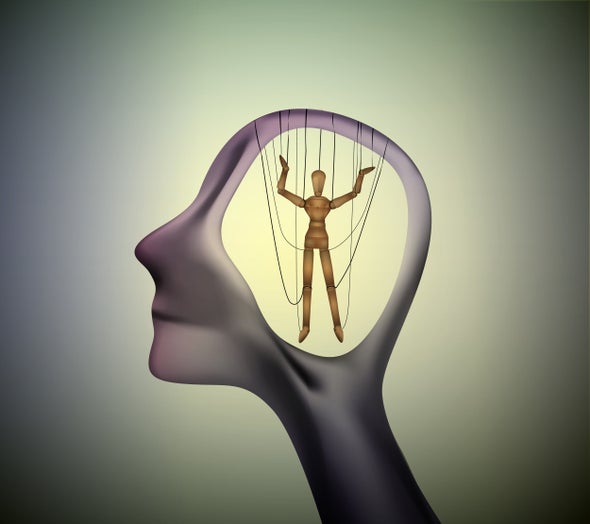 With free will, we truly are responsible for our own actions. We are even responsible for proper formation of our own moral compass and informed conscience. And, also those of our brothers and sisters. Gen 4:9
-by Bahar Gholipour, 9/19/2019, for The Atlantic, a New York–based tech and science journalist who covers the brain, neuroscience and psychology, genetics and AI.
"The death of free will began with thousands of finger taps. In 1964, two German scientists monitored the electrical activity of a dozen people's brains. Each day for several months, volunteers came into the scientists' lab at the University of Freiburg to get wires fixed to their scalp from a showerhead-like contraption overhead. The participants sat in a chair, tucked neatly in a metal tollbooth, with only one task: to flex a finger on their right hand at whatever irregular intervals pleased them, over and over, up to 500 times a visit.
The purpose of this experiment was to search for signals in the participants' brains that preceded each finger tap. At the time, researchers knew how to measure brain activity that occurred in response to events out in the world—when a person hears a song, for instance, or looks at a photograph—but no one had figured out how to isolate the signs of someone's brain actually initiating an action.
The experiment's results came in squiggly, dotted lines, a representation of changing brain waves. In the milliseconds leading up to the finger taps, the lines showed an almost undetectably faint uptick: a wave that rose for about a second, like a drumroll of firing neurons, then ended in an abrupt crash. This flurry of neuronal activity, which the scientists called the Bereitschaftspotential, or readiness potential, was like a gift of infinitesimal time travel. For the first time, they could see the brain readying itself to create a voluntary movement.
This momentous discovery was the beginning of a lot of trouble in neuroscience. Twenty years later, the American physiologist Benjamin Libet used the Bereitschaftspotential to make the case not only that the brain shows signs of a decision before a person acts, but that, incredibly, the brain's wheels start turning before the person even consciously intends to do something. Suddenly, people's choices—even a basic finger tap—appeared to be determined by something outside of their own perceived volition.
As a philosophical question, whether humans have control over their own actions had been fought over for centuries before Libet walked into a lab. But Libet introduced a genuine neurological argument against free will. His finding set off a new surge of debate in science and philosophy circles. And over time, the implications have been spun into cultural lore.
Today, the notion that our brains make choices before we are even aware of them will now pop up in cocktail-party conversation or in a review of Black Mirror. It's covered by mainstream journalism outlets, including This American Life, Radiolab, and this magazine. Libet's work is frequently brought up by popular intellectuals such as Sam Harris and Yuval Noah Harari to argue that science has proved humans are not the authors of their actions.
It would be quite an achievement for a brain signal 100 times smaller than major brain waves to solve the problem of free will. But the story of the Bereitschaftspotential has one more twist: It might be something else entirely.
The Bereitschaftspotential was never meant to get entangled in free-will debates. If anything, it was pursued to show that the brain has a will of sorts. The two German scientists who discovered it, a young neurologist named Hans Helmut Kornhuber and his doctoral student Lüder Deecke, had grown frustrated with their era's scientific approach to the brain as a passive machine that merely produces thoughts and actions in response to the outside world. Over lunch in 1964, the pair decided that they would figure out how the brain works to spontaneously generate an action. "Kornhuber and I believed in free will," says Deecke, who is now 81 and lives in Vienna.
To pull off their experiment, the duo had to come up with tricks to circumvent limited technology. They had a state-of-the-art computer to measure their participants' brain waves, but it worked only after it detected a finger tap. So to collect data on what happened in the brain beforehand, the two researchers realized that they could record their participants' brain activity separately on tape, then play the reels backwards into the computer. This inventive technique, dubbed "reverse-averaging," revealed the Bereitschaftspotential.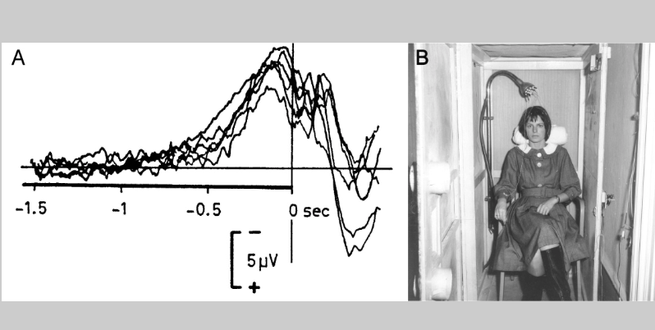 Images from the 1964 experiment show the Bereitschaftspotential (left) and one of the finger-tapping subjects. (Lüder Deecke)
The discovery garnered widespread attention. The Nobel laureate John Eccles and the prominent philosopher of science Karl Popper compared the study's ingenuity to Galileo's use of sliding balls for uncovering the laws of motion of the universe. With a handful of electrodes and a tape recorder, Kornhuber and Deecke had begun to do the same for the brain.
What the Bereitschaftspotential actually meant, however, was anyone's guess. Its rising pattern appeared to reflect the dominoes of neural activity falling one by one on a track toward a person doing something. Scientists explained the Bereitschaftspotential as the electrophysiological sign of planning and initiating an action. Baked into that idea was the implicit assumption that the Bereitschaftspotential causes that action. The assumption was so natural, in fact, no one second-guessed it—or tested it.
Libet, a researcher at the University of California at San Francisco, questioned the Bereitschaftspotential in a different way. Why does it take half a second or so between deciding to tap a finger and actually doing it? He repeated Kornhuber and Deecke's experiment, but asked his participants to watch a clocklike apparatus so that they could remember the moment they made a decision. The results showed that while the Bereitschaftspotential started to rise about 500 milliseconds before the participants performed an action, they reported their decision to take that action only about 150 milliseconds beforehand. "The brain evidently 'decides' to initiate the act" before a person is even aware that decision has taken place, Libet concluded.
To many scientists, it seemed implausible that our conscious awareness of a decision is only an illusory afterthought. Researchers questioned Libet's experimental design, including the precision of the tools used to measure brain waves and the accuracy with which people could actually recall their decision time. But flaws were hard to pin down. And Libet, who died in 2007, had as many defenders as critics. In the decades since his experiment, study after study has replicated his finding using more modern technology such as fMRI.
But one aspect of Libet's results sneaked by largely unchallenged: the possibility that what he was seeing was accurate, but that his conclusions were based on an unsound premise. What if the Bereitschaftspotential didn't cause actions in the first place? A few notable studies did suggest this, but they failed to provide any clue to what the Bereitschaftspotential could be instead. To dismantle such a powerful idea, someone had to offer a real alternative.
In 2010, Aaron Schurger had an epiphany. As a researcher at the National Institute of Health and Medical Research in Paris, Schurger studied fluctuations in neuronal activity, the churning hum in the brain that emerges from the spontaneous flickering of hundreds of thousands of interconnected neurons. This ongoing electrophysiological noise rises and falls in slow tides, like the surface of the ocean—or, for that matter, like anything that results from many moving parts. "Just about every natural phenomenon that I can think of behaves this way. For example, the stock market's financial time series or the weather," Schurger says.
From a bird's-eye view, all these cases of noisy data look like any other noise, devoid of pattern. But it occurred to Schurger that if someone lined them up by their peaks (thunderstorms, market records) and reverse-averaged them in the manner of Kornhuber and Deecke's innovative approach, the results' visual representations would look like climbing trends (intensifying weather, rising stocks). There would be no purpose behind these apparent trends—no prior plan to cause a storm or bolster the market. Really, the pattern would simply reflect how various factors had happened to coincide.
"I thought, Wait a minute," Schurger says. If he applied the same method to the spontaneous brain noise he studied, what shape would he get? "I looked at my screen, and I saw something that looked like the Bereitschaftspotential." Perhaps, Schurger realized, the Bereitschaftspotential's rising pattern wasn't a mark of a brain's brewing intention at all, but something much more circumstantial.
Two years later, Schurger and his colleagues Jacobo Sitt and Stanislas Dehaene proposed an explanation. Neuroscientists know that for people to make any type of decision, our neurons need to gather evidence for each option. The decision is reached when one group of neurons accumulates evidence past a certain threshold. Sometimes, this evidence comes from sensory information from the outside world: If you're watching snow fall, your brain will weigh the number of falling snowflakes against the few caught in the wind, and quickly settle on the fact that the snow is moving downward.
But Libet's experiment, Schurger pointed out, provided its subjects with no such external cues. To decide when to tap their fingers, the participants simply acted whenever the moment struck them. Those spontaneous moments, Schurger reasoned, must have coincided with the haphazard ebb and flow of the participants' brain activity. They would have been more likely to tap their fingers when their motor system happened to be closer to a threshold for movement initiation.
This would not imply, as Libet had thought, that people's brains "decide" to move their fingers before they know it. Hardly. Rather, it would mean that the noisy activity in people's brains sometimes happens to tip the scale if there's nothing else to base a choice on, saving us from endless indecision when faced with an arbitrary task. The Bereitschaftspotential would be the rising part of the brain fluctuations that tend to coincide with the decisions. This is a highly specific situation, not a general case for all, or even many, choices.
Other recent studies support the idea of the Bereitschaftspotential as a symmetry-breaking signal. In a study of monkeys tasked with choosing between two equal options, a separate team of researchers saw that a monkey's upcoming choice correlated with its intrinsic brain activity before the monkey was even presented with options.
In a new study under review for publication in the Proceedings of the National Academy of Sciences, Schurger and two Princeton researchers repeated a version of Libet's experiment. To avoid unintentionally cherry-picking brain noise, they included a control condition in which people didn't move at all. An artificial-intelligence classifier allowed them to find at what point brain activity in the two conditions diverged. If Libet was right, that should have happened at 500 milliseconds before the movement. But the algorithm couldn't tell any difference until about only 150 milliseconds before the movement, the time people reported making decisions in Libet's original experiment.
In other words, people's subjective experience of a decision—what Libet's study seemed to suggest was just an illusion—appeared to match the actual moment their brains showed them making a decision.
When Schurger first proposed the neural-noise explanation, in 2012, the paper didn't get much outside attention, but it did create a buzz in neuroscience. Schurger received awards for overturning a long-standing idea. "It showed the Bereitschaftspotential may not be what we thought it was. That maybe it's in some sense artifactual, related to how we analyze our data," says Uri Maoz, a computational neuroscientist at Chapman University.
For a paradigm shift, the work met minimal resistance. Schurger appeared to have unearthed a classic scientific mistake, so subtle that no one had noticed it and no amount of replication studies could have solved it, unless they started testing for causality. Now, researchers who questioned Libet and those who supported him are both shifting away from basing their experiments on the Bereitschaftspotential. (The few people I found still holding the traditional view confessed that they had not read Schurger's 2012 paper.)
"It's opened my mind," says Patrick Haggard, a neuroscientist at University College London who collaborated with Libet and reproduced the original experiments.
It's still possible that Schurger is wrong. Researchers broadly accept that he has deflated Libet's model of Bereitschaftspotential, but the inferential nature of brain modeling leaves the door cracked for an entirely different explanation in the future. And unfortunately for popular-science conversation, Schurger's groundbreaking work does not solve the pesky question of free will any more than Libet's did. If anything, Schurger has only deepened the question.
Is everything we do determined by the cause-and-effect chain of genes, environment, and the cells that make up our brain, or can we freely form intentions that influence our actions in the world? The topic is immensely complicated, and Schurger's valiant debunking underscores the need for more precise and better-informed questions.
"Philosophers have been debating free will for millennia, and they have been making progress. But neuroscientists barged in like an elephant into a china shop and claimed to have solved it in one fell swoop," Maoz says. In an attempt to get everyone on the same page, he is heading the first intensive research collaboration between neuroscientists and philosophers, backed by $7 million from two private foundations, the John Templeton Foundation and the Fetzer Institute. At an inaugural conference in March, attendees discussed plans for designing philosophically informed experiments, and unanimously agreed on the need to pin down the various meanings of "free will."
In that, they join Libet himself. While he remained firm on his interpretation of his study, he thought his experiment was not enough to prove total determinism—the idea that all events are set in place by previous ones, including our own mental functions. "Given the issue is so fundamentally important to our view of who we are, a claim that our free will is illusory should be based on fairly direct evidence," he wrote in a 2004 book. "Such evidence is not available.""
-by Bernardo Kastrup, 2/5/2020, for Scientific American
ABOUT THE AUTHOR
Most recently the author of The Idea of the World: A Multi-disciplinary Argument for the Mental Nature of Reality, Bernardo Kastrup has a Ph.D. in philosophy (ontology, philosophy of mind) and another in computer engineering (reconfigurable computing, artificial intelligence). He has worked as a scientist in some of the world's foremost research laboratories, including the European Organization for Nuclear Research (CERN), and authored many academic papers and books on philosophy and science. For more information, freely downloadable papers, videos, etc., please visit www.bernardokastrup.com.
"At least since the Enlightenment, in the 18th century, one of the most central questions of human existence has been whether we have free will. In the late 20th century, some thought neuroscience had settled the question. However, as it has recently become clear, such was not the case. The elusive answer is nonetheless foundational to our moral codes, criminal justice system, religions and even to the very meaning of life itself—for if every event of life is merely the predictable outcome of mechanical laws, one may question the point of it all.
But before we ask ourselves whether we have free will, we must understand what exactly we mean by it. A common and straightforward view is that, if our choices are predetermined, then we don't have free will; otherwise we do. Yet, upon more careful reflection, this view proves surprisingly inappropriate.
To see why, notice first that the prefix "pre" in "predetermined choice" is entirely redundant. Not only are all predetermined choices determined by definition, all determined choices can be regarded as predetermined as well: they always result from dispositions or necessities that precede them. Therefore, what we are really asking is simply whether our choices are determined.
In this context, a free-willed choice would be an undetermined one. But what is an undetermined choice? It can only be a random one, for anything that isn't fundamentally random reflects some underlying disposition or necessity that determines it. There is no semantic space between determinism and randomness that could accommodate choices that are neither. This is a simple but important point, for we often think—incoherently—of free-willed choices as neither determined nor random.
Our very notion of randomness is already nebulous and ambiguous to begin with. Operationally, we say that a process is random if we can't discern a pattern in it. However, a truly random process can, in principle, produce any pattern by mere chance. The probability of this happening may be small, but it isn't zero. So, when we say that a process is random, we are merely acknowledging our ignorance of its potential underlying causal basis. As such, an appeal to randomness doesn't suffice to define free will.
Moreover, even if it did, when we think of free will we don't think of mere randomness. Free choices aren't erratic ones, are they? Neither are they undetermined: if I believe that I make free choices, it is because I feel that my choices are determined by me. A free choice is one determined by my preferences, likes, dislikes, character, etc., as opposed to someone else's or other external forces.
But if our choices are always determined anyway, what does it mean to talk of free will in the first place? If you think about it carefully, the answer is self-evident: we have free will if our choices are determined by that which we experientially identify with. I identify with my tastes and preferences—as consciously felt by me—in the sense that I regard them as expressions of myself. My choices are thus free insofar as they are determined by these felt tastes and preferences.
Why, then, do we think that metaphysical materialism—the notion that our choices are determined by neurophysiological activity in our own brain—contradicts free will? Because, try as we might, we don't experientially identify with neurophysiology; not even our own. As far as our conscious life is concerned, the neurophysiological activity in our brain is merely an abstraction. All we are directly and concretely acquainted with are our fears, desires, inclinations, etc., as experienced—that is, our felt volitional states. So, we identify with these, not with networks of firing neurons inside our skull. The alleged identity between neurophysiology and felt volition is merely a conceptual—not an experiential—one.
The key issue here is one that permeates the entire metaphysics of materialism: all we ever truly have are the contents of consciousness, which philosophers call "phenomenality."' Our entire life is a stream of felt and perceived phenomenality. That this phenomenality somehow arises from something material, outside consciousness—such as networks of firing neurons—is a theoretical inference, not a lived reality; it's a narrative we create and buy into on the basis of conceptual reasoning, not something felt. That's why, for the life of us, we can't truly identify with it.
So, the question of free will boils down to one of metaphysics: are our felt volitional states reducible to something outside and independent of consciousness? If so, there cannot be free will, for we can only identify with contents of consciousness. But if, instead, neurophysiology is merely how our felt volitional states present themselves to observation from an outside perspective—that is, if neurophysiology is merely the image of conscious willing, not its cause or source—then we do have free will; for in the latter case, our choices are determined by volitional states we intuitively regard as expressions of ourselves.
Crucially, the question of metaphysics can be legitimately broached in a way that inverts the usual free will equation: according to 19th-century philosopher Arthur Schopenhauer, it is the laws of nature that arise from a transpersonal will, not the will from the laws of nature. Felt volitional states are the irreducible foundation of both mind and world. Although Schopenhauer's views are often woefully misunderstood and misrepresented—most conspicuously by presumed experts—when correctly construed they offer a coherent scheme for reconciling free will with seemingly deterministic natural laws.
As elucidated in my concise new book, Decoding Schopenhauer's Metaphysics, for Schopenhauer the inner essence of everything is conscious volition—that is, will. Nature is dynamic because its underlying volitional states provide the impetus required for events to unfold. Like his predecessor Immanuel Kant, Schopenhauer thought of what we call the "physical world" as merely an image, a perceptual representation of the world in the mind of an observer. But this representation isn't what the world is like in itself, prior to being represented.
Since the information we have about the external environment seems to be limited to perceptual representations, Kant considered the world-in-itself unknowable. Schopenhauer, however, argued that we can learn something about it not only through the sense organs, but also through introspection. His argument goes as follows: even in the absence of all self-perception mediated by the sense organs, we would still experience our own endogenous, felt volition.
Therefore, prior to being represented we are essentially will. Our physical body is merely how our will presents itself to an external vantage point. And since both our body and the rest of the world appear in representation as matter, Schopenhauer inferred that the rest of the world, just like ourselves, is also essentially will.
In Schopenhauer's illuminating view of reality, the will is indeed free because it is all there ultimately is. Yet, its image is nature's seemingly deterministic laws, which reflect the instinctual inner consistency of the will. Today, over 200d years after he first published his groundbreaking ideas, Schopenhauer's work can reconcile our innate intuition of free will with modern scientific determinism."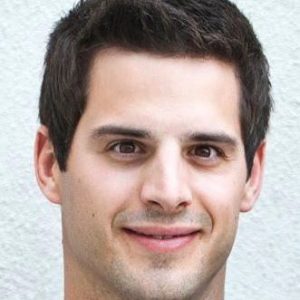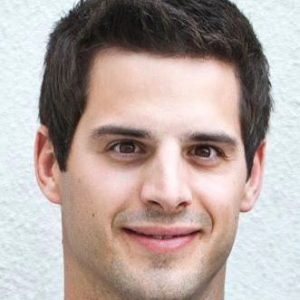 -by Matt Nelson
"For those who reject the notion of free will, our experience of making our own decisions is nothing more than a deep-seated illusion. "The reality is," insists biologist Anthony Cashmore, "not only do we have no more free will than a fly or a bacterium, in actuality we have no more free will than a bowl of sugar."
Those who argue for the nonexistence of free will often do so on scientific grounds. And those who offer a scientific "proof" against free will point to one type of experiment more than any other—namely, those done and inspired by neurobiologist Benjamin Libet.
In 1983, Libet seemed to prove that the unconscious processes of the brain—the interaction of molecules, electrical discharges, and the like, which are associated with decision-making—are ultimately in control. In other words, our voluntary decisions begin unconsciously in the brain. So it is the brain, not the person, that decides the actions we "feel" to be voluntary.
Libet-style experiments involve having a subject carry out a simple prescribed behavior (flexing the wrist, bending a finger, etc.) whenever he feels the urge to do so. Watching a special clock while he executes his movement, the subject notes the specific time at which he decided to move. The goal of the researchers is to plot a timeline of averages, noting the typical sequence of brain activity (e.g., by EEG), muscle activity (e.g., by EMG), and conscious urging (by subjective reporting). The expectation is that if our intentional actions are truly free, associated brain activity will follow the moment of decision. But this is not what Libet found.
Why does this matter? Well, it has obvious implications for the truth of the Catholic worldview. It also concerns human nature and how we understand ourselves as human beings. For if we don't have free will, then this may dramatically change how we govern ourselves and interact with others. Much of how we operate as individuals, communities, states, and institutions presuppose that we are personally responsible for our actions. But if it were proven that we are not, this would entirely undermine our rationale for structuring and governing society on the assumption that we are free creatures.
So did these experiments really succeed in proving that free will is an illusion? They did not.
First of all, the experiments look exclusively at spontaneously willed behavior with brain activity. Participants were asked to act when they felt the urge. These experiments, then, say little about choices resulting from rational planning. At most, they suggest the nonexistence of free will in the restricted case of willful spontaneity. The voluntary actions with which they are concerned are barely more than split-second reactions. As some critics have observed, such studies tell us more about "picking" than "choosing."
But even that conclusion might be overly hasty, for the concept of free will is not as plain as often presumed. Free will is a spiritual appetite for the intellectually known good. A decision, moved by free will, is not a quantifiable event like a neuronal discharge. Nor is it reducible to an instantaneous impulse or urge. And a willed movement is not always a purely linear cause-then-effect event like a cue ball striking an eight-ball into action. The activity of the will is more "smoothed out" and pervasive than an impulse. And it is enacted in layers. Thus, even in a setting like the Libet-style experiments, the free will cannot be isolated as cleanly as many assume.
For each study participant, in carrying out the prescribed movement, the will to move in this way at this time is nested within a multiplicity of other intentions motivating the same action. A singular act of wrist flexion is driven also (presumably) by the will to participate in the study; by the desire to follow the specific instructions given; by the desire to contribute to neuroscientific advancement; and in the will to do something for the common good. Additionally, the subject may bend his wrist because he desires to fulfill a class requirement—a class he desires to pass—or because he thinks it will hold the attention of the attractive research assistant across the room. The point is this: due to the complex integration of intentions involved in a single choice to move a body part, these studies cannot account for all the reasons that cause a person to conduct a singular movement. There is a sense in which the free decision of the research subject to flex his wrist "now" originated even before he entered the research lab.
We find ourselves here at an important juncture. It shows that once we have started making claims about free will's reality or unreality, we have turned from all observation, measurement, and data analysis. We have reached the far side of the physical and have (perhaps unwittingly) thrust ourselves into the realm of philosophy.
Let's turn to some further considerations. The Libet experiments relied on machines to capture brain and muscle activity. But it must be noted that neither EEG nor fMRI, nor any other form of advanced imaging, can capture the qualitative content of brain activity. When researchers carry out Libet-style experiments, they note the onset of brain activity and compare it to that of muscle activity and, more importantly, the time when the subject reports consciously willing the prescribed movement. But there is no precise way for scientists to know—even when the subject acts on an urge—whether the brain activity recorded or observed is representative of decision, or decision-making, or planning to make a decision.
In fact, more recent research shows the same brain activity believed to induce conscious decision-making is also found in subjects even when they do not make a conscious decision. Libet's initial conclusion was "that cerebral initiation even of a spontaneous voluntary act . . . can and usually does begin unconsciously." But these recent studies call such a conclusion into serious question.
There are several other critiques and limitations that have a significant impact on how much (or little) Libet-style studies actually prove. For an excellent detailed discussion of these limitations and their philosophical implications, read Alfred Mele's little book Free.
At most, Libet-style experiments prove that a constrained subset of willed behaviors is not as freely executed as we are inclined to assume. But as we have seen, they hardly prove even that much. As far as Catholics traditionally conceive human freedom, such experiments pose little threat—and thus, the human person has every reason to believe that he remains infinitely more free than a bowl of sugar."
Love, freely willed,
Matthew