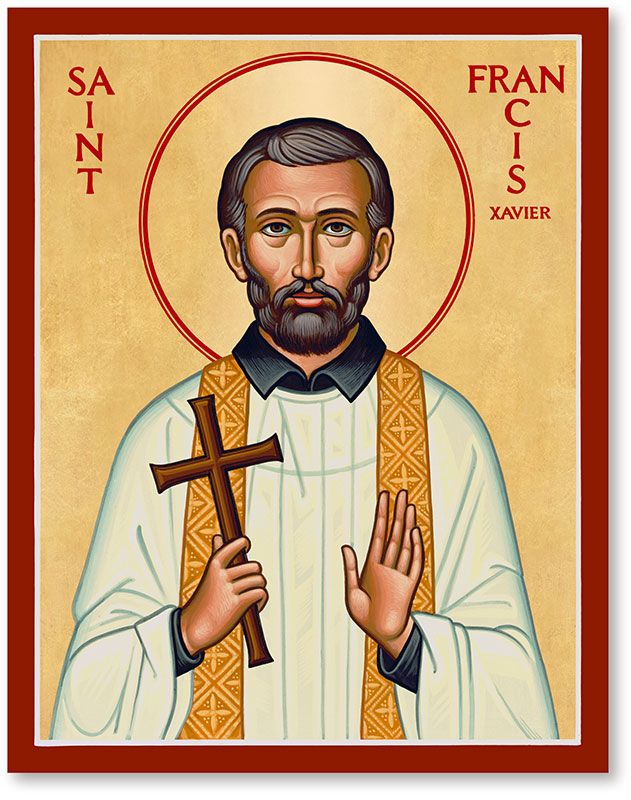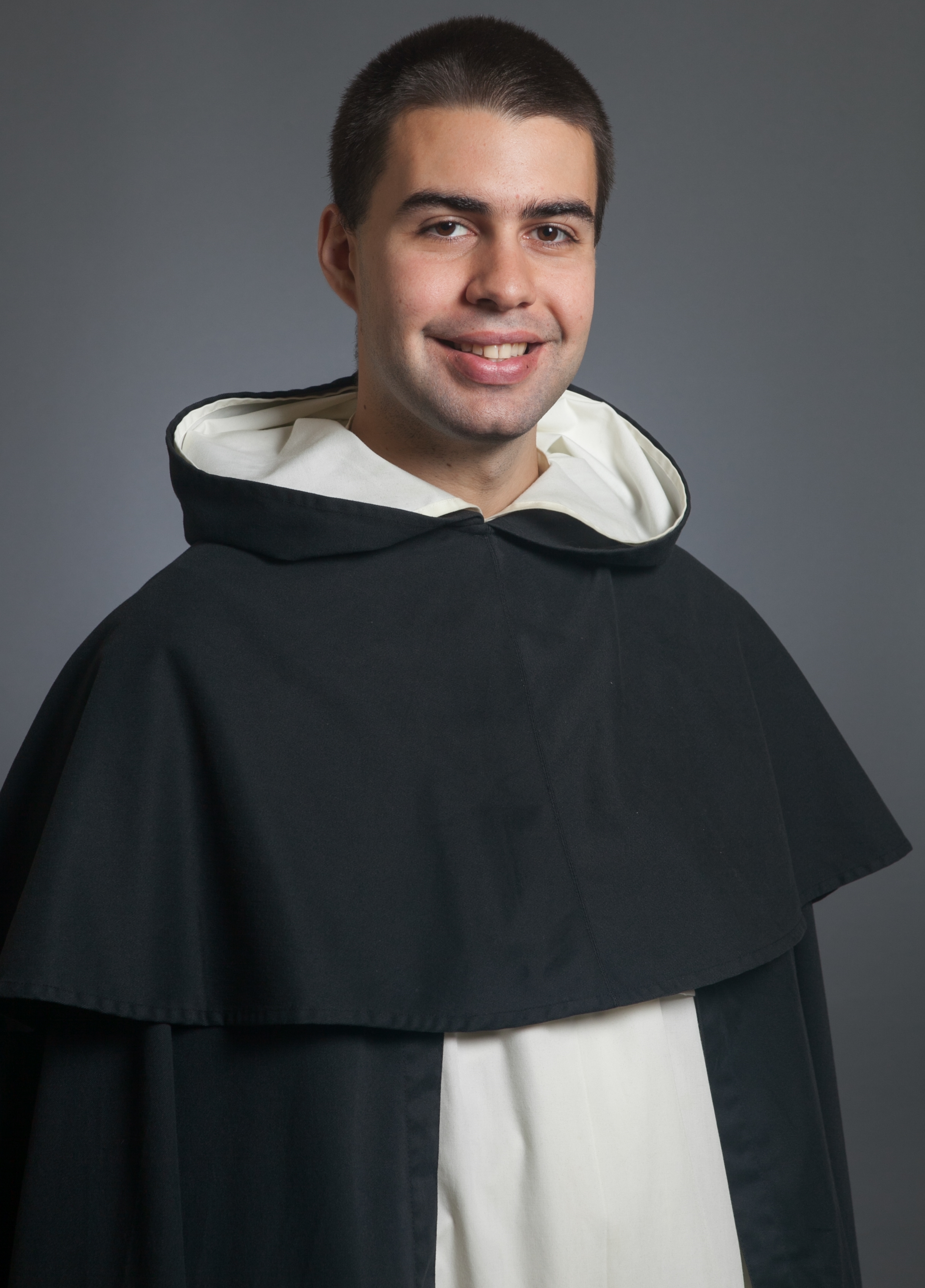 -by Br Bartholomew Calvano, OP
"Sometimes God works in mysterious ways that we can't understand. We may not be sure what exactly it is God wants us to do. At other times God's will for us can be painfully simple. I say simple because what God wants us to do can often be quite obvious. I say painfully because that obvious task is not necessarily easy. Sometimes, we would rather have God's will for us be mysterious rather than pay the cost that the obvious task demands of us.
Saint Francis Xavier, one of the first members of the Jesuits, provides an excellent example of someone who followed God's will for him when it was simple and straightforward. He did this despite the pains he would have to undergo. At the direction of St. Ignatius, St. Francis Xavier left Europe to accompany the Portuguese explorers and preach throughout India and eventually even Japan. It was not a complicated task to do as he was told. Saint Francis Xavier simply had to go to those people who had never heard the Gospel and preach to them. St. Ignatius's instructions were nothing more than a reissuing of the Great Commission which Jesus gave to the Apostles: "Go, therefore, and make disciples of all nations, baptizing them in the name of the Father, and of the Son, and of the Holy Spirit, teaching them to observe all that I have commanded you" (Mt 28:19-20). The task could hardly be simpler: preach the Gospel to those who have not heard it.
Yet, this was not an easy task even if St. Francis Xavier knew what he had to do to accomplish it. He had to learn multiple languages in order to translate the Creed and other basic prayers, which he would use to catechize these foreign peoples. He traveled far and frequently. He was often on his own during these travels. The trials were even physically demanding. We can see this from one letter he sent back to the Jesuits in Rome:
"As to the numbers who become Christians, you may understand them from this, that it often happens to me to be hardly able to use my hands from the fatigue of baptizing: often in a single day I have baptized whole villages. Sometimes I have lost my voice and strength altogether with repeating again and again the Credo and the other forms." (quoted in The Life and Letters of St. Francis Xavier by Henry James Coleridge, S.J., 153)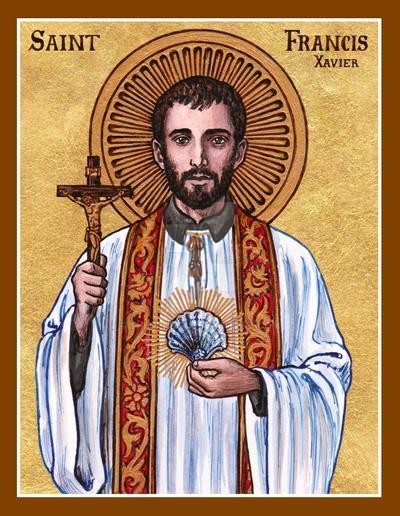 Saint Francis Xavier, SJ, exemplifies the heroic virtue that allowed him to carry out day in and day out the simple, repetitive, sometimes even monotonous tasks to which God called him. Tasks that cost him a great deal of suffering. Sometimes, this is precisely the reminder that we need. God has called each and every one of us to do certain, simple tasks, most of which are not glamorous. These tasks are, nonetheless, the foundation of the Kingdom of God. The pain of these tasks for us may not be physical, it may be the pain of stepping out of our comfort zone or doing the job no one else wants to do. By being faithful in the obvious, repetitive, and sometimes distasteful tasks given to us, we can spread God's love to the world one person at a time.
Eventually, St. Francis Xavier would die at the age of 46 from a fever while waiting for a boat to take him to China. This seems like a rather prosaic death for a saint who had served God so fervently. He did not die a martyr's death. Instead, he bore witness to God by his arduous labor at a task he could never hope to complete in his lifetime. It was a task that wore him to the bone and ate away at his health, but he embraced it joyfully.
Most of those he preached to were eager to receive the Gospel and only needed someone to preach it to them. Likewise, there are many people in our lives who are ready to hear the Gospel if they only had someone to bring it to them. What will preaching the Gospel cost us?Are we, like St. Francis Xavier, willing to embrace the attendant hardships with joy? Can we be like Jesus who "for the sake of the joy that lay before him . . . endured the cross"(Heb 12:2)?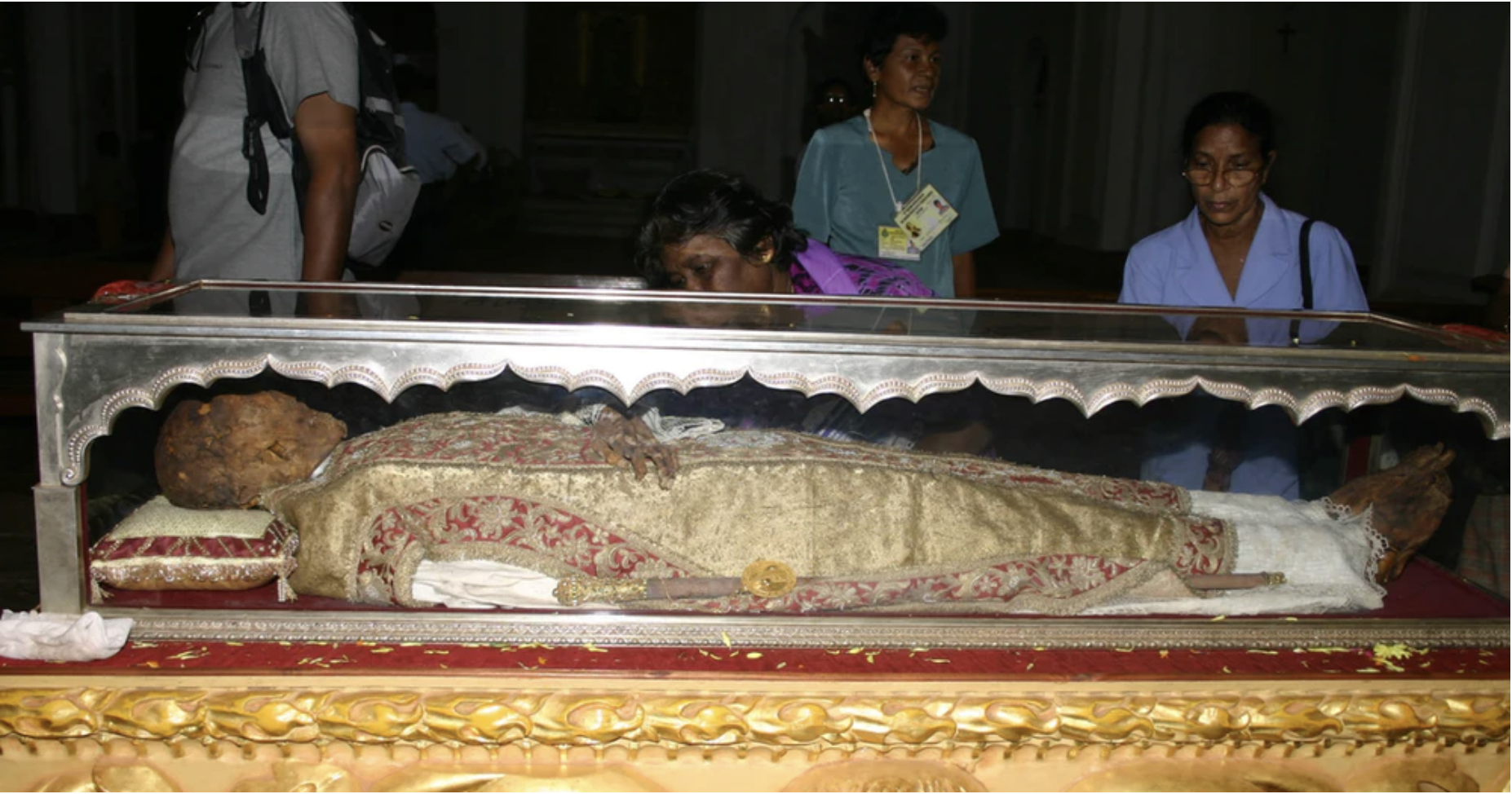 -Pilgrims pray by and view the body of St Francis Xavier during an exposition of the saint in December 2004.  Please click on the image for greater detail.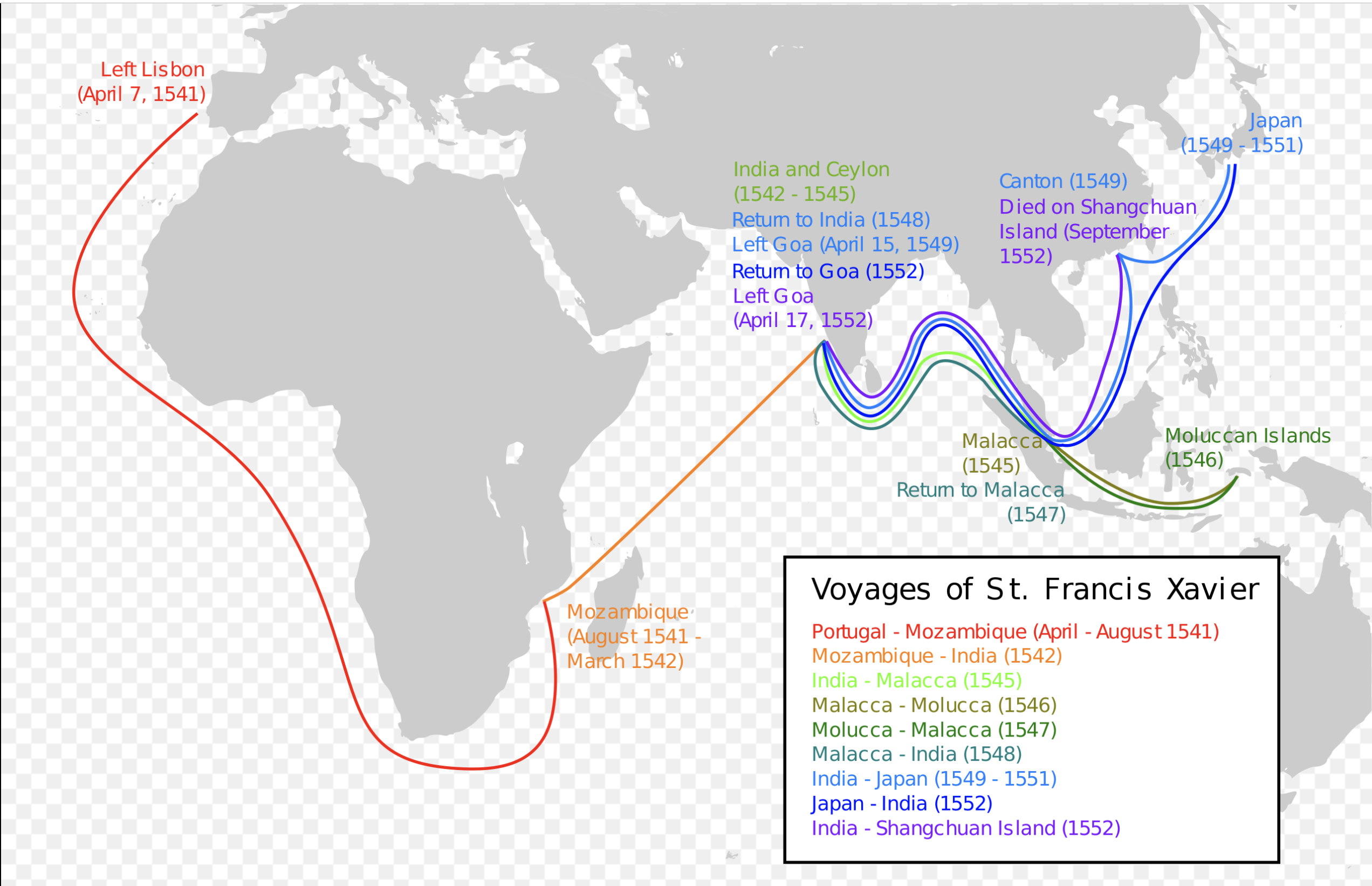 -missionary journeys of St Francis Xavier, SJ, (1541-1552).  Please click on the image for greater detail.
""We have visited the villages of the new converts who accepted the Christian religion a few years ago. The native Christians have no priests. There is nobody to say Mass for them; nobody to teach them the Faith. I have not stopped since the day I arrived. I baptized all the children and taught the older children [their prayers]. I noticed among them persons of great intelligence — if only someone could educate them in the Christian way of life, I have no doubt that they would make excellent Christians!
Many, many people hereabouts are not becoming Christians for one reason only: there is nobody to make them Christians. Again and again I have thought of going round the universities of Europe, especially Paris, and everywhere crying out like a madman: 'What a tragedy: how many souls are being shut out of heaven and falling into hell, thanks to you!"
-St Francis Xavier, SJ
"It is not the actual physical exertion that counts towards a man's progress, nor the nature of the task, but by the spirit of faith with which it is undertaken."
–St. Francis Xavier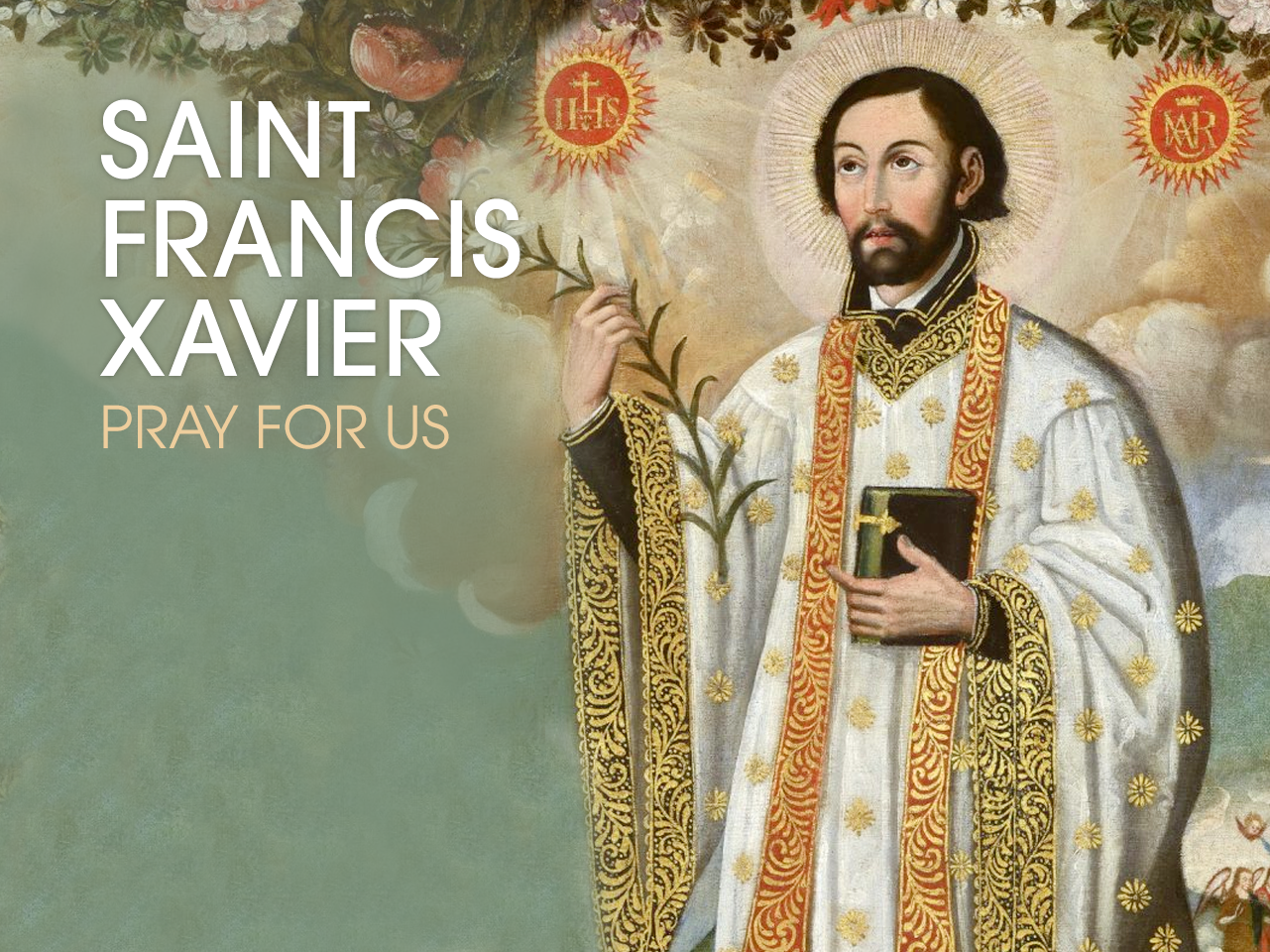 Love,
Matthew