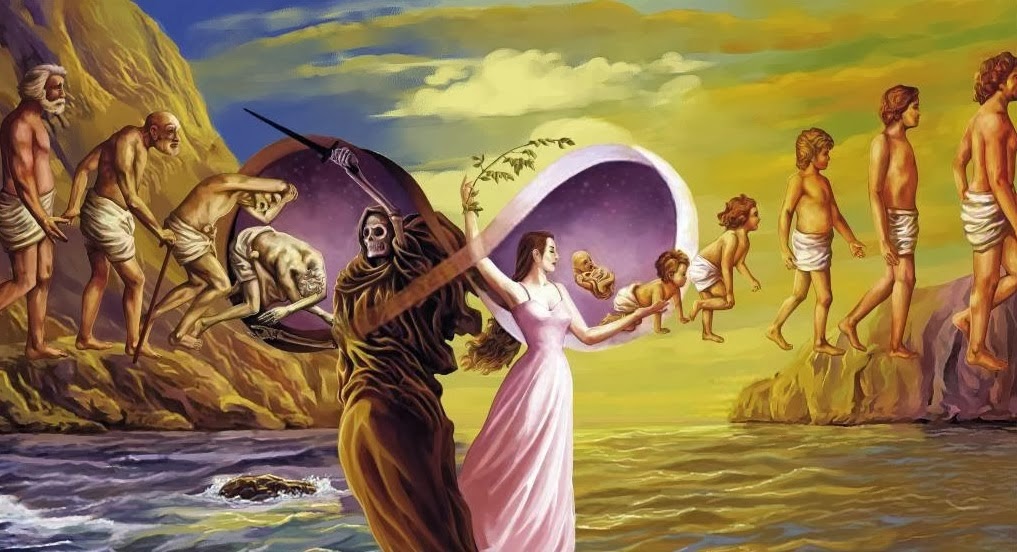 -from Catholic Answers 20 Answers: Death & Judgment
"Reincarnation, which literally means "to be made flesh again," is the belief that after death the soul lives on in another body. The soul might inhabit a similar body (e.g., a man's soul enters another man's body) or even a radically dissimilar body (e.g., a man's soul enters a frog's body). Regardless of what form reincarnation takes, the Catechism states:
Death is the end of man's earthly pilgrimage, of the time of grace and mercy which God offers him so as to work out his earthly life in keeping with the divine plan, and to decide his ultimate destiny. When "the single course of our earthly life" is completed, we shall not return to other earthly lives: "It is appointed for men to die once" (Heb. 9:27). There is no "reincarnation" after death (CCC 1013).
In the third century, Origen said reincarnation was "foreign to the church of God, and not handed down by the Apostles, nor anywhere set forth in the Scriptures." There are several arguments that support the Church's rejection of reincarnation. First, in the fourth century St. Ambrose of Milan wrote that it would be impossible that "the soul which rules man should take on itself the nature of a beast so opposed to that of man," or that man, "being capable of reason should be able to pass over to an irrational animal." In other words, the migration of souls between human and animals is as impossible as the procreation of bodies between humans and animals.
Second, humans do not behave as if they possessed souls that lived before the birth of their body. The third-century ecclesial writer Tertullian put it this way:
If souls depart at different ages of human life, how is it that they come back again at one uniform age? For all men are imbued with an infant soul at their birth. But how happens it that a man who dies in old age returns to life as an infant? . . .  I ask, then, how the same souls are resumed, which can offer no proof of their identity, either by their disposition, or habits, or living?
The absence of animals and infants who act like mature adults is evidence against the theory of reincarnation. Of course, a defender of reincarnation could say that while a person's soul inhabits a new body, his memories and personality do not. But this makes reincarnation the practical equivalent of not surviving death. It also begs the question; as St. Irenaeus argued in the second century, "If we don't remember anything before our conception, then how do advocates of reincarnation know we've all been reincarnated?"
Other defenders of reincarnation offer empirical evidence in the form of "past-lives" testimony. These testimonies, such as those gathered among children by the late psychiatrist Ian Stevenson, are not convincing. For example, many of the subjects of Stevenson's interviews were children who lived in places like India, where reincarnation is widely accepted. This means that their stories were more likely the products of social conditioning than actual memories of past lives.
Moreover, although the children in these studies were not thought to be capable of deceiving interviewers, they were capable of confusing fantasy with reality  (e.g., telling stories about imaginary friends or imaginary adventures). In fact, many of the anecdotes Stevenson shares rely on ambiguous details that are better explained by a child's imperfect grasp of reality. Skeptic Robert Carroll offers the following example:
One case involved an Idaho girl who at age 2 would point to photographs of her sister, dead from a car accident three years before she was born, and say "that was me." The believer thinks the two-year-old meant: "I was my sister in a previous life." The skeptic thinks she meant: "That's a picture of me." The skeptic sees the two-year-old as making a mistake. The believer sees her as trying to communicate a message about reincarnation.
There is also a third argument against reincarnation, one that has been called "the population argument." It relies on the claim made by proponents of reincarnation that new souls are never created or destroyed. Instead, souls are only "reborn" into other bodies. But, in Tertullian's words, "If the living come from the dead, just as the dead proceed from the living, then there must always remain unchanged one and the selfsame number of mankind." He noted (and modern science has confirmed) that there has been a "gradual growth of [the human] population." This growth can only be explained by new souls coming into existence, and conflicts with the notion of the perpetual reincarnation of the same souls into different bodies.
Finally, scientists agree that life on earth began—at the earliest—billions of years ago. This disproves the idea that souls have been reincarnating into physical bodies for all eternity. As the Catechism says, "The Church teaches that every spiritual soul is created immediately by God—it is not 'produced' by the parents—and also that it is immortal: it does not perish when it separates from the body at death, and it will be reunited with the body at the final Resurrection" (CCC 366)."
Love,
Matthew