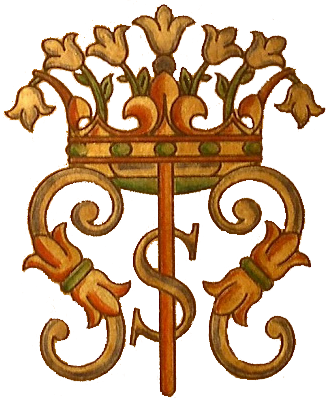 The priest who did the marriage preparation for Kelly & I, the Rev. Paul Novak, OSM, a wonderful priest, quipped the OSM stood for "Order of Sexy Men!"  🙂  Actually, and less comical, it stands for Ordo Servorum Beatae Mariae Virginis., sometimes simply referred to as "Servants of Mary", or the Servite Order.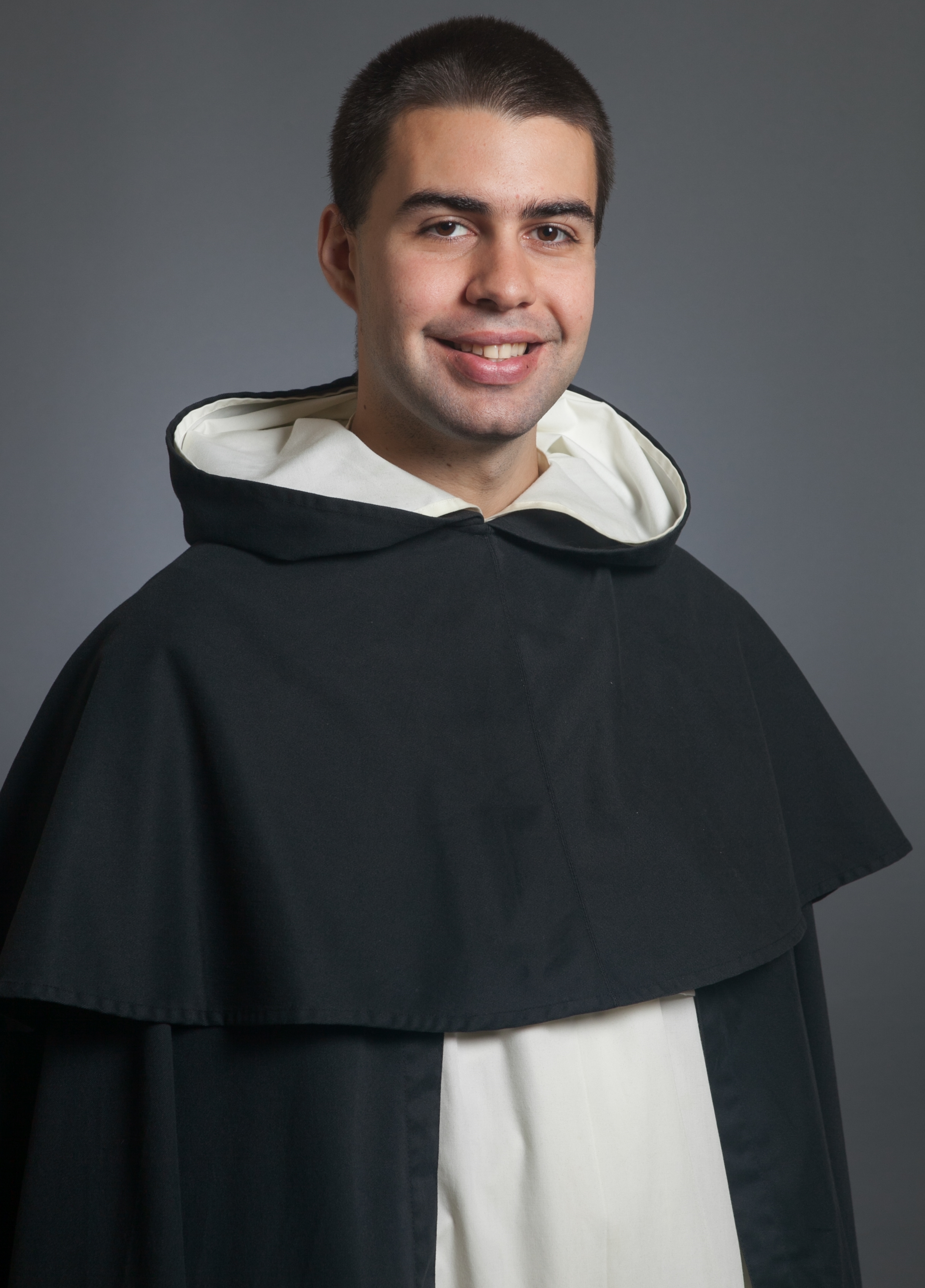 -by Br Bartholomew Calvano, OP, received a B.A. in Molecular Biology and Biochemistry/Mathematics/Computer Science with a minor in Chemistry from Rutgers prior to joining the Order.
"To pray or do good? This seems to be the dilemma of anyone trying to live a Christian life. On the one hand St. Thomas Aquinas says that "the contemplative life is more excellent than the active," but on the other hand St. James says that "faith by itself, if it has no works, is dead." This dichotomy is traditionally expressed in terms of Martha and Mary, and Jesus certainly seems to weigh in on Mary's side. Today the church honors the Seven Holy Founders of the Servite Order, who illuminate the interaction of the contemplative and the active life.
The Servite Order was founded by a group of seven men, cloth merchants, from Florence. The city was torn with political strife as well as the heresy of the Cathari. They were not the kind of group you would think of to found a religious order: they were well off and highly respected men, and while three of them were celibate, two were widowed and two were married. Thus, the first thing they had to do was provide for their dependents. This being done, they went off to begin a contemplative life. They took up this life in a house just outside Florence called La Carmarzia, but it wasn't long until they were so distracted by visitors that it was impossible to live the contemplative life. So like good monks they fled from the world into the wilderness and began living on the slopes of Monte Senario. They began under the direction of St. Peter of Verona, OP.
They remained on those slopes for a time, sending visitors quickly on their way—even those who wished to join them—until they were visited by their local bishop and a cardinal. The cardinal was impressed, but commented that "you seem more desirous of dying to time than of living for eternity." Then the Seven Holy Founders had a vision of Mary, who told them that she wanted them to be her servants (hence their full name, the Order of the Servants of Mary), wear the black habit, and follow the Rule of St. Augustine. This was on April 14, 1240, and from that day on they began to live more like mendicant friars and less like monastics. That is to say, they began to go out from their cloister, travelling extensively to preach the Gospel. To the Servites was entrusted particularly the preaching of the Seven Sorrows of Mary, commemorating the suffering which she endured alongside her son, Jesus Christ. At the same time, they did not abandon their monastic practices but continued to pray the Divine Liturgy in common and to live in community. Their work, however, became that of preaching, and they earned their food by begging. After this transition they began to accept new companions to join them, and they quickly grew and spread throughout Europe.
It's a pretty amazing story, and it shows how in the mixed life—contemplation paired with action—men can be drawn first to contemplation. After spending time in prayer, they are called out from contemplation into the service of their fellow men. And this should be the model of every Christian life. A man should first seek God and desire to be with Him. By being with God, a man might hear a call from God to go out to other men and draw them to God. Even those living in monasteries should hear this call to draw their brothers in the monastery closer to God by the example of their service. This is the life that St. Thomas Aquinas says surpasses even the contemplative life, although not by abandoning the contemplative life for the active life, but by uniting the two: "And this work is more excellent than simple contemplation. For even as it is better to enlighten than merely to shine, so is it better to give to others the fruits of one's contemplation than merely to contemplate." Hence, an active life is well lived when it flows out of a contemplative life, and there cannot be a purely active Christian life absent of any contemplation. Every Christian should be both Martha and Mary.
So if you are finding yourself "worried and distracted by many things" (Lk 10:41) while you are helping others and doing good, it might help to turn back to prayer. And if you find that your prayer life seems to be in a rut, maybe there's an act of mercy you've been putting off that God is calling you to do."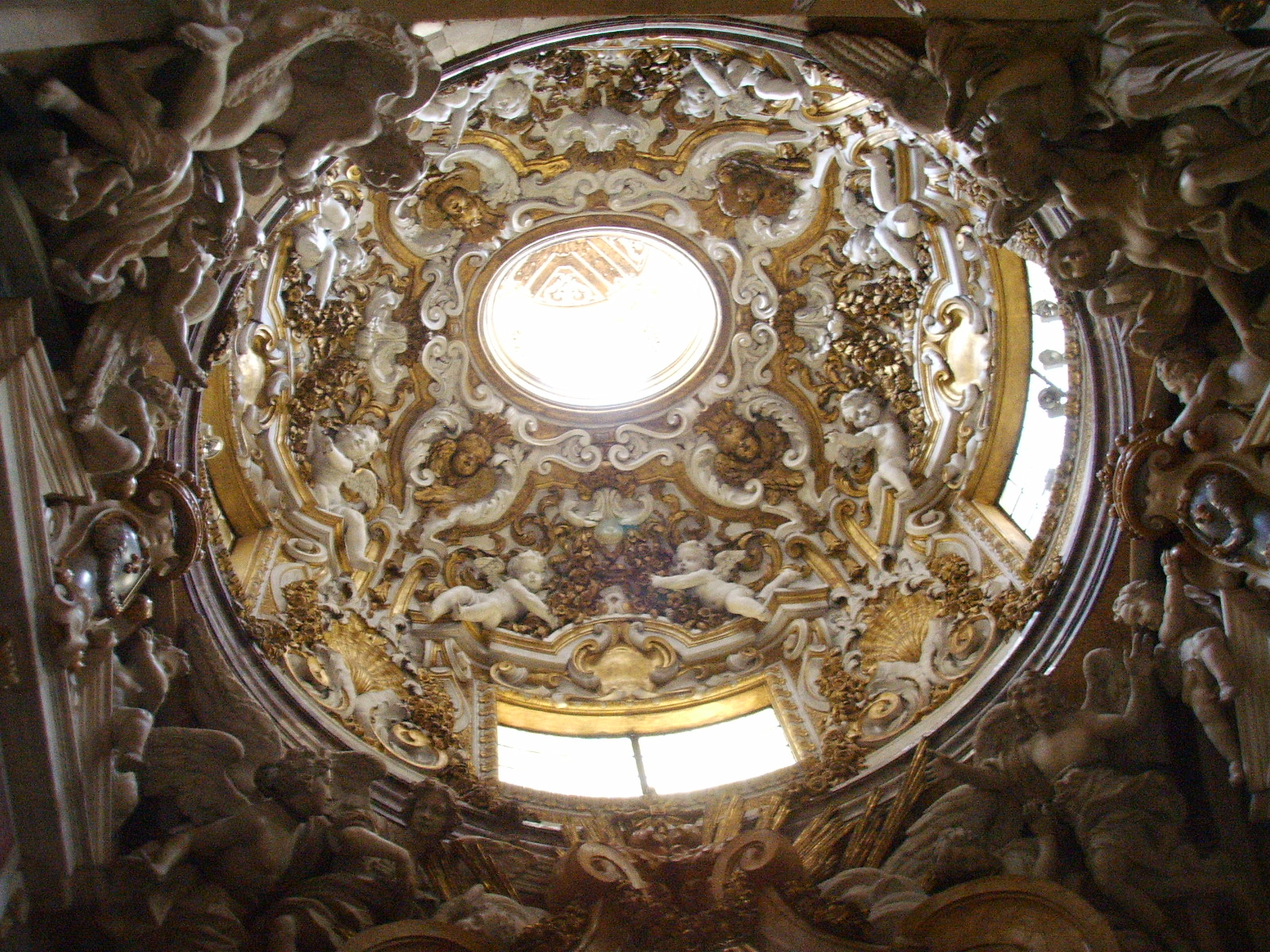 -cupola (ceiling), of the Chapel of St Joseph, Basilica of the Holy Annunciation, Florence, Italy, the Servite mother church.  Please click on the image for greater detail.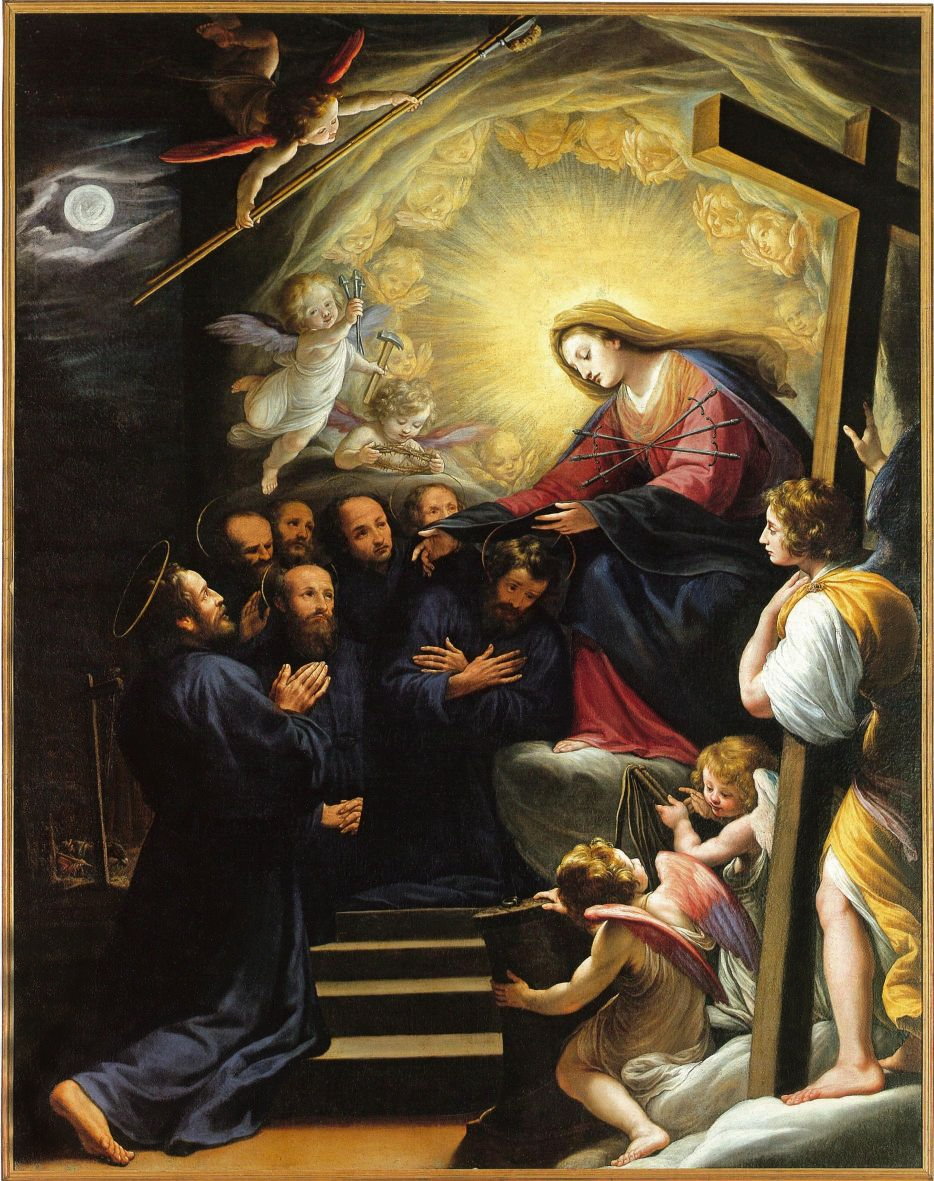 -"Founders of the Order of Servites", by Rosselli Matteo, ~1616, fresco?, Basilica of the Holy Annunciation, Florence.  Please click on the image for greater detail.
Office of Readings
From an account of the origin of the Servite Order
-(Monumenta Ord. Serv. B. Mariae Virginis, 1, 3. 5. 6. 9. 11: pp. 71 ss)
"There were seven men worthy of all our praise and veneration, whom our Lady brought into one community to form this order of hers and of her servants. They were like seven stars joined together to form a constellation.
When I entered this order I found only one of the seven still alive, Brother Alexis, whom our Lady was pleased to preserve from death down to our own time so that we might listen to his account of the founding of the order. As I saw myself and observed at first hand, Brother Alexis led so good a life that all who met him were moved by the force of his example. Moreover, he was a living testimony to that special kind of religious perfection characteristic of that first community.
But where did these men stand before they formed their own community? Let us consider this in four respects.
First, as regards the Church. Some of them had never married, having vowed themselves to perpetual celibacy; some were married men at the time; some had lost their wives after marriage and now were widowers.
Second, regarding their status in the city of Florence. They belonged to the merchant class and engaged in buying and selling the goods of this world. But once they found the pearl of great price, our order, they not only gave all they had to the poor but cheerfully offered themselves to God and our Lady in true and loyal service.
Third, concerning their devotion and reverence to our Lady. In Florence there was an ancient guild dedicated to the Blessed Virgin. Because of its age and the number and holiness of its members, both men and women, the guild had acquired a title of preeminence and was called the Major Guild of Our Blessed Lady. These seven men were devoted to our Lady and belonged to this guild before they established their own community.
Fourth, as for their spiritual perfection. They loved God above all things and dedicated their whole lives to Him by honoring Him in their every thought, word and deed.
But when by God's inspiration and the special urging of our Lady they had firmly resolved to form a community together, they set in order everything that concerned their homes and families, left to their families what they needed and gave all the rest to the poor. Then they sought the advice of virtuous men of good judgment, and described their plans to them.
They climbed the heights of Monte Senario and built on its summit a little house that would suit their purpose, and there they lived in common. As time passed, they began to realize that they were called not simply to sanctify themselves but to receive others into their community, and so increase the membership of this new order our Lady had inspired them to found. They recruited new members; some they accepted, and thus established our present order. In the beginning our Lady was the chief architect of this new order which was founded on the humility of its members, built up by their mutual love, and preserved by their poverty."
O Lord Jesus Christ Who,
in order to renew the memory
of the sorrows of Thy most holy Mother,
hast through the seven blessed fathers
enriched Thy Church with the new Order of Servites;
mercifully grant that we may be so united
in their sorrows as to share in their joys.
Who livest and reignest, world without end.
Amen.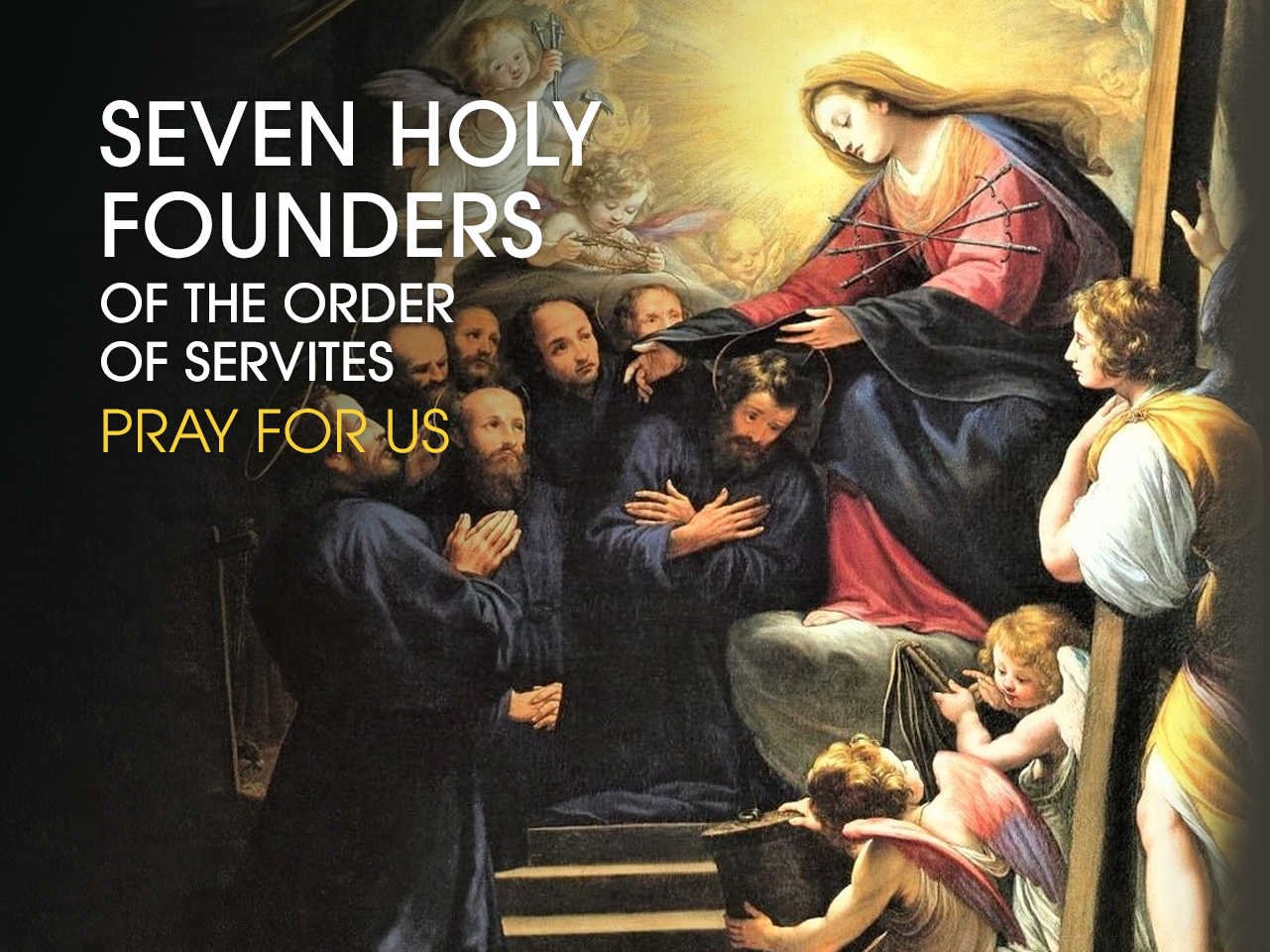 Love & prayers,
Matthew