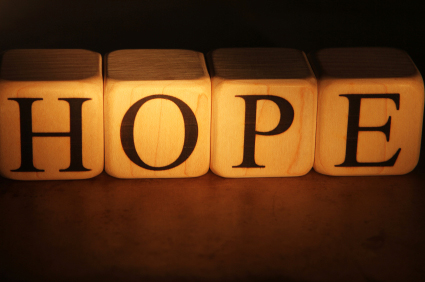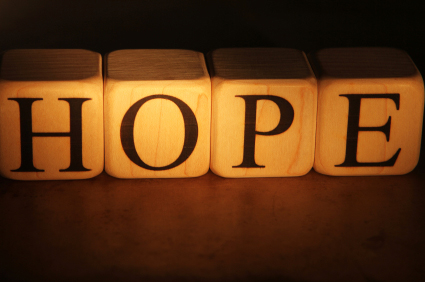 Q. Why did God make us?
A. God made us to show forth His goodness and to share with us His everlasting happiness in heaven.
-Baltimore Catechism, Lesson 1: On the End of Man
"(Viktor) Frankl observed that the death-camp prisoners could tell when another prisoner had abandoned hope. When a prisoner lost hope, the despair could be seen in his eyes, in his face, in the way that he walked. The change was so noticeable that the prisoners had a name for such persons, which roughly translates as "the walking dead." Inevitably, before long, this "walking dead" prisoner would be selected for extermination, or he would fall back in formation and be shot, or he would stop eating or drinking. When the will to meaning was abandoned — when all hope was lost — the person was literally doomed. Man cannot live without hope.
Yet this truth can be stated conversely: even in the cruelest, the most atrocious, the most miserable of circumstances, if man has hope, he has life. If this is true on the natural level, it is much more true on the supernatural level. If a man has Christian hope, he has everlasting life. We are indeed, in St. Paul's words, spe salvi — "saved in hope" (Rom. 8:24).
Hope is a virtue that changes everything. It changes the way we think, the way we act, the way we live. In his encyclical letter on hope, Pope Benedict XVI puts it simply, "The one who has hope lives differently."76 Even if he should be sent to the gas chamber, a man with Christian hope is a man who has been saved. St. Maximilian Kolbe understood this, which is why he sang songs of praise to our Lord even as the Nazis starved him to death.
Returning to Frankl's observations of his fellow death-camp prisoners: in order to face their horrifying present situation, the prisoners needed some sense that a future might await them, a future that promised something better than the present. This insight is congruent with these words of Pope Benedict on hope: "We have been given hope, trustworthy hope, by virtue of which we can face our present: the present, even if it is arduous, can be lived and accepted if it leads towards a goal, if we can be sure of this goal, and if this goal is great enough to justify the effort of the journey."77
Pope Benedict goes on to say that "a distinguishing mark of Christians [is] the fact that they have a future: it is not that they know the details of what awaits them, but they know in general terms that their life will not end in emptiness. Only when the future is certain as a positive reality does it become possible to live the present as well."78 This can be applied analogously even to those who are not baptized: although the theological virtue of hope is the ultimate safeguard of human happiness on this earth, natural human hope is the starting point for theological hope and is itself ennobled by the presence of Christian hope in the world.
The sense of a foreshortened future, of a future that appears only dark, which many experience in the depressed state, is not our true reality; it is merely a trick of the diseased mind. Without hope in the present, man cannot live toward the future. Why, for example, do we see rising rates of depression, as well as rising rates of drug and alcohol abuse, among teenagers today? Because many of them do not sense that they have a future. The present feels unbearable to them, and they have no hope to orient them.
In an address to the bishops of Japan, Pope Benedict remarked: "Young people especially are at risk of being deceived by the glamour of modern secular culture. Yet, like all the greater and lesser hopes that appear on first sight to promise so much (cf. Spe Salvi, 30), this turns out to be a false hope — and tragically, disillusion not infrequently leads to depression and despair, even to suicide. If their youthful energy and enthusiasm can be directed towards the things of God, which alone are sufficient to satisfy their deepest longings, more young people will be inspired to commit their lives to Christ."79
Hope cannot be merely a nice theoretical idea. It is a virtue that has very practical, everyday consequences for our life. Cultivating and sustaining hope is a central task in the process of recovery from depression, and perhaps the most demanding and challenging. Regarding the practical consequences of living in hope, Pope Benedict teaches that the Christian message of hope does not just tell us something: it is not just informative; it also changes the way we live. It is performative: "That means: the Gospel is not merely a communication of things that can be known — it is one that makes things happen and is life-changing."80
Finding hope need not be complicated; it can be remarkably simple. Consider the case of a young father who was struggling with depression because of a debilitating physical condition that kept him from working. As a result he was at home with his youngest daughter. He related later that just seeing the face and constant smile of his joyful girl was enough to instill in him sufficient hope for the day. Our reasons for hope may be right there in front of us, if only we have eyes to see.
While many of us can rattle off the three theological virtues, hope is often the forgotten middle of the three. We hear much preached about faith and about love, but we hear less about the virtue of hope. What exactly is hope? The Compendium of the Catechism defines it succinctly: "Hope is the theological virtue by which we desire and await from God eternal life as our happiness, placing our trust in Christ's promises and relying on the help of the grace of the Holy Spirit to merit it and to persevere to the end of our earthly life."81
Let us unpack this definition. First, hope involves desiring happiness. This, of course, is not hard for us. In fact, it is impossible not to desire happiness, as we know from our own experience. Aristotle maintains that the desire for happiness lies at the foundation of every human action. The person suffering from depression, of course, wants nothing more than to recover the capacity for happiness, for spiritual joy. But this happiness consists ultimately in only one thing: eternal life with God. Every person, whether he knows it or not, is seeking God, because everyone is seeking perfect happiness and fulfillment, which can be found ultimately in God alone. Our search for happiness can go astray when we mistakenly place our hope in something that cannot deliver. But this fundamental desire for happiness — this desire for God — remains, even when we go astray. As G. K. Chesterton quipped, "Every man who knocks on the door of a brothel is looking for God."
Hope, according to the definition just cited, involves placing our trust in Christ, relying on the grace of the Holy Spirit, and persevering to the end of our life — all for the sake of eternal life, which only God can grant. What are we to make of these words, eternal life? Many of our contemporaries wonder: Is eternal life something worth hoping for? The depressed person may have difficulty with the idea of looking for his happiness beyond the present world and placing his definitive hope in the next life. Perhaps this very thought has crossed our minds, especially in times of difficulty or temptation, or during periods of depression or despair: Is the effort toward holiness worthwhile? Is the goal of eternal life worth the sacrifices made in this life? Drawing on the writings of St. Augustine, Pope Benedict responds to this question: "Ultimately we want only one thing . . . the life which is simply 'happiness' . . . In some way we want life itself, true life, untouched even by death; yet at the same time we do not know the thing towards which we feel driven. We cannot stop reaching out for it, and yet we know that all we can experience or accomplish is not what we yearn for."82
The very fact that in this life the human heart remains restless — that it is vulnerable to anxiety, depression, demoralization, and despair — is a clue to the human need for hope and a clue to our ultimate destiny in God. All we can experience in this life falls short of this restless yearning. The man knocking at the brothel door will not find there what his restless heart truly desires. The man downing another bottle of gin will not find at the bottom what his heart thirsts for. The man popping another narcotic pill will not experience what his heart hungers for. God made us for Himself, and our hearts are restless until they rest finally in Him.
We are reaching here beyond what words can adequately express. Benedict XVI observes: The term "eternal life" is intended to give a name to this known "unknown." Inevitably it is an inadequate term that creates confusion. "Eternal", in fact, suggests to us the idea of something interminable, and this frightens us; "life" makes us think of the life that we know and love and do not want to lose, even though very often it brings more toil than satisfaction, so that while on the one hand we desire it, on the other hand we do not want it.83
To appreciate fully the meaning of eternal life, we have to try to get outside our usual ways of thinking and our usual experiences. Pope Benedict says: "To imagine ourselves outside the temporality that imprisons us and in some way to sense that eternity is not an unending succession of days in the calendar, but something more like the supreme moment of satisfaction, in which totality embraces us and we embrace totality — this we can only attempt.
We simply cannot extrapolate to a vision of eternal life from our typical earthly existence, even on the best of days. Reaching beyond our words and concepts, Pope Benedict takes a stab at expressing what the term eternal life might actually signify: "It would be like plunging into the ocean of infinite love, a moment in which time — the before and after — no longer exists. We can only attempt to grasp the idea that such a moment is life in the full sense, a plunging ever anew into the vastness of God, in which we are simply overwhelmed with joy."84
77 Benedict XVI, Encyclical letter Spe salvi, no. 1.
78 Ibid., no. 2.
79 Benedict XVI, Address to the Bishops of Japan on their "Ad limina" Visit, December 17, 2007.
80 Benedict XVI, Spe salvi, no. 2.
81 Compendium of the Catechism, no. 387.
82 Benedict XVI, Spe salvi, no. 12.
83 Ibid., no. 12.
84 Ibid.
-Kheriaty, Aaron; Cihak, Fr. John (2012-10-23). Catholic Guide to Depression (pp. 210-216). Sophia Institute Press. Kindle Edition.
Love,
Matthew