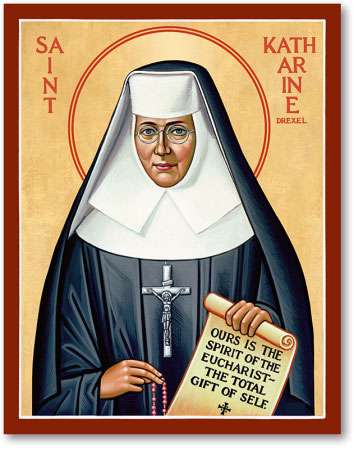 "The young man said to Him, "All these things I have kept from my youth.  What do I still lack?"
Jesus said to him, "If you want to be perfect, go, sell what you have and give to the poor, and you will have treasure in heaven; and come, follow Me."
But when the young man heard that saying, he went away sorrowful, for he had great possessions." -Mt 19:20-22
I grew up in the shadow of Philadelphia. I still miss my cheesesteaks and hoagies!!! 🙂 There is no substitute!! The Drexel name looms large in Philly, and so it is very familiar to me.
"I am disgusted with the world. God in His mercy has opened my eyes to the fact of vanitas vanitatis, and as He has made me see the vile emptiness of this earth, I look to Him — the God of Love — in hope. He will not leave me to despair because of the dreariness of all the joys that cannot satisfy my heart. He is the God of Love, and pitying me, He will open my eyes still more and discover to me the joyful, true depths of all the things invisible. "Show Thy face and we shall be saved; let Thy voice sound in my ears. For Thy voice is sweet, and show Thy face exceedingly beautiful" -Missal for the Laity, Feast of the Most Holy Name of Jesus, 1846….All, all, all (there is no exception) is passing away and will pass away. European travel brings vividly before the mind how cities have risen and fallen, and risen and fallen; and the same of empires and kingdoms and nations. And the billions who lived their common every day life in these nations and kingdoms and empires and cities, where are they? The ashes of the kings and the mighty of this earth are mingled with the dust of the meanest slave….How long will the sun and moon, the stars continue to give forth light? Who can tell? Of one thing alone we are sure. In God's own time — then shall come the Son of Man in great power and majesty to render to each according to his works….The reward and punishment for these will not pass away, nor does the Day, Eternity, then opening before us. An eternity of happiness infinite, or an eternity of misery infinite." -St Katharine Drexel
-12/9/1999, from http://www.cbsnews.com/news/what-it-takes-to-be-a-saint/
"Thirty-nine-year-old Robert Gutherman is absolutely convinced that what happened to him as a 14-year-old was in fact a miracle.
In 1974, he developed a severe ear infection, and his parents took him to a top doctor.
"Two of the bones were destroyed, the muscles in my ear, around my ear, were pretty badly damaged," Gutherman remembers. He recalls the doctor's comments: "He said,…'Bones are gone, they're gone. You're just going to be deaf in that ear.'"
With no possible medical cure, they tried the only thing left: praying to Katherine Drexel.
"We were asking that the pain would subside," Gutherman says.
For Robert Gutherman, praying to Katherine Drexel miraculously cured his ear infection.
But what he got was much more than that. Suddenly Gutherman could hear again, and what the doctor then found astonished him: The bones in his ear were actually growing back.
The doctor said his body's healing itself, according to Gutherman. "So when my parents said to the doctor, 'You know this is a miracle that we think through Katherine Drexel,' he said, 'Well it's got to be, because I have no other explanation to it.'"
-1/28/2000, from http://articles.philly.com/2000-01-28/news/25597578_1_second-miracle-miracle-girl-mother-katharine-drexel
"When doctors first diagnosed 1-year-old Amy Wall with incurable nerve deafness several years ago, her parents prayed that their baby might someday learn sign language.
But Amy's 7-year-old brother, Jack, believed in miracles. He wanted Amy to hear. And he demanded they pray for a cure.
Constance Wall began to suspect deafness soon after Amy's birth in 1992, but her husband, John, a real estate developer, refused at first to acknowledge it.
Then, one day, "without Amy looking at me, I came up behind her high chair and clapped my hands," John Wall recalled. "She did not startle. That's what made me believe."
Hospital examinations in September 1993 concluded she suffered from congenital and permanent failure of the auditory nerves.
"The doctors said, 'Get used to it,' " Constance Wall recalled tearfully. "So we just prayed for communication – that she got sign language. If she could sign for her bottle, we thought we would have everything."
That's when Jack – who had learned about miracles and prayer in parochial school – announced, "That's not enough. I'm going to pray for a cure," his mother said.
After seeing a PBS television special about young Robert Gutherman, who was born deaf but spontaneously grew a missing bone in his ear after his family prayed to Mother Drexel, the Walls asked the Sisters of the Blessed Sacrament for a relic of Katharine's, which they laid on her ear.
John Wall, then a Baptist, admitted in an interview yesterday he was skeptical of the Catholic veneration of relics and saints, "but I was watching."
Then, in March 1994, Amy's preschool teacher noticed Amy was being startled by loud sounds. Hospital tests that month showed her hearing was inexplicably normal – "perfect," her mother said.
"When it happened, I wasn't even sure I knew what I was seeing happen," her mother recalled. John Wall was so convinced he converted to Catholicism in 1998.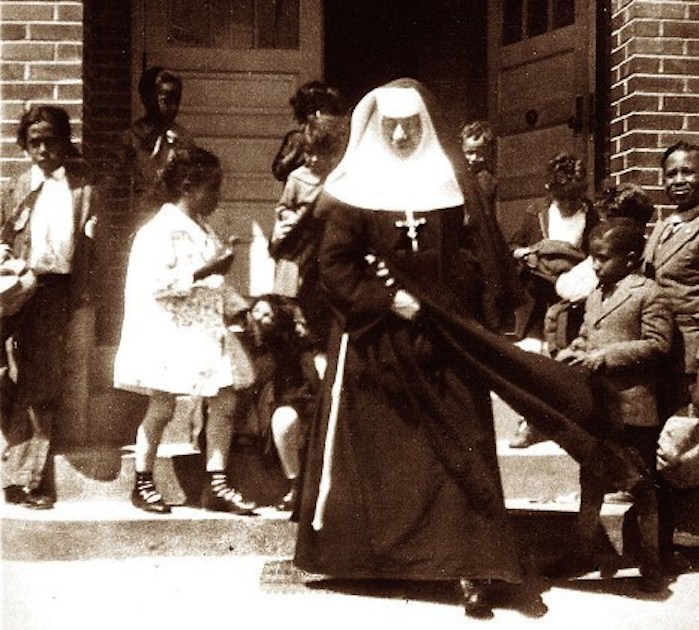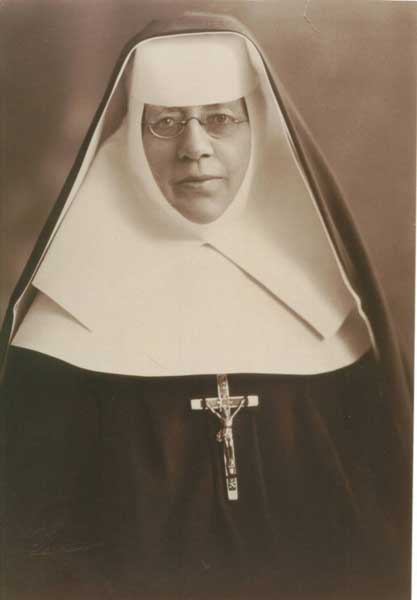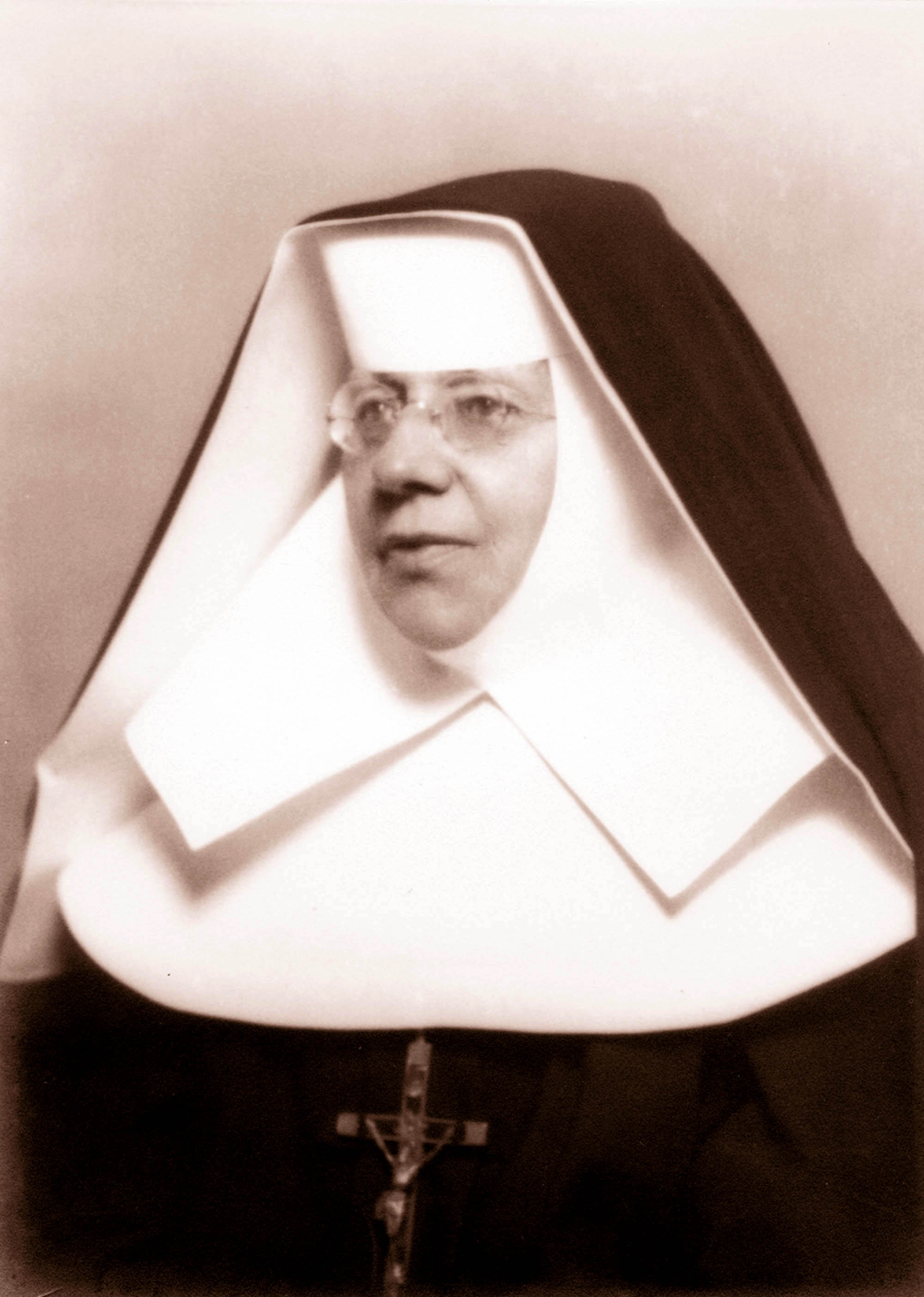 The actual amount donated by St. Katharine is differently reported. Mary Oates (1993) gives a figure over $40 million, while the Sisters of the Blessed Sacrament report over $20 million (2003).
As a wealthy American heiress, obtaining a private audience with the Holy Father in Rome was possible for Katharine. Interested in the condition of Native Americans, during an audience in 1887, Katharine asked Pope Leo XIII to send more missionaries to Wyoming for her friend, Bishop James O'Connor. The pope replied, "Why don't you become a missionary?"
She visited the Dakotas, met the Sioux chief, and began her systematic aid to Indian missions, eventually spending millions of the family fortune. Founded the Sisters of the Blessed Sacrament in 1891.
By 1942 she had a system of black Catholic schools in 13 states, 40 mission centers, 23 rural schools, 50 Indian missions, and Xavier University in New Orleans, Louisiana, the first United States university for blacks. Segregationists harassed her work. Following a heart attack, she spent her last twenty years in prayer and meditation.
"The patient and humble endurance of the cross whatever nature it may be is the highest work we have to do." – Mother Katharine Drexel
"Oh, how far I am at 84 years of age from being an image of Jesus in His sacred life on earth!" – Mother Katharine Drexel
Ever loving God, you called Saint Katharine Drexel
to teach the message of the Gospel and
to bring the life of the Eucharist to
the Black and Native American peoples.
By her prayers and example,
enable us to work for justice
among the poor and oppressed.
Draw us all into the Eucharistic community
of your Church, that we may be one in You.
Grant this through our Lord Jesus Christ,
your Son, who lives and reigns with You and
the Holy Spirit, one God, for ever and ever. Amen.
St Katharine Drexel, Patroness of Racial Justice, pray for us!
Love,
Matthew