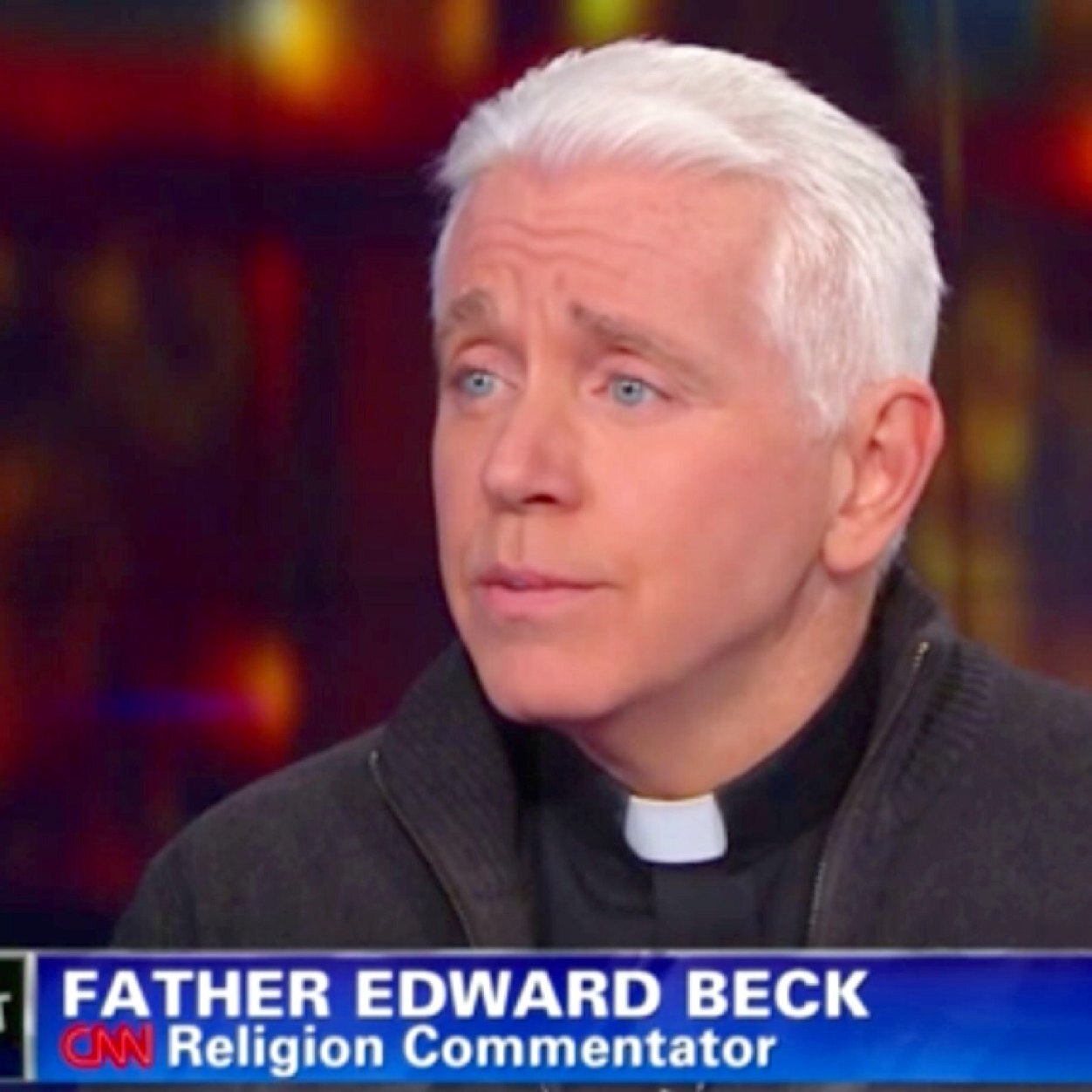 -ole "blue eyes"
1/20/15
COSTELLO: Father Edward Beck, the CNN religion analyst. Welcome, Father.
FATHER EDWARD BECK, CNN RELIGION ANALYST: Thank you. Good to be here, Carol.
COSTELLO: Can't wait to talk to you about this.
BECK: Me, too.
COSTELLO: So Damien Thompson from "The Spectator" I thought put it best. He writes, quote, "I know what the Pope means, I think. Contraception and family planning are fine so long as you don't artificially block procreation. But the subliminal and unintended messages are, A, that Catholics have a reputation for breeding like rabbits, and B, birth control is OK."
BECK: The church has always taught that birth control is OK. They've always said responsible parenthood — if you look at your —
COSTELLO: No, wait. Go back to birth control is OK thing.
BECK: OK. It just can't be artificial. It has to be natural birth control. As you said, family planning. Rhythm.
I mean, people don't really understand this. You as a woman understand it, but a woman can only become pregnant six days every month. So if she charts that — through body temperature, secretions, and she has regular menstruation — that means 24 days of the month, sexual intercourse is fine.
COSTELLO: Coming from an Italian family with many members who've had many, many children and are very committed Catholics, the rhythm method isn't so effective.
BECK: No, because they don't really chart it. They don't take their temperature. They don't monitor it. But I mean if you do — I've counseled a lot of couples with this, Carol. And when they actually do it, they find it so much better than the artificial because they're not putting foreign substances into their body. They're not in some way prohibiting something unnaturally, and the relationship with the spouse can be much more natural. A lot of people like that.
COSTELLO: I'll be honest with you, because you are a Father and I have to be honest with you — I don't agree. But I hear you. I do. I hear you.
Is that what the Pope was saying? Or was he sending some subliminal message? Remember what he said about gay people — who am I to judge? So was he sort of doing the same thing with these comments on birth control?
BECK: Yes, but here's the message. Say natural family planning, which is what you were saying, rhythm, doesn't work for somebody. So someone comes to me in a confessional and says, Father, like that Filipino woman I've had eight kids. I can't have another one. It's a health risk. Pastorally, and the Pope said this, you deal with that woman in that situation. You say, for you, this church teaching doesn't work. You have to do something else.
So the teaching is for the norm but there are always exceptions to the norm. That's why you deal pastorally with people. He said to his priest in a confessional, in a counseling room, you deal with the person as an individual pastorally. And so the church has always gave some leeway for those situations where the rule cannot apply. And contraception is a perfect example of that. Many people, it doesn't work for. And so you have to deal with them in a pastoral way.
COSTELLO: Well, let's go back to the part where Catholics breed like rabbits and have many, many children because, when I was growing up, it was my duty to have children. Get married and have children. That was my duty.
BECK: Well, it's not so much duty but that you can't delink sex from procreation. It can't just be about pleasure; it can't just be about intimacy. But the natural order says this is how the species propagates. So that if a married couple says, well, you know what, no kids. We just want it about pleasure, about us, the Church teaches, well, that's not the fullness of God's intent with regard to sexuality.
So it's not have eight kids; it's be open to the possibility of life. That's responsible sexuality. That links procreation and intimacy and sexuality together. That's what the Church has always taught, that you just don't separate it.
COSTELLO: So these remarks of the Pope — nothing new?
BECK: Nothing new except that he's opened the door to say be responsible with parenthood. Don't think the church is saying you have to have eight kids. It's saying how you limit those eight kids is what is important. And, priests, be pastoral with those people for whom those norms and guidelines cannot apply. Make sure that you give them another out.
COSTELLO: Father Beck, thanks so much. I appreciate it.
Ok.  So, now we have "breed like rabbits" to volley in the lexicon, Catholic or otherwise, for a while.  Even the go-to American clerics, the handsome, articulate, popular ones, think Rev. James Martin, SJ, or Rev. Edward Beck, CP, get tongue-tied when trying to explain Catholic moral teaching on birth control, regulation of reproduction, call it what you will.  They let their interlocutors get them tangled in the gruesome details of "rhythm method", and never seem to get to the glory of marriage.  It's possible to get the "why" out it really is, in a sound bite.  Watch.
"Christian marriage is the TOTAL-GIFT-OF-SELF, even as Jesus gave Himself for all of humanity, of man and woman.  It's sacred.  It's HOLY!!!!  It's a Sacrament.  Not WIFM = What's In It For Me?, but how can I offer myself for you, Beloved?  For your good, even prior to my own?  For your salvation?  Even before, perhaps, even instead of mine?  Me for you.  You for me.  Christ for His Church and vice versa. The Church wishes nothing artificial, nothing mechanical, nothing chemical to interfere or deny, implicitly or explicitly, with that gift!"  See, that wasn't too bad, was it?  No.  Anyone can spit that out in a sound bite.  See.  EZ PZ lemon-squeezee.
from http://www.marriageuniqueforareason.org/2012/10/23/made-for-life-part-2-you-give-yourself-then-totally-and-completely/
"You give yourself, then, totally and completely . . . saying 'I love you so much, I'm going to give myself to you as a gift, and I am open to whatever that brings and whatever God wants.(divine providence)'" –Katie
Katie is speaking here about the very foundation of what makes marriage "made for life": the total gift of self between a man and a woman as husband and wife. We have already mentioned this gift of self in marriage, but it deserves some more attention. Indeed, every person is called to a generous and sincere gift of self. [i] But marriage is a unique instance of self-gift. In marriage, husband and wife give not just part of themselves to each other, but give all—their whole person, body and soul. This gift of self in marriage is not something temporary like a loan; it is meant to last for a lifetime. [ii] It is a total, lifelong gift of husband to wife and wife to husband. [iii]
A husband and a wife's total gift of self in marriage, with its lifelong permanence, makes their bond absolutely unique and different from any other relationship between two people. Although two persons of the same sex can have an authentic and holy friendship, only a man and a woman can pledge themselves to each other in marriage. Through their sexual difference, only a husband and a wife can speak the "language" of married love—total, faithful, and fruitful self-gift [iv]—not only with their words, but also with their bodies. [v]
The couples in Made for Life all bear witness to the fact that the gift of self in marriage, which begins with the spouses, does not end with them. As Pope Paul VI taught, married love is fruitful because "it is not confined wholly to the communion of husband and wife; it also aims to go beyond this to bring new life into being." [vi] Precisely because husband and wife are "made for each other," their bond is "made for life," made for fruitful love and for the adventure of fatherhood and motherhood by being open to the gift of a child.
[i]. See Gaudium et Spes, no. 24: "Man is the only creature on earth that God has wanted for its own sake . . . [and] can fully discover his true self only in a sincere giving of himself."
[ii]. See Letter to Families, no. 11: "The indissolubility of marriage flows in the first place from the very essence of the gift: the gift of one person to another person" (emphasis in original).
[iii]. Letter to Families, no. 11: "When a man and woman in marriage mutually give and receive each other in the unity of 'one flesh,' the logic of the sincere gift of self becomes a part of their life."
[iv]. In Humanae Vitae, Pope Paul VI lists "the characteristic features" of conjugal [married] love as fully human, total, faithful and exclusive until death, and fecund [fruitful] (no. 9). Pope John Paul II expands upon Paul VI's description of love by reflecting on how a husband and wife "speak" the message of married love through the "language of the body." He writes, "The human body speaks a 'language' of which it is not the author. Its author is man, as male and female, as bridegroom or bride: man with his perennial vocation to the communion of persons" (Catecheses on the theology of the body [TOB], no. 104:7 [emphasis in original]). This means that the language of love is given to men and women, who are then called to "speak" this language truthfully to each other. The body—as male or female—is essential to "speak" the language of love. Pope John Paul II continues, "[The human person] is constituted in such a way from the 'beginning' that the deepest words of the spirit – words of love, gift, and faithfulness – call for an appropriate 'language of the body.' And without this language, they cannot be fully expressed" (TOB, no. 104:7).
[v]. As we saw in the first video, Made for Each Other, the sexual difference between men and women is not just a flat "biological" reality or an anatomical detail. Instead, it includes the whole person, body and soul, at every level of his or her existence. As Pope John Paul II explained, the body reveals the person. Encountering a living human body is encountering a human person—male or female—who is inseparable from his or her body. See TOB, no. 9:4.
[vi]. Humanae Vitae, no. 9 (translation modified). See also Marriage: Love and Life in the Divine Plan, 16: "The transmission of life is a sublime, concrete realization of this radical self-gift between a man and a woman . . . As mutual self-gift, it is at the same time creative self-gift.""
Love,
Matthew