TRIVIA CHALLENGE!!!! QUICK!!!! Who wrote the lyrics to "Good Christian Men, Rejoice!/In dulci jubilo"?  ….Answer = Bl Henry Suso, OP!!!  Now you know.
One night in 1328, the German mystic and Dominican monk Henrich Suso (or Seuse or Suson) had a vision in which he joined angels dancing as the angels sang to him Nun singet und seid froh or In Dulci Jubilo.
"Now this same angel came up to the Servant [Suso] brightly, and said that God had sent him down to him, to bring him heavenly joys amid his sufferings; adding that he must cast off all his sorrows from his mind and bear them company, and that he must also dance with them in heavenly fashion. Then they drew the Servant by the hand into the dance, and the youth began a joyous song about the infant Jesus, which runs thus: 'In dulci jubilo…'(-from Bl Suso's auto/biography)
Famed German Dominican mystic whose work, The Book of Eternal Wisdom, is considered a classic. Born Heinrich von Berg in Constance, Swabia, he entered the Order of Preachers, the Dominicans, at an early age.
Undergoing a conversion, he developed an abiding spiritual life and studied under Meister Eckhart in Cologne from 1322-1325. He then returned to Constance to teach, subsequently authoring numerous books on spirituality: Das Buchlein der Wahrheit (The Little Book of Truth, 1327) and Das Buchlein der Ewigen Weisheit (The Little Book of Eternal Wisdom, 1328), a book of practical meditations that became the most popular work on mysticism until the Imitation of Christ by Thomas à Kempis; Horologium Sapientiae (Clock of Wisdom); sermons; and a life of the Dominican nun Elsbeth Stägel (d. 1360).
As he supported Meister Eckhart — who was then the source of some controversy and had been condemned by Pope John XXII (r. 1316-1334) in 1329 — Henry was censured by his superiors and stripped of his teaching position. He subsequently became a preacher in Switzerland and the Upper Rhine and was a brilliant spiritual adviser among the Dominicans and the spiritual community of the Gottesfreunde. He endured persecution right up until his death at Ulm. Pope Gregory XVI (r. 1831-1846) beatified him in 1831.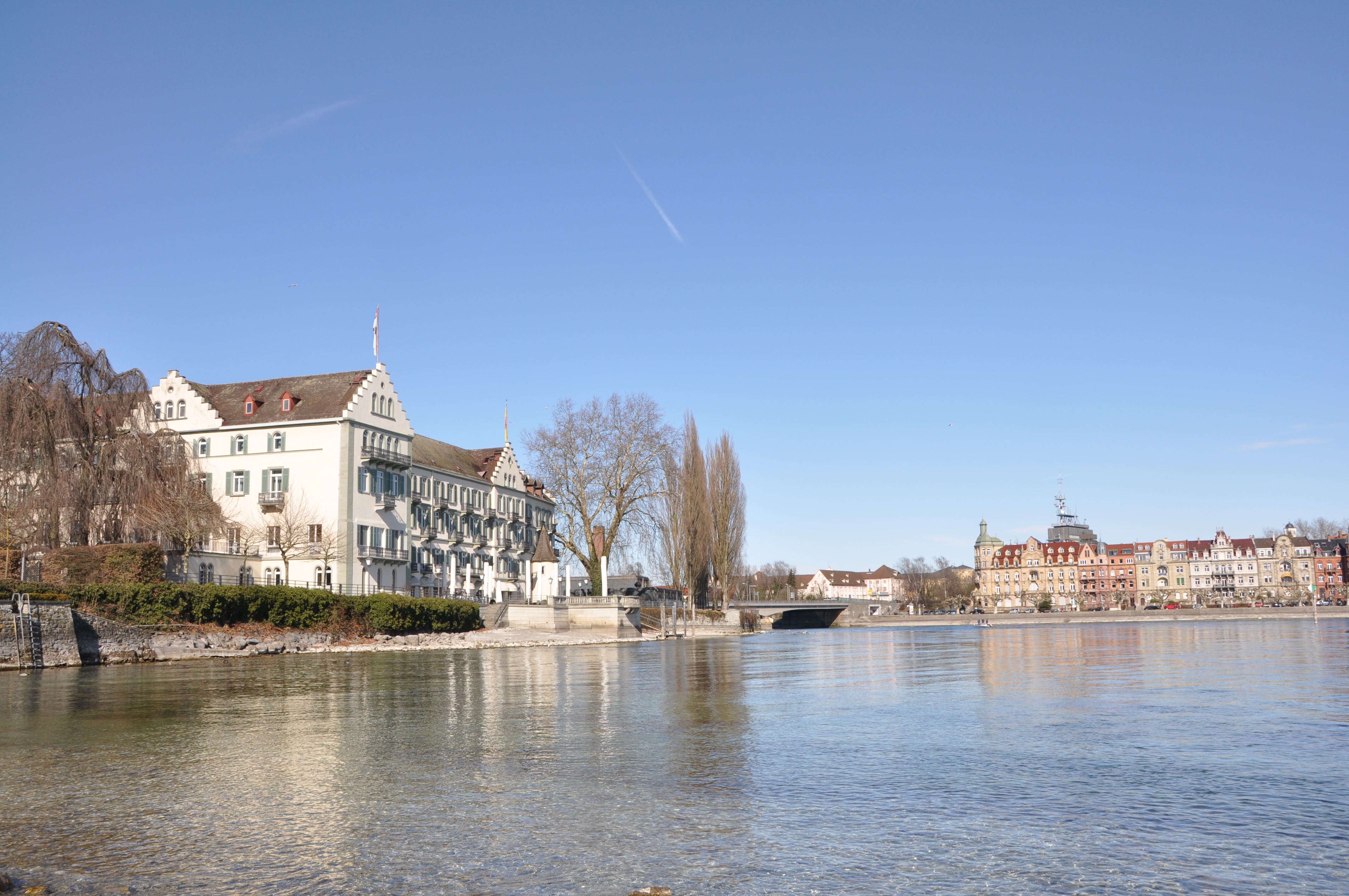 -Konstanz Bodensee Inselhotel, click image for larger image, Dominican Island on the left, with Steigenberger island hotel; the Old Rhine Bridge is visible in the centre of the image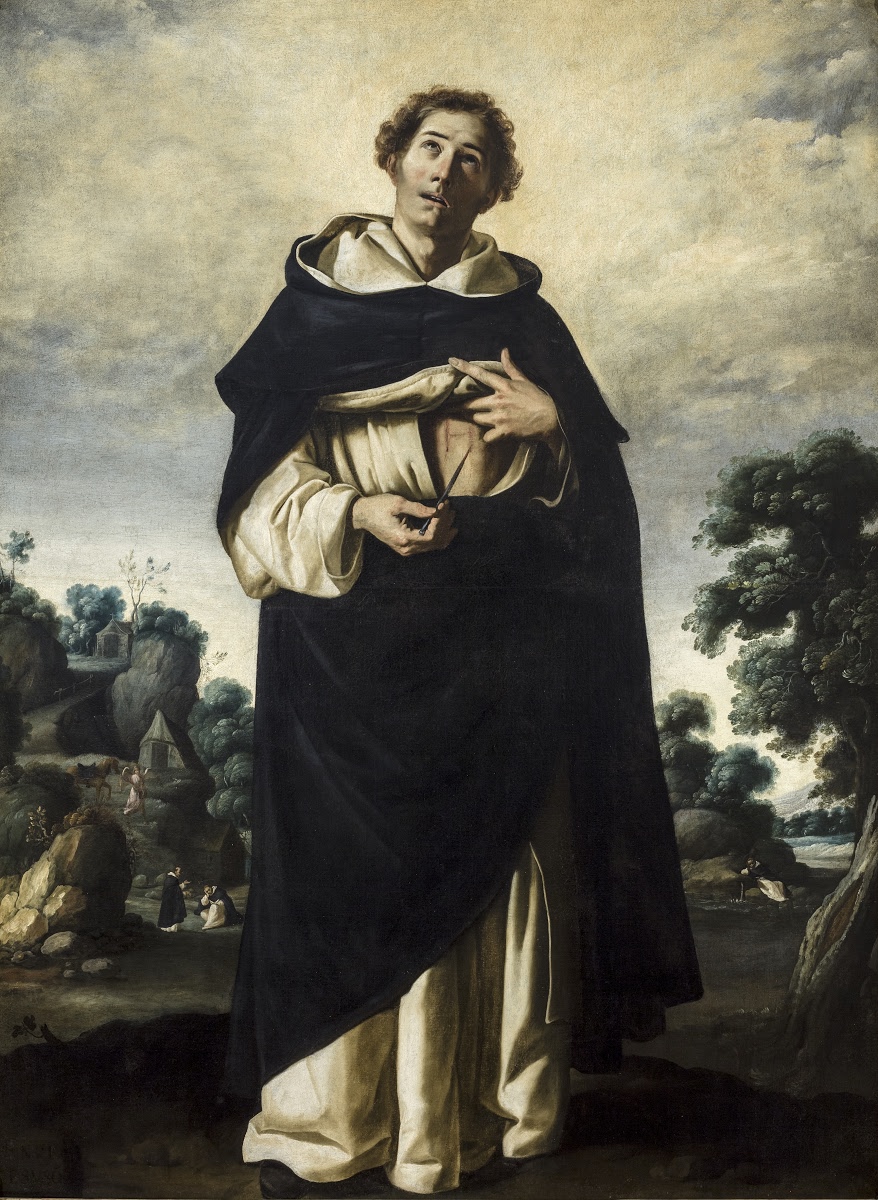 -by Francisco de Zurbarán 1638/1640, Museum of Fine Art, Seville, Spain
aka Henry Suso, Heinrich Seuse, Enrique Suson
"Once a Dominican friar in Konstanz, Germany would have been a familiar sight. Now, however, the habit garners side-long glances and blatant stares as visitors and residents try to grasp the meaning of the uncommon clothing. In this way, the habit is somewhat like an island.
An island is a land of adventure, a little world of its own surrounded by watery boundary that separates it from the mainland. To cross that boundary, whether by boat or by bridge, and to fathom its significance is to enter a frontier of exploration. It can even be a portal to the past.
Archeological evidence shows that since the Stone Age humans have inhabited what is now called "Dominican Island" in Lake Bodensee, just off the shore from Constance (Konstanz), Germany. The left bank of the Rhine river and the lake make it a beautiful location. It was occupied by the Romans and enjoyed by Charlemagne. It became sacred ground soon after the Dominicans were given the land in 1220. Within fourteen years, the Friars Preachers had erected a sizeable convent there with the aid of the local prince bishop. Additionally, in 1257 the friars helped Dominican contemplative nuns establish a convent in Konstanz known as Kloster Zoffingen.
Bl. Henry Suso is likely the most celebrated Dominican to have lived in the island-convent. There, around the year 1324, he was clothed with the habit. For some time, his literal separation from the mainland made little difference to his spiritual life, for he was still chained to the world in his heart. Through grace, however, he underwent a conversion and afterwards devoted himself entirely to the Eternal Wisdom of God. Along with the Dominicans Meister Eckhart and John Tauler, Suso became known as a "Rhineland Mystic" whose spiritual writings bore enormous fruit in the late medieval Church.
Dominican Island was also the sometime residence of more controversial characters. Jan Hus, for example, was imprisoned there during the Council of Constance in 1414. Condemned by political enemies during the Council, Hus was burnt at the stake in the city. Protestants claim Hus as their own, a John the Baptist who prefigured the coming of Martin Luther. However, not all Catholics burnt at the stake were heretics, as St. Joan of Arc well knows. A more careful analysis suggests that Jan Hus was "a Catholic by his personal profession of faith, but he was of Protestant significance in the fabric of history."
Life was generally more tranquil on Dominican Island for the next hundred years or so, until 1528. At that time, Protestant governmental forces expelled the friars and converted the convent into a "temporary" hospital. It lasted for twenty one years. When the Catholic Hapsburgs regained control of the town 1549, the Dominicans were finally able to return to their home.
Over two hundred years later, just as a new union of States was being formed across the Atlantic, the Holy Roman Emperor, Joseph II, made his mark on the island. Though baptized a Catholic and trained in part by a Jesuit, the Hapsburg Emperor embraced what came to be called "Josephinism." His was a practical doctrine that subordinated the Church to the State and aimed at eliminating contemplative life, musical litanies, novenas, processions, vespers, and other devotions. The Catholic ruler achieved what Protestants could not: about five hundred monasteries were closed, their property was stolen, and an ecclesiastical order of services was mandated. Under this regime, too, the Dominicans were once again driven from the island that had been their home for five hundred years. This time their departure was permanent. On July 26, 1785, the last mass was celebrated in the Dominican chapel. The convent closed the following day.
With the definitive departure of the friars from the island, the property entered the hands of various businessmen. For over a century it housed a dye manufacturing plant. When political turmoil disturbed Switzerland, some bankers fled to the former Dominican grounds. They changed the name of their new home to "Geneva Island." A census in 1868 counted Geneva Island as an autonomous district with a population of eighteen.
After a railway was built in Konstanz, a hotel entrepreneur gained control of the island. His name was Eberhard von Zeppelin, the brother of the better-known Ferdinand Graf von Zeppelin, inventor of the infamously flammable air vehicle. Soon the former Dominican chapel was adapted into a ballroom and concert hall, the cells of the friars expanded into guest rooms, and the entire building was renovated.
Biblical frescoes once illuminated the cloister walls of the original Dominican convent, but centuries of change had gradually damaged them. Therefore, to commemorate the wonderful history of that little world, the artist Carl von Häberlin was commissioned to create a series of murals. He worked from 1878 to 1894, producing a series of twenty six extraordinary images that display in chronological order the island's entire known history. It is considered to be an artistic masterpiece.
Many visitors to the island now hurry past the murals, on their way to comfy rooms with mini-bars, but Häberlin's murals elegantly testify that the Dominican influence there may still be felt. The friars preachers lived, prayed, studied, and preached on that small piece of land surrounded by water for half of a millennium, making it their own for longer than any other individual or institution in known history. Although it requires effort to grasp the significance of a man in a white habit, much may still be learned in that place that is once again called "Dominican Island."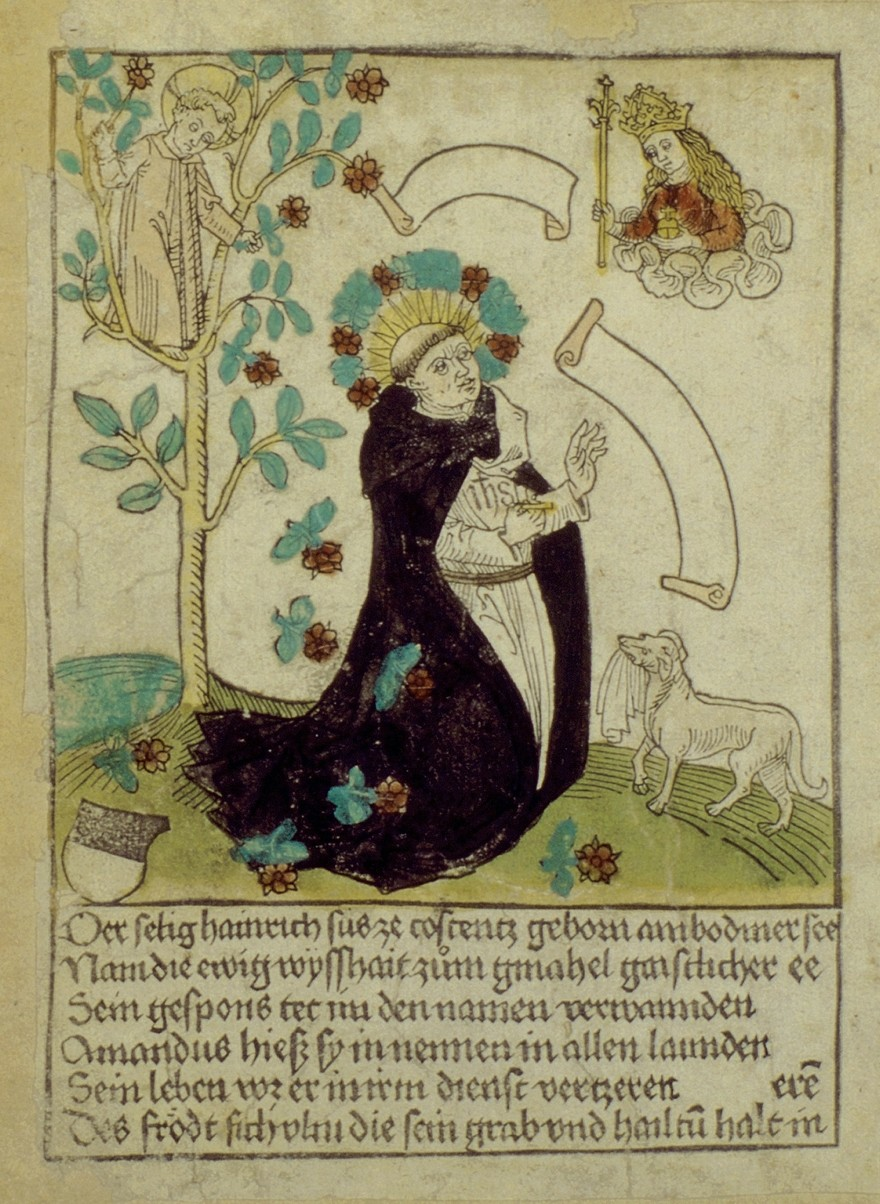 -Bibliothèque Nationale et Universitaire de Strasbourg, Inkunabel K. 7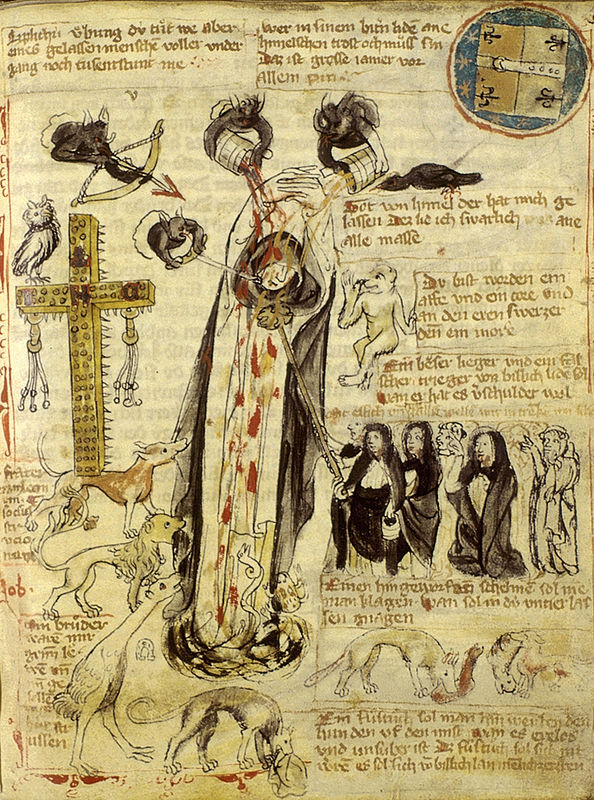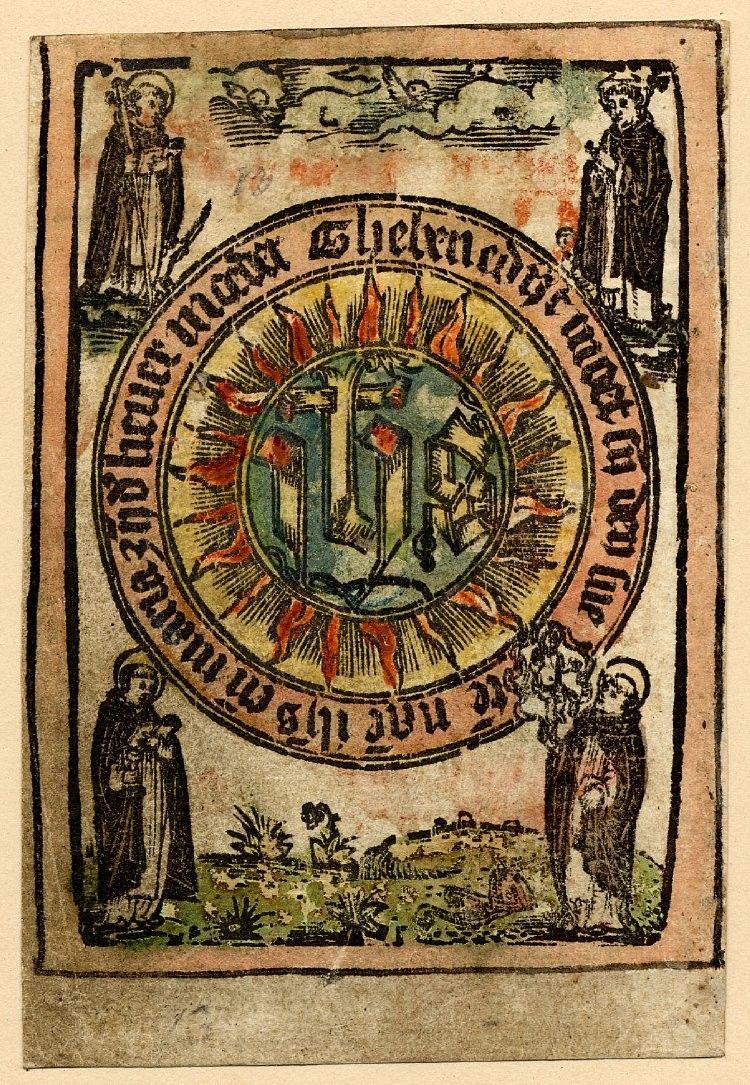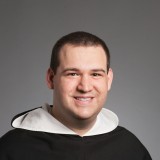 -by Br Henry Stephan, OP, a graduate of Princeton, where he studied Politics.
"If I were on the sun-kissed beaches of Italy today rather than in the frigid swamps of Washington, then I would be enjoying the Italian celebration of my onomastico, or name-day in honor of one's patron saint. Today the Dominican Order celebrates Blessed Henry Suso, O.P., the great Rhineland mystic and poet, who also does duty as my heavenly patron. Truth be told, if I weren't confident that Henry presently enjoys the fullness of the beatific vision and communion with the Trinity, then I would wonder if he might not be entirely pleased to have me as a namesake.
After all, we don't have very much in common aside from our common profession as Dominicans. He was a sensitive man of great interiority who endured the most fearsome of medieval penances for the sake of his love for God, which poured out in lyrical verses and mystical spiritual writings. I am a garrulous spiritual dilettante who finds the 'fresh catch of the day' on Fridays about as much penance as I can bear. If Bl. Henry and I had somehow met on this side of paradise, then I likely would have exhorted him to shower more frequently and keep away from sharp objects. (Editor's note: A mystic that practiced extreme asceticism, Henry wore a tight-fitting undergarment as a nightshirt. This shirt was outfitted with 150 brass nails fitted facing into his skin. He was also inspired to carve Christ's name into his chest. After 16 years, an angel appeared to him, asking that he end these severe practices. He listened.) I rather shudder to think what he might have told me.
I didn't know much about Bl. Henry when he became my patron. When I was in the process of applying to the Province, an older friar mentioned that he received his middle name as a religious name, as it coincided with the name of an under-appreciated Dominican blessed. The idea stuck with me, and when the time came to discuss potential religious names with the novice master (in the process outlined by Br. Innocent in his post last month), we settled on Henry without much debate. The novice master maintains to this day that I asked for the name in order to keep my monogrammed bath towels (which don't exist except in his literary imagination).
In some respects, Henry Suso remains enigmatic to us moderns—his incredible penances and mortifications seem so distantly medieval that we lose sight of the man. He is, in the words of another great Dominican Henry—Henri-Dominique Lacordaire—"that lovable man from Swabia." Even in its more bizarre episodes, his biography depicts an eminently human fellow, prone to misunderstandings with unintentionally tragic-comic results—whether in the form of a confused mob of pitchforked peasants, a murderous stalker, or his runaway sister. Still, Henry kept on praying and preaching, even when angry townspeople put a price on his head. Many of the particulars might belong to another age, but the love that drove Henry transcends time and place, and draws us to him even today. Henry Suso was a man entirely swept up by the ineffable mystery of God's mercy, and he put his whole life at the service of that Eternal Wisdom.
Having Bl. Henry as a patron has forced me to expand my horizons of what it means to be a Dominican. All the great Dominican saints and blesseds are, in one way or another, in the image of St. Dominic himself. They reflect some particular extension of his charism. Having a mystical eccentric like Bl. Henry for a namesake works against the tendency to redefine the Order in one's own image at the expense of the expansive vision of our holy founder. It is sometimes heard in the Order that, when you meet a Dominican, you've met exactly one Dominican, rather than them all. Considering what a varied lot must be huddled together under Mary's mantle in heaven, this seems about right.
So on this feast of Henry Suso, I thank God for this eccentric patron who challenges me to draw ever closer to Christ, not by slavishly imitating his example, but by following the path the Lord has laid out for this modern, very different Henry. Blessed Henry Suso, pray for us!"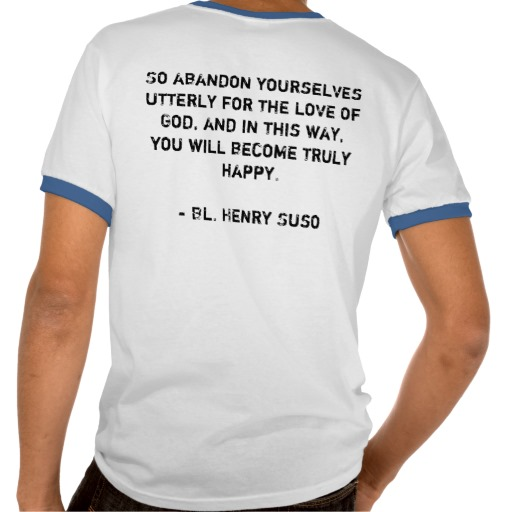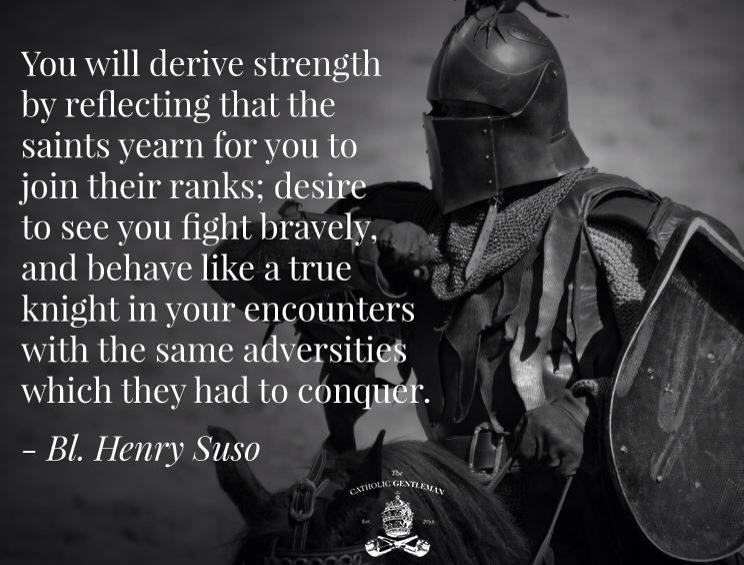 "Lord, I can see plainly that you are the only and the true source of wisdom, since you alone can restore faith and hope to a doubting and despairing soul. In your Son, Jesus, you have shown me that even the most terrible suffering can be beautiful, if it is in obedience to Your will. And so the knowledge of your Son has enabled me to find joy in my own suffering.
Lord, my dear Father, I kneel before You this day, and praise You fervently for my present sufferings, and give thanks for the measureless sufferings of the past. I now realize that all these sufferings are part of Your paternal love, in which You chastise and purify me. And through that discipline I now look at You without shame and terror, because I know that you are preparing me for your eternal kingdom." -Bl Henry Suso, OP
"I look everywhere for Your divinity, but you show me Your humanity; I desire your sweetness, but You offer me bitterness; I want to suckle, but you teach me to fight" (Little Book of Eternal Wisdom)
"Nowhere does Jesus hear
our prayers more readily than
in the Blessed Sacrament."
—Blessed Henry Suson
"Study yourself to see what God wants of you. Attend to that, and put all else aside."
-Blessed Henry Suso
"Remember that your principal aim, and indeed only business, is to give your thoughts to the desire of Jesus, and to strengthen this desire by daily prayer and other spiritual works." – –Bl. Henry Suso
"If your enemies see that you grow courageous, and that you will neither be seduced by flatteries nor disheartened by the pains and trials of your journey, but rather are contented with them, they will grow afraid of you."
-Blessed Henry Suso
"He who perseveres with constancy and fervor will, without fail, raise himself to a high degree of perfection."
-Blessed Henry Suso
"In the first day of my youth I tried to find it in the creatures, as I saw others do: but the more I sought, the less I found it, and the nearer I went to it, the further off it was. For of every image that appeared to me, before I had fully tested it, or abandoned myself to peace in it, an inner voice said to me: 'This is not what thou seekest.'"
-Blessed Henry Suso
"The world is deceitful and inconstant. When fortune forsakes us, friendships take flight."
-Blessed Henry Suso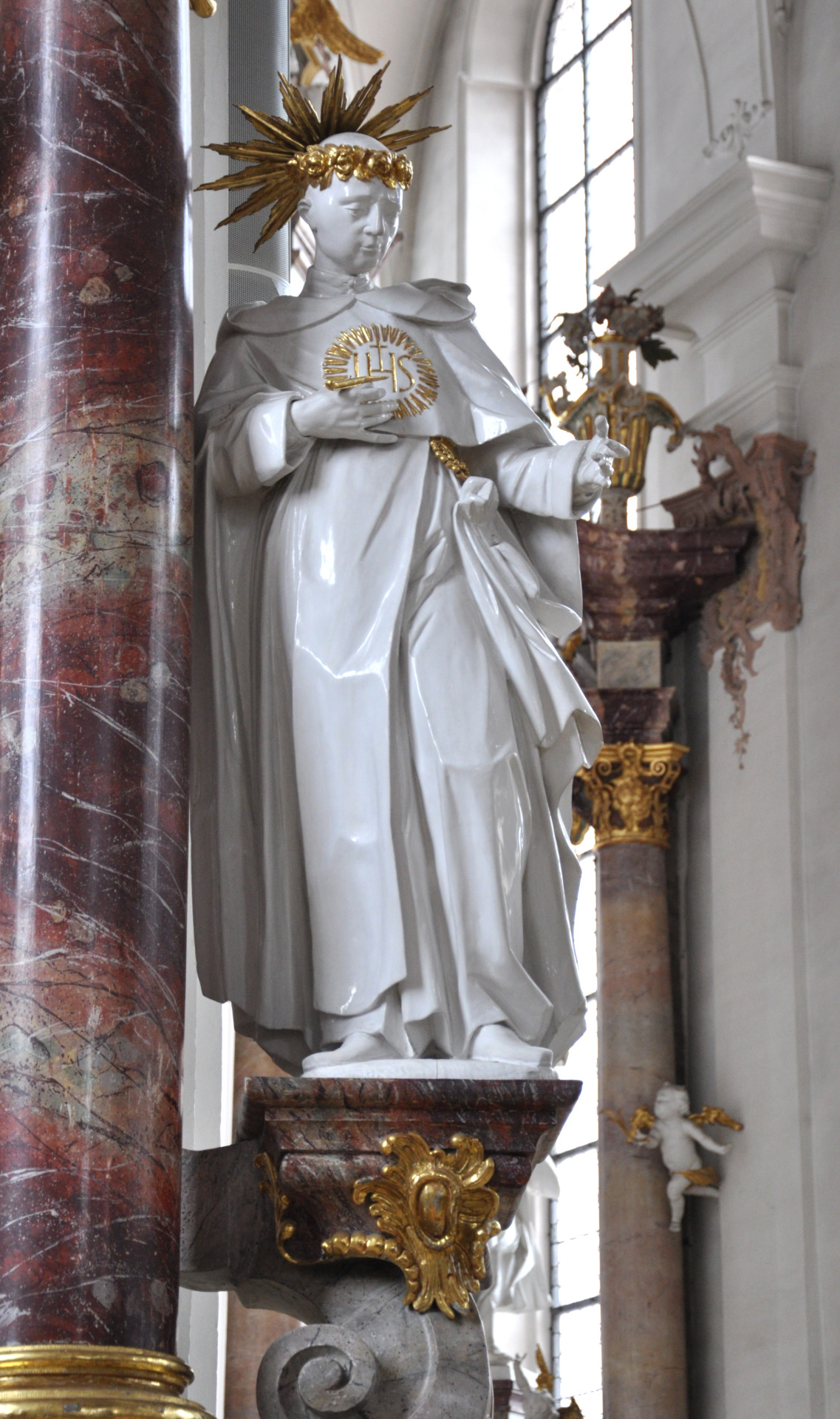 -Dominican Church of Rottweil, Germany
"The confession that is motivated by love is nobler than one motivated by necessity."
-Blessed Henry Suso
"Always give a good example: teach virtue by word and deed. Example is more powerful than discourse."
-Blessed Henry Suso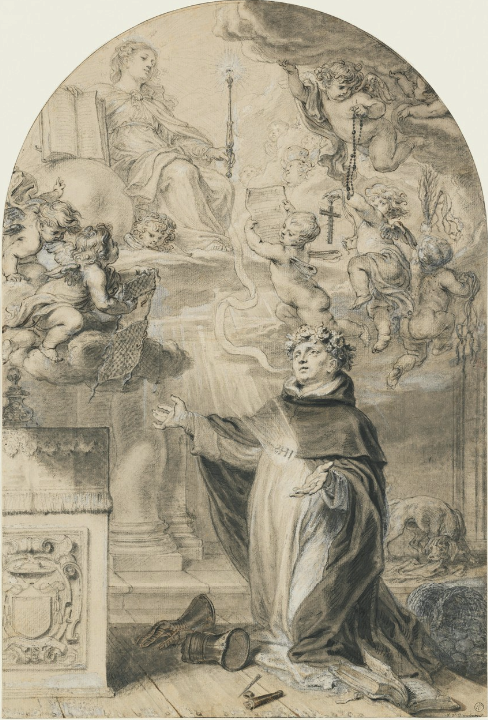 https://harvardartmuseums.org/collections/object/348911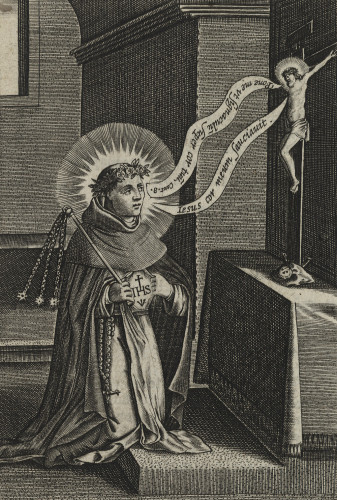 -unidentified engraver, The Blessed Henry Suso Kneeling before a Crucifix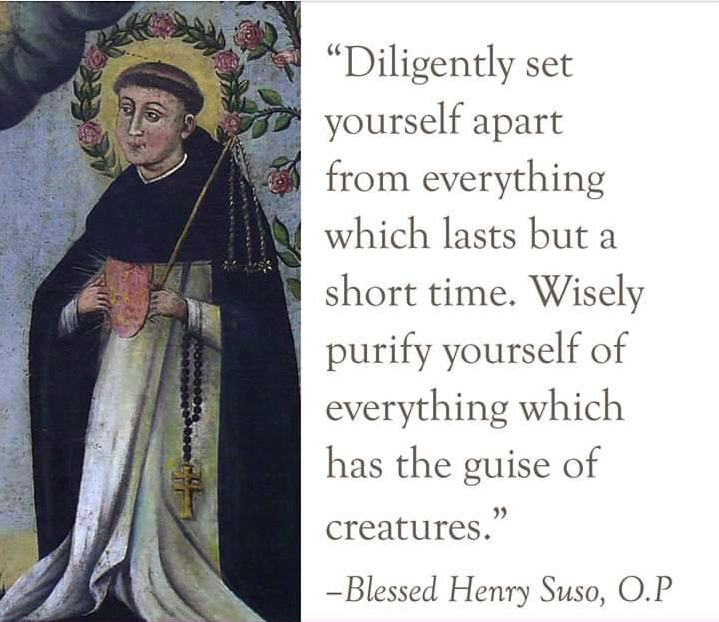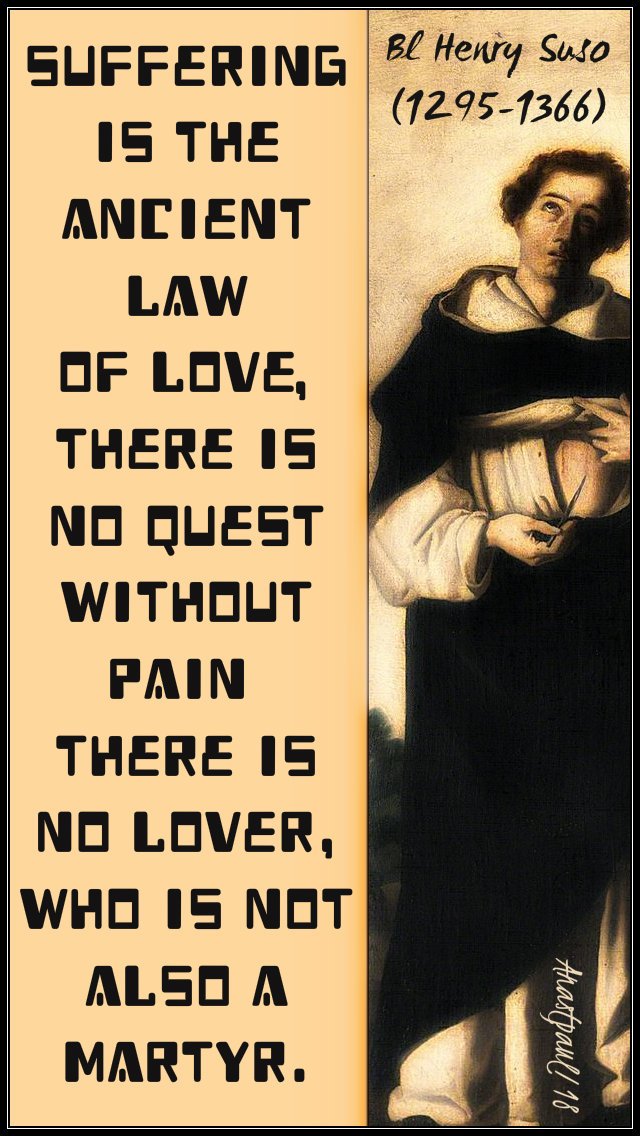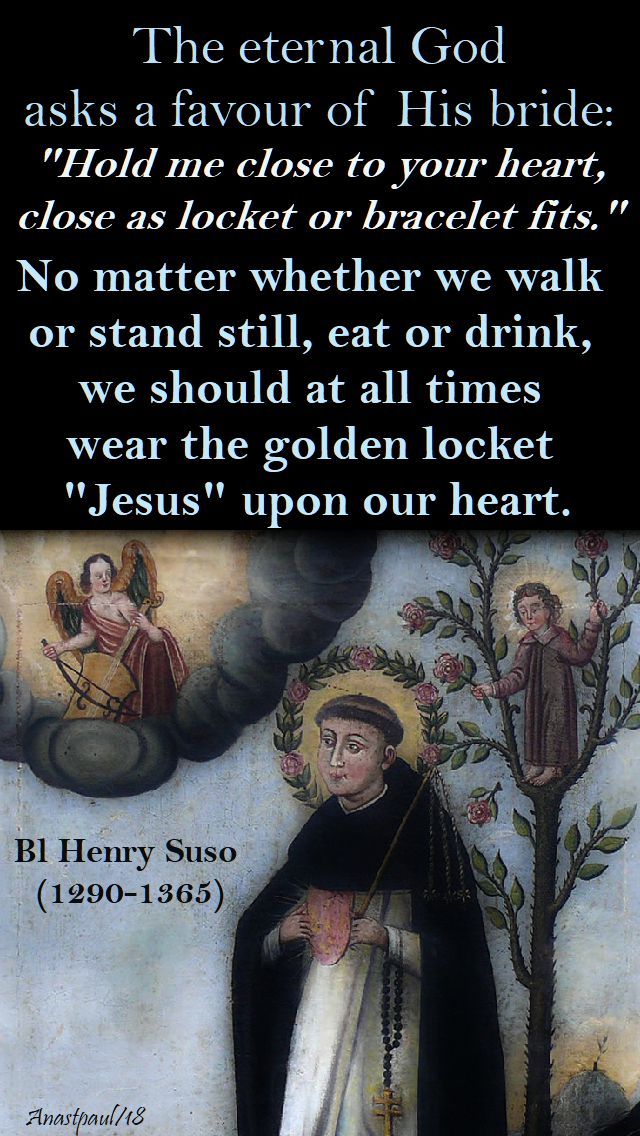 Love,
Matthew