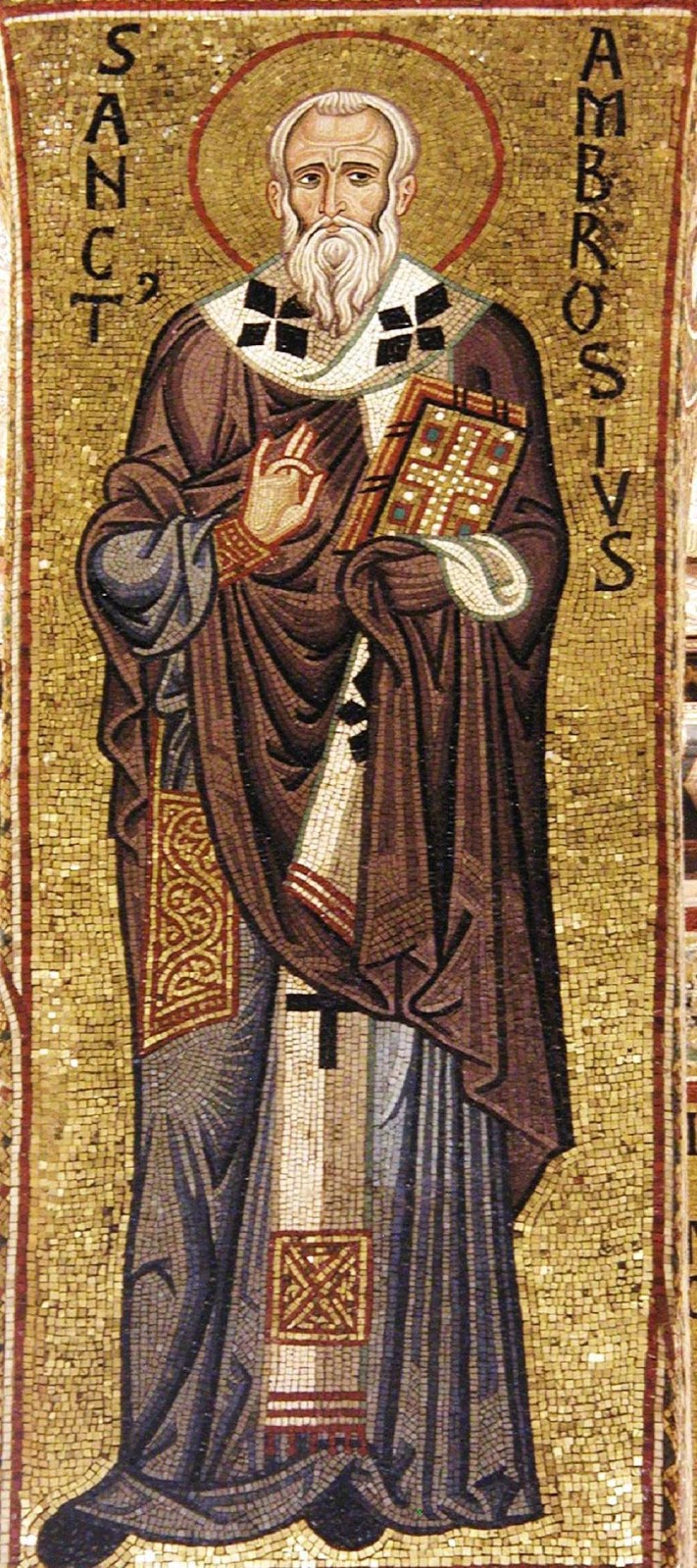 Saint Ambrose's life testifies to the fact that everything can change in a moment's notice, and that God has greater plans for us than we could ever fathom for ourselves. Aurelius Ambrosius was born into Roman nobility and proceeded to receive an excellent education. By the age of 33 Ambrose was living the life every Roman dreamed of.  He was a successful lawyer and the governor of Milan. Suddenly and without warning everything would change.
In about 374 A.D. the bishop of Milan, Auxentius, died. This was a major problem because at this time Milan was full of Catholics and Arians.  Arianism was a terrible heresy which swept the early Church.  Arius (250-336 AD) was a priest in Alexandria, Egypt. He developed an exegesis of Proverbs 8:22-31 et seq, the passage beginning "The Lord created me at the beginning of His work, the first of His acts of old." The passage is referring to Wisdom. Arius derived from this the notion that Christ, who is often identified as Wisdom in Proverbs, is a created creature. This is the same belief held by modern Arians, whom we know as Jehovah's Witnesses.
Arius was apparently quite a charismatic character, although his description does not quite match up to the trouble that he caused. He was born in Libya, but raised in Antioch. A contemporary, Epyphonius, described him as tall and grave, with a winning personality. He always walked about barefoot, and led an ascetic life. Despite what appears to be an unassuming personality, Arius fervently marketed his teaching. Throughout the controversy, the world was treated to Arians singing popular ditties relating their theology. One writer of the period complained that it was impossible to go to the market without having to listen to such songs, and engaging in theological dispute with the butcher, the fruit vendor and the bath attendant.  St Jerome, of prior note, lamented "The whole world woke and groaned to find itself Arian."
The dispute tore the Christian world apart, especially in the East. In reaction, the Emperor Constantine the Great (who was born in England by the way) in 325 AD convened a great council of bishops to address the controversy. Meeting in Nicaea, 318 bishops deliberated and debated the issue. Among them was the bishop of Alexandria, named Alexander, and his young deacon, Athanasius (St Athanasius, of prior note). This council would later be recognized as the first Ecumenical Council, one of seven which would produce the dogmatic statements that are so important in Holy Tradition. The bishops produced what we now know as the Nicene Creed.
From this simple, albeit misguided, exegesis, the entire world was thrown into upheaval, which lasted for most of the fourth century.  If, as the logic goes, Christ is a creature, then He is not Divine.  Careful what you misinterpret in Scripture.  Therefore, the Incarnation did not happen and we are NOT saved.  Arians believed that Christ was not divine, and the former bishop of Milan was an Arian.
After the bishop's death, a huge riot proceeded in the cathedral of Milan and it seemed that bloodshed was imminent. Ambrose came on the scene and gave a powerful speech for peace which resulted in the crowd's decision that Ambrose, a catechumen who was yet to be baptized, ought to be the new bishop. St. Amborse resisted as much as he could, but he eventually gave up because he knew that he had to accept in order to keep the peace. St. Ambrose was then baptized and ordained all in the same day.
St. Ambrose then began his career as a bishop, preacher, and negotiator. Saint Ambrose sold all of his possessions and gave them to the poor and the church. He preached passionately against the Arian heresy and was educated in theology by St. Simplician. When the emperor died, the Empress Justina, an Arian, became regent for her four year old son. Maximus, a former Roman soldier, realized the emperor's death might weaken the empire enough for his army to conquer it. Justina begged Ambrose to negotiate with him. In spite of the fact that she was his enemy, Ambrose went on a diplomatic mission that convinced Maximus not to invade.  Ambrose convinced Maximus and his armies not to invade on numerous occasions.
Here is a favorite St. Ambrose quote which certainly points to the kind of man he was:  "It is a better thing to save souls for the Lord than to save treasures. He Who sent forth His apostles without gold had not need of gold to form His Church. The Church possesses gold, not to hoard, but to scatter abroad and come to the aid of the unfortunate."  "That which cannot be bought with gold, does not take its value from gold."
In thanks?, Empress Justina demanded Ambrose to surrender one of the Churches of Milan to the Arians, Ambrose declared, "If you demand my person, I am ready to submit: carry me to prison or to death, I will not resist; but I will never betray the church of Christ. I will not call upon the people to succour me; I will die at the foot of the altar rather than desert it. The tumult of the people I will not encourage: but God alone can appease it."  Imperial soldiers surrounded the basilica.  In the face of arms and soldiers, Ambrose said, "My only arms are my tears. I will never depart willingly but I won't resist by force."
In order to calm the frightened people, Ambrose taught them to sing hymns he had composed. He split the congregation in two in order to alternate verses of the hymns. This is our first record of communal singing in church.  The music of praise and prayer seeped out through the walls of the basilica and into the hearts of the soldiers. Soon the soldiers outside joined in the singing. They did enter the church, but to pray.  The siege ended.  Ambrose's preaching also brought eastern Emperor Theodosius to do public penance for his sins.
Ambrose was careful never to say or do anything to start violence. When Catholics seized an Arian priest and were going to put him to death, Ambrose intervened in the name of peace and prayed God suffer no blood to be shed. He sent out priests and deacons to rescue his Arian enemy.
Saint Ambrose was unsurprisingly famous for selling gold vessels of the Church in order to tend to the poor and free captives of neighboring barbarians. St. Ambrose also baptized and preached to Saint Augustine of Hippo, of prior note.
The title "Honey-tongued Doctor" was initially bestowed on Ambrose because of his speaking and preaching ability; this led to the use of a beehive and bees in his iconography, symbols which also indicate wisdom. This led to his association with bees, beekeepers, chandlers, wax refiners, etc.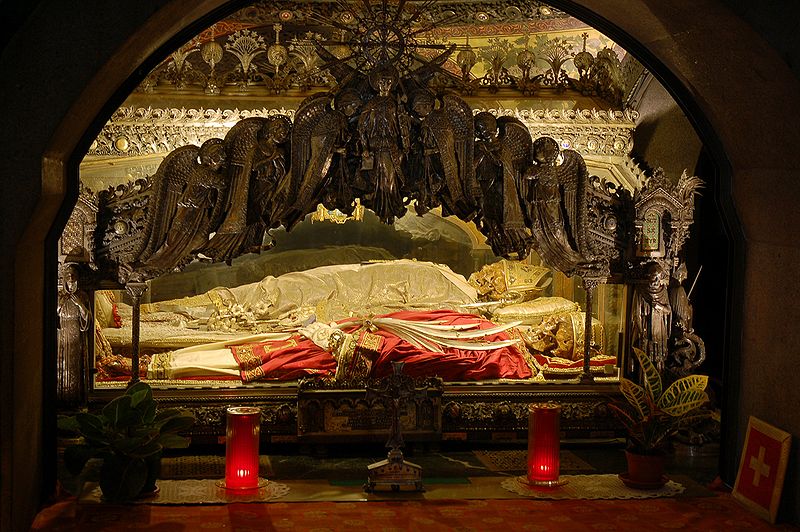 -the remains of St Ambrose (in white vestments), Basilica of Sant'Ambrogio, Milan, Italy.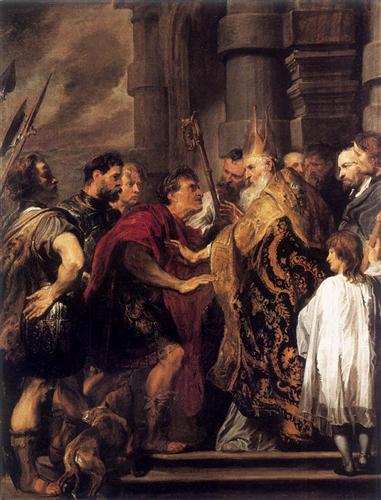 -detail from the painting 'Emperor Theodosius Forbidden by Saint Ambrose To Enter Milan Cathedral', Sir Anthony van Dyck, 1619-20, oil on canvas, National Gallery, London, England, 149 cm x 113 cm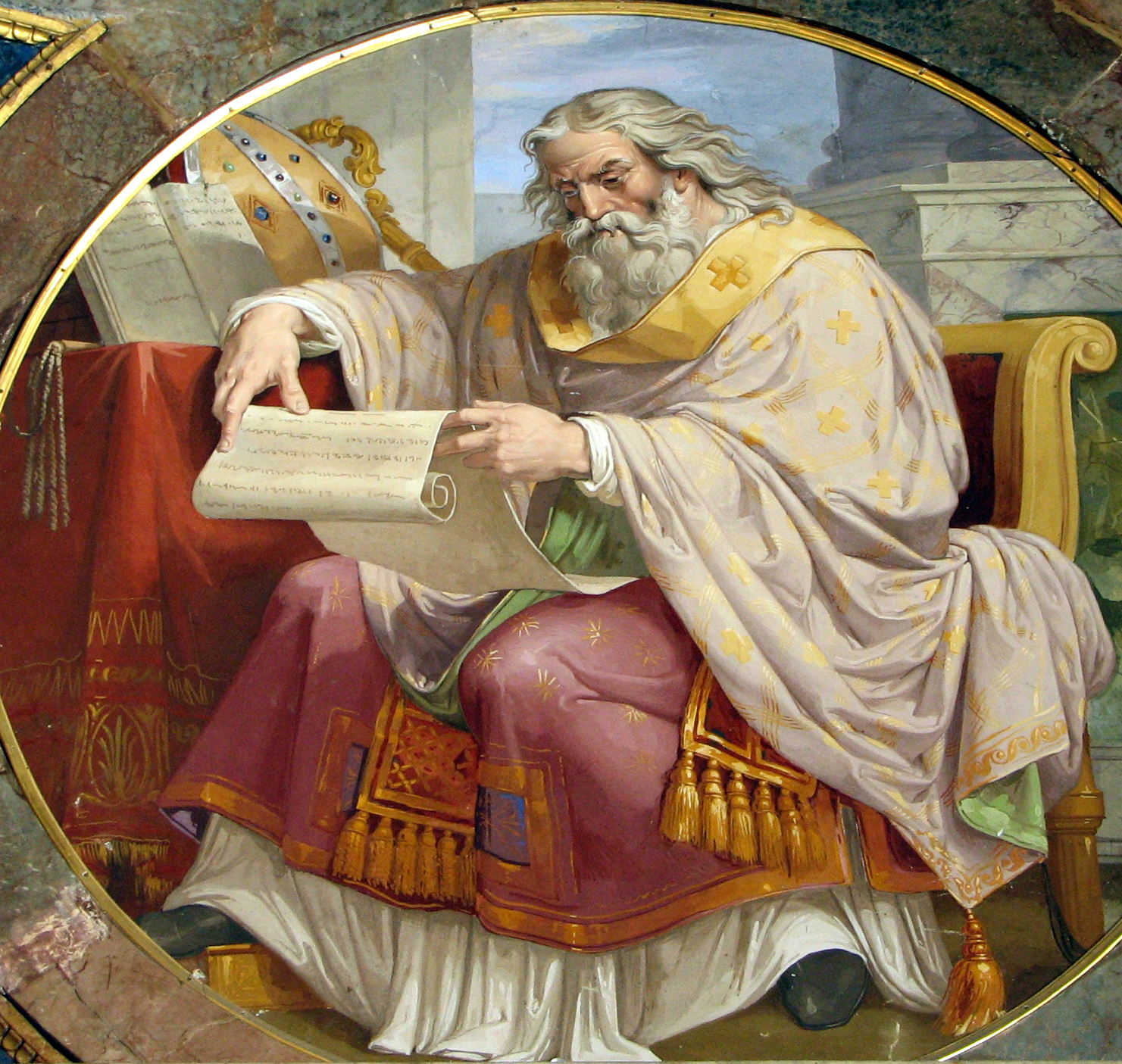 -painting of Saint Ambrose of Milan, Vatican Museum
"No one heals himself by wounding another." – Saint Ambrose
"Our own evil inclinations are far more dangerous than any external enemies." – Saint Ambrose
"Know, O beautiful soul, that you are the image of God. Know that you are the glory of God." -St. Ambrose of Milan
"But if these beings, angels, guard you, they do so because they have been summoned by your prayers." – Saint Ambrose
"He took what is mine in order that He might impart to me what is His. He took it not to overturn it but to fill it."
–St. Ambrose
"Not only for every idle word but for every idle silence must man render an account." – St. Ambrose
"He took what is mine in order that He might impart to me what is His. He took it not to overturn it but to fill it."
–St. Ambrose
"The Church of the Lord is built upon the rock of the apostles among so many dangers in the world; it therefore remains unmoved. The Church's foundation is unshakable and firm against assaults of the raging sea. Waves lash at the Church but do not shatter it. Although the elements of this world constantly beat upon the Church with crashing sounds, the Church possesses the safest harbor of salvation for all in distress.
There is a stream which flows down on God's saints like a torrent. There is also a rushing river giving joy to the heart that is at peace and makes for peace.
He who reads much and understands much, receives his fill. He who is full, refreshes others. So Scripture says: "If the clouds are full, they will pour rain upon the earth."
Therefore, let your words be rivers, clean and limpid, so that you may charm the ears of people. And by the grace of your words win them over to follow your leadership. Solomon says: "The weapons of the understanding are the lips of the wise"; and in another place he says: "Let your lips be bound with wisdom." That is, let the meaning of your words shine forth, let understanding blaze out. Let no word escape your lips in vain or be uttered without depth of meaning." – from a letter by Saint Ambrose
"There is also a certain water which we put into the basin of our soul, water from the fleece and from the Book of Judges; water, too, from the Book of Psalms. It is the water of the message from heaven. Let, then, this water, O Lord Jesus, come into my soul, into my flesh, that through the moisture of this rain the valleys of our minds and the fields of our hearts may grow green. May the drops from Thee come upon me, shedding forth grace and immortality." –St. Ambrose, "To the Emperor Gratian," in Ambrose: Select Works and Letters," eds. Philip Schaff and Henry Wace (Grand Rapids, MI: Wm. B. Eerdmans Publishing Co.), 95.
"To avoid dissensions we should be ever on our guard, more especially with those who drive us to argue with them, with those who vex and irritate us, and who say things likely to excite us to anger. When we find ourselves in company with quarrelsome, eccentric individuals, people who openly and unblushingly say the most shocking things, difficult to put up with, we should take refuge in silence, and the wisest plan is not to reply to people whose behavior is so preposterous. Those who insult us and treat us contumeliously are anxious for a spiteful and sarcastic reply: the silence we then affect disheartens them, and they cannot avoid showing their vexation; they do all they can to provoke us and to elicit a reply, but the best way to baffle them is to say nothing, refuse to argue with them, and to leave them to chew the cud of their hasty anger. This method of bringing down their pride disarms them, and shows them plainly that we slight and despise them." – Saint Ambrose, Offices
"O God, I who presume to invoke Thy Holy Name, stand in the presence of Thy Divine Majesty: have mercy upon me, a man: a sinner smeared by the foulness of inherent impurity; forgive the unworthy priest in whose hand this oblation is seen offered: Spare O Lord one polluted by sins: in faults the foremost, in comparison to all others, and do not enter into judgment with Thy servant, for no one living is justified in Thy sight. It is true that we are weighed down in the faults and desires of our flesh: remember, O Lord, that we are flesh and there is no other source of help than Thee. Yeah, in Thy sight not even those in Heaven are much more cleansed than we earthly humans, of whom, as the Prophet said of all our righteous acts: we are in comparison as unworthy as a menstrual rag. O Jesus Christ, let us live. O Thou Who dost not will the death of a sinner: grant forgiveness unto us whom Thou hast established in flesh, so that by penitential acts we may come to enjoy eternal life in the Heavens, through our Lord Jesus Christ Who reigneth with Thee and the Holy Spirit throughout all ages of ages. Amen. "
-From the Lorrha ("Stowe") Missal used by Churches of Ireland, Scotland, Britain, France, Germany, Switzerland, and northern Italy.  Translated and Rubricated by Priest Kristopher Dowling, S.S.B.
"Lord, teach me to seek You, and reveal Yourself to me when I seek You. For I cannot seek You unless You first teach me, nor find You unless You first reveal Yourself to me. Let me seek You in longing and long for You in seeking. Let me find You in love, and love You in finding."
-St Ambrose of Milan, Bishop, Writer, Doctor of the Church
"Lord Jesus Christ, I approach Your banquet table in fear and trembling, for I am a sinner, and dare not rely on my own worth but only on Your goodness and mercy. I am defiled by many sins in body and soul, and by my unguarded thoughts and words.
Gracious God of majesty and awe, I seek Your protection, I look for Your healing. Poor troubled sinner that I am, I appeal to You, the fountain of all mercy. I cannot bear Your judgment, but I trust in Your salvation. Lord, I show my wounds to You and uncover my shame before You. I know my sins are many and great, and they fill me with fear, but I hope in Your mercies, for they cannot be numbered.
Lord Jesus Christ, eternal king, God and man, crucified for mankind, look upon me with mercy and hear my prayer, for I trust in You. Have mercy on me, full of sorrow and sin, for the depth of Your compassion never ends.
Praise to You, saving sacrifice, offered on the wood of the cross for me and for all mankind. Praise to the noble and precious blood, flowing from the wounds of my crucified Lord Jesus Christ and washing away the sins of the whole world. Remember, Lord, Your creature, whom You have redeemed with Your blood. I repent my sins, and I long to put right what I have done. Merciful Father, take away all my offenses and sins; purify me in body and soul, and make me worthy to taste the holy of holies.
May Your body and blood, which I intend to receive, although I am unworthy, be for me the remission of my sins, the washing away of my guilt, the end of my evil thoughts, and the rebirth of my better instincts. May it incite me to do the works pleasing to You and profitable to my health in body and soul, and be a firm defense against the wiles of my enemies."
-Saint Ambrose of Milan, Prayer before Holy Communion
In "On the Mysteries" (De Mysteriis) [English], Chapter 2, St. Ambrose wrote,
"After this the Holy of holies was opened to you, you entered the sanctuary of regeneration; recall what you were asked, and remember what you answered. You renounced the devil and his works, the world with its luxury and pleasures. That utterance of yours is preserved not in the tombs of the dead, but in the book of the living."
"Post haec reserata tibi sunt sancta sanctorum, ingressus es regenerationis sacrarium: repete quid interrogatus sis, recognosce quid responderis. Renuntiasti diabolo et operibus ejus, mundo et luxuriae ejus ac voluptatibus. Tenetur vox tua, non in tumulo mortuorum, sed in libro viventium."
"Let the Word of God come; let it enter the church; let it become a consuming fire, that it may burn the hay and stubble, and consume whatever is worldly; there is heavy lead of iniquity in many; let it be molten by divine fire; let the gold and silver vessels be made better, in order that understanding and speech, refined by the heat of suffering, may begin to be more precious."
–St. Ambrose
"This bread is bread before the words of the Sacrament. But when the words of Christ come to it, it is the body of Christ … Before the words of Christ it is a cup full of wine and water. When the words of Christ become operative, the blood which has redeemed the people is caused to be there."
–St. Ambrose
"Christ Himself is our mouth through which we speak to the Father, our eye through which we see the Father, our right hand through which we offer to the Father. Without His intercession neither we nor all the saints have anything with God."
–St. Ambrose
"I will glory not because I am righteous, but because I am redeemed; I will glory not because I am free from sins, but because my sins are forgiven me. I will not glory because I have done good nor because someone has done good to me, but because Christ is my advocate with the Father and because the blood of Christ has been shed for me."
–St. Ambrose
"Let the Word of God come; let it enter the church; let it become a consuming fire, that it may burn the hay and stubble, and consume whatever is worldly; there is heavy lead of iniquity in many; let it be molten by divine fire; let the gold and silver vessels be made better, in order that understanding and speech, refined by the heat of suffering, may begin to be more precious."
–St. Ambrose
"Let anger be guarded against. But if it cannot be averted, let it be kept within bounds. For indignation is a terrible incentive to sin. It disorders the mind to such an extent as to leave no room for reason. The first thing, therefore, to aim at, if possible, is to make tranquility of character our natural disposition by constant practice, by desire for better things, by fixed determination."
—St. Ambrose
Love,
Matthew