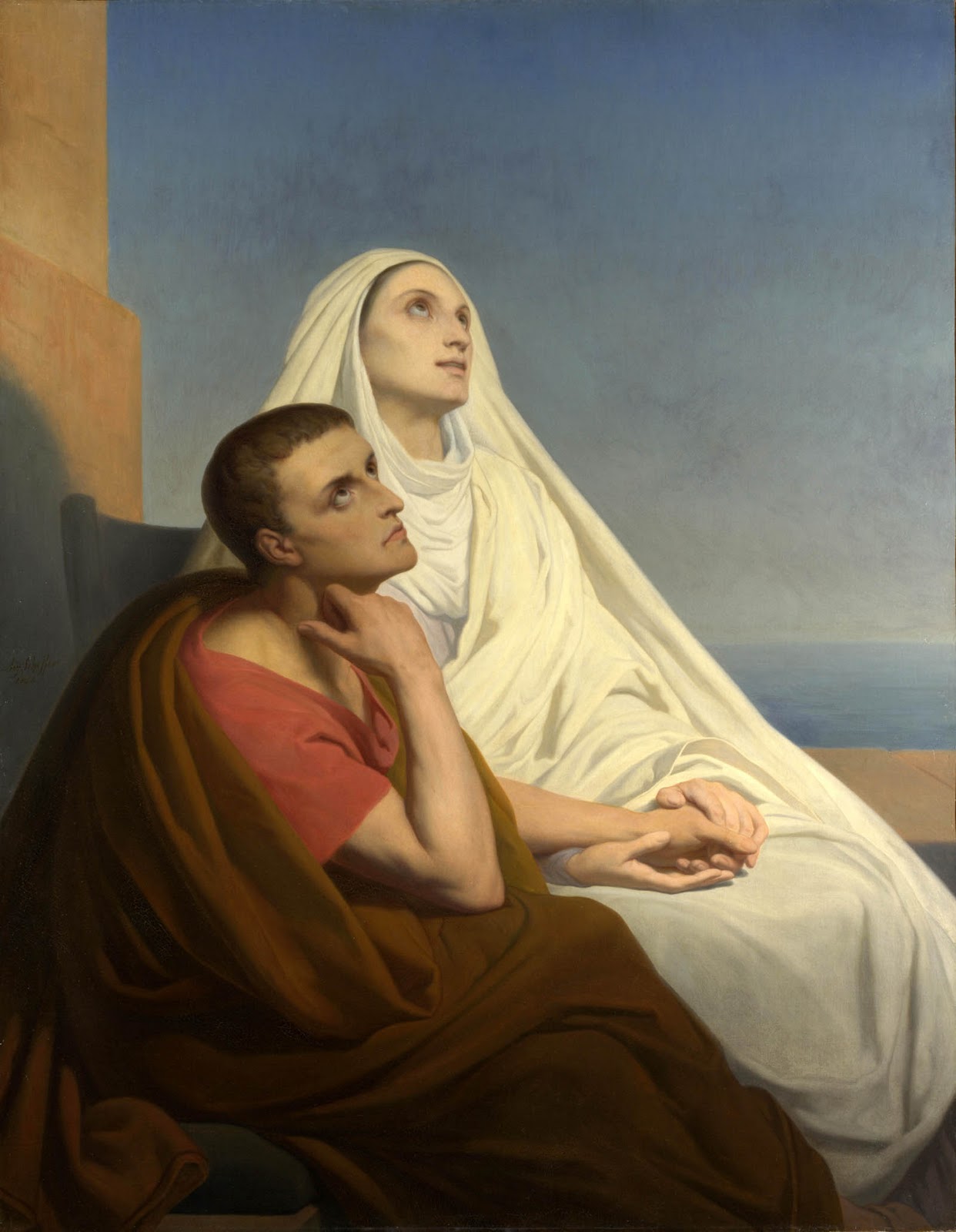 – Sts Augustine & Monica, by Ary Scheffer, 1846, please click on the image for greater detail.
"This very moment I may, if I desire, become the friend of God." -St Augustine
Bishops have had a tough decade, as have all the ordained.  Some would say, of the guilty, deservedly so, by their or their predecessors own action/inaction.  We are ALL sinners, most especially, yours truly!  Sins of commission and omission.  The Catholic understanding of sin is that it is never a private affair.  All sin, even unknown sin, is a social offense.
The first tragedy, the victims of clergy sexual abuse, and, a second, I dare suggest, are the innocent ordained, who have dedicated their lives in service and love, try as they may with the aid of grace, in service to the Lord and His People.  God bless them!  Their reward will surely be great in Heaven for having lived, and served, and loved in this time.  Bless them!  And, thank you!  How much harder it must be to live out the life of service and love in these days!  Rejoice!  I say again, rejoice!  You shine as examples of Christian fortitude, fidelity, the power of grace and commitment!  True servants of the Lord!  I know I am inspired by your example!  Thank you!  God bless you!  Thank you for your service and your love, for your fidelity and example which inspires us all in, of, and for Love!
St. Augustine of Hippo is the patron of brewers because of his conversion from a former life of loose living, which included parties, entertainment, and worldly ambitions. His complete turnaround and conversion has been an inspiration to many who struggle with a particular vice or habit they long to break.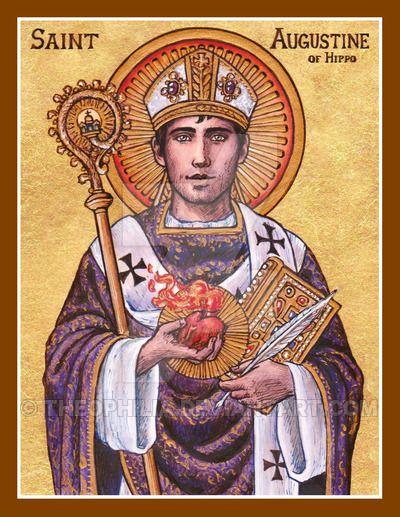 Accepted by most scholars to be the most important figure in the ancient Western church, St. Augustine was born in Tagaste, Numidia in North Africa. His mother, St Monica, was a Christian, but his father remained a pagan until late in life. After a rather unremarkable childhood, marred only by a case of stealing pears, Augustine drifted through several philosophical systems before converting to Christianity at the age of thirty-one. At the age of nineteen, Augustine read Cicero's Hortensius (now lost), an experience that led him into the fascination with philosophical questions and methods that would remain with him throughout his life. After a few years as a Manichean, he became attracted to the more skeptical positions of the Academic philosophers. Although tempted in the direction of Christianity upon his arrival at Milan in 383, he turned first to neoplatonism. During this time, Augustine fathered a child by a mistress. This period of exploration, including its youthful excesses (perhaps somewhat exaggerated) are recorded in Augustine's most widely read work, the Confessions.
This famous son of St. Monica was born in Africa and spent many years of his life in wicked living and in false beliefs. At age 17, through the generosity of fellow citizen Romanianus, Augustine went to Carthage to continue his education in rhetoric. Although raised as a Christian, Augustine left the church to follow the Manichaean religion, much to the despair of his mother, Monica.  As a youth Augustine lived a hedonistic lifestyle for a time, associating with young men who boasted of their sexual exploits with women and urged the inexperienced boys, like Augustine, to seek out experiences or to make up stories about experiences in order to gain acceptance and avoid ridicule.  It was during this period that he uttered his famous prayer, "Grant me chastity and continence, but not yet!" – "da mihi castitatem et continentiam, sed noli modo." At a young age, he began an affair with a young woman in Carthage. She was his lover for over thirteen years and gave birth to his son Adeodatus, who was said to have been extremely intelligent.
Though he was one of the most intelligent men who ever lived and though he had been brought up a Christian, his sins of impurity and his pride darkened his mind so much, that he could not see or understand the Divine Truth anymore. Through the prayers of his holy mother and the marvelous preaching of St. Ambrose, Augustine finally became convinced that Christianity was the one true religion. Yet he did not become a Christian then, because he thought he could never live a pure life. One day, however, he heard about two men who had suddenly been converted on reading the life of St. Antony, and he felt terrible, ashamed of himself. "What are we doing?" he cried to his friend Alipius. "Unlearned people are taking Heaven by force, while we, with all our knowledge, are so cowardly that we keep rolling around in the mud of our sins!"
Full of bitter sorrow, Augustine flung himself out into the garden and cried out to God, "How long more, O Lord? Why does not this hour put an end to my sins?" Just then he heard a child singing, "Tolle, lege! = Take up and read!" Thinking that God intended him to hear those words, he picked up the book of the Letters of St. Paul, and read the first passage his gaze fell on. "Not in riots and drunken parties, not in eroticism and indecencies, not in strife and rivalry, but put on the Lord Jesus Christ and make no provision for the flesh in its lusts'"[Rom 13:13-15]. "I neither wished nor needed to read further. At once, with the last words of this sentence, it was as if a light of relief from all anxiety flooded into my heart. All the shadows of doubt were dispelled." — The Confessions of Saint Augustine, Book VIII, Paragraph 29.
During his youth, Augustine had studied rhetoric at Carthage, a discipline that he used to gain employment teaching in Carthage and then in Rome and Milan, where he met Ambrose who is credited with effecting Augustine's conversion and who baptized Augustine in 387. Returning to his homeland soon after his conversion, he was ordained a presbyter in 391, taking the position as bishop of Hippo in 396, a position which he held until his death.
Besides the Confessions, Augustine's most celebrated work is his De Civitate Dei (On the City of God), a study of the relationship between Christianity and secular society, which was inspired by the fall of Rome to the Visigoths in 410. Among his other works, many are polemical attacks on various heresies: Against Faustus, the Manichean; On Baptism; Against the Donatists;and many attacks on Pelagianism and Semi-Pelagianism. Other works include treatises On the Trinity; On Faith, Hope, and Love; On Christian Doctrine; and some early dialogues.
St. Augustine stands as a powerful advocate for orthodoxy and of the episcopacy as the sole means for the dispensing of saving grace. In the light of later scholarship, Augustine can be seen to serve as a bridge between the ancient and medieval worlds. A review of his life and work, however, shows him as an active mind engaging the practical concerns of the churches he served.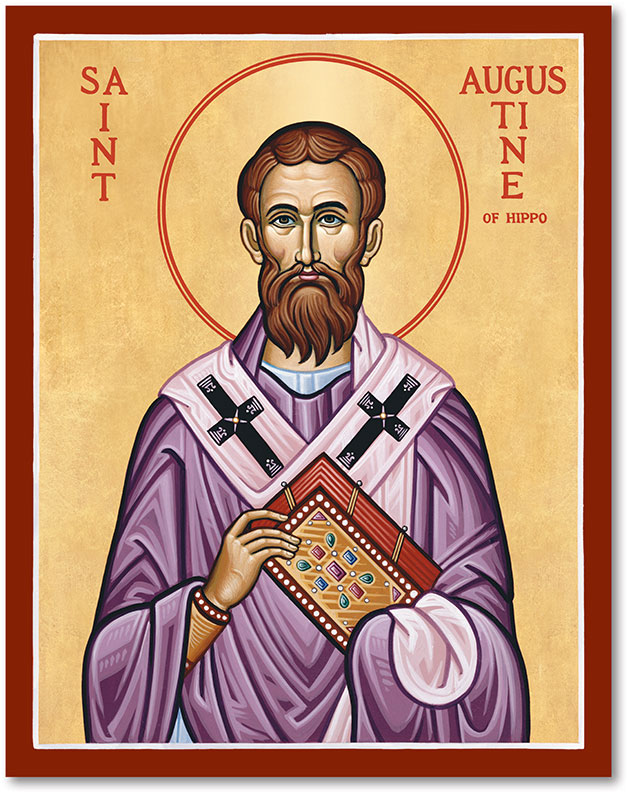 "The honors of this world, what are they but puff, and emptiness and peril of falling?" – Saint Augustine
"In my deepest wound I saw Your glory and it astounded me."-St. Augustine 
"What does love look like? It has the hands to help others. It has the feet to hasten to the poor and needy. It has eyes to see misery and want. It has the ears to hear the sighs and sorrows of men. That is what love looks like."
–St. Augustine
"One loving heart sets another on fire." -St. Augustine
"What is more fragrant, more delightful, than the gentle breath of truth?" -St. Augustine
"Daily advance, then, in this love, both by praying and by well doing, that through the help of Him who enjoined it on you, and whose gift it is, it may be nourished and increased, until, being perfected, it render you perfect."– Saint Augustine
"What do you possess if you possess not God?" – Saint Augustine
"O Holy Spirit, descend plentifully into my heart. Enlighten the dark corners of this neglected dwelling and scatter there Thy cheerful beams."
–St. Augustine
"Fortitude is the disposition of soul which enables us to despise all inconveniences and the loss of things not in our power."
–St. Augustine 
"If you are suffering from a bad man's injustice, forgive him—lest there be two bad men."
–St. Augustine
"Prayer is greatly aided by fasting and watching and every kind of bodily chastisement. In this regard each of you must do what you can. Thus, the weaker will not hold back the stronger, and the stronger will not press the weaker. You owe your conscience to God. But to no one else do you owe anything more except that you love one another."
—St. Augustine
"The Holy Spirit has come to abide in you; do not make Him withdraw; do not exclude Him from your heart in any way." -St. Augustine
"There are two loves, the love of God and the love of the world. If the love of the world takes possession of you, there is no way for the love of God to enter into you. Let the love of the world take the second place, and let the love of God dwell in you. Let the better love take over."
—St. Augustine
"Unhappy is the soul enslaved by the love of anything that is mortal." -Saint Augustine
"Pray as though everything depended on God. Work as though everything depended on you." -St. Augustine
"The world is a book and he who does not travel reads only one page." -St Augustine
"Love, and He will draw near; love, and He will dwell within you. The Lord is at hand; have no anxiety. Are you puzzled to know how it is that He will be with you if you love? God is love." -St. Augustine
"You aspire to great things? Begin with little ones." -St. Augustine
"I was sure that it was better for me to give myself up to your love than to give in to my own desires. However, although the one way appealed to me and was gaining mastery, the other still afforded me pleasure and kept me victim. I had no answer to give to you when you said to me, 'Rise, you who sleep, and arise from the dead, and Christ will enlighten you.' When on all sides you showed me that your words were true, and I was overcome by your truth, I had no answer whatsoever to make, but only those slow and drowsy words, 'Right away. Yes, right away.' 'Let me be for a little while.' But 'Right away—right away' was never right now, and 'Let me be for a little while' stretched out for a long time."
—St. Augustine, Confessions
"Know that our faith is strengthened by the resurrection of Christ. The passion of Christ represents the misery of our present life, while the resurrection of Christ gives us a brilliant glimpse of the happiness of the future life. Let us apply ourselves energetically in the present life, and hope in the future. Now is the time for painful struggle; then will come the recompense. Those who are lazy about carrying out their work will be brazenly impudent if they expect the recompense." — St. Augustine
"If a vessel is to be filled, it must first be empty. So cast all evil away from you, that you may be filled to the brim." -St. Augustine
"He willed not that any one should glory in the exalted position of any city of earth. He, too, Whose are all things and by Whom all things were created, was made poor, in order that no one, while believing in Him, might venture to boast himself in earthly riches. He refused to be made by men a king, because He displayed the pathway of humility to those unhappy ones whom pride had separated from Him; and yet universal creation attests the fact of His everlasting kingdom." -St Augustine
"I will suggest a means whereby you can praise God all day long, if you wish. Whatever you do, do it well, and you have praised God." – Saint Augustine
"Love has hands to help others. It has feet to hasten to the poor and needy. It has eyes to see misery and want. It has ears to hear the sighs and sorrows of men. This is what love looks like." -St. Augustine
"But you, 'a chosen generation', weak things of the world, who have forsaken all things, so that you may follow the Lord, go after Him, and confound the strong; go after Him, you beautiful feet, and shine in the firmament so that the heavens may declare His glory . . . Shine over the whole earth, and let the day, brightened by the sun, utter unto day speech of wisdom, and let the night, shining with the moon, declare to the night the word of knowledge . . . Run into every place, O you holy fires, you beautiful fires! You are the light of the world, and you are not put under a measure. He to Whom you have held fast has been exalted, and He has exalted you. Run forth, and make it known to all nations."
—Saint Augustine
"This is the business of our life. By labor and prayer to advance in the grace of God, till we come to that height of perfection in which, with clean hearts, we may behold God." -Saint Augustine
"God in his omnipotence could not give more, in His wisdom He knew not how to give more, in His riches He had not more to give, than the Eucharist." – Saint Augustine
"God does not command impossibilities, but by commanding admonishes you do what you can and to pray for what you cannot, and aids you that you may be able." – Saint Augustine
"Conquer yourself and the world lies at your feet." – Saint Augustine
"God himself will be the goal of our desires; we shall contemplate him without end, love him without surfeit, praise him without weariness."-St Augustine (on St Paul writing: "So that God may be all in all.")
"O eternal truth, true love and beloved eternity. You are my God. To you do I sigh day and night. When I first came to know you, you drew me to yourself so that I might see that there were things for me to see, but that I myself was not yet ready to see them. Meanwhile you overcame the weakness of my vision, sending forth most strongly the beams of your light, and I trembled at once with love and dread. I sought a way to gain the strength which I needed to enjoy you. But I did not find it until I embraced "the mediator between God and men, the man Christ Jesus, Who is above all, God blessed for ever." He was calling me and saying: "I am the way of truth, I am the life." Late have I loved you, O Beauty ever ancient, ever new, late have I loved you! You were within me, but I was outside, and it was there that I searched for you. In my unloveliness I plunged into the lovely things which you created. You were with me, but I was not with You. Created things kept me from You; yet if they had not been in You they would have not been at all. You called, You shouted, and You broke through my deafness. You flashed, You shone, and You dispelled my blindness. You breathed Your fragrance on me; I drew in breath and now I pant for You. I have tasted You, now I hunger and thirst for more. You touched me, and I burned for Your peace." – from the Confessions of Saint Augustine
Neither are the souls of the pious dead separated from the Church which even now is the kingdom of Christ. Otherwise there would be no remembrance of them at the altar of God in the communication of the Body of Christ. – from The City of God by Saint Augustine
A Christian people celebrates together in religious solemnity the memorials of the martyrs, both to encourage their being imitated and so that it can share in their merits and be aided by their prayers. – from Against Faustus the Manichean, by Saint Augustine
There is an ecclesiastical discipline, as the faithful know, when the names of the martyrs are read aloud in that place at the altar of God, where prayer is not offered for them. Prayer, however, is offered for the dead who are remembered. For it is wrong to pray for a martyr, to whose prayers we ought ourselves be commended. – from Sermons by Saint Augustine
"At the Lord's table we do not commemorate martyrs in the same way that we do others who rest in peace so as to pray for them, but rather that they may pray for us that we may follow in their footsteps." – from Homilies on John by Saint Augustine
"Let us understand that God is a physician, and that suffering is a medicine for salvation, not a punishment for damnation." – Saint Augustine
"O Sacrament of Love! O sign of Unity! O bond of Charity! He who would have Life finds here indeed a Life to live in and a Life to live by. – Saint Augustine
"And He departed from our sight that we might return to our heart, and there find Him. For He departed, and behold, He is here." -St. Augustine
"To fall in love with God is the greatest romance; to seek Him the greatest adventure; to find Him, the greatest human achievement."
–St. Augustine
"We are Christians, and strangers on earth. Let none of us be frightened; our native land is not in this world."
–St. Augustine
"Walking by faith, let us do good works. In these let there be a free love of God for His own sake and an active love for our neighbor. For there is nothing we can do for God. But because we have something we can do for our neighbor, we shall by our good offices to the needy gain the favor of Him Who is the source of all abundance. Let us then do what we can for others; let us freely bestow upon the needy out of our abundance."
—St. Augustine
"If you see that you have not yet suffered tribulations, consider it certain that you have not begun to be a true servant of God; for Saint Paul says plainly that all who chose to live piously in Christ, shall suffer persecutions." -Saint Augustine
"Just as in one man there is one soul and one body, yet many members; even so the Catholic Church is one body, having many members. The soul that quickens this body is the Holy Spirit; and therefore in the Creed after confessing our belief in the Holy Spirit, we are bid to believe in the Holy Catholic Church."
–St. Augustine
"You judge me, O Lord, for, although no one 'knows the things of a man but the spirit of man which is in him,' there is something further in man which not even that spirit of man which is in him knows. But you, Lord, who made him, know all things that are in him. Although I despise myself before your sight, and account myself but dust and ashes, yet I know something of you which I do not know about myself. In truth, 'we see now through a glass in a dark manner,' and not yet 'face to face.' … Let me confess, then, what I know about myself. Let me confess also what I do not know about myself, since that too which I know about myself I know because you enlighten me. As to that which I am ignorant of concerning myself, I remain ignorant of it until my 'darkness shall be made as the noonday in your sight.'"
— St. Augustine, Confessions
I speak to you who have just been reborn in baptism, my little children in Christ, you who are the new offspring of the Church, gift of the Father, proof of Mother Church's fruitfulness. All of you who stand fast in the Lord are a holy seed, a new colony of bees, the very flower of our ministry and fruit of our toil, my joy and my crown. It is the words of the Apostle that I address to you: Put on the Lord Jesus Christ, and make no provision for the flesh and its desires, so that you may be clothed with the life of Him whom you have put on in this sacrament. You have all been clothed with Christ by your baptism in Him. There is neither Jew nor Greek; there is neither slave nor freeman; there is neither male nor female; you are all one in Christ Jesus. Such is the power of this sacrament: it is a sacrament of new life which begins here and now with the forgiveness of all past sins, and will be brought to completion in the resurrection of the dead. You have been buried with Christ by baptism into death in order that, as Christ has risen from the dead, you also may walk in newness of life. You are walking now by faith, still on pilgrimage in a mortal body away from the Lord; but He to Whom your steps are directed is Himself the sure and certain way for you: Jesus Christ, who for our sake became man. For all who fear Him He has stored up abundant happiness, which He will reveal to those who hope in Him, bringing it to completion when we have attained the reality which even now we possess in hope. This is the octave day of your new birth. Today is fulfilled in you the sign of faith that was prefigured in the Old Testament by the circumcision of the flesh on the eighth day after birth. When the Lord rose from the dead, He put off the mortality of the flesh; His risen body was still the same body, but it was no longer subject to death. By His resurrection He consecrated Sunday, or the Lord's day. Though the third after his passion, this day is the eighth after the Sabbath, and thus also the first day of the week. And so your own hope of resurrection, though not yet realized, is sure and certain, because you have received the sacrament or sign of this reality, and have been given the pledge of the Spirit. If, then, you have risen with Christ, seek the things that are above, where Christ is seated at the right hand of God. Set your hearts on heavenly things, not the things that are on earth. For you have died and your life is hidden with Christ in God. When Christ, your life, appears, then you too will appear with him in glory. – from a sermon by Saint Augustine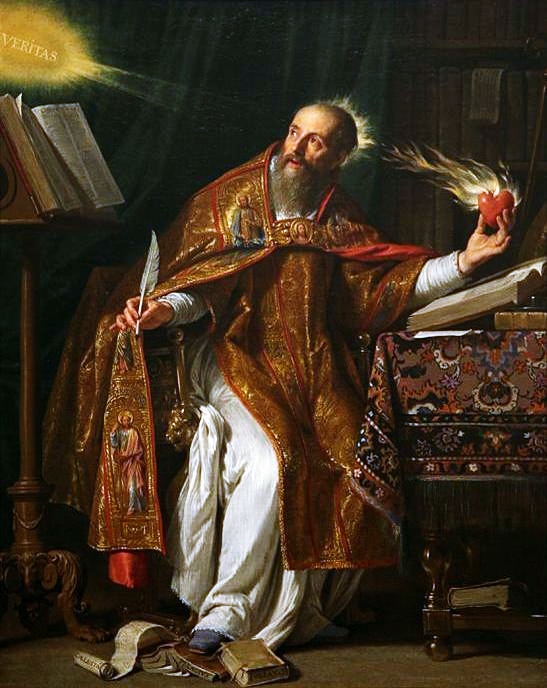 -Saint Augustin, by Phillippe de Champaigne, (1602-1674), completed 1645-1650, oil on canvas, 78.7 × 62.2 cm (31 × 24.5 in), Los Angeles County Museum of Art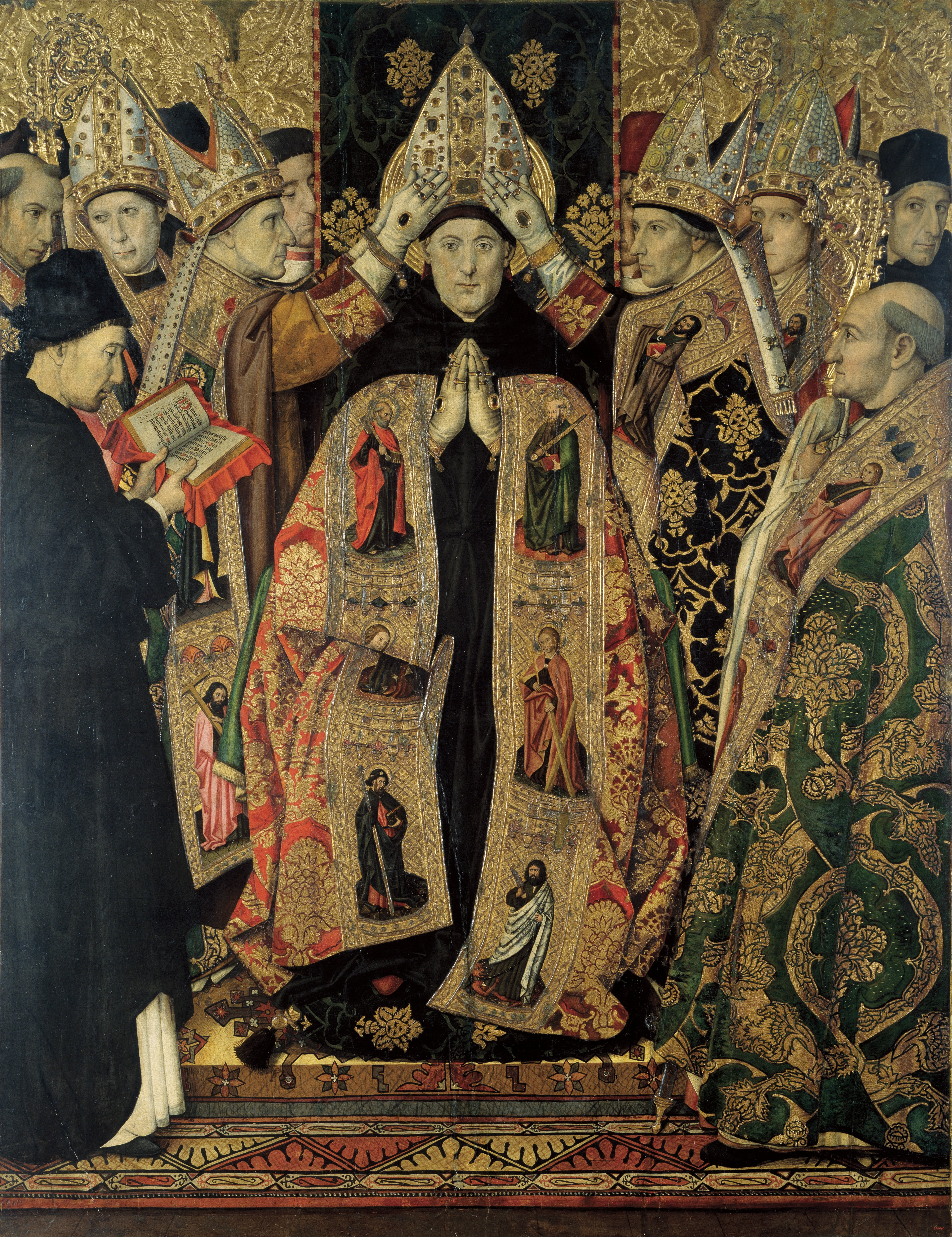 -The Consecration of St Augustine, by Jaume Huguet, (1412-1492), completed 1466~1475, tempera on panel, H: 272 cm (107.1 in). W: 200 cm (78.7 in), Museu Nacional d'Art de Catalunya
Breathe in me, O Holy Spirit,
that my thoughts may all be holy.
Act in me, O Holy Spirit,
that my work, too, may be holy.
Draw my heart, O Holy Spirit,
that I love but what is holy.
Strengthen me, O Holy Spirit,
to defend all that is holy.
Guard me, then, O Holy Spirit,
that I always may be holy. Amen.
-St Augustine's prayer to the Holy Spirit
Give me yourself, O my God, give yourself to me.
Behold I love you, and if my love is too weak a thing,
grant me to love you more strongly.
I cannot measure my love
to know how much it falls short of being sufficient,
but let my soul hasten to your embrace
and never be turned away until it is hidden
in the secret shelter of your presence.
This only do I know,
that it is not good for me when you are not with me,
when you are only outside me.
I want you in my very self.
the plenty in the world
which is not my God is utter want. Amen.
– St Augustine
Holy Spirit, powerful Consoler,
sacred Bond of the Father and the Son,
Hope of the afflicted,
descend into my heart
and establish in it
your loving dominion.
Enkindle in my tepid soul
the fire of your Love
so that I may be wholly subject to you.
We believe that when you dwell in us,
you also prepare a dwelling for the Father and the Son.
Deign, therefore, to come to me,
Consoler of abandoned souls,
and Protector of the needy.
Help the afflicted,
strengthen the weak,
and support the wavering.
Come and purify me.
Let no evil desire take possession of me.
You love the humble and resist the proud.
Come to me, glory of the living, and hope of the dying.
Lead me by your grace
that I may always be pleasing to you. Amen.
-St Augustine
"Know that our faith is strengthened by the resurrection of Christ. The passion of Christ represents the misery of our present life, while the resurrection of Christ gives us a brilliant glimpse of the happiness of the future life. Let us apply ourselves energetically in the present life, and hope in the future. Now is the time for painful struggle; then will come the recompense. Those who are lazy about carrying out their work will be brazenly impudent if they expect the recompense."
—St. Augustine
"Scattered about the entire earth, your mother the Church is tormented by the assaults of error. She is also afflicted by the laziness and indifference of so many of the children she carries around in her bosom as well as by the sight of so many of her members growing cold, while she becomes less able to help her little ones. Who then will give her the necessary help she cries for if not her children and other members to whose number you belong?"
—Saint Augustine
"I look forward, not to what lies ahead of me in this life and will surely pass away, but to my eternal goal. I am intent upon this one purpose, not distracted by other aims, and with this goal in view I press on, eager for the prize, God's heavenly summons. Then I shall listen to the sound of Your praises and gaze at Your beauty ever present, never future, never past. But now my years are but sighs. You, O Lord, are my only solace. You, my Father, are eternal. But I am divided between time gone by and time to come, and its course is a mystery to me. My thoughts, the intimate life of my soul, are torn this way and that in the havoc of change. And so it will be until I am purified and melted by the fire of Your love and fused into one with You." – St. Augustine, Confessions
"But you, 'a chosen generation', weak things of the world, who have forsaken all things, so that you may follow the Lord, go after him, and confound the strong; go after him, you beautiful feet, and shine in the firmament so that the heavens may declare his glory . . . Shine over the whole earth, and let the day, brightened by the sun, utter unto day speech of wisdom, and let the night, shining with the moon, declare to the night the word of knowledge . . . Run into every place, O you holy fires, you beautiful fires! You are the light of the world, and you are not put under a measure. He to whom you have held fast has been exalted, and he has exalted you. Run forth, and make it known to all nations."
—Saint Augustine, Confessions
"As they were looking on, so we too gaze on his wounds as he hangs. We see his blood as he dies. We see the price offered by the redeemer, touch the scars of his resurrection. He bows his head, as if to kiss you. His heart is made bare open, as it were, in love to you. His arms are extended that he may embrace you. His whole body is displayed for your redemption. Ponder how great these things are. Let all this be rightly weighed in your mind: as he was once fixed to the cross in every part of his body for you, so he may now be fixed in every part of your soul."
–St. Augustine of Hippo
"Know this: just as the wood of the ark saved the just from drowning, so too, by the mystery of His wooden Cross, does Christ, the Church's God and King, save us from drowning in the sea of this world. In the symbol of a thing made of wood He gave human beings a foreshadowing of both the judgment to come and the salvation of the just."
—St. Augustine
"We are the holy Church. But I do not say 'we' as though to indicate only we who are here, you who have just been listening to me. I mean all of us who are here and by the grace of God faithful Christians in this church, that is, in this city; all those in this region, in this province, across the sea, all those in the whole world. Such is the Catholic Church, our true mother, the true spouse of so great a husband."
—St. Augustine
Love,
Matthew