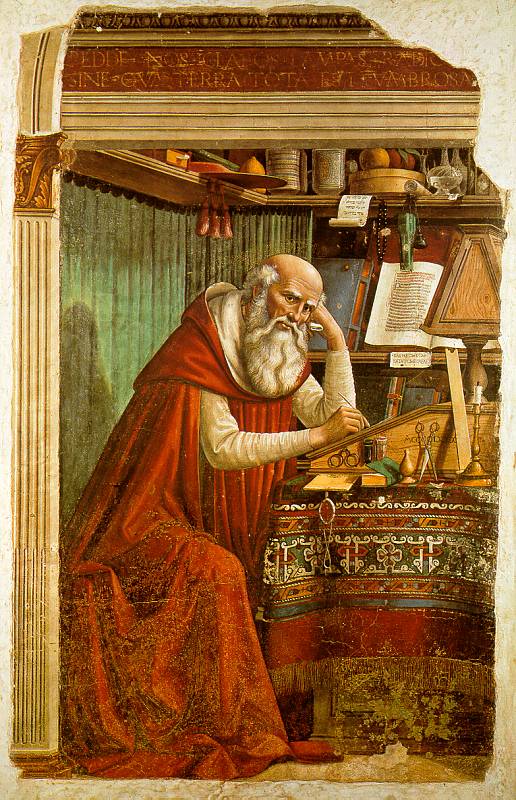 -"Saint Jerome in his Study", by Domenico Ghirlandaio, 1480, Church of Ognissanti, Florence
Most of the saints are remembered for some outstanding virtue or devotion which they practiced, but Jerome is frequently remembered for his bad temper! It is true that he had a very bad temper and could use a vitriolic pen, but his love for God and his Son Jesus Christ was extraordinarily intense; anyone who taught error was an enemy of God and truth, and St. Jerome went after him or her with his mighty and sometimes sarcastic pen.
He was above all a Scripture scholar, translating most of the Old Testament from the Hebrew. He also wrote commentaries which are a great source of scriptural inspiration for us today. He was an avid student, a thorough scholar, a prodigious letter-writer and a consultant to monk, bishop and pope. St. Augustine (August 28) said of him, "What Jerome is ignorant of, no mortal has ever known."
St. Jerome is particularly important for having made a translation of the Bible which came to be called the Vulgate. It is not the most critical edition of the Bible, but its acceptance by the Church was fortunate. As a modern scholar says, "No man before Jerome or among his contemporaries and very few men for many centuries afterwards were so well qualified to do the work." The Council of Trent called for a new and corrected edition of the Vulgate, and declared it the authentic text to be used in the Church.
In order to be able to do such work, Jerome prepared himself well. He was a master of Latin, Greek, Hebrew and Chaldaic. He began his studies at his birthplace, Stridon in Dalmatia (in the former Yugoslavia). After his preliminary education he went to Rome, the center of learning at that time, and thence to Trier, Germany, where the scholar was very much in evidence. He spent several years in each place, always trying to find the very best teachers. He once served as private secretary of Pope Damasus (December 11).
As a student in Rome, he engaged in the superficial escapades and wanton behaviour of students there, which he indulged in quite casually but for which he suffered terrible bouts of repentance afterwards. To appease his conscience, he would visit on Sundays the sepulchers of the martyrs and the Apostles in the catacombs. This experience would remind him of the terrors of hell:
"Often I would find myself entering those crypts, deep dug in the earth, with their walls on either side lined with the bodies of the dead, where everything was so dark that almost it seemed as though the Psalmist's words were fulfilled, "Let them go down quick into Hell."(Ps 55:15)  Here and there the light, not entering in through windows, but filtering down from above through shafts, relieved the horror of the darkness. But again, as soon as you found yourself cautiously moving forward, the black night closed around and there came to my mind the line of Vergil, "Horror unique animus, simul ipsa silentia terrent'".   Jerome used a quote from Vergil — "On all sides round horror spread wide; the very silence breathed a terror on my soul." — to describe the horror of hell. Jerome initially used classical authors to describe Christian concepts such as hell that indicated both his classical education and his deep shame of their associated practices, such as pederasty which was found in ancient Rome. Although initially skeptical of Christianity, he was eventually converted.
After these preparatory studies he traveled extensively in Palestine, marking each spot of Christ's life with an outpouring of devotion. Mystic that he was, he spent five years in the desert of Chalcis so that he might give himself up to prayer, penance and study. Finally he settled in Bethlehem, where he lived in the cave believed to have been the birthplace of Christ. On September 30 in the year 420, Jerome died in Bethlehem. The remains of his body now lie buried in the Basilica of St. Mary Major in Rome.
Jerome was a strong, outspoken man. He had the virtues and the unpleasant fruits of being a fearless critic and all the usual moral problems of a man. He was, as someone has said, no admirer of moderation whether in virtue or against evil. He was swift to anger, but also swift to feel remorse, even more severe on his own shortcomings than on those of others. A pope is said to have remarked, on seeing a picture of Jerome striking his breast with a stone, "You do well to carry that stone, for without it the Church would never have canonized you" (Butler's Lives of the Saints).
"In the remotest part of a wild and stony desert, burnt up with the heat of the scorching sun so that it frightens even the monks that inhabit it, I seemed to myself to be in the midst of the delights and crowds of Rome. In this exile and prison to which for the fear of hell I had voluntarily condemned myself, I many times imagined myself witnessing the dancing of the Roman maidens as if I had been in the midst of them: In my cold body and in my parched-up flesh, which seemed dead before its death, passion was able to live. Alone with this enemy, I threw myself in spirit at the feet of Jesus, watering them with my tears, and I tamed my flesh by fasting whole weeks. I am not ashamed to disclose my temptations, but I grieve that I am not now what I then was" ("Letter to St. Eustochium").
"You say in your book that while we live we are able to pray for each other, but afterwards when we have died, the prayer of no person for another can be heard…. But if the apostles and martyrs while still in the body can pray for others, at a time when they ought still be solicitous about themselves, how much more will they do so after their crowns, victories, and triumphs?" – Saint Jerome from Against Vigilantius, 406
"I interpret as I should, following the command of Christ: "Search the Scriptures," and "Seek and you shall find." For if, as Paul says, Christ is the power of God and the wisdom of God, and if the man who does not know Scripture does not know the power and wisdom of God, then ignorance of Scriptures is ignorance of Christ. No one should think that I mean to explain the entire subject matter of this great book of the prophet Isaiah in one brief sermon, since it contains all the mysteries of the lord. It prophesies that Emmanuel is to be born of a virgin and accomplish marvelous works and signs. It predicts his death, burial and resurrection from the dead as the Savior of all men. Whatever is proper to holy Scripture, whatever can be expressed in human language and understood by the human mind, is contained in the book of Isaiah." -Jerome: from a commentary on Isaiah
"The person who is dedicated to Christ is equally earnest in small things as in great." -St. Jerome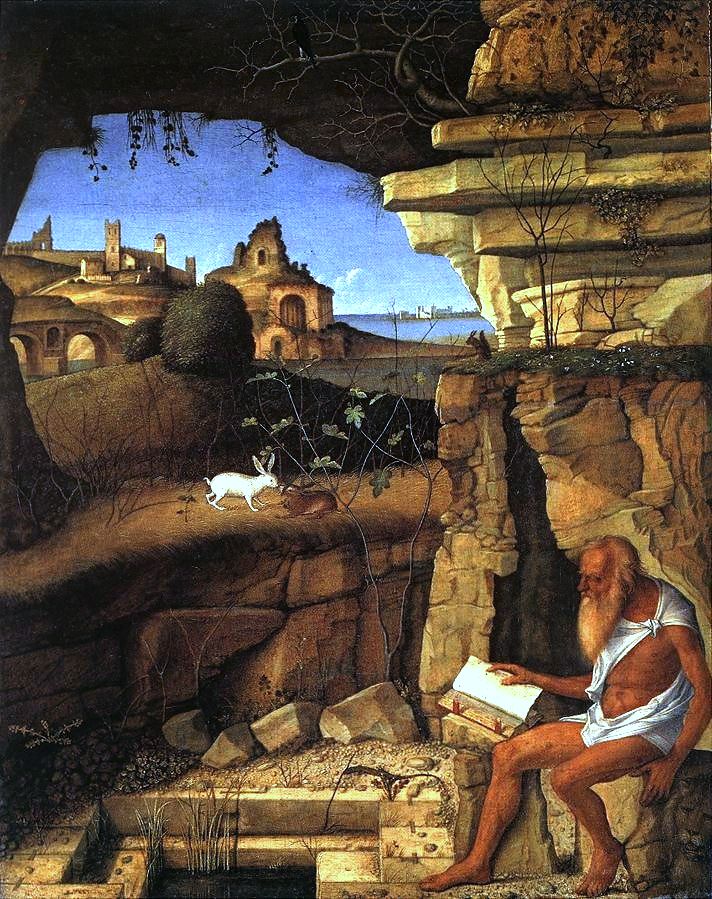 -"St Jerome Reading in the Countryside", by Giovanni Bellini, 1505
Prayer for Christ's Mercy
"O Lord, show Your mercy to me and gladden my heart. I am like the man on the way to Jericho who was overtaken by robbers, wounded and left for dead. O Good Samaritan, come to my aid, I am like the sheep that went astray. O Good Shepherd, seek me out and bring me home in accord with your will. Let me dwell in Your house all the days of my life and praise You for ever and ever with those who are there.  Amen."  -St Jerome
Love,
Matthew