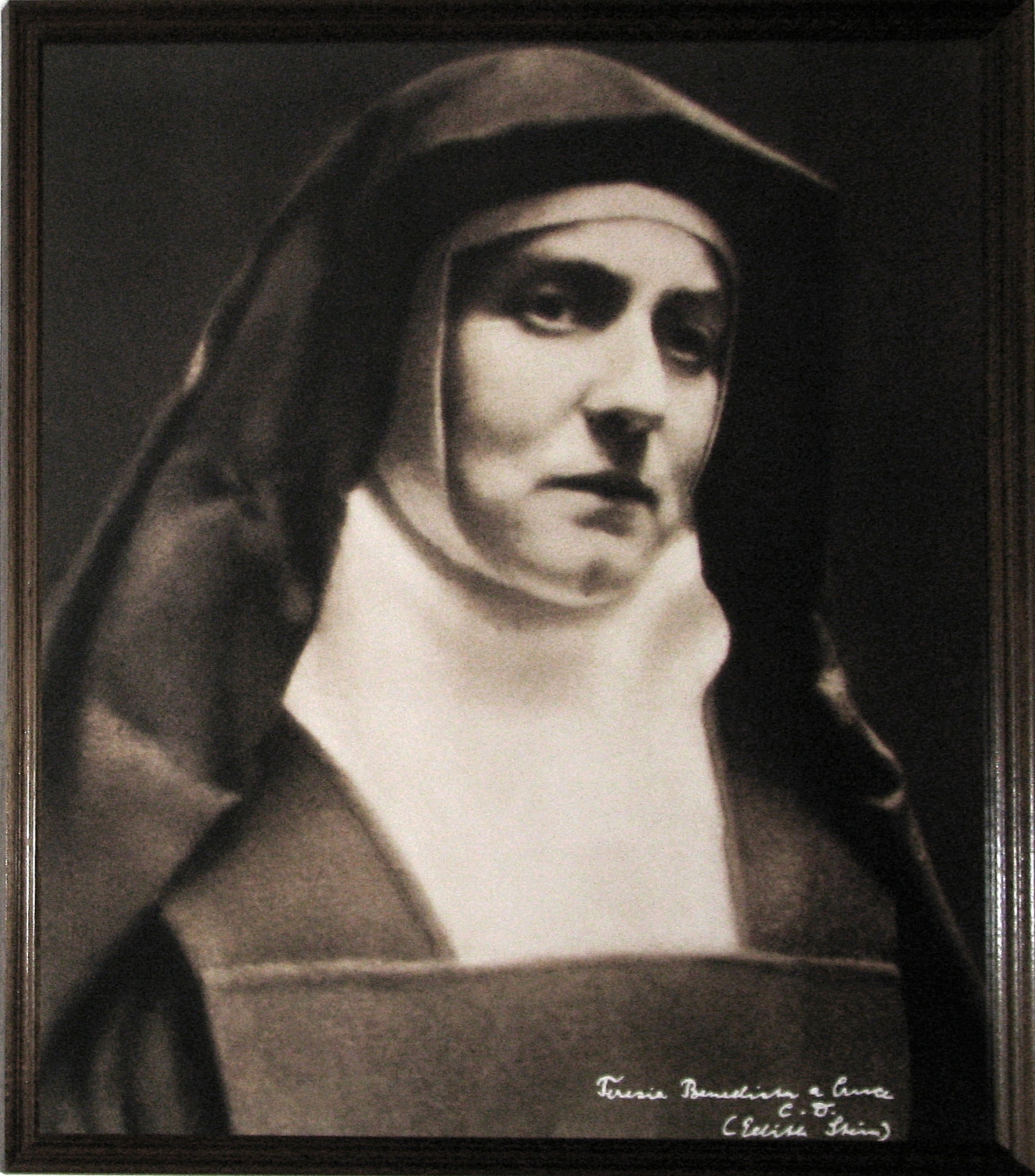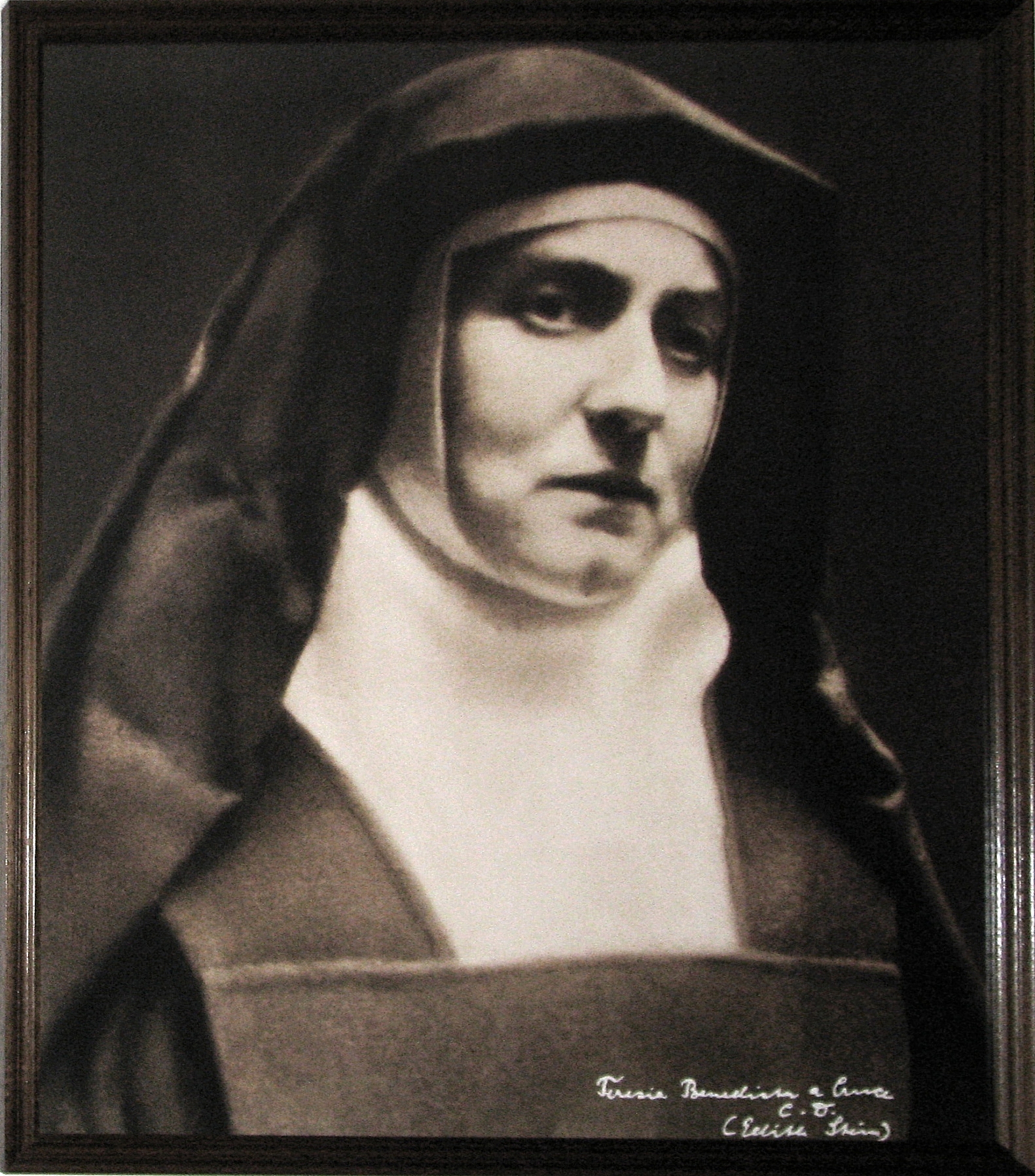 I love reading about people like Edith Stein.  I find I need a little inspiration every day and the example of a life well-lived to encourage me.  I hope you find the story of the life of Edith Stein inspiring, too.
Edith Stein (October 12, 1891 – August 9, 1942) was a German philosopher, a Carmelite nun, martyr, and saint of the Catholic Church, who died at Auschwitz. In 1922, she converted to Christianity, was baptized into the Roman Catholic Church and was received into the Discalced Carmelite Order in 1934. She was canonized as Saint Teresa Benedicta of the Cross (her Carmelite monastic name) by Pope John Paul II in 1998; however, she is still often referred to, and churches named for her as, "Saint Edith Stein".
Stein was born in Breslau, in the German Empire's Prussian Province of Silesia, into an Orthodox Jewish family.  She stopped believing in God at 14.
At the University of Göttingen, she became a student of Edmund Husserl, whom she followed to the University of Freiburg as his assistant. She became fascinated with Phenomenology, an approach to Philosophy.  In 1916, she received her doctorate of philosophy there with a dissertation under Husserl, "On The Problem of Empathy." She then became a member of the faculty in Freiburg.
As a graduate student of the philosopher Edmund Husserl, Edith Stein decided to write her dissertation on empathy, the ability to become aware of what others are experiencing. At the outbreak of World War I, however, Edith Stein deferred her philosophical studies and volunteered as a nurse's aide at a military hospital in Moravia.
Far from distracting her from her philosophical pursuits, this time of service was a providential opportunity to learn more deeply the meaning of empathy. Each day, she assisted patients who were difficult to communicate with because of barriers of language and debilitation, trying to understand how and why they were suffering so as to be able to assist them or to communicate their symptoms to a doctor. According to Alasdair MacIntyre, this constant exposure to suffering and death helped Stein to later articulate in philosophical terms "what it is to be with and to be there for others, when they are confronting the possibility of imminent death."
Several years later, while visiting the recently widowed Anna Reinach, Stein was astounded to find that though she had come to comfort her friend, it was in fact Reinach who comforted Stein. Years later, Stein was able to understand that this visit with Reinach, who had been baptized with her husband shortly before his death, was her "first encounter with the cross and the divine power that it bestows on those who carry it. For the first time I was seeing with my very eyes the church, born from its Redeemer's sufferings, triumphant over the sting of death."
While Stein had earlier contacts with Catholicism, it was her reading the autobiography of the mystic St. Teresa of Ávila on a holiday in Göttingen in 1921 that caused her conversion. Baptized on January 1, 1922, she gave up her assistantship with Husserl to teach at a Dominican girls' school in Speyer from 1922 to 1932. While there she translated Thomas Aquinas' De Veritate (On Truth) into German and familiarized herself with Catholic philosophy in general. In 1932 she became a lecturer at the Institute for Pedagogy at Münster, but anti-Semitic legislation passed by the Nazi government forced her to resign the post in 1933. In a letter to Pope Pius XI, she denounced the Nazi regime and asked the Pope to openly denounce the regime "to put a stop to this abuse of Christ's name."
She entered the Discalced Carmelite monastery at Cologne in 1934 and took the name Teresa Benedicta of the Cross. There she wrote her metaphysical book "Endliches und Ewiges Sein," which tries to combine the philosophies of Aquinas and Husserl.
To avoid the growing Nazi threat, her order transferred Stein to the Carmelite monastery at Echt in the Netherlands. There she wrote Studie über Joannes a Cruce: Kreuzeswissenschaft ("The Science of the Cross: Studies on John of the Cross").
However, Stein was not safe in the Netherlands—the Dutch Bishops' Conference had a public statement read in all the churches of the country on July 20, 1942, condemning Nazi racism. In a retaliatory response on July 26, 1942, the Reichskommissar of the Netherlands, Arthur Seyss-Inquart, ordered the arrest of all Jewish converts, who had previously been spared. Stein and her sister Rosa, also a convert, were captured and shipped to the Auschwitz concentration camp, where they died in the gas chambers on August 9, 1942.
The writings of Edith Stein fill 17 volumes, many of which have been translated into English.  Sister Josephine Koeppel, O.C.D., translator of several of Edith's books, sums up this saint with the phrase, "Learn to live at God's hands."
In his homily at the canonization Mass, Pope John Paul II said: "…A few days before her deportation, the woman religious had dismissed the question about a possible rescue: 'Do not do it! Why should I be spared? Is it not right that I should gain no advantage from my Baptism? If I cannot share the lot of my brothers and sisters, my life, in a certain sense, is destroyed.'"
Addressing himself to the young people gathered for the canonization, the Pope said: "Your life is not an endless series of open doors! Listen to your heart! Do not stay on the surface but go to the heart of things! And when the time is right, have the courage to decide! The Lord is waiting for you to put your freedom in his good hands."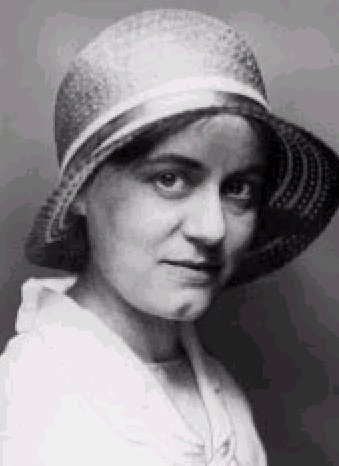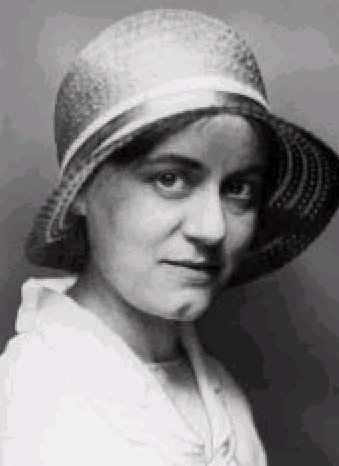 "God is there in these moments of rest and can give us in a single instant exactly what we need. Then the rest of the day can take its course, under the same effort and strain, perhaps, but in peace. And when night comes, and you look back over the day and see how fragmentary everything has been, and how much you planned that has gone undone, and all the reasons you have to be embarrassed and ashamed: just take everything exactly as it is, put it in God's hands and leave it with Him. Then you will be able to rest in Him — really rest — and start the next day as a new life." – St Teresa Benedicta of the Cross
"O my God, fill my soul with holy joy, courage and strength to serve You. Enkindle Your love in me and then walk with me along the next stretch of road before me. I do not see very far ahead, but when I have arrived where the horizon now closes down, a new prospect will open before me, and I shall meet it with peace." – St Teresa Benedicta of the Cross
"Learn from St. Thérèse to depend on God alone and serve Him with a wholly pure and detached heart. Then, like her, you will be able to say 'I do not regret that I have given myself up to Love'." – St Teresa Benedicta of the Cross
"One cannot desire freedom from the Cross when one is especially chosen for the Cross." -St. Teresa Benedicta of the Cross 
"The nation doesn't simply need what we have. It needs who we are." -St. Teresa Benedicta
"Whoever is near us and needing us must be our 'neighbor'; it does not matter whether he is related to us or not, whether he is morally worthy of our help or not. The love of Christ knows no limits. It never ends; it does not shrink from ugliness and filth." -St. Teresa Benedicta of the Cross
"O Prince of Peace, to all who receive You, You bright light and peace. Help me to live in daily contact with You, listening to the words You have spoken and obeying them. O Divine Child, I place my hands in Yours; I shall follow You. Oh, let Your divine life flow into me.
I will go unto the altar of God. It is not myself and my tiny little affairs that matter here, but the great sacrifice of atonement. I surrender myself entirely to Your divine will, O Lord. Make my heart grow greater and wider, out of itself into the Divine Life.
O my God, fill my soul with holy joy, courage and strength to serve You. Enkindle Your love in me and then walk with me along the next stretch of road before me. I do not see very far ahead, but when I have arrived where the horizon now closes down, a new prospect will open before me and I shall met with peace.
How wondrous are the marvels of your love, We are amazed, we stammer and grow dumb, for word and spirit fail us."
Love,
Matthew