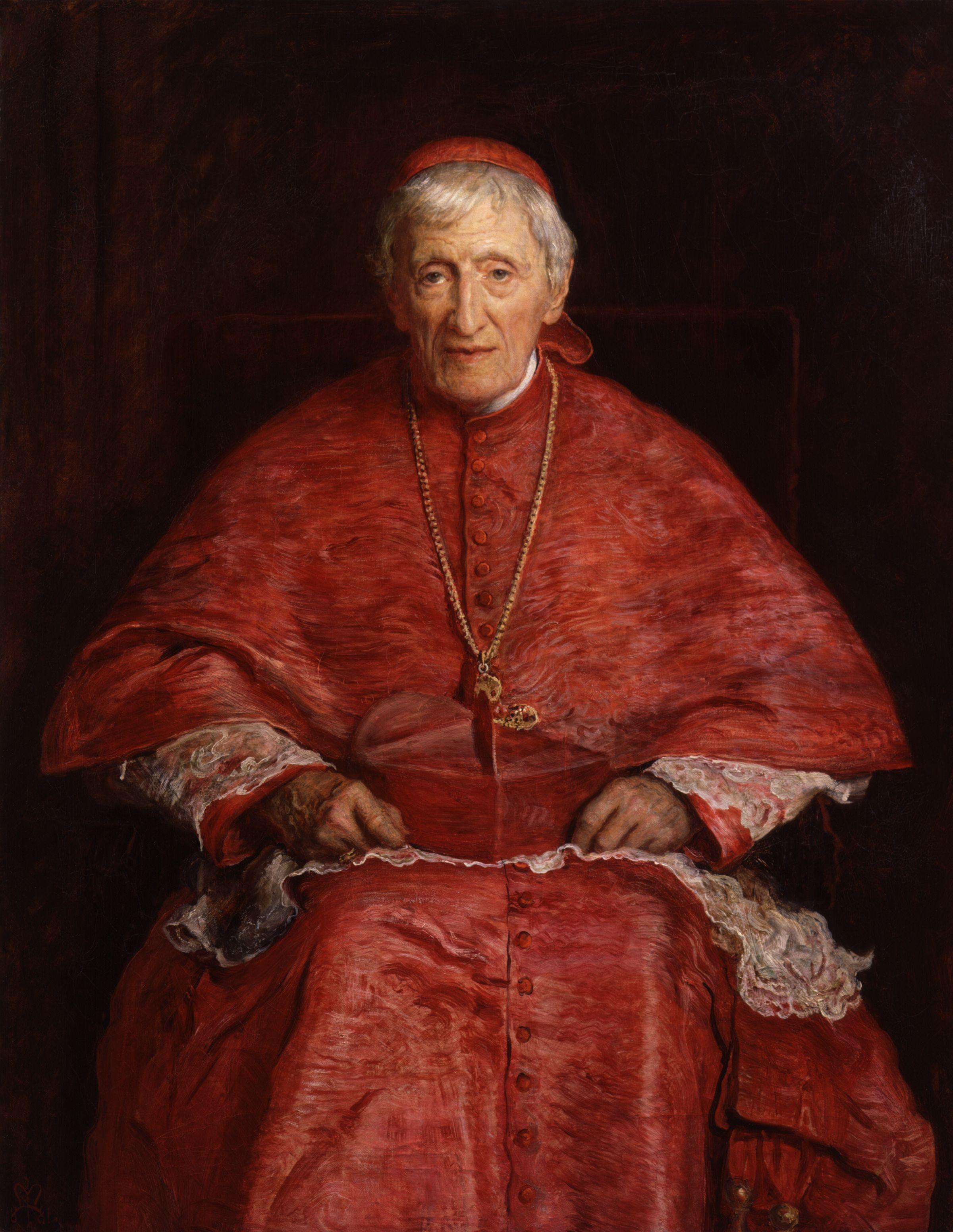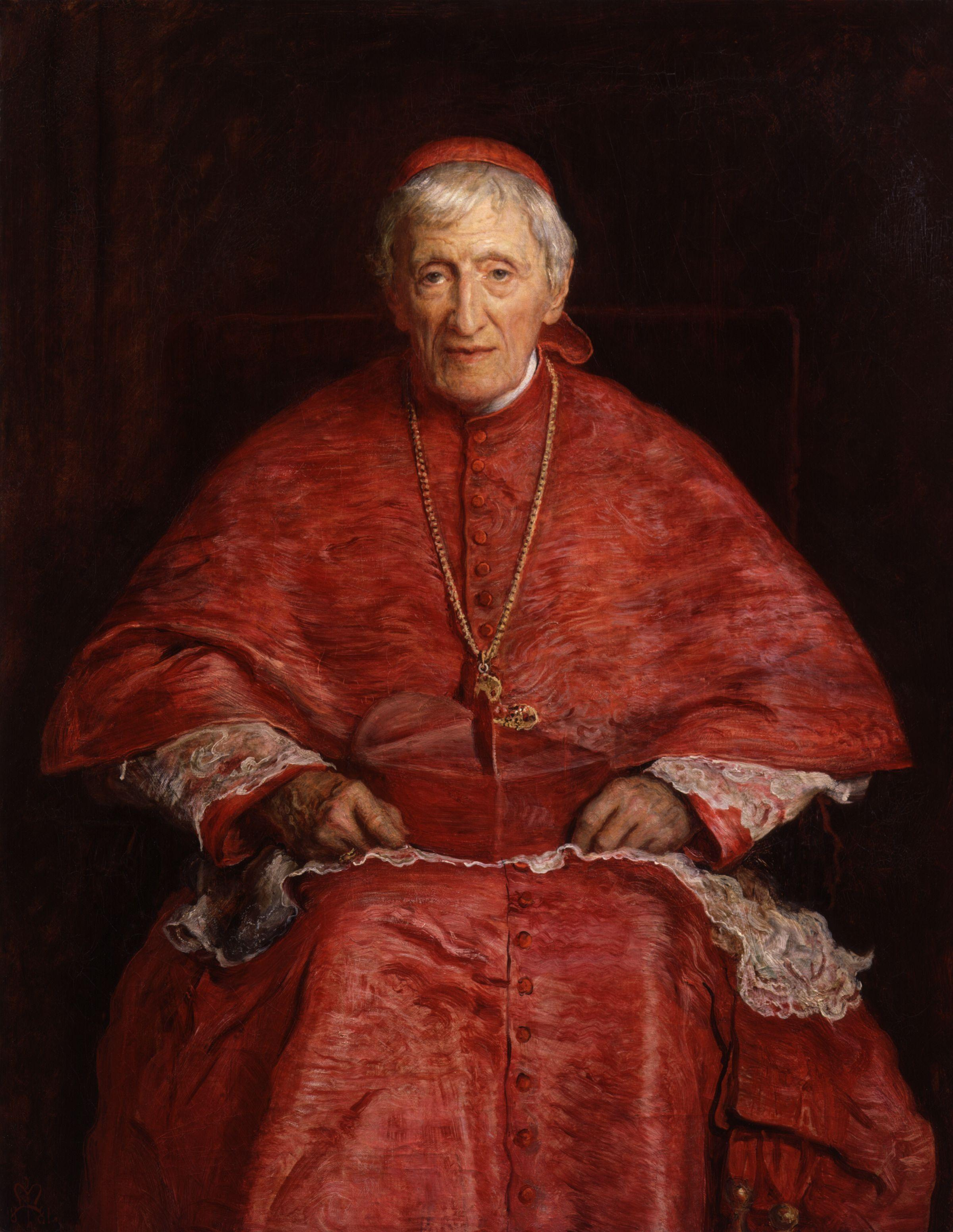 –Cardinal John Henry Newman, CO, DD, by Sir John Everett Millais, 1881.
Catholic education.  Those words in many minds and places are synonymous.  Deo gratias.  The Church created the university system in medieval Europe, emerging from the training of monks and clerics, at the turn of the first millenia of Christianity to the second.  Fides et ratio, faith and reason; there is no conflict in the Catholic mind, or at least there should not be.  The intellect is a gift from God.  Catholics believe its use is proper, expected by God, a form of praise of its Creator, and the proper formation of conscience is essential to the assent to Faith.  The fundamental purpose of a university education is to seek and discover truth. Through this discovery, man comes to an understanding of God, himself, and the created order.  Gaudium et veritate – the joy of truth.
Credo ut intelligam – I believe that I may understand.  Intellego ut credam – I understand that I may believe.  Fides quaerens intellectum – faith seeking understanding.  (St Anselm, ora pro nobis.)  I often say to people, "I am a man of faith, not superstition."  I am also a professional and professionally trained applied scientist.  Nothing I have ever studied as an engineer or computer scientist has ever contradicted my Catholic beliefs, quite the contrary.  How marvelous is the creation of the Almighty.  How inscrutable His designs. (cf Romans 11:33)
A much bandied about term these days in Catholic higher education is "Catholic identity".  Very, very, over simply put it "means" if you attended a Catholic institution of learning, could you tell?  Really?  How different is it attending Catholic U vs State U?  Really.  How and to what degree is debatable.  And, IT IS!  Trust me.
I keep trying to remind others who want more uniformity in the Church, Catholic means "universal", not "uniform".  At the same time, overly shielding others who have chosen to voluntarily attend a Catholic university is, at least, intellectually dishonest, IMHO, and possibly an immoral omission.  This in some not quite understandable, on my part, assent to "diversity", mea culpa, as if "diversity" were a greater good than the Gospel?  (cf Rom 1:16)  I don't understand.  I just think of all the Catholic martyrs who embraced their passion rather than equivocate, and I understand even less.  Would the Lord understand?  Would the canonized founder understand, if modern members of the family he/she founded tried to explain "how the world works now" and convince them?  I am incredulous.  Love is unreasonable, literally.  Love is terrifying in what it may and does ask. (cf Mt 10:34-36)
The dean of Catholic studies of a major Catholic institution, a dear friend, said to me, as I recall the conversation, mea culpa if I misquote, the President of the university had given this person the assignment to conduct a dialogue with the faculty, "Who owns the Catholic identity of the university?"  This question was posed to me as we walked together.  I thought for a moment, and said,"Jesus."  "You're right," I was told.  "Now, just convince the faculty of that!"
———————————————————————————-
John Henry Newman was born on 21st February, 1801, in London, the eldest son of a London banker. His family were ordinary church-going members of the established Anglican Church, without any strong religious tendencies, though the young John Henry did learn at an early age to take a great delight in the Bible. He was sent to Ealing School in 1808, and it was there, eight years later, that he underwent a profound religious conversion, which was to determine the rest of his life as a quest for spiritual perfection. In 1817 he entered Trinity College, Oxford, where he was a very successful student. Five years later he was elected to a coveted Fellowship of leading Oriel College. He was ordained and worked, first as a curate in the poor Oxford Parish of Saint Clement's, and then, from 1828, as Vicar of the University Church of Saint Mary the Virgin. There, his spiritual influence on parishioners and members of the University was truly enormous, particularly through his preaching, embodied in the Parochial and Plain Sermons. He worked as a College Tutor, and a little later began to research the first of his many theological works, "The Arians of the Fourth Century". Newman was to be one of the foremost religious writers of his century.
In 1833 he went on a tour of the Mediterranean with a friend who was in very poor health. While in Sicily Newman himself fell desperately ill with fever. On his recovery it struck him that God had spared him to perform a special task in England. On his return home he eagerly set about organizing what was to become known as the Oxford Movement. The Movement, which spread rapidly, was intended to combat three evils threatening the Church of England – spiritual stagnation, interference from the state, and doctrinal unorthodoxy.
When studying the history of the early Christian Fathers in 1839, Newman received an unexpected shock, for it appeared that the position of his own Church bore a close resemblance to that of the early heretics. He was also worried when many of the Anglican Bishops denounced one of his works a few years later – some not just denouncing him, but also espousing erroneous positions themselves. He decided to retire partly from Oxford, and, joined by a few others a little later, he moved to quarters at the nearby hamlet of Littlemore. For three years he lived a strict religious life, praying for light and guidance. By 1845, as he was writing his Essay on the Development of Christian Doctrine, he saw his way clear, and on 9th October he was received into the Roman Catholic Church by Father, now Blessed, Dominic Barberi. He had at last found 'the One True Fold of the Redeemer'.
Conversion meant ostracism by friends and relatives. Undaunted, Newman set out for Rome to study for the priesthood. While there he became attracted by the idea of the Oratory – a Congregation of priests founded by Saint Philip Neri in the sixteenth century. He founded the first English Oratory at Maryvale, near Birmingham, in 1848, moving soon afterwards to Alcester Street, close to the town centre, where he converted a disused gin distillery into a chapel. They moved to a new and more permanent base in nearby Edgbaston three years later, and were engulfed by work among the poor Catholics of Birmingham, which was soon to become one of the new cities of the English Industrial Revolution.
In 1851 the Bishops of Ireland decided that a separate University should be established for Catholics, and invited Newman to become its founder and first Rector. It was a demanding task for an older man, but despite the strain of fifty six crossings to and from Ireland in seven years, he succeeded in establishing what is known today as University College, Dublin. From this period dates the important work "The Idea of a University" on the nature and scope of education, and the role of the Church in the context of a university.
When he returned to England, Newman faced a life of trials, as he was suspected and even resented by some in authority. Several projects which he took up, including a magazine for educated Catholics, a mission at Oxford, and a new translation of the Bible, met with rejection or failure. On the other hand, many of his publications in this period were well-received: the "Apologia pro Vita Sua" (1864), a biographical account of Newman's conversion; the "Letter to the Duke of Norfolk" (1875), which considered the relationship between conscience and the authority of the Church; and the "Grammar of Assent" (1870), on human reasoning and the act of faith, which although not always well understood by his contemporaries, would become generally acknowledged as a major contribution to both philosophy and theology.
During old age, Newman continued in Birmingham, quietly writing, preaching and counseling (from the age of twenty three he had been above all a pastor – 'a father of souls') until, when seventy eight, a big surprise came. As a tribute to his extraordinary work and devotion, Pope Leo XIII made the unprecedented gesture of naming Newman, an ordinary priest, a Cardinal. After a life of trials the news came as a joyful relief and Newman declared 'the cloud is lifted for ever'. Cardinal Newman died on 11th August 1890 and received a universal tribute of praise. The Times wrote: 'whether Rome canonizes him or not he will be canonized in the thoughts of pious people of many creeds in England.' The Cork Examiner affirmed that, 'Cardinal Newman goes to his grave with the singular honor of being by all creeds and classes acknowledged as the just man made perfect.'
I have a place in God's counsels, in God's world, which no one else has; whether I be rich or poor, despised or esteemed by man,
God knows me and calls me by my name.
God has created me to do Him some definite service.
He has committed some work to me which He has not committed to another.
I have my mission–I never may know it in this life, but I shall be told it in the next.
Somehow I am necessary for His purposes,
as necessary in my place as an Archangel in his
–if, indeed, I fail, He can raise another, as He could make the stones children of Abraham.
Yet I have a part in this great work;
I am a link in a chain, a bond of connection between persons.
He has not created me for naught.
I shall do good, I shall do His work;
I shall be an angel of peace,
a preacher of truth in my own place, while not intending it,
if I do but keep His commandments and serve Him in my calling.
Therefore I will trust Him.
Whatever, wherever I am, I can never be thrown away.
If I am in sickness, my sickness may serve Him;
in perplexity, my perplexity may serve Him;
if I am in sorrow, my sorrow may serve Him.
My sickness, or perplexity, or sorrow may be necessary causes of some great end,
which is quite beyond us.
He does nothing in vain; He may prolong my life, He may shorten it;
He knows what He is about.
He may take away my friends,
He may throw me among strangers,
He may make me feel desolate,
make my spirits sink, hide the future from me
–still He knows what He is about.
– Blessed John Henry Cardinal Newman, Meditations on Christian Doctrine

http://abcnews.go.com/video/playerIndex?id=7459867
"Learn to do thy part and leave the rest to heaven." -Bl. John Henry Newman
"With Christians, a poetical view of things is a duty. We are bid to color all things with hues of faith, to see a divine meaning in every event." -Bl. John Henry Newman
"Jesus wept, not merely from the deep thoughts of his understanding but from spontaneous tenderness, from the goodness and mercy, the encompassing loving-kindness and exuberant affection of the Son of God for his own work, the race of man."
-St. John Henry Newman
"To live is to change, and to be perfect is to have changed often."
-St. John Henry Newman
"My God, you know infinitely better than I how little I love you. I would not love you at all except for your grace. It is your grace that has opened the eyes of my mind and enabled them to see your glory. It is your grace that has touched my heart and brought upon it the influence of what is so wonderfully beautiful and fair . . . O my God, whatever is nearer to me than you, things of this earth, and things more naturally pleasing to me, will be sure to interrupt the sight of you, unless your grace interferes. Keep my eyes, my ears, my heart from any such miserable tyranny. Break my bonds—raise my heart. Keep my whole being fixed on you. Let me never lose sight of you; and, while I gaze on you, let my love of you grow more and more everyday."
—St. John Henry Cardinal Newman
"My Lord, I offer you myself in turn as a sacrifice of thanksgiving. You have died for me, and I in turn make myself over to You. I am not my own. You have bought me; I will by my own act and deed complete the purchase. My wish is to be separated from everything of this world; to cleanse myself simply from sin; to put away from me even what is innocent, if used for its own sake, and not for Yours. I put away reputation and honor, and influence, and power, for my praise and strength shall be in You. Enable me to carry out what I profess."
—St. John Henry Newman
"O my God, you and you alone are all wise and all knowing! You know, you have determined everything that will happen to us from first to last. You have ordered things in the wisest way, and you know what will be my lot year by year until I die. You know how long I have to live. You know how I shall die. You have precisely ordained everything, sin excepted. Every event of my life is the best for me that it could be, for it comes from you. You bring me on year by year, by your wonderful Providence, from youth to age, with the most perfect wisdom, and with the most perfect love."
—St. John Henry Cardinal Newman
"Realize it, my brethren; —every one who breathes, high and low, educated and ignorant, young and old, man and woman, has a mission, has a work. We are not sent into this world for nothing; we are not born at random; . . . God sees every one of us; He creates every soul, He lodges it in the body, one by one, for a purpose. He needs, He deigns to need, every one of us. He has an end for each of us; we are all equal in His sight, and we are placed in our different ranks and stations, not to get what we can out of them for ourselves, but to labor in them for Him. As Christ has His work, we too have ours; as He rejoiced to do His work, we must rejoice in ours also."
–St. John Henry Newman
"But as great as was St. Paul's devotion to our Lord, much greater was that of the Blessed Virgin: because she was his mother, and because she had him and all his sufferings actually before her eyes, and because she had the long intimacy of thirty years with him, and because she was from her special sanctity so unspeakably near him in spirit. When, then, he was mocked, bruised, scourged, and nailed to the Cross, she felt as keenly as if every indignity and torture inflicted on him was struck at herself. She could have cried out in agony at every pang of his. This is called her compassion, or her suffering with her Son, and it arose from this that she was the 'Vessel of Devotion' unlike any other."
— St John Henry Newman, p. 155, excerpt from Year with Mary
"Each of us must come to the evening of life. Each of us must enter on eternity. Each of us must come to that quiet, awful time, when we will appear before the Lord of the vineyard, and answer for the deeds done in the body, whether they be good or bad. That, my dear brethren, you will have to undergo. … It will be the dread moment of expectation when your fate for eternity is in the balance, and when you are about to be sent forth as the companion of either saints or devils, without possibility of change. There can be no change; there can be no reversal. As that judgment decides it, so it will be for ever and ever. Such is the particular judgment. … when we find ourselves by ourselves, one by one, in His presence, and have brought before us most vividly all the thoughts, words, and deeds of this past life. Who will be able to bear the sight of himself? And yet we shall be obliged steadily to confront ourselves and to see ourselves. In this life we shrink from knowing our real selves. We do not like to know how sinful we are. We love those who prophecy smooth things to us, and we are angry with those who tell us of our faults. But on that day, not one fault only, but all the secret, as well as evident, defects of our character will be clearly brought out. We shall see what we feared to see here, and much more. And then, when the full sight of ourselves comes to us, who will not wish that he had known more of himself here, rather than leaving it for the inevitable day to reveal it all to him!"
—Saint John Henry Newman
"The world is sweet to the lips, but bitter to the taste. It pleases at first, but not at last. It looks gay on the outside, but evil and misery lie concealed within. When a man has passed a certain number of years in it, he cries out with the Preacher, "Vanity of vanities, all is vanity." Nay, if he has not religion for his guide, he will be forced to go further, and say, "All is vanity and vexation of spirit;" all is disappointment; all is sorrow; all is pain. The sore judgments of God upon sin are concealed within it, and force a man to grieve whether he will or no. Therefore the doctrine of the Cross of Christ does but anticipate for us our experience of the world. It is true, it bids us grieve for our sins in the midst of all that smiles {88} and glitters around us; but if we will not heed it, we shall at length be forced to grieve for them from undergoing their fearful punishment. If we will not acknowledge that this world has been made miserable by sin, from the sight of Him on Whom our sins were laid, we shall experience it to be miserable by the recoil of those sins upon ourselves." – St John Henry Newman (1801-1890), Sermon 7, The Doctrine of the Cross, Parochial & Plane Sermons, Vol 6
"My great God, you know all that is in the universe, because You Yourself have made it. It is the very work of Your hands. You are omniscient, because You are omnicreative. You know each part, however minute, as perfectly as you know the whole. You know mind as perfectly as you know matter. You know the thoughts and purposes of every soul as perfectly as if there were no other soul in the whole of your creation. You know me through and through; all my present, past, and future are before you as one whole. You see all those delicate and evanescent motions of my thought which altogether escape myself. You can trace every act, whether deed or thought, to its origin and can follow it into its whole growth and consequences. You know how it will be with me at the end; you have before you that hour when I shall come to you to be judged. How awful is the prospect of finding myself in the presence of my judge! Yet, O Lord, I would not that You should not know me. It is my greatest stay to know that You read my heart. Oh, give me more of that openhearted sincerity which I have desired. Keep me ever from being afraid of Your eye, from the inward consciousness that I am not honestly trying to please You. Teach me to love You more, and then I shall be at peace, without any fear of You at all."
—St. John Henry Newman
"I sought to hear the voice of God and climbed the topmost steeple, but God declared: 'Go down again — I dwell among the people.'"
– St. John Henry Newman
Love,
Matthew