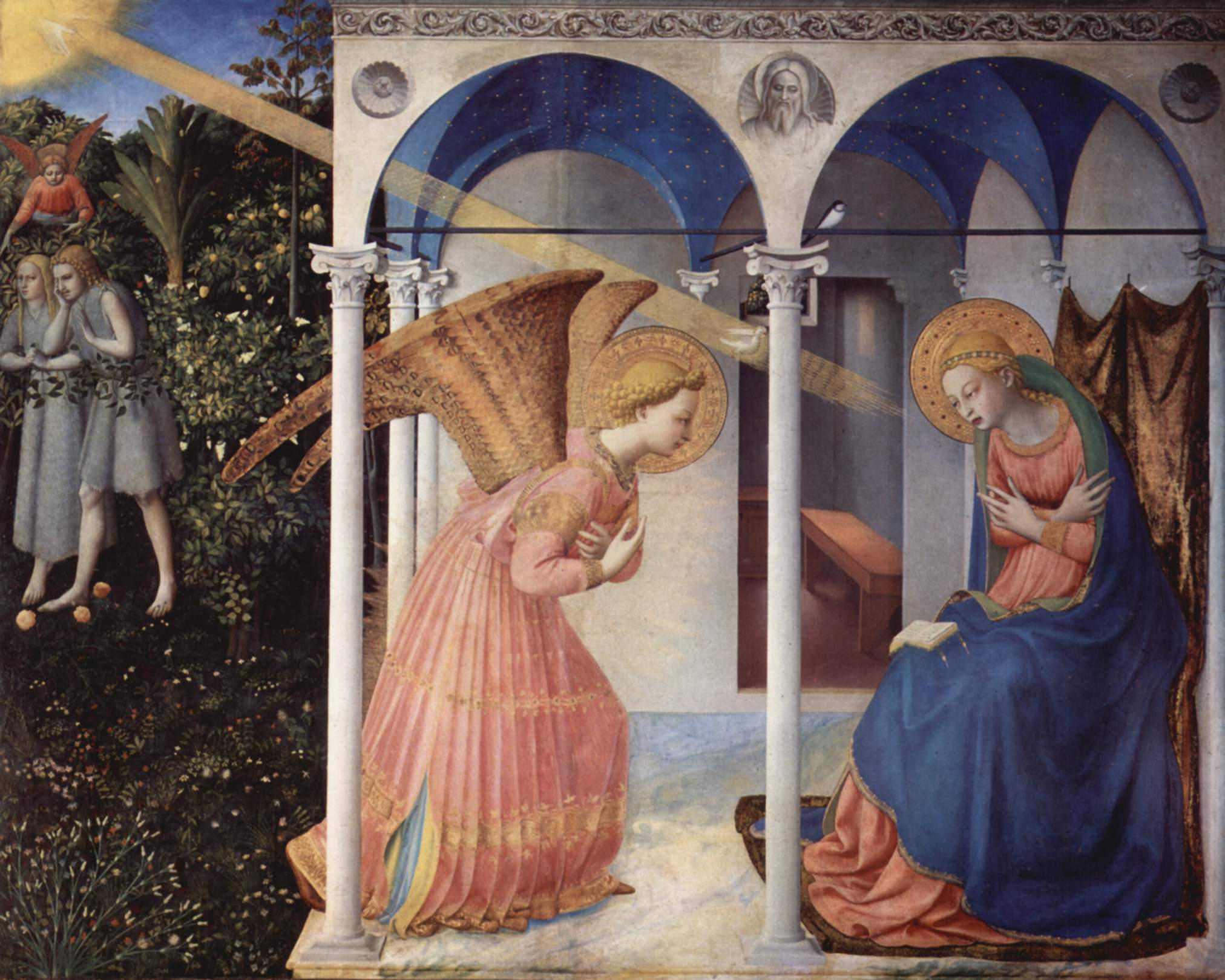 -Annunciazione, Madrid, Museo del Prado, 1430-1432, please click on image for a larger view
Having been a Dominican novice directly after college, I was introduced to Fra Angelico ("Brother of the Angels") at an early age. He is one of my most favorite artists, as you may imagine. I asked for and received for my birthday one year a large coffee table book of his works. It is a treasured possession in my library.
The patron saint of Christian artists was born around 1400 in a village overlooking Florence. He took up painting as a young boy and studied under the watchful eye of a local painting master. He joined the Dominicans at about age 20, taking the name Fra Giovanni. He eventually came to be known as Fra Angelico, perhaps a tribute to his own angelic qualities or maybe the devotional tone of his works.
He continued to study painting and perfect his own techniques, which included broad-brush strokes, vivid colors and generous, lifelike figures. Michelangelo once said of Fra Angelico: "One has to believe that this good monk has visited paradise and been allowed to choose his models there." Whatever his subject matter, Fra Angelico sought to generate feelings of religious devotion in response to his paintings. Among his most famous works are the Annunciation and Descent from the Cross as well as frescoes in the monastery of San Marco in Florence.
He also served in leadership positions within the Dominican Order. At one point Pope Eugenius approached him about serving as archbishop of Florence. Fra Angelico declined, preferring a simpler life. He died in 1455.
Fra Angelico is one of the few candidates for beatification and canonization who have had their artwork examined for orthodoxy and sanctity by Vatican committees charged with verifying such things, as opposed to their writings. It is averred Fra Angelico never handled a brush without fervent prayer and wept when he painted the Crucifixion.
Pope John Paul II beatified Fra Angelico on October 3, 1982 and in 1984 declared him patron of Catholic artists. Angelico
was reported to say "He who does Christ's work must stay with Christ always". This motto earned him the epithet "Blessed Angelico", because of the perfect integrity of his life and the almost divine beauty of the images he painted, to a superlative extent those of the Blessed Virgin Mary.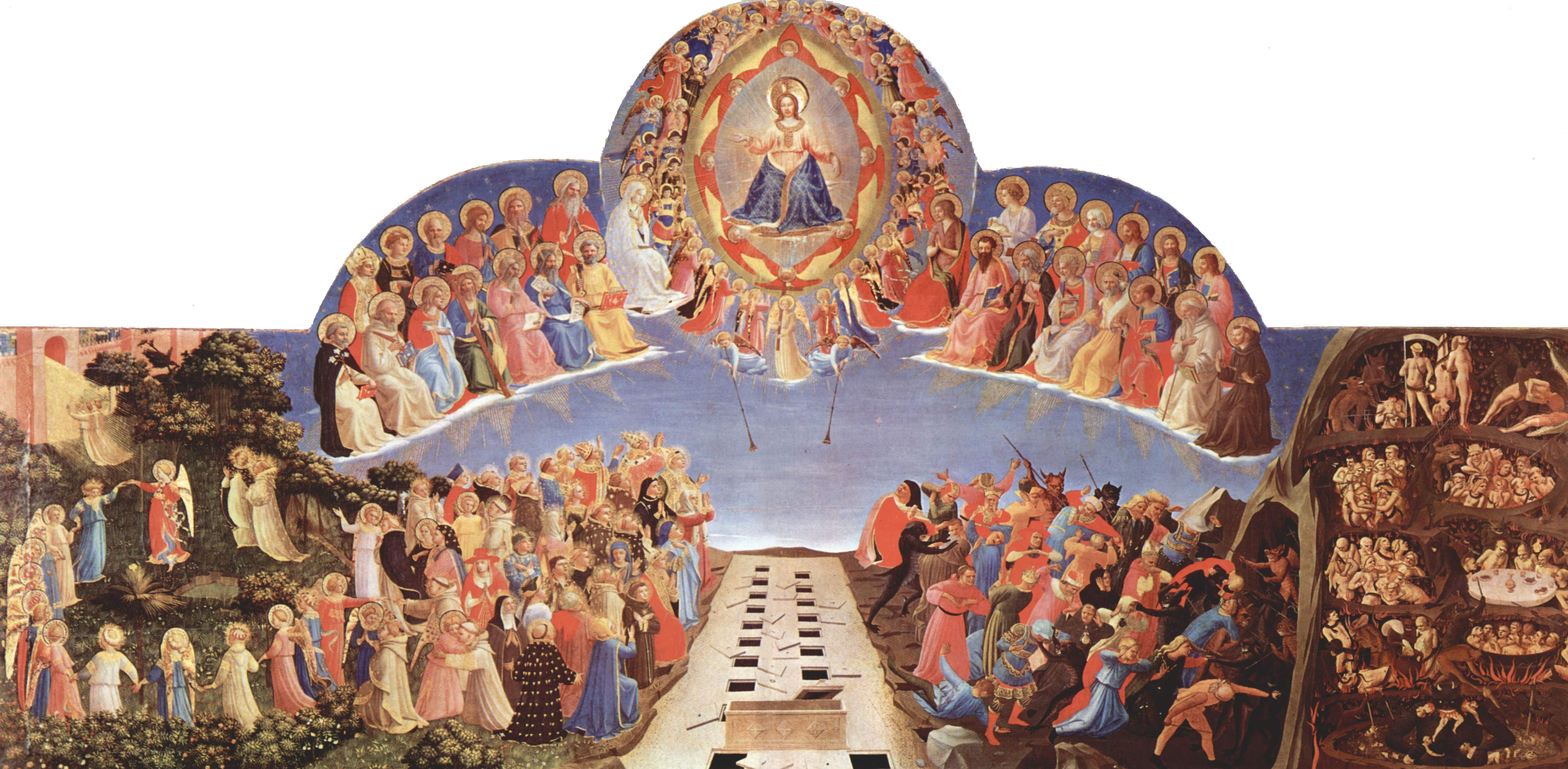 The Day of Judgment – (n.b. notice the saved on Christ's right, your left, seated as Final Judge in Glory – His angels and saints surrounding Him, right dancing with angels, and the New Jerusalem (Heaven) on the hilltop in the background; and the damned on His left being taken into Hell.  Notice the opened and empty graves down the middle of the scene.) Please click image for a larger view
Worldwide press coverage reported in November 2006 that two missing masterpieces by Fra Angelico had turned up, having hung in the spare room of the late Jean Preston, in her "modest terrace house" in Oxford, England. Her father had bought them for £100 each in 1965 then bequeathed them to her when he died in
1974.
Jean had been consulted by their then owner in her capacity as an expert medievalist. She recognized them as being high quality Florentine Renaissance, but it never occurred to anyone, even all the dealers she approached on behalf of the owner, that they could possibly be by Fra Angelico. They were finally identified in 2005 by Michael Liversidge of Bristol University.
There was almost no demand at all for medieval art during the 1960s and no dealers showed any interest, so her father bought them almost as an afterthought along with some manuscripts. The paintings are two of eight side panels of a large altarpiece painted in 1439 for Fra Angelico's monastery at San Marco, but split up by Napoleon's army 200 years ago. While the centre section is still at the monastery, the other six small panels are in German and US museums. These two panels were presumed lost forever. The Italian Government had hoped to purchase them but they were outbid at auction on 20 April 2007 by a private collector for £1.7M.
Even if we were illiterate and lived in the Middle Ages, as most people of that time were, we would know the tradition about praying to the Virgin before her image, so the good (Beato) Fra has still helped us raise our mind to God through his favorite subject of the Annunciation.
Medieval devotion (even late medieval and early Renaissance–circa Fra Angelico) to the Virgin was extreme. It really was "to Jesus, through Mary" and often "only through Mary." God fills us with awe to such an extent that we cannot but tremble in His presence, but the Virgin was a simple peasant woman – comprehensible, appealing and approachable to a wider audience of the time. She was and is the door to salvation for the bad, the stupid, the concupiscent, the ignorant, and the unworthy. Popular literature of the Middle Ages is replete with stories of how the Virgin saves everyone who asks, leading them to her Son. Fra Angelico's Annunciations are a real reminder of that: not just a reminder to ask, but an opportunity to do so.
Medieval art tends to be performative—it is intended to be actually efficacious for the obtaining of grace. Attempting to appreciate Medieval merely passively or as a simple visual aesthetic would be to underestimate it and misunderstand, under-appreciate it in the extreme.  It is not just a picture or a reminder to pray—it is a prayer, and you pray it by looking and participating in it. The intent of medieval artists and their expectation of their audience was the art, whether a painting, a sculpture or a medieval morality play, is a sacramental, and it really does help save your soul.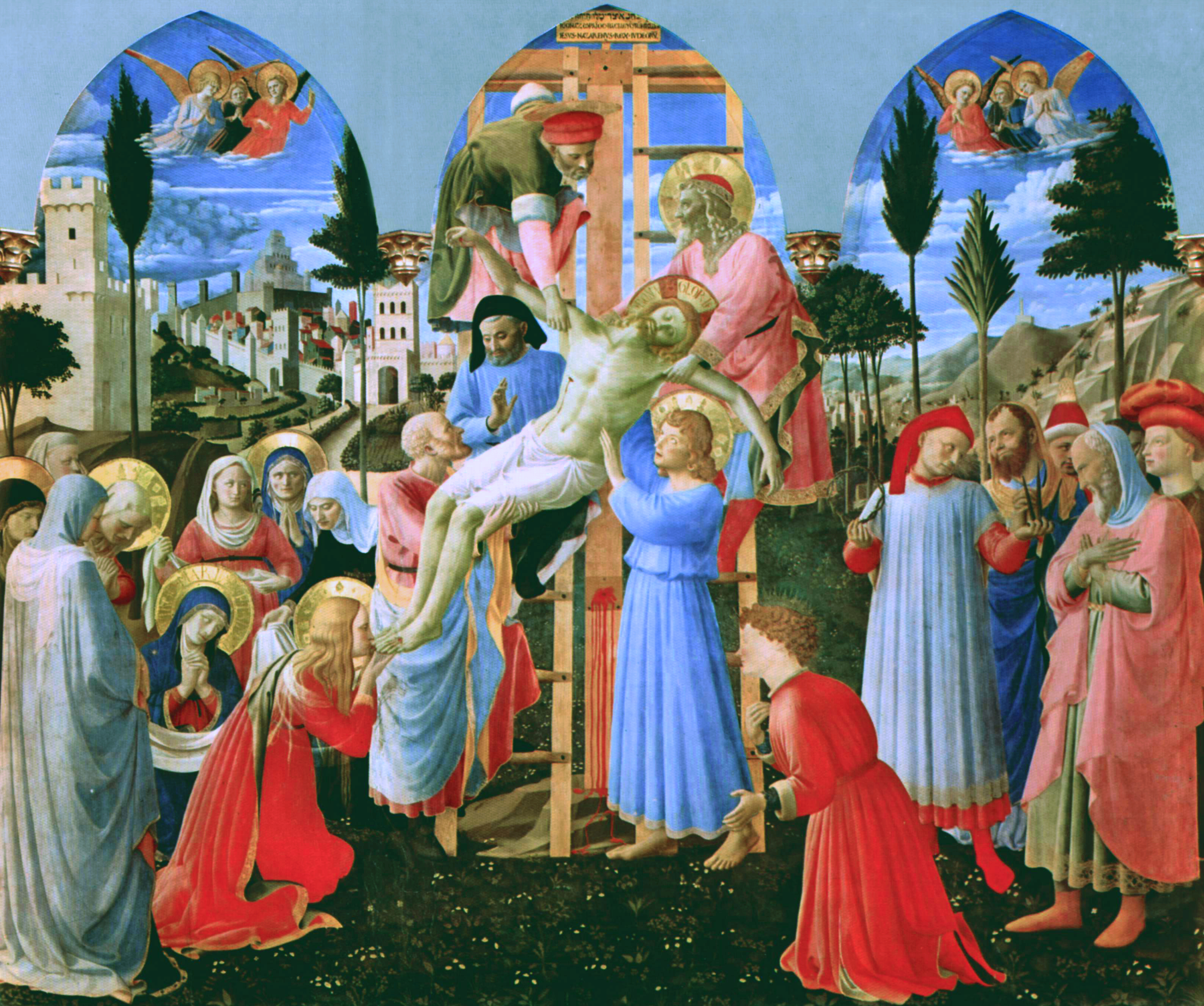 Deposition from the Cross, Fra Angelico, 1432–1434, Tempera on panel, 176 cm × 185 cm (69 in × 73 in), National Museum of San Marco, Florence. Please click on the image for a larger view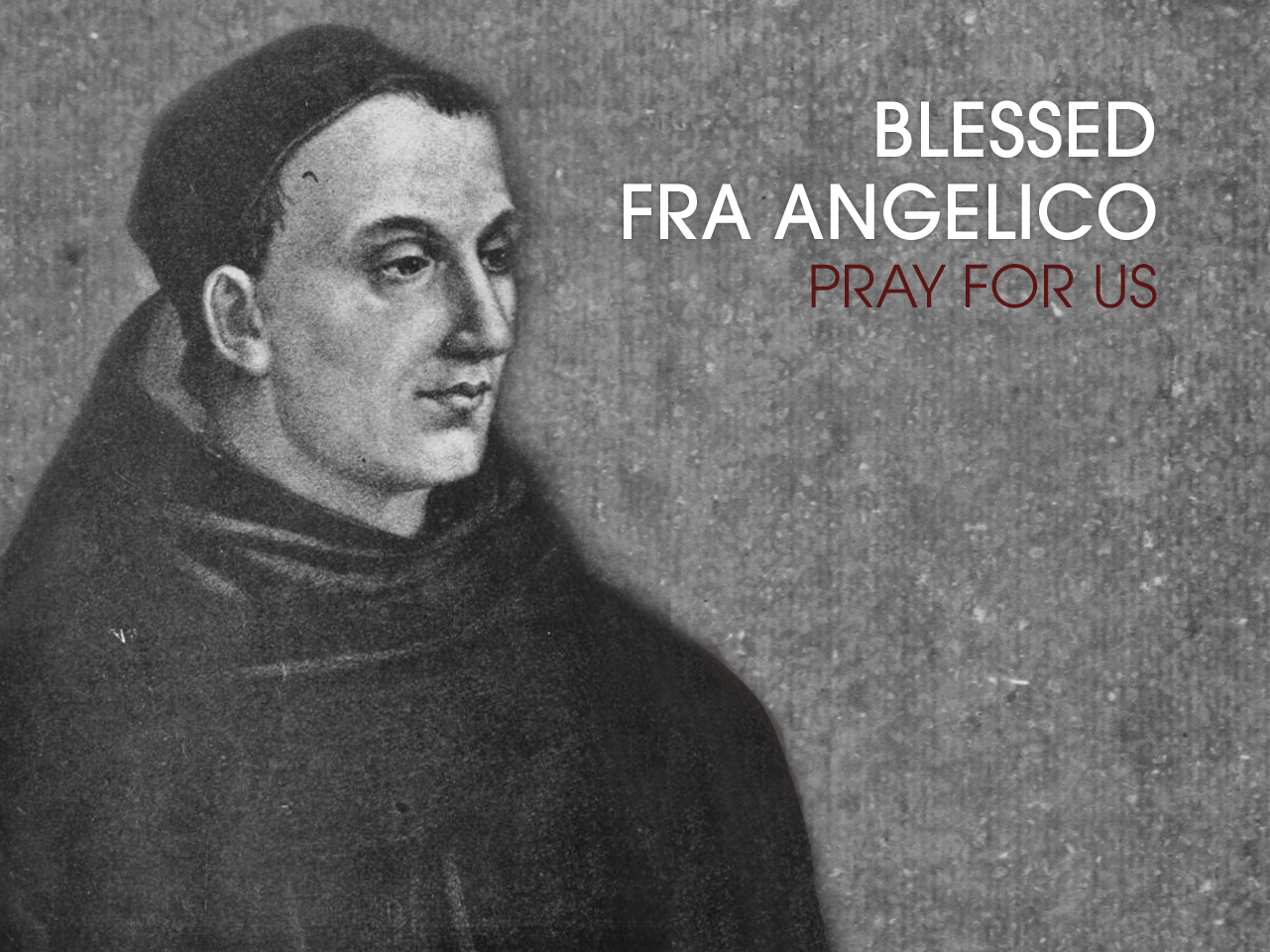 Love,
Matthew