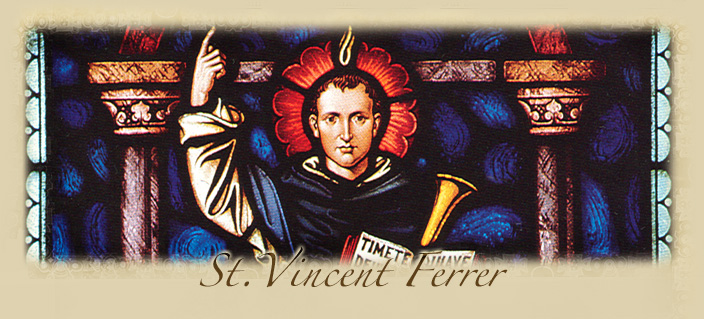 The polarization in the Church today is a mild breeze compared with the tornado that ripped the Church apart during the lifetime of this saint. If any saint is a patron of reconciliation, St. Vincent Ferrer, OP, is.  Born in Valencia, Spain, January 23, 1350, the fourth child and second son of William Ferrer and Constantia Miguel, and named in honor of St Vincent Martyr, patron of Valencia, whom we considered back in January of this year.
Vincent's birth was anything but a quiet affair! It is said that his mother, who was accustomed to difficult pregnancies, experienced only an indescribable goodness and joy at the birth of her son. This experience was accompanied by Vincent's father's dream in which a Dominican friar announced to him that his son would one day enter the Order of Preachers and his fame would spread throughout the world. A poor blind woman, when giving thanks to the mother of the saint for alms, astounded her by prophesying, "O happy mother, it is an angel that you bear, and one day he will give me my sight!" It is recorded that the woman did receive her sight.
Despite parental opposition, Vincent Ferrer entered the Dominican Order in his native Spain at 19. After brilliant studies, he was ordained a priest by Cardinal Peter de Luna—who would figure tragically in his life.
Contemporary evidence pictures St. Vincent Ferrer to have been a man of medium height, with a lofty forehead and very distinct features that seemed to inspire a sense of reverence and awe in all who knew him. His hair was fair in color and shaven in the form of a monastic tonsure, which is said to have resembled an areola of glory around his head. His eyes were very dark, very expressive, and full of fire, which were tempered, however, by his ever gentle manner. Pale as was his ordinary color, it is said that he became slightly ruddy when preaching. Although his handsomeness faded in later years as a result of his arduous labors and the austerities that he practiced, it became changed rather than vanished. His countenance took on a transparent peacefulness or glow that seemed to be the reflection of the inward beauty of his great spirit that was aflame with the love of God and of his neighbor. His voice was strong and powerful, at times gentle, resonant, and vibrant as it seemed to search deeply the heart and to inspire fear when fear was needed and to soothe with exquisite tenderness when comfort was needed.
Of a very ardent nature, Vincent practiced the austerities of his Order with great energy. He was chosen prior of the Dominican house in Valencia shortly after his ordination.  During a severe fever in 1398, Vincent had a vision of Christ, Saint Dominic de Guzman and Saint Francis of Assisi. It was a life changing experience – Vincent received supernatural gifts and he believed that he was instructed in his vision to be a messenger of penance, an "angel of the apocalypse" sent to prepare humankind for the Judgment of Christ.
St. Vincent Ferrer was a great preacher who converted thousands in Spain, France, Italy, Germany, the Netherlands, England, Scotland, and Ireland. He was invited to preach in Muslim Granada.  He slept on the floor, had the gift of tongues (he spoke only Spanish, but all listeners understood him), lived in an endless fast, celebrated Mass daily, and was known as a miracle worker – reported to have brought a murdered man back to life to prove the power of Christianity to the onlookers, and he would heal people throughout a hospital just by praying in front of it. He worked so hard to build up the Church that he became the patron of people in building trades.
The Great Western Schism (1378-1417) divided Christianity first between two, then three, popes. Clement VII lived at Avignon in France, Urban VI in Rome. Vincent was convinced the election of Urban was invalid (though St. Catherine of Siena was just as devoted a supporter of the Roman pope). In the service of Cardinal de Luna, he worked to persuade Spaniards to follow Clement. When Clement died, Cardinal de Luna was elected at Avignon and became Benedict XIII.
At the beginning of the 14th century, following a disagreement between Pope Boniface VIII and King Philip the Fair(handsome) of France, who was immorally ambitious, a French pope, Clement V, was elected. Within four years, civil unrest in Rome and riots between rival factions drove Clement V to take shelter with the Dominican order in Avignon.  The move was intended to be temporary, but a number of factors combined to make it a longer sojourn.  Known as the "Babylonian Captivity" of the papacy, the schism was eventually resolved by the Council of Constance (1414-1418).  Cardinals from both sides had previously met at Pisa in 1409, and trying to end the schism, elected a third pope. The rift was not healed until the Council of Constance vacated all three seats and elected Martin V as pope in 1417.
Vincent worked for his friend, Benedict XIII, as apostolic penitentiary and Master of the Sacred Palace in Avignon. But the new pope did not resign as all candidates in the conclave had sworn to do. Benedict XIII remained stubborn despite being deserted by the French king and nearly all of the cardinals.
Vincent became disillusioned with his friend and church politics in general, and also very ill, but finally took up the work of simply "going through the world preaching Christ," though he felt that any renewal in the Church depended on healing the schism. An eloquent and fiery preacher, he spent the last 20 years of his life spreading the Good News in Spain, France, Switzerland, the Low Countries and Lombardy, stressing the need of repentance and the fear of coming judgment. (He became known as the "Angel of the Judgment.")
He tried, again, unsuccessfully, in 1408 and 1415, to persuade his former friend to resign. He finally concluded that Benedict was not the true pope. Though very ill, he mounted the pulpit before an assembly over which Benedict himself was presiding and thundered his denunciation of the man who had ordained him a priest. Benedict fled for his life, abandoned by those who had formerly supported him. Strangely, Vincent had no part in the Council of Constance, which ended the schism.
The split in the Church at the time of St Vincent Ferrer, OP, should have been fatal—36 long years of having two "heads." We cannot imagine what condition the Church today would be in if, for that length of time, half the world had followed a succession of popes in Rome, and half, an equally "official" number of popes in, say, Rio de Janeiro. It is an ongoing miracle that the Church has not long since been shipwrecked on the rocks of pride and ignorance, greed and ambition. Contrary to Lowell's words, "Truth forever on the scaffold, wrong forever on the throne," we believe that "truth is mighty, and it shall prevail"—but it sometimes takes a long time.
"Precious stone of virginity…
Flaming torch of charity…
Mirror of penance…
Trumpet of eternal salvation…
Flower of heavenly wisdom…
Vanquisher of demons."

(-from the litanies of St. Vincent Ferrer, O.P.)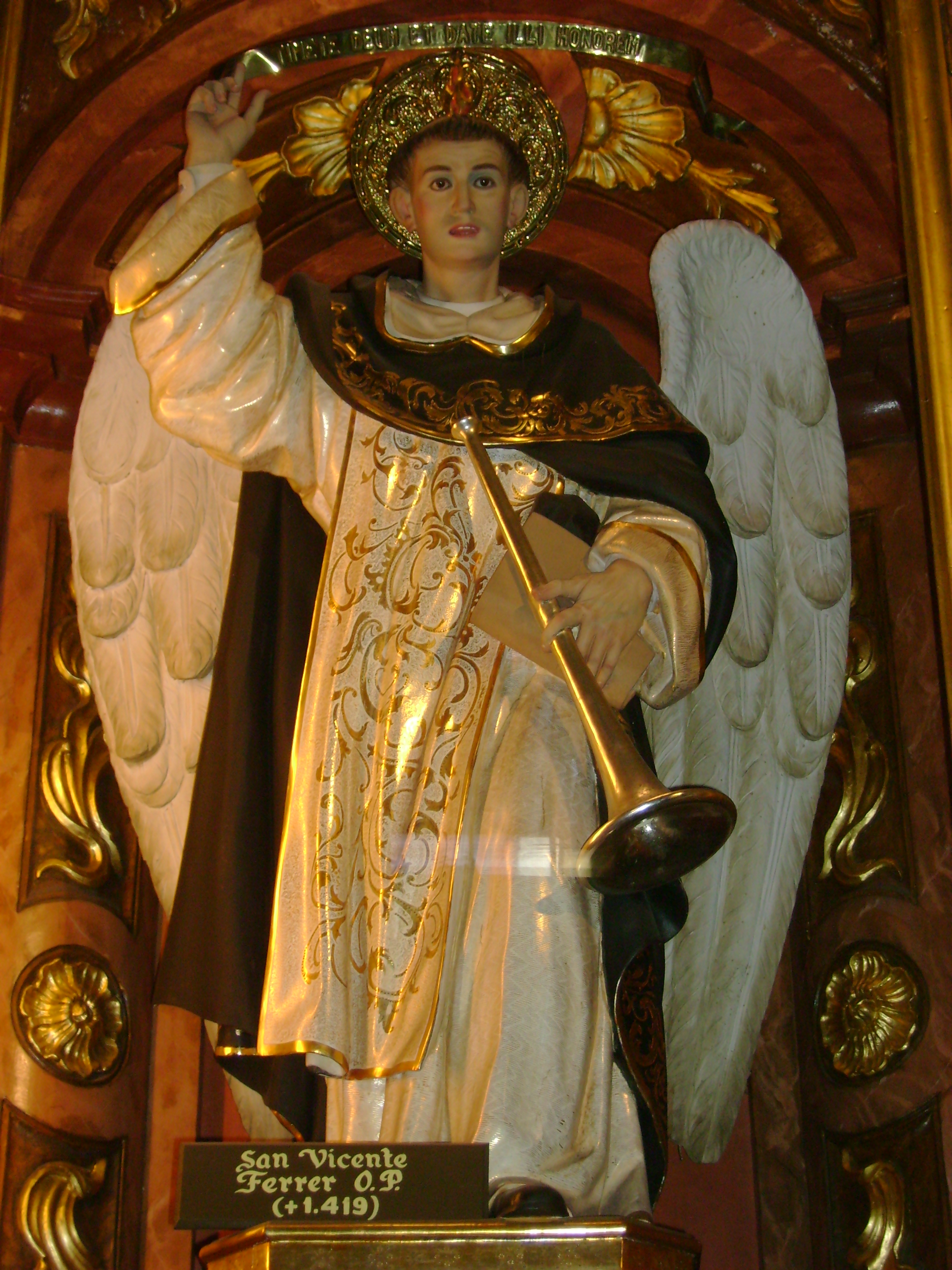 -please click on the image for greater detail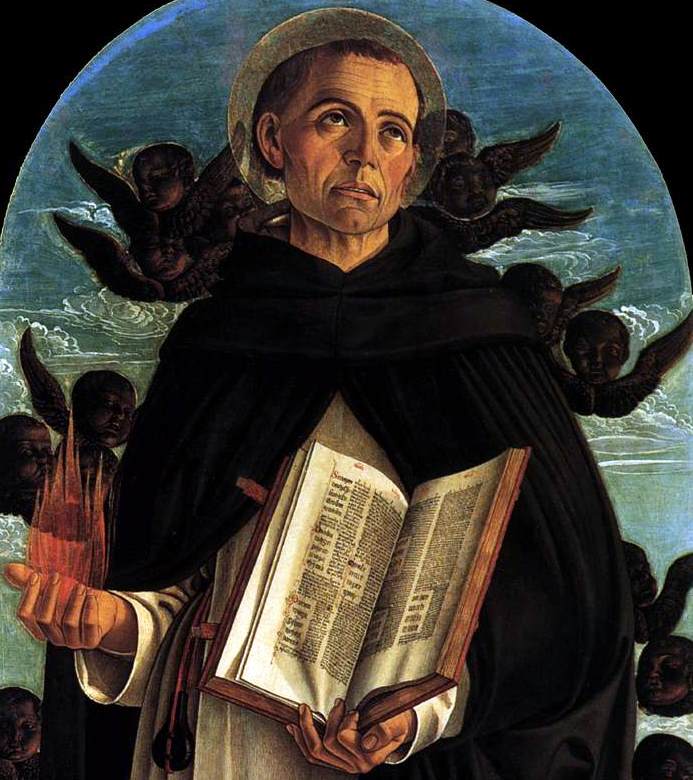 -Polytptych Vicente Ferrer, by Giovanni Bellini, 1465, Santi Giovanni e Paolo, Venice, please click on the image for greater detail
ribbon reads "Timete Deum Et Date Illi Honorem" – "Fear God and give Him honor!" – Rev. 14:7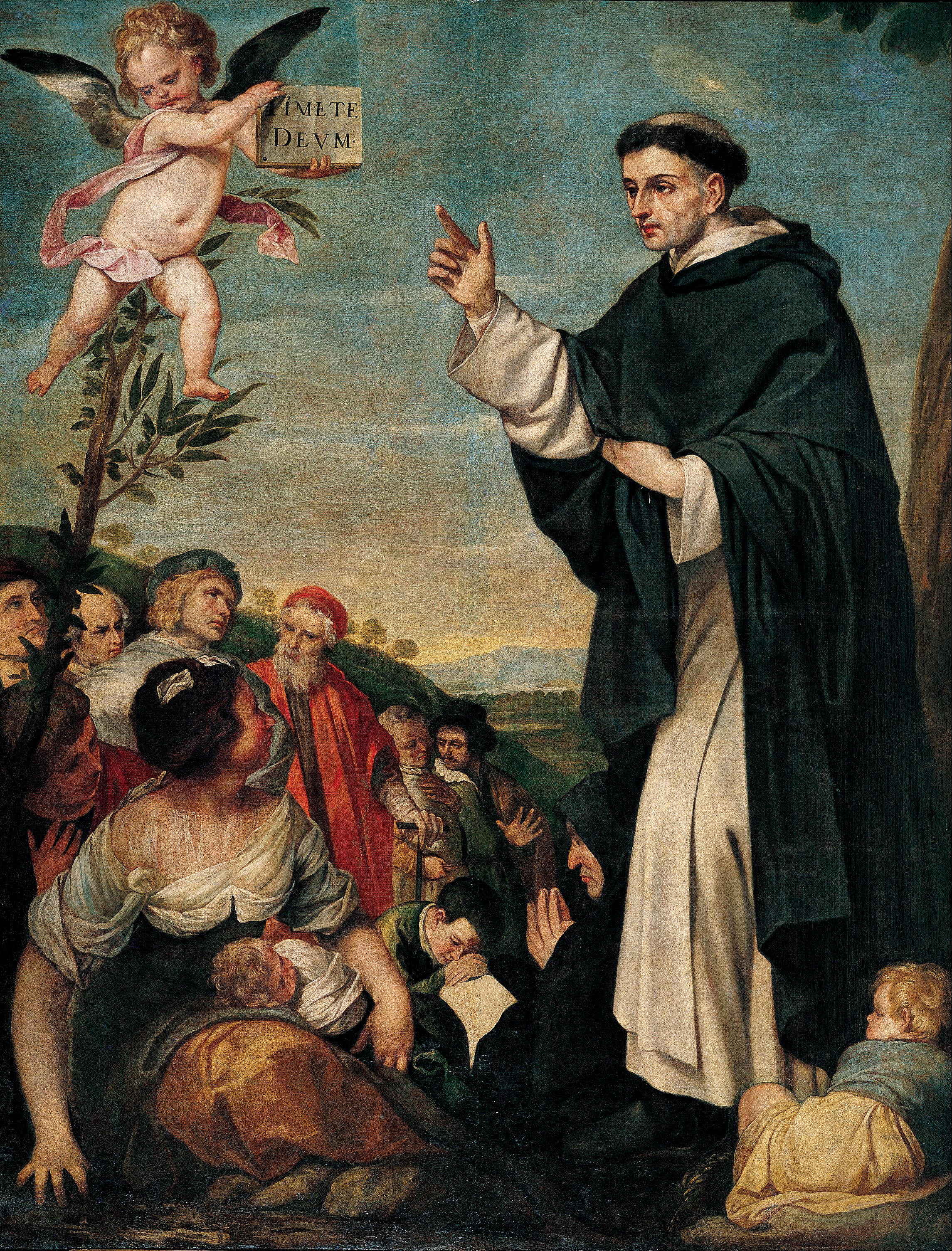 –"Saint Vincent Ferrer Preaching with Angel Holding a Banner that reads "FEAR GOD" by Alonzo Cano (1601-1667); 1644-45; Fundación Banco Santander, Madrid, Spain, oil on canvas, height: 2,140 mm (84.25 ″); width: 1,640 mm (64.56 ″) please click on the image for greater detail
"The Lord sends us tribulations and infirmities to give us the means of paying the immense debts we have contracted with Him. Therefore, those who have good sense receive them joyfully, for they think more of the good which they may derive from them than of the pain which they experience on account of them." -St Vincent Ferrer, OP
"If you truly want to help the soul of your neighbor, you should approach God first with all your heart. Ask Him simply to fill you with charity, the greatest of all virtues; with it you can accomplish what you desire."
–St. Vincent Ferrer
Prayer
O my protector, St. Vincent Ferrer, as the eternal God has deposited in you an inexhaustible treasurer of grace and of supernatural virtues, hear my earnest petition, and help me with your intercession, more powerful now even than when you were on earth. Hence with blind confidence do I cast myself at your feet, there to place my requests for all those in whom I am concerned but more particularly for (special favor). O glorious saint, let not my confidence in you be deceived. Present for me, to the Divine Majesty, your suppliant prayers and watch over my soul. Should sorrow and trials increase, so also will my rejoicing increase, and may my patience grow with each day, that I may thus save my soul. Amen.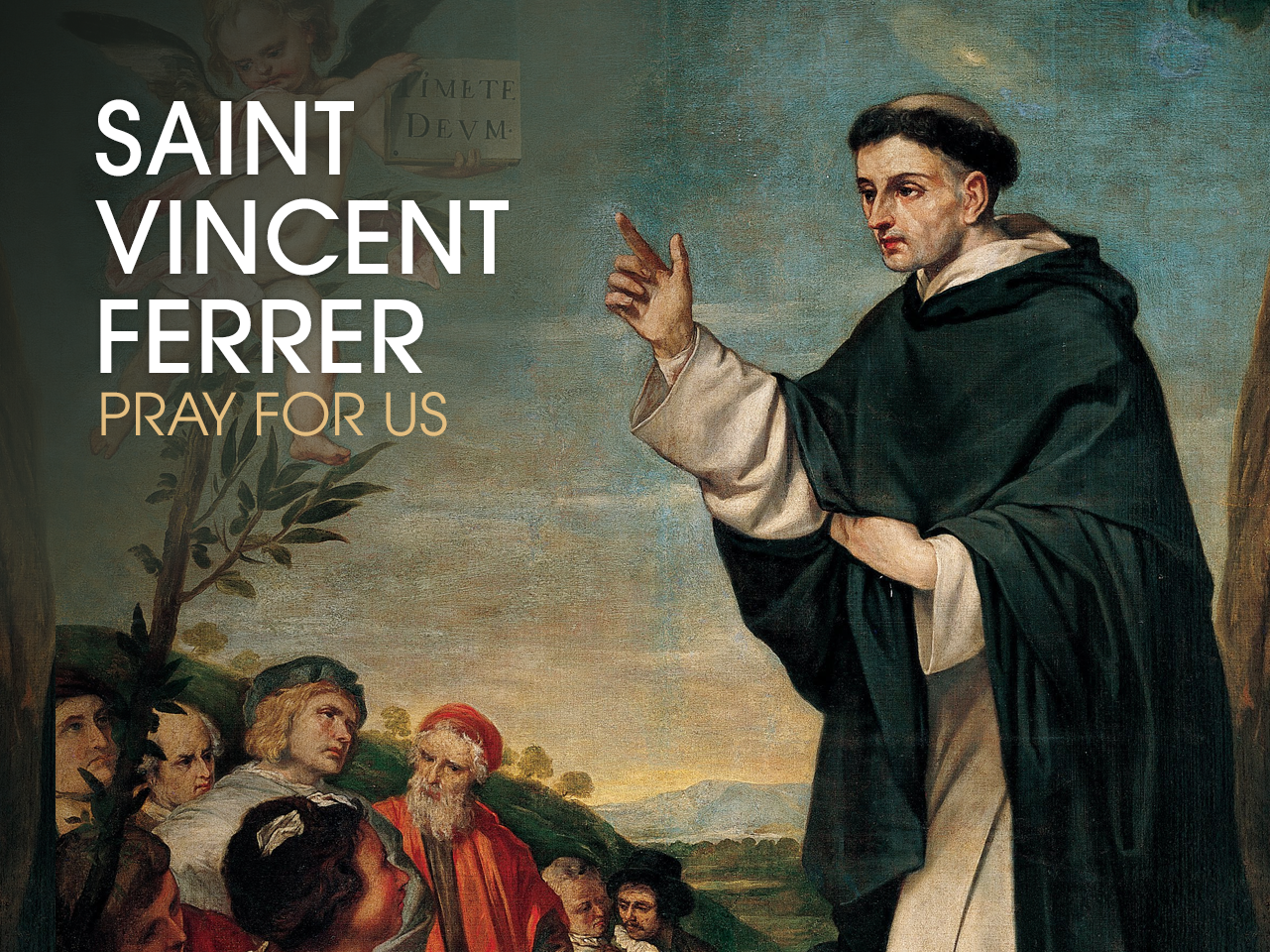 Love,
Matthew