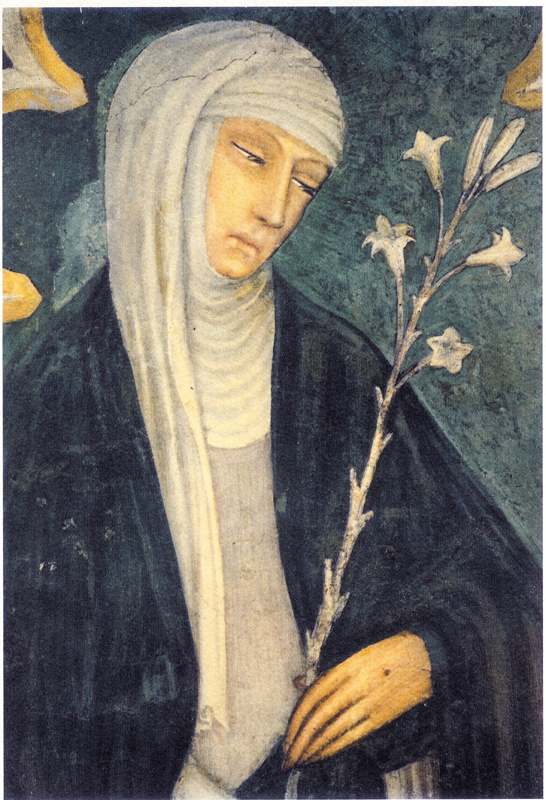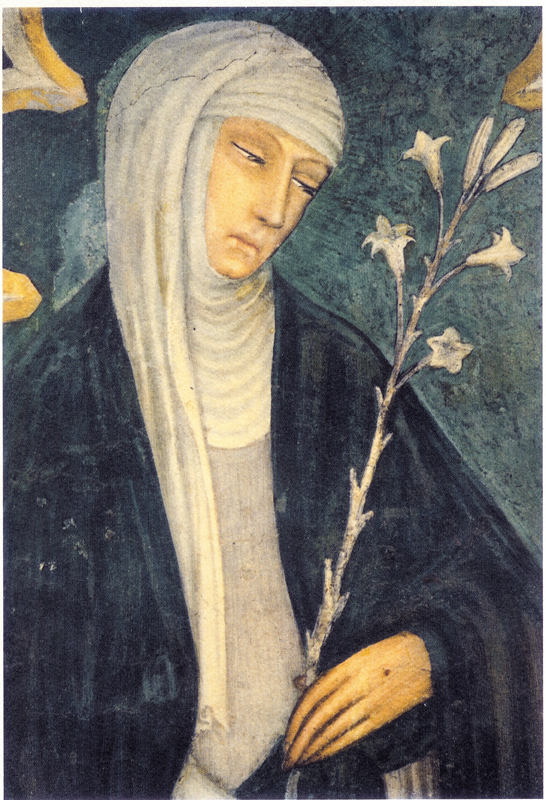 -fresco of St. Catherine of Siena – done by a family member who knew her, showing her true likeness
https://fauxtations.wordpress.com/2018/09/04/st-catherine-of-siena-the-world-is-rotten-because-of-silence/
In her letter #16, to an unidentified "great prelate" (perhaps Cardinal Pietro of Ostia), also this letter doesn't seem to be on the Internet in English.  The original is in medieval Italian, which is not the same as modern Italian, which is why it is not easy to find. The relevant passage is as follows:
"Oimè, non più tacere! Gridate con cento migliaia di lingue. Veggo che, per tacere, il mondo è guasto, la Sposa di Cristo è impallidita, toltogli è il colore, perchè gli è succhiato il sangue da dosso, cìoè che il sangue di Cristo, che è dato per grazia e non per debito."

Fr. Jerabek renders that as:

"Be silent no more! Cry out with one hundred thousand tongues. I see that, because of this silence, the world is in ruins, the Spouse of Christ has grown pale; the color is taken from her face because her blood has been sucked out, that is the blood of Christ, which is given as a free gift and not by right."
St Catherine of Siena, OP, one of the Great Reformers of the Catholic Church, publicly excoriated priests, bishops, cardinals, and popes.  She called them "wretches", "idiots", "blind hirelings", and "devils incarnate".  Catherine sought to shame the clergy into reform; her methods and her inspiration for reform were direct and challenging.
Catherine claimed that her reform rhetoric was revealed to her in a series of visions.  The legitimacy of these visions was reinforced by Catherine's miracles.  From early in her career, she was known for her miraculous ability to subsist solely on the Eucharist, and was given the grace of the stigmata, the wounds of Christ, during her life, among other supernatural phenomena.
Born Catherine Benin in Siena, Italy, to Giacomo di Benincasa, a clothdyer, and Lapa Piagenti, possibly daughter of a local poet, in 1347, she was the last of 25 children.  A year after she was born, the Black Death, or bubonic plague, came to Siena for the first time.  Sometime around 1353, at the age of seven or eight, Catherine experienced a vision of Christ that led her to make a vow of virginity.
In about 1366, Catherine experienced what she described in her letters as a "Mystical Marriage" with Jesus. Her biographer also records that she was told by Christ to leave her withdrawn life and enter the public life of the world. Catherine dedicated much of her life to helping the ill and the poor, where she took care of them in hospitals or homes.
Her early pious activities in Siena attracted a group of followers, both women and men, while they also brought her to the attention of the Dominican Order, who had primary responsibility for the Inquisition in many regions.  Catherine was summoned by the Inquisition to Florence in 1374 to interrogate her for possible heresy.  After this visit, in which she was deemed sufficiently orthodox, she began travelling with her followers throughout northern and central Italy advocating reform of the clergy and the launch of a new crusade and advising people that repentance and renewal could be done through "the total love for God."
Just as Catherine was not repulsed by the filth of her neighbors' diseased bodies, she was also not repulsed by the corruption manifested in the body of Christ.  For most of her career, she tended to the sick, the hungry, and the dying, much like Blessed Teresa of Calcutta has done in our own day.  She wrote many letters to religious leaders and secular officials of her day encouraging and demanding, under penalty of perdition, reform, peace, order, atonement, repentance, reconciliation, and adherence to the Gospel.
Her other work, "The Dialogue of Divine Providence", is one of the most well known works in Catholic mystical writing, referred to simply as St Catherine's "Dialogue", or "The Dialogue".  Its premise is a dialogue between a soul who "rises up" to God and God, and was recorded by her followers between 1377 and 1378.  She opens with a description of sin and the need for penance.  She synthesizes both the apologetics of love and of humility under the rubric of the atonement for sin.
Saint Catherine of Siena in her Dialogue writes about tears. She describes the different ways that God uses our sadness to bring us into ever closer union with Him. We are sad when we encounter the emptiness of sin and the fear of eternal punishment. These turn us away from sin and toward virtue. Those who begin to turn away from sin, however, still lose the things they love, from worldly goods to beloved friends. Those who have grown accustomed to feeling close to God may even feel, for a time, a loss of spiritual consolation, as if God were withdrawing from them. These losses also lead to sadness, although of a very different quality and for different reasons. This helps to purify love of its selfishness, so that the soul may turn more and more to God. Even sadness due to evils committed against God and the people that we love can bring us closer to God, because we can unite our suffering with the suffering of Jesus on the cross. God uses our sadness to lead us to Him.
St Catherine died of an apparent stroke in Rome, in the spring of 1380, at the age of thirty-three.  She was proclaimed a Doctor of the Church in 1970, one of only three women and thirty men to hold this title in the history of Christianity.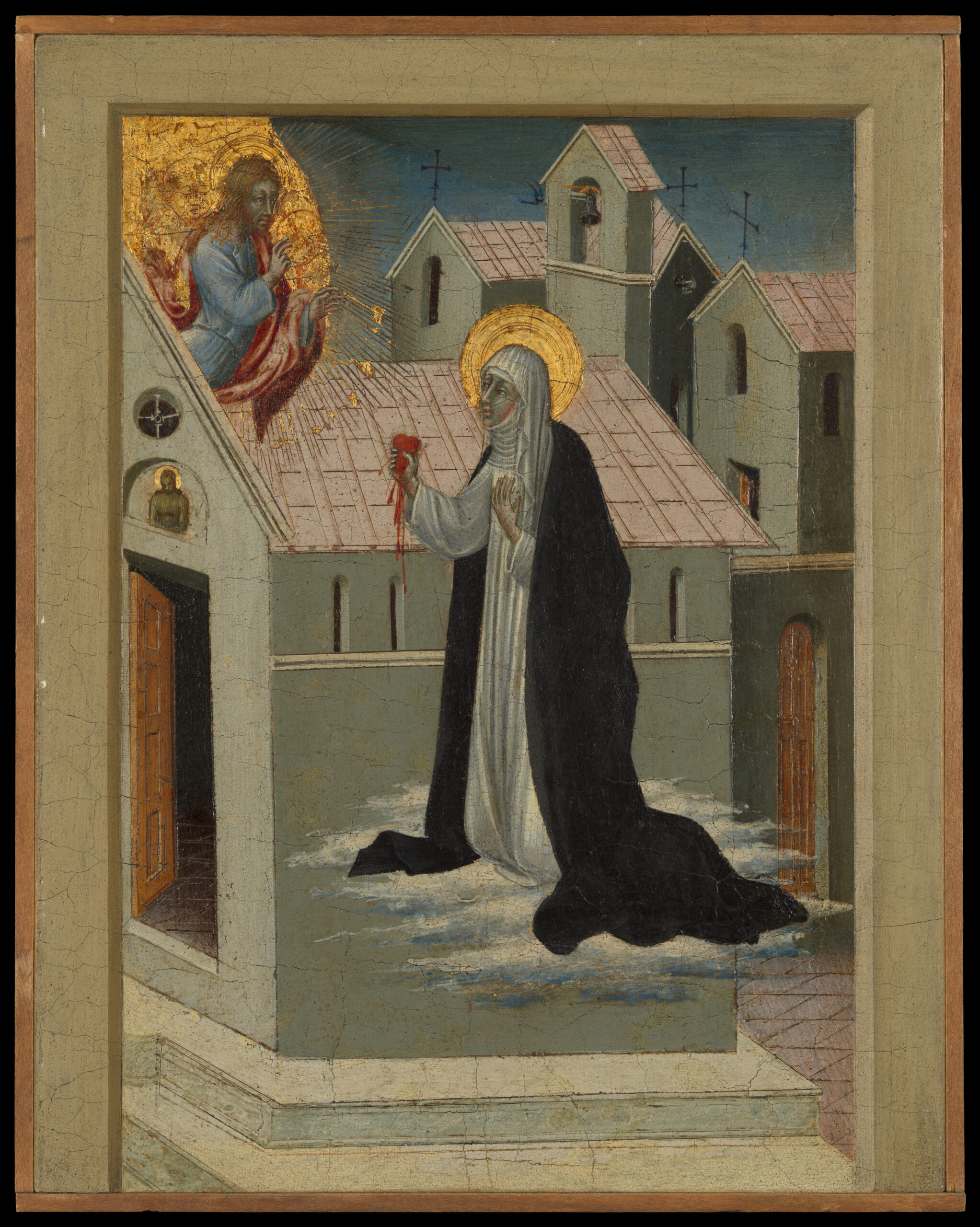 -St Catherine of Siena Exchanging Her Heart with Christ" by Giovanni di Paolo (Giovanni di Paolo di Grazia) (1398-1492), please click on the image for greater detail, overall, with added strips, 11 3/4 x 9 1/2 in. (29.8 x 24.1 cm); painted surface 11 3/8 x 8 7/8 in. (28.9 x 22.5 cm)
"Saint Catherine of Siena would fervently pray the words of the Psalmist, "Create in me a clean heart, O God, and put a new and right spirit within me" (Ps 51:10).
God responded to St. Catherine's prayer through two visions of supernatural surgery, which she recounted to her spiritual director and the author of her Life, Blessed Raymond of Capua. In St. Catherine's first vision, the Lord came to her and she watched him open her left side, remove her heart, and then depart. So vivid and powerful was this vision—which left her with a scar on her side—that Catherine insisted to others that she no longer had a heart!
Soon thereafter, as she was preparing to leave the Dominican church in Siena, Catherine was surrounded by a dazzling light. In this second vision, the Lord held in his hands a fleshy beating heart, gleaming red and aflame with light. Christ approached, opened her side once more, and nestled this new heart into her breast, saying, "See, dearest daughter, a few days ago, I took your heart from you; now, in the same way, I give you my own heart." Through this gift of grace, St. Catherine had new and eternal life within her. She became so conformed to Christ that all his loves became hers, his will became hers, his heart became hers . . . such that, really and truly, Christ himself lived and loved in her.
In the tradition, this episode of Catherine's life has been called the "exchange of hearts" with Jesus. Now that is the kind of heart transplant I'm looking for! My heart is failing unto death; sin is my fatal disease. But thanks be to God: in Jesus, I have found someone willing to give me a new heart—to save my life. The Divine Physician says to me and to you: "I will give you a new heart, and put a new spirit within you: and I will take away the stony heart out of your flesh, and will give you a heart of flesh" (Ezek 36:26).
Like other heart donors, Christ has died to offer life to someone else. However, unlike any other organ donor, Christ was raised from the dead and is alive still, reigning at the right hand of the Father in glory. Our heavenly heart donor is not only a man, but also truly God. The heart Jesus gives is not mere corruptible flesh, which only prolongs life for a few years, but the incorruptible heart of God Incarnate: the Sacred Heart, the furnace of Divine Love, the fount of Divine Mercy that bestows life without end."
"Charity is the sweet and holy bond which links the soul with its Creator: it binds God with man and man with God." – Saint Catherine of Siena
"Lord, take me from myself and give me to Yourself." -St. Catherine of Siena
"Nothing great is ever achieved without much enduring."
–St. Catherine of Siena
"Oh, how sweet and pleasant to that soul and to Me is holy prayer, made in the house of knowledge of self and of Me, opening the eye of the intellect to the light of faith, and the affections to the abundance of My charity, which was made visible to you, through My visible Only-begotten Son, who showed it to you with His blood! Which blood inebriates the soul and clothes her with the fire of divine charity, giving her the food of the Sacrament . . . that is to say, the food of the Body and Blood of My Son, wholly God and wholly man, administered to you by the hand of My vicar, who holds the key of the Blood."
—St. Catherine of Siena, Dialogue
"The soul, who is lifted by a very great and yearning desire for the honor of God and the salvation of souls, begins by exercising herself, for a certain space of time, in the ordinary virtues, remaining in the cell of self-knowledge, in order to know better the goodness of God towards her. This she does because knowledge must precede love, and only when she has attained love, can she strive to follow and to clothe herself with the truth. But, in no way, does the creature receive such a taste of the truth, or so brilliant a light therefrom, as by means of humble and continuous prayer, founded on knowledge of herself and of God; because prayer, exercising her in the above way, unites with God the soul that follows the footprints of Christ Crucified, and thus, by desire and affection, and union of love, makes her another Himself."
—St. Catherine of Siena
"O Deity eternal, O high, eternal Deity, O sovereign, eternal Father, O ever-burning fire!… What do Your bounty and Your grandeur show? The gift You have given to man. And what gift have You given? Your whole self, O eternal Trinity. And where did You give Yourself? In the stable of our humanity which had become a shelter for animals, that is, mortal sins" -St. Catherine of Siena.
"Oh, inestimable Charity, sweet above all sweetness!… It seems, oh, Abyss of Charity, as if thou wert mad with love of Thy creature, as if Thou couldest not live without him, and yet Thou art our God who has no need of us." – St Catherine of Siena
"You are asking for something that would be harmful to your salvation if you had it—so by not getting what you've asked, you really are getting what you want."
–St. Catherine of Siena
"We are such value to God that He came to live among us … and to guide us home. He will go to any length to seek us, even to being lifted high upon the cross to draw us back to Himself. We can only respond by loving God for His love.
—St. Catherine of Siena
Eternal God, eternal Trinity,
You have made the Blood of Christ so precious
through His sharing in Your Divine nature.
You are a mystery as deep as the sea;
the more I search, the more I find,
and the more I find the more I search for You.
But I can never be satisfied;
what I receive will ever leave me desiring more.
When You fill my soul I have an ever-greater hunger,
and I grow more famished for Your light.
I desire above all to see You,
the true light, as you really are.
Amen.
~ St. Catherine of Siena
"Eternal Trinity, Godhead, mystery deep as the sea, You could give me no greater gift than the gift of Yourself. For You are a fire ever burning and never consumed, which itself consumes all the selfish love that fills my being. Yes, you are a fire that takes away the coldness, illuminates the mind with its light, and causes me to know Your truth. And I know that You are beauty and wisdom itself. The food of angels, You gave yourself to man in the fire of your love."  -from "The Dialogue"
"I've appointed the Devil to tempt and to trouble My creatures in this life [St. Catherine of Siena reports that Our Lord said to her]. I've done this, not so that My creatures will be overcome, but so that they may overcome, proving their virtue and receiving from Me the glory of victory. And no one should fear any battle or temptation of the Devil that may come to him, because I've made My creatures strong, and I've given them strength of will, fortified in the Blood of My Son. Neither the Devil nor any other creature can control this free will, because it's yours, given to you by Me. By your own choice, then, you hold it or let it go if you please. It's a weapon, and if you place it in the hands of the Devil, it right away becomes a knife that he'll use to stab and kill you. On the other hand, if you don't place this knife that is your will into the hands of the Devil—that is, if you don't consent to his temptations and harassments—you will never be injured by the guilt of sin in any temptation. Instead, you'll actually be strengthened by the temptation, as long as you open the eyes of your mind to see My love, and to understand why I allowed you to be tempted: so you could develop virtue by having it proved. My love permits these temptations, for the Devil is weak. He can do nothing by himself unless I allow him. So I let him tempt you because I love you, not because I hate you. I want you to conquer, not to be conquered, and to come to a perfect knowledge of yourself and of Me." — St. Catherine of Siena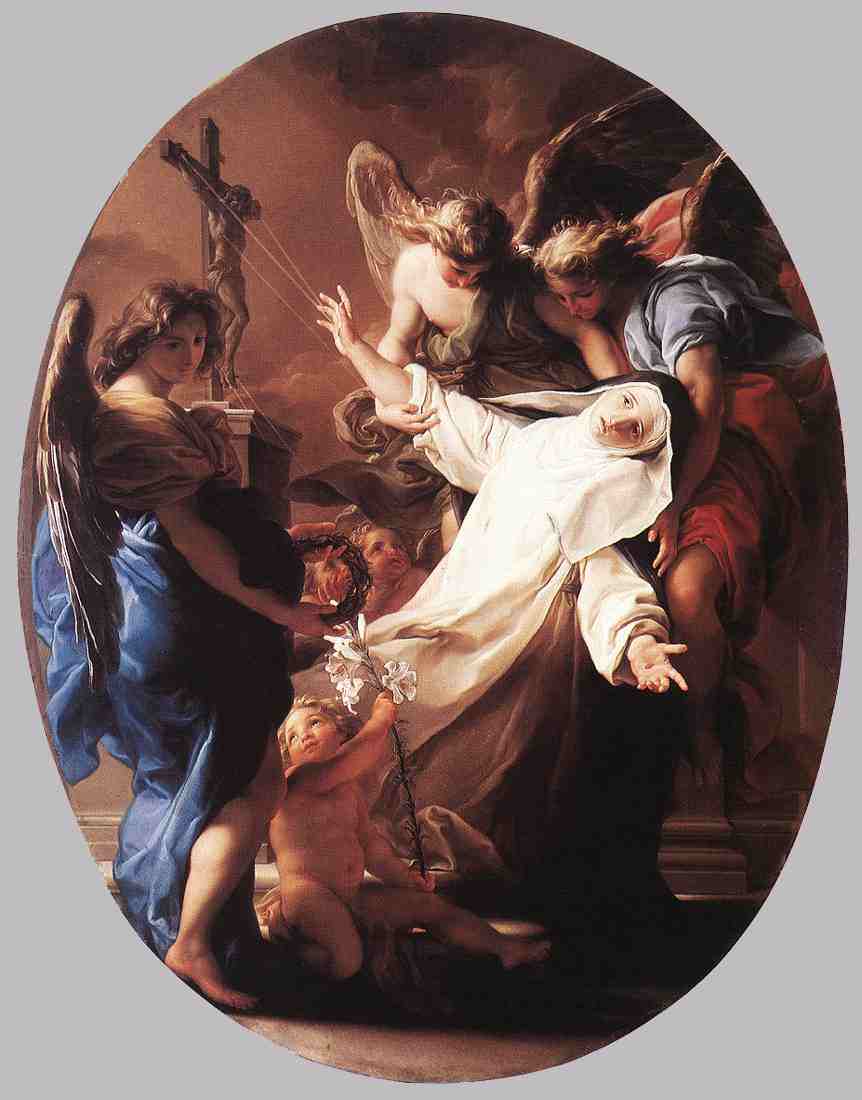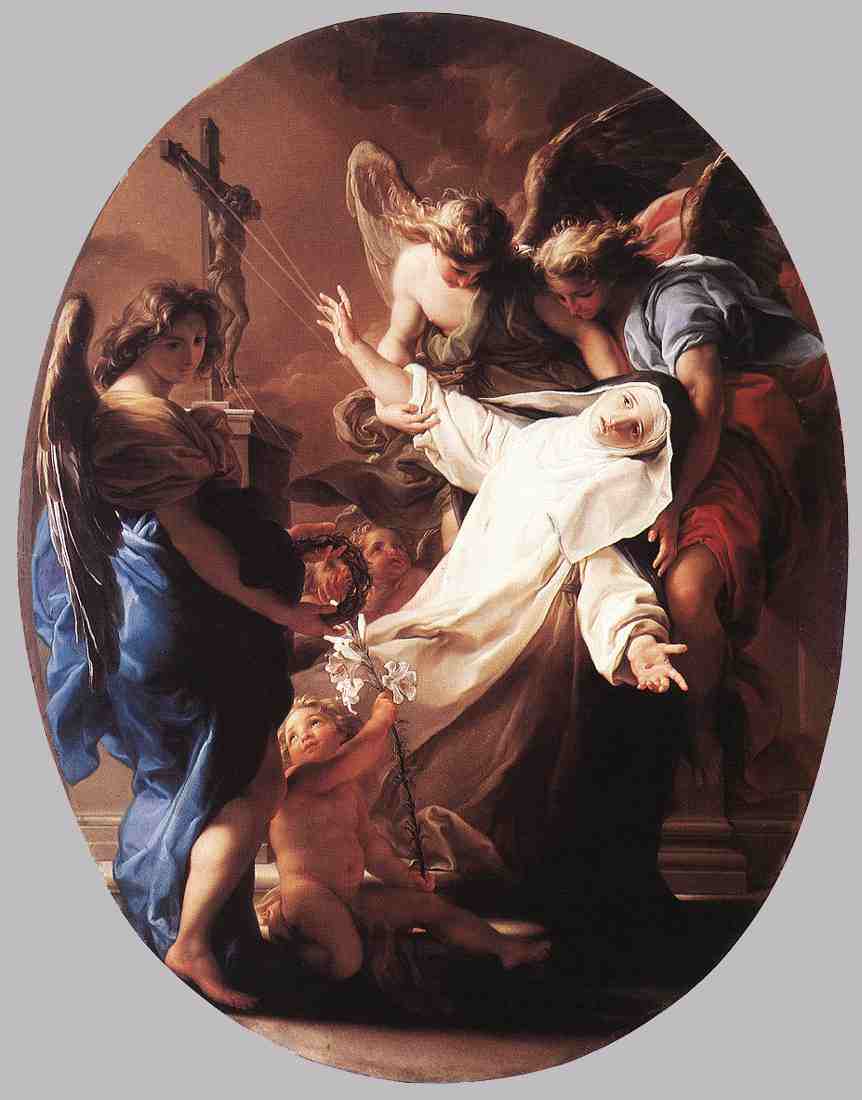 -"The Ecstasy of St Catherine of Siena", Pompeo Batoni, 1743, Museo di Villa Guinigi, Lucca, Italy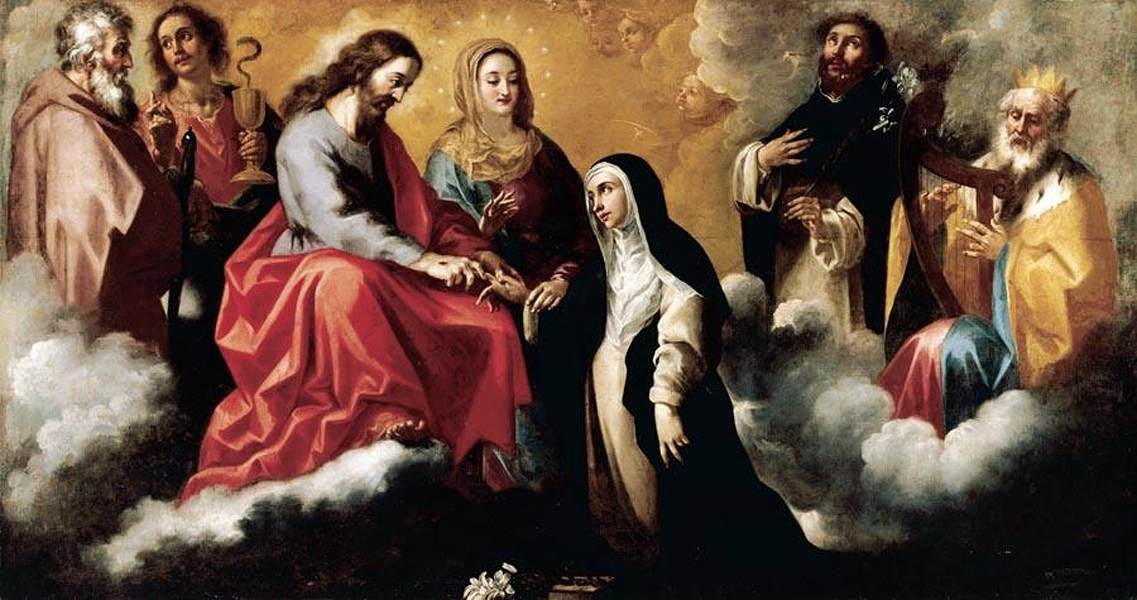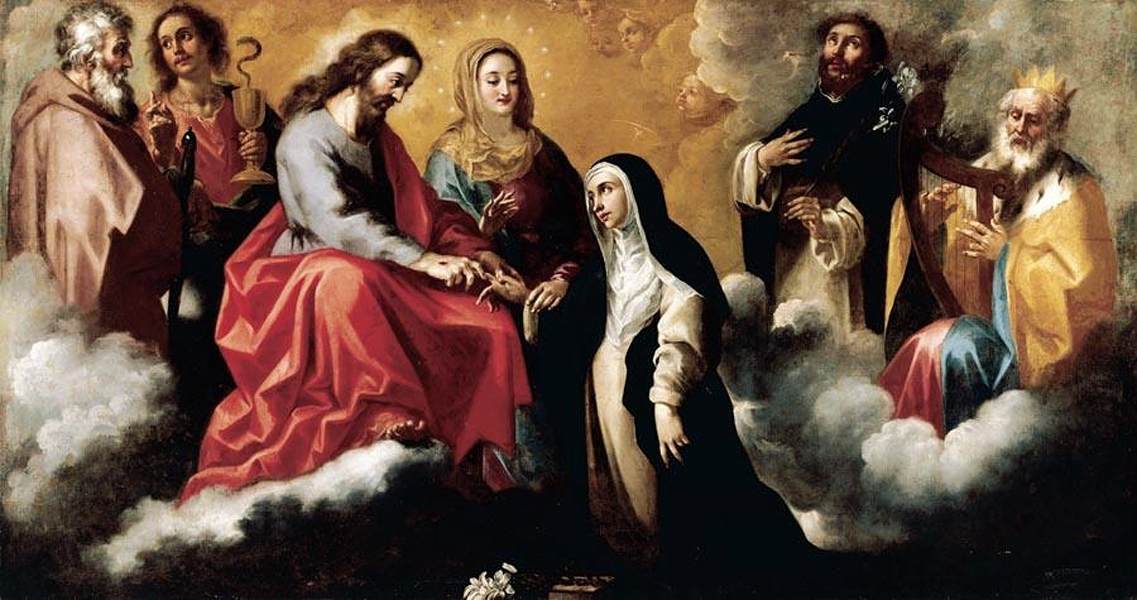 -the mystical marriage of St Catherine of Siena, O.P., Clemente de Torres, ~1715, oil on canvas, H: 175 cm (68.9 in). W: 332 cm (130.7 in), private collection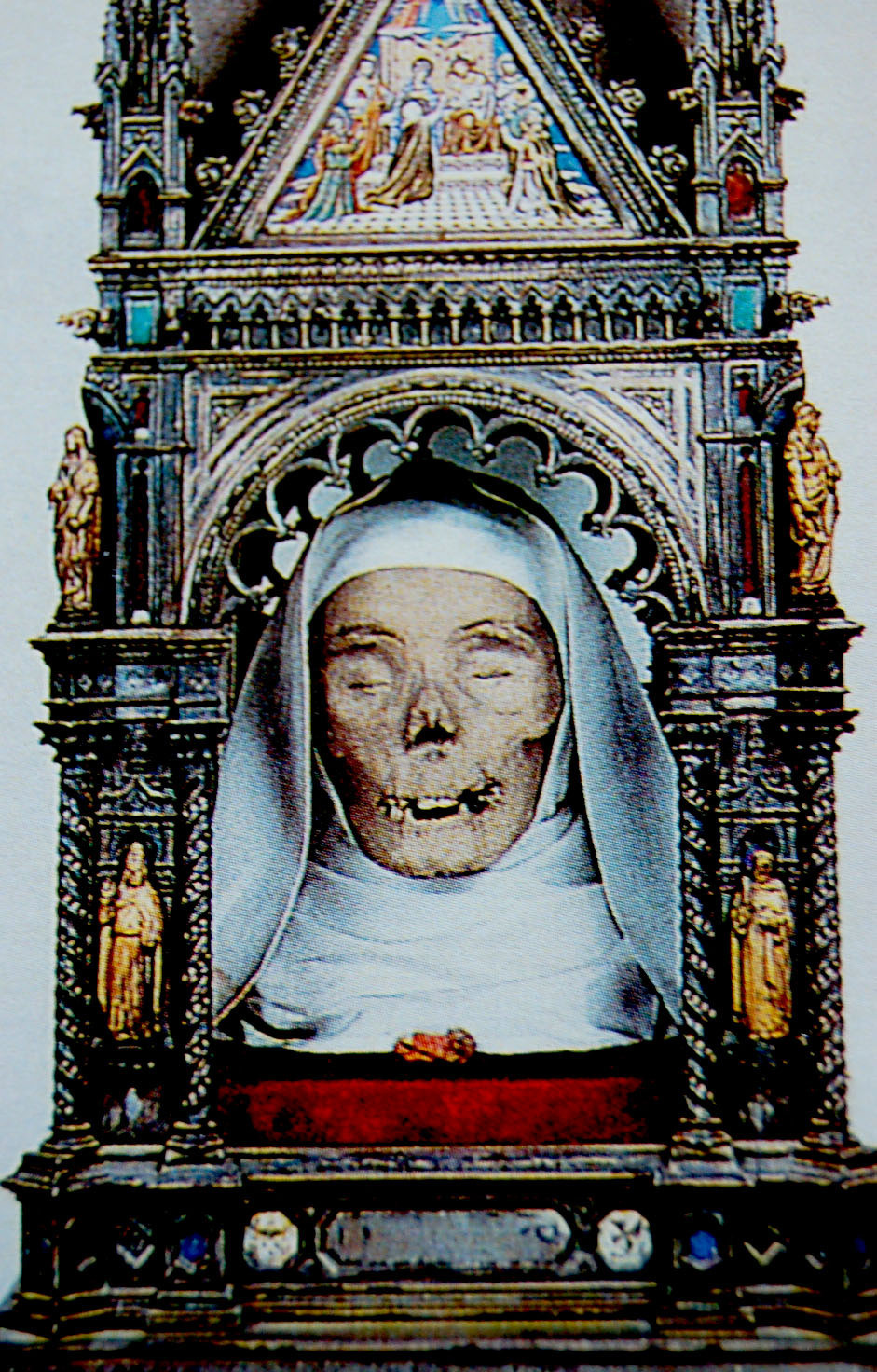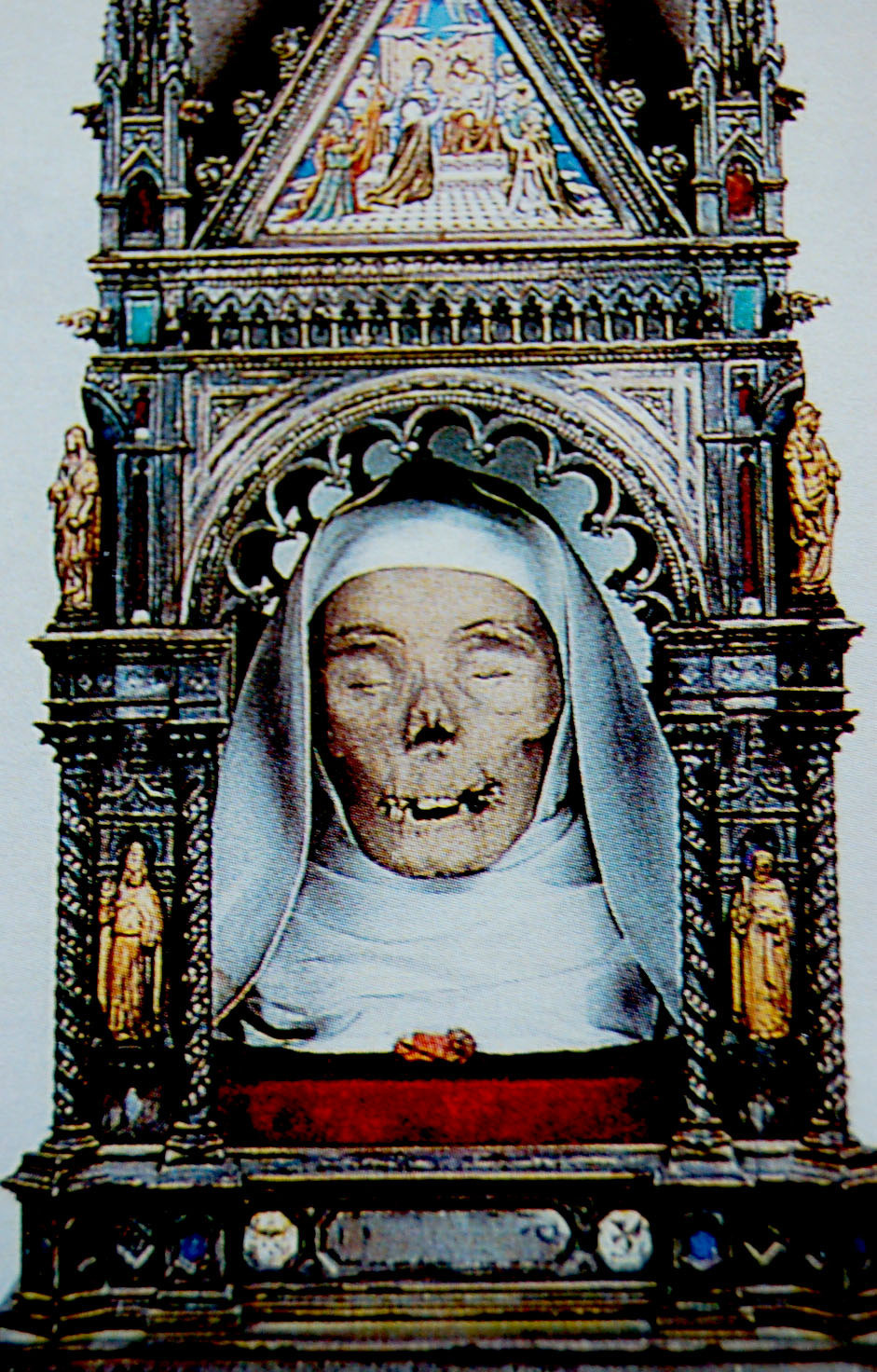 -mummified head of St Catherine of Siena, O.P., Church of San Dominico, Siena
"O eternal Trinity! O fire and abyss of charity! How could our redemption benefit You? It could not, for You, our God, have no need of us. To whom then comes this benefit? Only to man. O inestimable charity! Even as You, true God and true Man, gave Yourself entirely to us, so also You left Yourself entirely for us, to be our food, so that during our earthly pilgrimage we would not faint with weariness, but would be strengthened by You, our celestial Bread. O man, what has your God left you? He has left you Himself, wholly God and wholly Man, concealed under this whiteness of bread. O fire of love! Was it not enough for You to have created us to Your image and likeness, and to have re-created us in grace through the Blood of Your Son, without giving Yourself wholly to us as our Food, O God, Divine Essence? What impelled You to do this? Your charity alone. It was not enough for You to send Your Word to us for our redemption; neither were You content to give Him to us as our Food, but in the excess of Your love for Your creature, You gave to man the whole divine essence. And not only, O Lord, do You give Yourself to us, but by nourishing us with this divine Food, You make us strong with Your power against the attacks of the demons, insults from creatures, the rebellion of our flesh, and every sorrow and tribulation, from whatever source it may come.
O Bread of Angels, sovereign, eternal purity, You ask and want such transparency in a soul who receives You in this sweet Sacrament, that if it were possible, the very angels would have to purify themselves in the presence of such an august mystery. How can my soul become purified? In the fire of Your charity, O eternal God, by bathing itself in the Blood of Your only-begotten Son. O wretched soul of mine, how can you approach such a great mystery without sufficient purification? I will take off, then, the loathsome garments of my will and clothe myself, O Lord, with Your eternal will!" (St. Catherine of Siena).
"Infinite grief I wish from My creature in two ways: in one way, through her sorrow for her own sins, which she has committed against Me her Creator; in the other way, through her sorrow for the sins which she sees her neighbors commit against Me. Of such as these, inasmuch as they have infinite desire, that is, are joined to Me by an affection of love, and therefore grieve when they offend Me, or see Me offended, their every pain, whether spiritual or corporeal, from wherever it may come, receives infinite merit, and satisfies for a guilt which deserved an infinite penalty, although their works are finite and done in finite time; but, inasmuch as they possess the virtue of desire, and sustain their suffering with desire, and contrition, and infinite displeasure against their guilt, their pain is held worthy. Paul explained this when he said: If I had the tongues of angels, and if I knew the things of the future and gave my body to be burned, and have not love, it would be worth nothing to me. The glorious Apostle thus shows that finite works are not valid, either as punishment or recompense, without the condiment of the affection of love."
—St. Catherine of Siena, The Dialogue
"I've appointed the Devil to tempt and to trouble My creatures in this life [St. Catherine of Siena reports that Our Lord said to her]. I've done this, not so that My creatures will be overcome, but so that they may overcome, proving their virtue and receiving from Me the glory of victory. And no one should fear any battle or temptation of the Devil that may come to him, because I've made My creatures strong, and I've given them strength of will, fortified in the Blood of My Son. Neither the Devil nor any other creature can control this free will, because it's yours, given to you by Me. By your own choice, then, you hold it or let it go if you please. It's a weapon, and if you place it in the hands of the Devil, it right away becomes a knife that he'll use to stab and kill you. On the other hand, if you don't place this knife that is your will into the hands of the Devil—that is, if you don't consent to his temptations and harassments—you will never be injured by the guilt of sin in any temptation. Instead, you'll actually be strengthened by the temptation, as long as you open the eyes of your mind to see My love, and to understand why I allowed you to be tempted: so you could develop virtue by having it proved. My love permits these temptations, for the Devil is weak. He can do nothing by himself unless I allow him. So I let him tempt you because I love you, not because I hate you. I want you to conquer, not to be conquered, and to come to a perfect knowledge of yourself and of Me."
—St. Catherine of Siena
"Very pleasing to Me, dearest daughter, is the willing desire to bear every pain and fatigue, even unto death, for the salvation of souls, for the more the soul endures, the more she shows that she loves Me; loving Me she comes to know more of My truth, and the more she knows, the more pain and intolerable grief she feels at the offenses committed against me."
—God to St. Catherine of Siena, Dialogue
"I will first, dearest daughter, speak to thee of the dignity of priests, having placed them where they are through My goodness, over and above the general love which I have had to My creatures, creating you in My image and likeness and re-creating you all to the life of grace in the Blood of My Only-begotten Son, whence you have arrived at such excellence, through the union which I made of My Deity with human nature; so that in this you have greater dignity and excellence than the angels, for I took your human nature and not that of the angels. Wherefore, as I have said to you, I, God, have become man, and man has become God by the union of My Divine Nature with your human nature. This greatness is given in general to all rational creatures, but, among these I have especially chosen My ministers for the sake of your salvation, so that, through them, the Blood of the humble and immaculate Lamb, My Only-begotten Son, may be administered to you."
—St. Catherine Of Siena
"Consider that the love of divine charity is so closely joined in the soul with perfect patience, that neither can leave the soul without the other. For this reason (if the soul elect to love Me) she should elect to endure pains for Me in whatever mode or circumstance I may send them to her. Patience cannot be proved in any other way than by suffering, and patience is united with love as has been said. Therefore bear yourselves with manly courage, for, unless you do so, you will not prove yourselves to be spouses of My Truth, and faithful children, nor of the company of those who relish the taste of My honor, and the salvation of souls."
—St. Catherine Of Siena, Dialogue
"I do not wish the soul to consider her sins, either in general or in particular, without also remembering the Blood and the broadness of My mercy, for fear that otherwise she should be brought to confusion. And together with confusion would come the devil, who has caused it, under color of contrition and displeasure of sin, and so she would arrive at eternal damnation, not only on account of her confusion, but also through the despair which would come to her, because she did not seize the arm of My mercy. This is one of the subtle devices with which the Devil deludes My servants, and, in order to escape from his deceit, and to be pleasing to Me, you must enlarge your hearts and affections in My boundless mercy, with true humility. You know that the pride of the Devil cannot resist the humble mind, nor can any confusion of spirit be greater than the broadness of My good mercy, if the soul will only truly hope therein."
—St. Catherine Of Siena
"Know, dearest daughter, how, by humble, continual, and faithful prayer, the soul acquires, with time and perseverance, every virtue. Wherefore should she persevere and never abandon prayer… The soul should advance by degrees, and I know well that, just as the soul is at first imperfect and afterwards perfect, so also is it with her prayer. She should nevertheless continue in vocal prayer, while she is yet imperfect, so as not to fall into idleness. But she should not say her vocal prayers without joining them to mental prayer, that is to say, that while she is reciting, she should endeavor to elevate her mind in My love, with the consideration of her own defects and of the Blood of My only-begotten Son, wherein she finds the breadth of My charity and the remission of her sins."
—St. Catherine Of Siena, Dialogue
"He will provide the way and the means, such as you could never have imagined. Leave it all to Him, let go of yourself, lose yourself on the Cross, and you will find yourself entirely."
–St. Catherine of Siena
"To join two things together there must be nothing between them or there cannot be a perfect fusion. Now realize that this is how God wants our soul to be, without any selfish love of ourselves or of others in between, just as God loves us without anything in between."
–St. Catherine of Siena
"Very pleasing to Me, dearest daughter, is the willing desire to bear every pain and fatigue, even unto death, for the salvation of souls, for the more the soul endures, the more she shows that she loves Me; loving Me she comes to know more of My truth, and the more she knows, the more pain and intolerable grief she feels at the offenses committed against Me."
—God to St. Catherine of Siena in the book, Dialogue of St. Catherine of Siena
PRAYER TO BE ATTENTIVE TO GOD'S LOVE
"Eternal Goodness, you want me to gaze into You and see that You love me, to see that You love me gratuitously, so that I may love everyone with the very same love. You want me, then, to love and serve my neighbors gratuitously, by helping them spiritually and materially as much as I can, without any expectation of selfish profit or pleasure. Nor do You want me to hold back because of their ingratitude or persecution, or for any abuse I may suffer from them. What then shall I do to come to such a vision? I shall strip myself of my stinking garment, and by the light of my holy faith I shall contemplate myself in You. And I shall clothe myself in Your eternal will." -Saint Catherine of Siena
Addressing the God the Father, Saint Catherine of Siena said in her Dialogue, "I am she who is not. . . . You alone are He Who is; my being and every other grace that you have given me beyond my being I have from You, which you gave and give to me through love, and not because it was owed to me." (Ch. 134)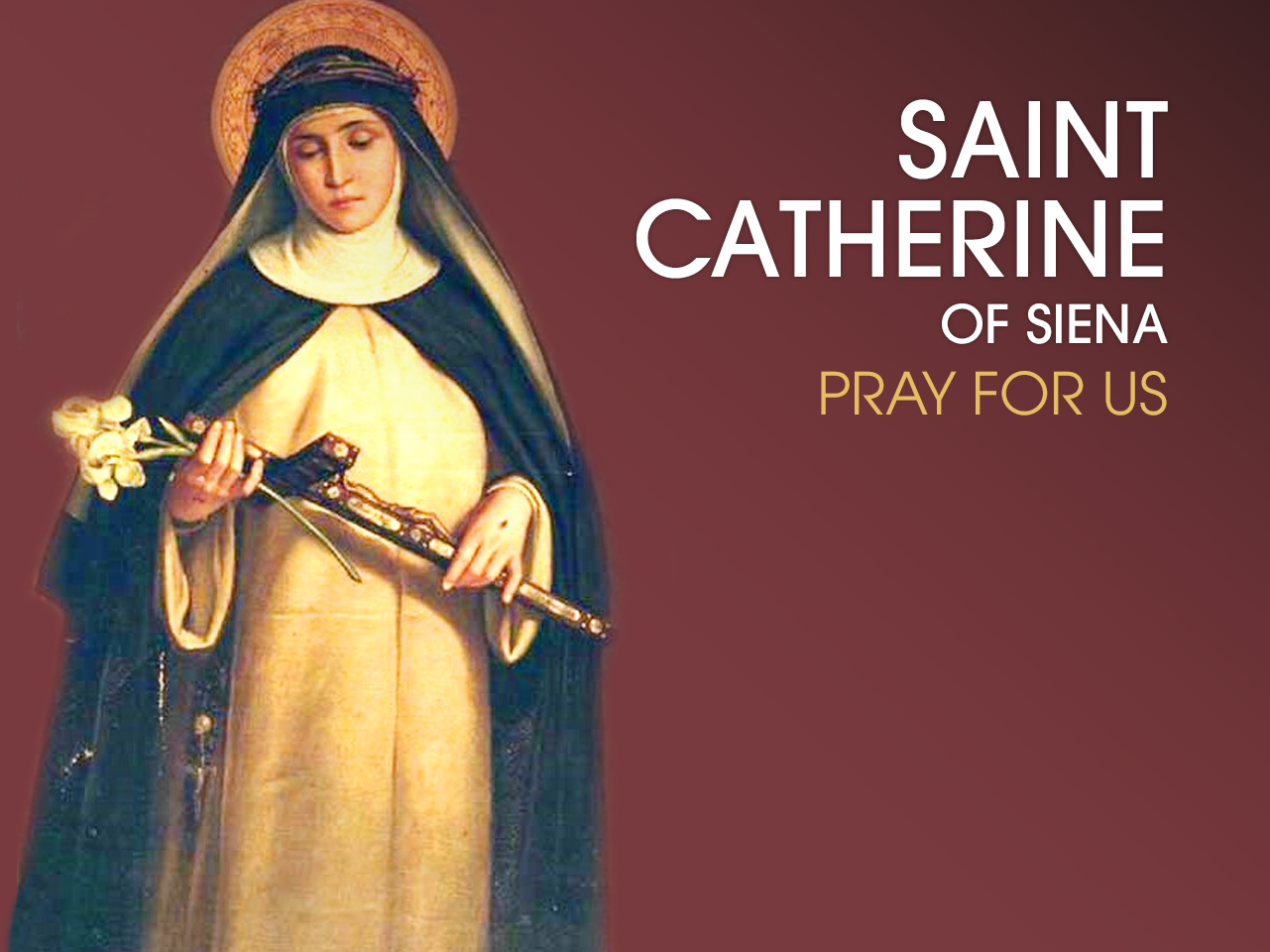 Love,
Matthew