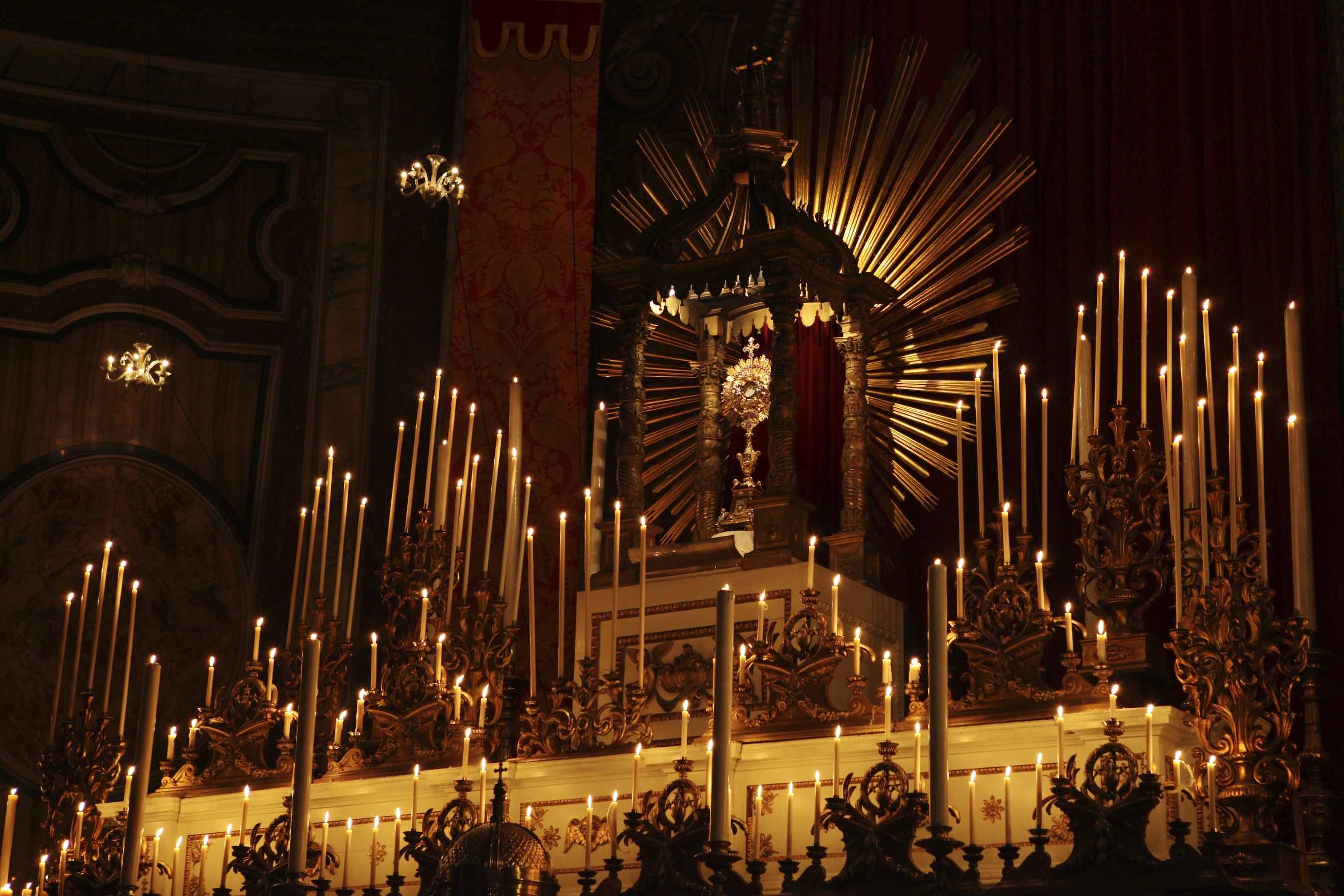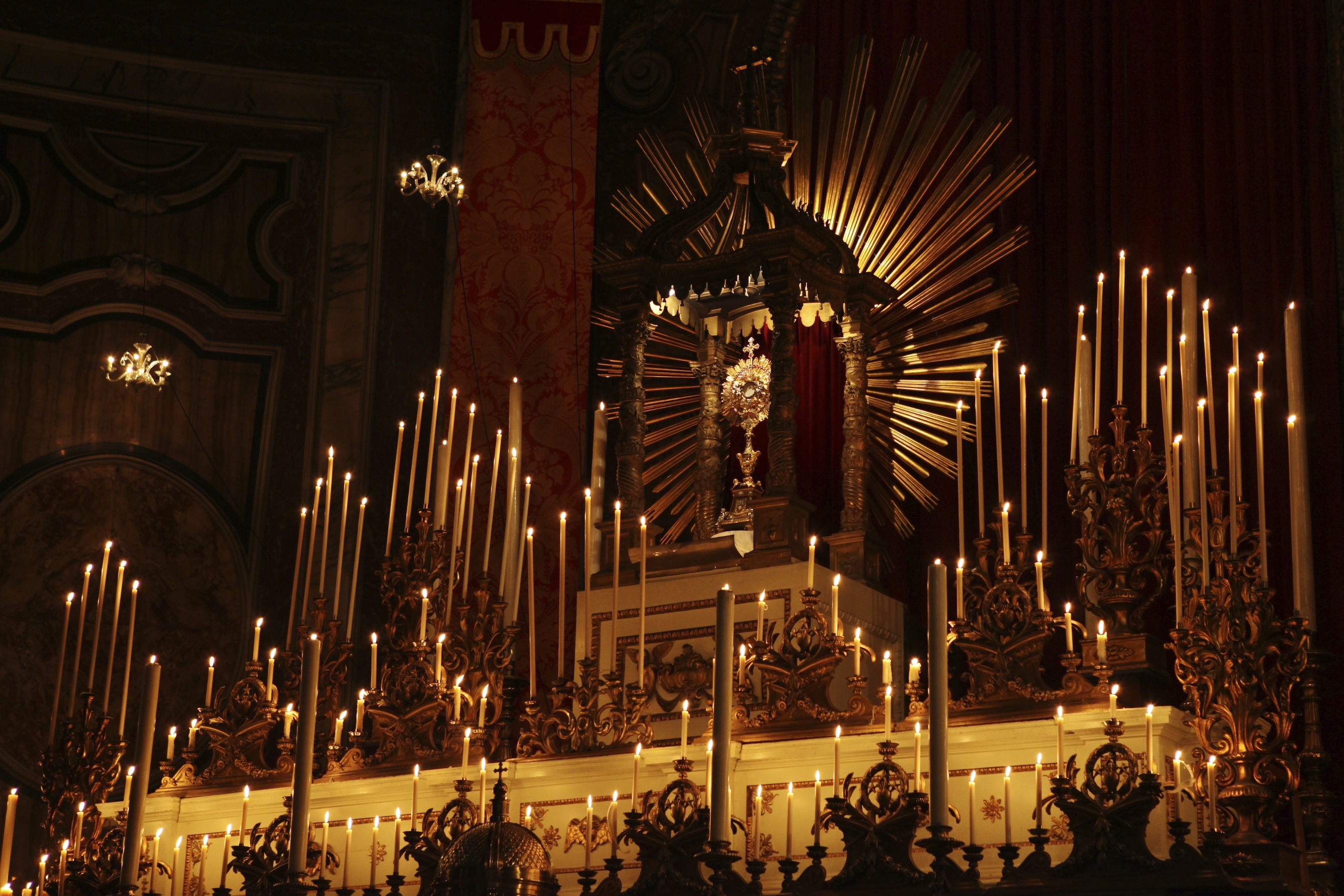 Lauda Sion Salvatorem is a sequence prescribed for the Roman Catholic Mass of The Solemnity of the Most Holy Body and Blood of Christ. It was written by St. Thomas Aquinas around 1264, at the request of Pope Urban IV for the new Mass of this Feast, along with Pange lingua, Sacris solemniis, Adoro te devote, and Verbum supernum prodiens, which are used in the Divine Office.
The hymn tells of the institution of the Eucharist and clearly expresses the belief of Christians that the bread and wine become actually, literally through a divine act, the body and blood of Jesus during the celebration of the Eucharist. Transubstantiation is the name given to the process in the Roman Catholic faith. As with St. Thomas' other three Eucharistic hymns, the last few stanzas are often used alone, in this case, the Ecce panis Angelorum.
Lauda Sion is one of only four medieval Sequences which were preserved in the Missale Romanum published in 1570 following the Council of Trent (1545–63)—the others being Victimae paschali laudes (Easter), Veni Sancte Spiritus (Pentecost), and Dies Irae (Requiem Masses). (A fifth, Stabat Mater, would later be appointed in 1727.) Before Trent, many feasts had their own sequences. It is still sung today, though its use is optional in the post-Vatican II Ordinary form. The Gregorian melody is borrowed from the 11c sequence Laetabundi iubilemus attributed to Adam de Saint-Victor.
Old English version
Sion, lift up thy voice and sing:
Praise thy Savior and thy King,
Praise with hymns thy shepherd true.
All thou canst, do thou endeavour:
Yet thy praise can equal never
Such as merits thy great King.
See today before us laid
The living and life-giving Bread,
Theme for praise and joy profound.
The same which at the sacred board
Was, by our incarnate Lord,
Giv'n to His Apostles round.
Let the praise be loud and high:
Sweet and tranquil be the joy
Felt today in every breast.
On this festival divine
Which records the origin
Of the glorious Eucharist.
On this table of the King,
Our new Paschal offering
Brings to end the olden rite.
Here, for empty shadows fled,
Is reality instead,
Here, instead of darkness, light.
His own act, at supper seated
Christ ordain'd to be repeated
In His memory divine;
Wherefore now, with adoration,
We, the host of our salvation,
Consecrate from bread and wine.
Hear, what holy Church maintaineth,
That the bread its substance changeth
Into Flesh, the wine to Blood.
Doth it pass thy comprehending?
Faith, the law of sight transcending
Leaps to things not understood.
Here beneath these signs are hidden
Priceless things, to sense forbidden,
Signs, not things, are all we see.
Flesh from bread, and Blood from wine,
Yet is Christ in either sign,
All entire, confessed to be.
They, who of Him here partake,
Sever not, nor rend, nor break:
But, entire, their Lord receive.
Whether one or thousands eat:
All receive the self-same meat:
Nor the less for others leave.
Both the wicked and the good
Eat of this celestial Food:
But with ends how opposite!
Here 't is life: and there 't is death:
The same, yet issuing to each
In a difference infinite.
Nor a single doubt retain,
When they break the Host in twain,
But that in each part remains
What was in the whole before.
Since the simple sign alone
Suffers change in state or form:
The signified remaining one
And the same for evermore.
Behold the Bread of Angels,
For us pilgrims food, and token
Of the promise by Christ spoken,
Children's meat, to dogs denied.
Shewn in Isaac's dedication,
In the manna's preparation:
In the Paschal immolation,
In old types pre-signified.
Jesu, shepherd of the sheep:
Thou thy flock in safety keep,
Living bread, thy life supply:
Strengthen us, or else we die,
Fill us with celestial grace.
Thou, who feedest us below:
Source of all we have or know:
Grant that with Thy Saints above,
Sitting at the feast of love,
We may see Thee face to face.
Amen. Alleluia.
New American Version
Laud, O Zion, your salvation,
Laud with hymns of exultation,
Christ, your king and shepherd true:
Bring him all the praise you know,
He is more than you bestow.
Never can you reach his due.
Special theme for glad thanksgiving
Is the quick'ning and the living
Bread today before you set:
From his hands of old partaken,
As we know, by faith unshaken,
Where the Twelve at supper met.
Full and clear ring out your chanting,
Joy nor sweetest grace be wanting,
From your heart let praises burst:
For today the feast is holden,
When the institution olden
Of that supper was rehearsed.
Here the new law's new oblation,
By the new king's revelation,
Ends the form of ancient rite:
Now the new the old effaces,
Truth away the shadow chases,
Light dispels the gloom of night.
What He did at supper seated,
Christ ordained to be repeated,
His memorial ne'er to cease:
And his rule for guidance taking,
Bread and wine we hallow, making
Thus our sacrifice of peace.
This the truth each Christian learns,
Bread into his flesh He turns,
To his precious blood the wine:
Sight has fail'd, nor thought conceives,
But a dauntless faith believes,
Resting on a pow'r divine.
Here beneath these signs are hidden
Priceless things to sense forbidden;
Signs, not things are all we see:
Blood is poured and flesh is broken,
Yet in either wondrous token
Christ entire we know to be.
Whoso of this food partakes,
Does not rend the Lord nor breaks;
Christ is whole to all that taste:
Thousands are, as one, receivers,
One, as thousands of believers,
Eats of him who cannot waste.
Bad and good the feast are sharing,
Of what divers dooms preparing,
Endless death, or endless life.
Life to these, to those damnation,
See how like participation
Is with unlike issues rife.
When the sacrament is broken,
Doubt not, but believe 'tis spoken,
That each sever'd outward token
doth the very whole contain.
Nought the precious gift divides,
Breaking but the sign betides
Jesus still the same abides,
still unbroken does remain.
Love,
Matthew