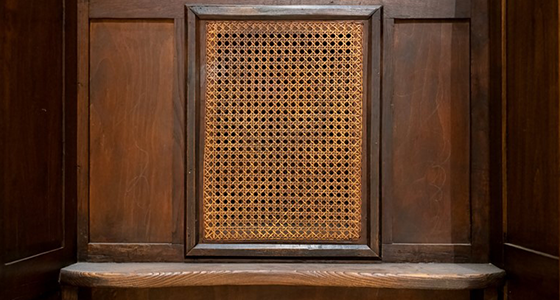 (This confessional screen is ridiculously well-lit. I guess to let you know what it looks like. It is usually near pitch black dark. The only light comes through the screen towards your darkened side (pun intended) from the confessor's chair in the center of the confessional. You can make out the outline of the confessor's silhouette from the light in his confessional chair. It is nearly pitch black and dark on either penitent's side.
     Each side takes turns with heavy velvet curtains to muffle any conversation and a sliding wooden door the confessor controls due to an internal wooden knob.  The screen opens when it is your turn.  If you are waiting your turn inside and you hear voices, you are to do your best to ignore even muffled voices.  There is never clarity. 
     When you kneel before the screen this may close an electrical switch in the red velvet (classically) kneeler (whose movement you can feel) which turns on a red let immediately above and outside some (older) confessionals telling others that side of the confessional is occupied.  It is extremely embarrassing to pull the current gently aside to discover the prior occupant if you're not careful and before they've departed or started or, eek!, in the midst of.
     The confessional screen is hardly visible from the penitent's side due to darkness except for the pattern it gives immediately before the penitent's face when in use. The idea is to hide the identity of the penitent. Protocol, as traditionally taught, is if you are waiting for your turn outside the confessional either standing in line or seated in pews immediately in front of the confessional and can hear voices, you are to move further up in pews closer to the altar, or generally further away from the confessional until you can no longer hear voices. An organ is sometimes played during confession to aid in the secrecy where sins are being divulged.
     Absolution is critical to Catholics.  As the Church teaches, "The teaching of the Church affirms the existence of hell and its eternity. Immediately after death the souls of those who die in a state of mortal sin descend into hell, where they suffer the punishments of hell, 'eternal fire'." CCC 1035)
Pope curses 'delinquent' priests who withhold absolution
-January 17, 2023
"Priests should grant absolution in the confessional even when the penitent has no intention to repent, the Pope has said in a speech which has shocked seminarians.
The Holy Father put aside a written speech, describing it as "boring", and delivered an off-the-cuff address to seminarians from Barcelona, Spain, in which he frequently used foul language.
In his address, he ordered students for the priesthood "not to be clerical, to forgive everything", adding that "if we see that there is no intention to repent, we must forgive all".
"We can never deny absolution, because we become a vehicle for an evil, unjust, and moralistic judgment," Francis reportedly told the seminarians, who were accompanied by the Auxiliary Bishop Javier Vilanova Pellisa of Barcelona.
Priests who deny penitents absolution are "delinquents", the Pontiff said, according to the Church Militant website.
If accurate, the Pope's remarks appear to put him at odds with the moral theology expressed in the Catechism of the Catholic Church which emphasises that contrition occupies the "first place" of any act of a penitent and that it involves "the resolution not to sin again".
Canon 987 of The Code of Canon Law also says that for the faithful to receive "the saving remedy of the sacrament of penance, they must be so disposed that, repudiating the sins they have committed and having the purpose of amending their lives, they turn back to God".
According to reports, Francis also used his speech to rant against "f***ing careerists who f*** up the lives of others".
The Pope also criticised "those who climb to show their a**", the Italian media outlet Daily Compass reported.
The speech in December was the second time in two months that the Pope has dispensed with a prepared text on the grounds that it was boring.
Speaking to rectors and directors of seminaries in Latin America in November, he allegedly put down a 12-page written speech, saying: "It is a heavy thing, let us read it calmly", before proceeding to deliver an extempore message, according to Vatican News.
Again, the Pope took issue with the rules about a penitent's amendment of purpose being a necessary criteria for absolution.
He said that priests should "ask the permission of the bishop" before they dared to withhold absolution from people confessing mortal sins.
"This happens, please!" he said. "Our people cannot be in the hands of criminals. And a priest who behaves like this is a criminal, in every word. Like it or not."
….In his bestseller The Dictator Pope: The Inside Story of the Francis Papacy, author Henry Sire (Marcantonio Colonna) records several instances of the pontiff using expletives, saying he was "prodigal with bad language".
According to Sire, Fr Peter Hans Kolvenbach, former superior general of the Jesuits, wrote a damning report on Fr Jorge Mario Bergoglio in 1991, accusing the future pope of "a series of defects, ranging from habitual use of vulgar language to deviousness"."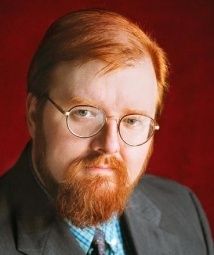 -by Jimmy Akin
"A recent news story discusses a talk Pope Francis gave to a group of seminarians in December.
Reportedly, the pope said that priests should not refuse absolution to penitents. However, the same story discusses him saying priests should check with their bishop before denying absolution.
Unfortunately, there are no recordings or transcripts of exactly what was said, so we can't know. However, we can review the basic principles on this topic.
The first thing to say is that withholding absolution is a real possibility. When Jesus granted the power of absolution to the disciples, we read,
Jesus said to them again, "Peace be with you. As the Father has sent me, even so I send you." And when he had said this, he breathed on them, and said to them, "Receive the Holy Spirit. "If you forgive the sins of any, they are forgiven; if you retain the sins of any, they are retained" (John 20:21-23).
Jesus thus told the disciples that they needed to make a choice: to either forgive or retain sins.
He thus did not envision the disciples granting absolution in each and every case. Rather, he called upon them to make a decision—to exercise discernment, as our Jesuit friends would say.
Jesus thus envisioned the disciples withholding absolution in some cases, but on what basis? Obviously, as wrenching a decision as withholding absolution is not to be made capriciously or on a personal whim. So what would justify a priest in doing it?
In Scripture, the fundamental condition on which God forgives sin is repentance. If a person repents of his sins, God is willing to forgive. But if he clings to his sins, his salvation is in jeopardy.
This is the rational basis on which a priest can decide whether or not to absolve a penitent. If the individual has repented of his mortal sins, he is to be absolved, and if he has not repented of them, he is not.
The mere fact that an individual has come to a priest for confession indicates a desire for forgiveness, and it creates a presumption that the person is repentant. Confessing your sins is not fun, and subjecting yourself to the shame of doing so in order to be forgiven suggests that you regret what you did and have repented.
Therefore, in general, priests should presume that the individual has repented and absolve him. But the presumption of repentance can be overcome.
If a penitent behaves in the confessional in a way that is inconsistent with repentance, the priest is warranted in inquiring further—asking questions to see if the individual is repentant or not.
This can be a delicate matter. Many penitents recognize that, out of human frailty, they are likely to fall into the same sins in the future. But that does not mean that they are not repentant now. They may regret what they did, they may want not to sin in the future, and they may be hoping for grace—including the grace of confession—to help them not to sin, even though they are objectively likely to.
Such penitents are to be absolved as long as their will is currently turned away from sin.
But if the individual is genuinely non-repentant—showing no signs of contrition and being perfectly comfortable with committing mortal sin in the future—then denying him absolution is warranted.
Discerning this is a delicate enough matter that in some cases it could be advisable for a priest to check with his bishop.
Fortunately, stark unrepentance is rare when it comes to people going to confession, and—at least in the United States—the denial of absolution is very rare."
"The Church's ritual has the priest introduce confession with these words: "May God Who has enlightened every heart help you to know your sins and trust in His mercy."
As the Code of Canon Law (CIC) puts it, "individual and integral confession and absolution constitute the only ordinary means by which a member of the faithful conscious of grave sin is reconciled with God and the Church" (960). We need God's grace to recognize our sins, and the confessor is, by his office, an instrument of God's grace.
Occasionally, when a confessor has significant doubts as to a penitent's disposition, circumstances, Scripture, traditional pastoral practice, and canon law require a priest to deny absolution.
After the Resurrection, Jesus breathed on his new priests and said to them, "Receive the Holy Spirit. If you forgive the sins of any, they are forgiven; if you retain the sins of any, they are retained" (John 20:22-23).
Canon 987 reads, "To receive the salvific remedy of the sacrament of penance, a member of the Christian faithful must be disposed in such a way that, rejecting sins committed and having a purpose of amendment, the person is turned back to God."
Canon 980 reads, "If the confessor has no doubt about the disposition of the penitent, and the penitent seeks absolution, absolution is to be neither refused nor deferred."
Certain particularly grave sins impede the reception of the sacraments, and absolution cannot be granted until ecclesiastical authorities grant approval (see paragraph 1463 of the Catechism).
"Amen" is a solemn expression of our belief. It derives from the Hebrew verb aman, "to strengthen" or "to confirm." "Amen" concludes the Creed at Mass, and we can think of "amen" as the Creed in brief. Above all, "amen" is on our lips in response to "the body of Christ" immediately before we receive the body, blood, soul, and divinity of Jesus. Jesus gives Himself to us in friendship, and our "amen" opens our hearts, adorned by His grace, to Him and the entirety of His teaching.
"Anyone who desires to receive Christ in Eucharistic Communion must be in the state of grace. (Ed. My mother would regularly inquire of her children if they were, at that moment, in the state of grace.) Anyone aware of having sinned mortally must not receive Communion without having received absolution in the sacrament of penance" (CIC 1415). We must confess every mortal sin by kind and number—or an approximation, as we are aware—with a firm purpose of amendment. Confession restores our honesty and personal integrity and gives meaning to our "amen."
Yet, often, we cannot see our sins except after many years. The prophet Jeremiah says, "The heart is deceitful above all things, and desperately corrupt; who can understand it? 'I the Lord search the mind and try the heart, to give every man according to his ways, according to the fruit of his doings'" (Jer. 17:9-10). If God would reveal the entire burden of our deficiencies, perhaps our discouragement would be crushing and our sorrow unbearable. We are a work in progress.
The life of Bartolomé de las Casas, the Spanish missionary and Dominican priest, is a story of a spiritual and moral work in progress. Las Casas was the first to expose the oppression of the Indians by Spaniards in the Americas. He was also the first to agitate for the abolition of slavery. However, at one point, Las Casas suggested that African slaves substitute for Indian slaves. The suggestion conformed to cultural expectations. But with God's grace, Las Casas regretted the proposal. He took his "amen" seriously.
Las Casas tirelessly wrote books, tracts, and petitions, arguing his defense of the rights of the indigenous peoples of the Americas. He became an adviser to King Charles of Spain, who signed laws requiring Spaniards to free their slaves after a generation. It would take the English-speaking Americans another 300 years to free their slaves, and only after a brutal American Civil War.
Church bells tolled throughout Hispaniola upon news of the death of Las Casas in 1566. The Dominicans introduced his cause for canonization in 1976. In 2002, the Church began the process of his beatification.
Why this history? It may come as a surprise that the heroic life of Bartolomé de las Casas begins with a priest denying him absolution. A group of Dominican friars arrived in Santo Domingo in 1510, led by Pedro de Córdoba. They were appalled by the injustices of the slave owners and refused them absolution without a purpose of amendment. Las Casas—a slave-holder—was among those denied. The anonymous priest hearing the confession of a young Las Casas became a powerful instrument of God's grace.
The prophet Ezekiel proclaimed that we are responsible for the sins of others if we cooperate with them. "If I say to the wicked, 'You shall surely die,' and you give him no warning, nor speak to warn the wicked from his wicked way, in order to save his life, that wicked man shall die in his iniquity; but his blood I will require at your hand." But a priest saves his life when he judiciously denies absolution as a warning: "If you warn the wicked, and he does not turn from his wickedness, or from his wicked way, he shall die in his iniquity; but you will have saved your life." (Ezek. 3:18-19)
With academic study and pastoral experience, we can understand the conditions under which the refusal of absolution is essential to respect human freedom and provoke repentance. (Alas, some sins, such as forms of genital mutilation, cannot be physically reversed, but they can be reversed in a supernatural way by a sorrowful heart.) The possibilities are rooted in Scripture and the precepts of canon law. But the fundamental reason is also rooted in honesty and integrity when we receive Communion.
Denying absolution, under certain strict circumstances, provides clarity and discourages a lie when responding with the word "amen." Honest repentance accepts God's promise: "I, I am He Who blots out your transgressions for My own sake, and I will not remember your sins" (Isa. 43:25)."
Love, Lord, have mercy on me, for I am a sinful man,
Matthew