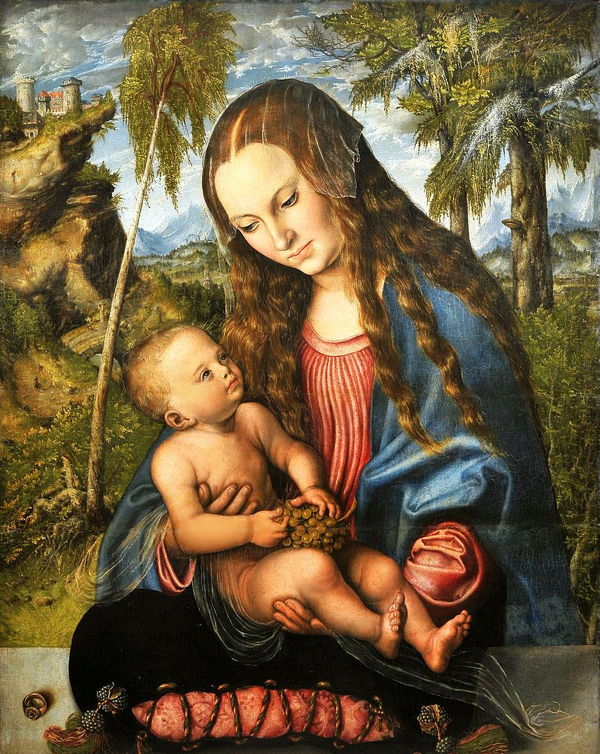 -Madonna under the fir tree, Lucas Cranach the Elder, 1510
-by Rev Gabriel of St Mary Magdalen, OCD, Divine Intimacy, Baronius Press, (c) 1964
Presence of God – O Mary, since you are really my Mother, make me your true and worthy child.
MEDITATION
When she consented to become the Mother of the Son of God, Mary bound herself by very close bonds not only to the person of Jesus, but also to His work. She knew that the Savior was coming into the world to redeem the human race; hence, when she agreed to become His Mother, she also agreed to become the closest collaborator of His mission. In fact, by giving us Jesus, the source of all grace, Mary collaborated most effectively and even directly in the diffusion of grace in our souls. "If Jesus is the Father of our souls," St. Alphonsus says, "Mary is their Mother, for, in giving us Jesus, she gave us true life; and later, by offering on Calvary the life of her Son for our salvation, she brought us forth to the life of divine grace."
As one woman, Eve, had cooperated in the losing of grace, so by a harmonious disposition of divine Providence, another woman, Mary, would cooperate in the restoration of grace. It is true that all grace comes from Jesus, who is the only source of grace and the one and only Savior; but, inasmuch as Mary gave Him to the world, and was intimately associated with His whole life and work, we can truly say that grace also comes from Mary. If Jesus is its source, Mary, according to St. Bernard, is its channel, the aqueduct which carries it to us. Since Jesus willed to come to us through Mary, so all grace and all supernatural life come to us through her. "This is the will of Him Who decreed that we should have everything through Mary" (St. Bernard). All that Jesus merited for us by strictest right, condignly, Mary has merited for us fittingly, congruously. The Blessed Virgin is then truly our Mother. When she brought forth Jesus, she brought us forth at the same time to the life of grace; we can address her in all truth: "Hail, holy Queen, Mother of mercy; our life, our sweetness, and our hope!"
COLLOQUY
"Oh blessed confidence, O sure refuge, you, the Mother of God, are my Mother! How can I fail to hope, since my salvation and my sanctity are in the hands of Jesus, my Brother, and Mary, my Mother?" (Cf. St. Anselm).
"O Mary, Mary, bearer of the fire of love, and dispenser of mercy! Mary, co-redemptrix of the human race, when you clothed the Word with your flesh, the world was redeemed. Christ paid its ransom with His Passion, and you paid it with the sorrows of your body and soul." (St. Catherine of Siena).
"O Mary, you are that garden enclosed, which contains the Giver of Life; God Himself is within you, with heaven and all creatures. The whole world is saved by the Blood received from you. Without you, O Mary, there would be no paradise for me; without you, there would be no God for me ….
"O Mary, how countless are the gifts and graces which you wish to bestow on creatures! And who would not want to receive them? It is perseverance in desiring them which is lacking; you, most loving Mother, do not offer gifts to your children when you see that they would not appreciate them and would throw them away; for you know that the guilt thus incurred would have to be punished later. O Mary, you want to grant me your gifts, but I deprive myself of them, because I want to mingle my gifts with yours. I should like to have your graces, but I want my own will at the same time, and so I cannot have them. I should like to have your good will, but also the love and kindness of creatures. I cannot have both. I want your love and my self-love, but this combination is impossible. I want to live under your mantle, but also under the mantle of my own comfort. Yet, it is not fitting to be delicate members of a thorn-crowned head; neither is it fitting for your children to seek their comfort under your mantle, O sweet Mother, when you had so little regard for your own comfort.
"O Mary, what can I offer and give you that will please you? If I offer you my will, I fear that you will not accept it, because it is not conformed to God's will. If I offer you my intellect, it is not enlightened; if I give you my affection, it is not pure. I offer you the Heart of your only Son! and a greater gift I cannot offer." (St. Mary Magdalen dei Pazzi).
Love,
Matthew