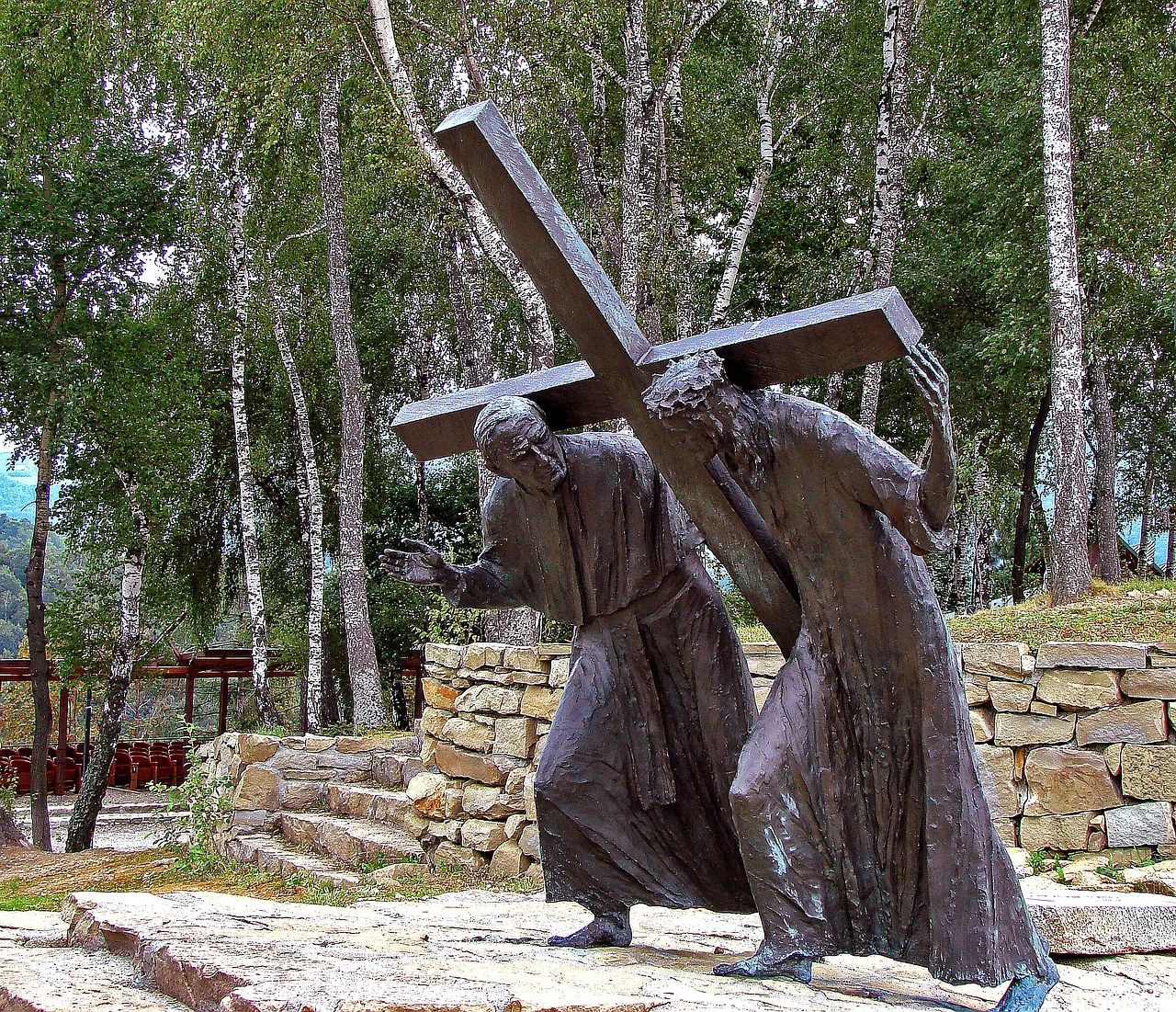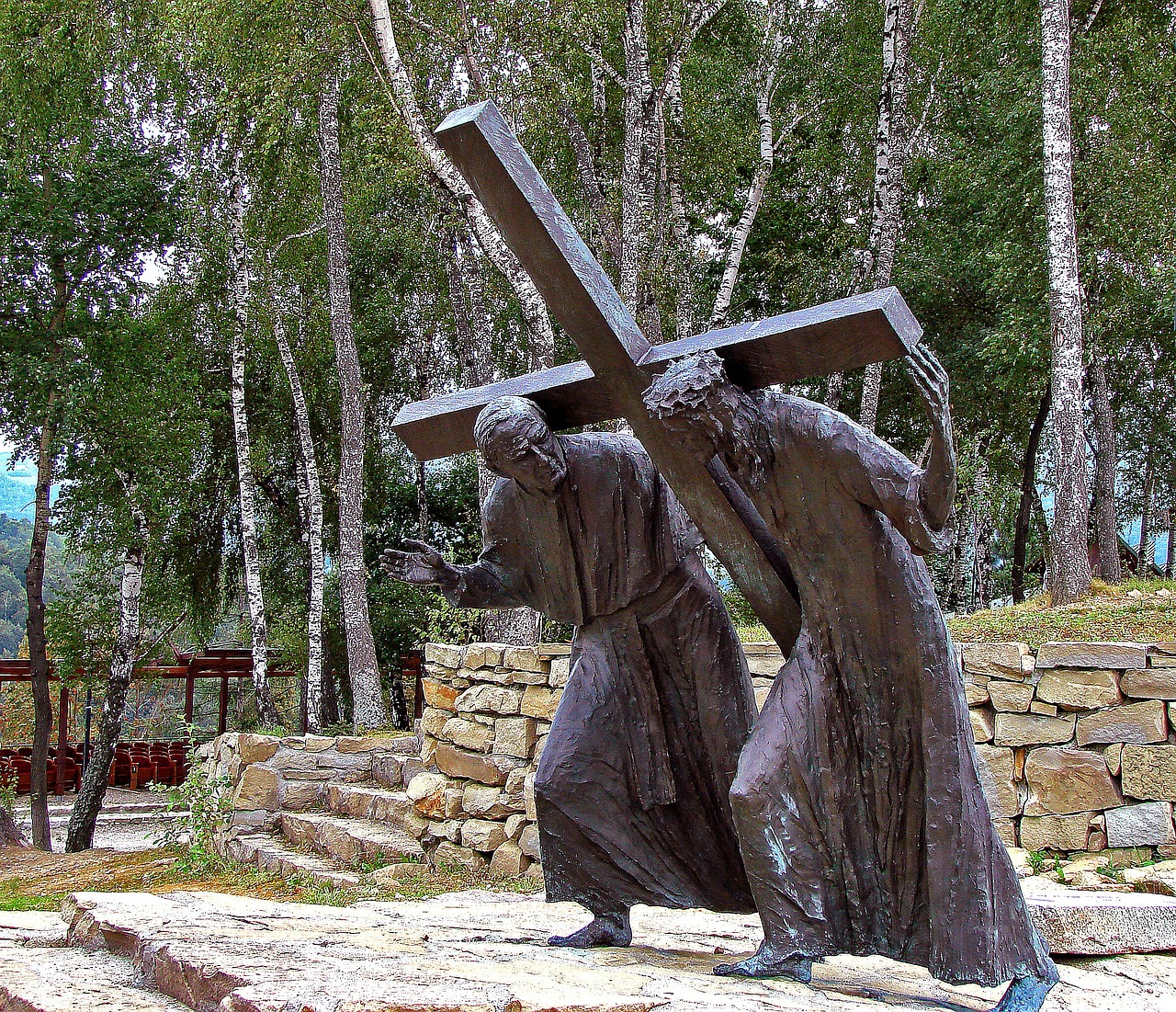 -Stations of the Cross, Pasierbiec, Poland, using Saints and other heroic Catholics from Poland. The Station in question thus substitutes Saint John Paul II in the place of Simon of Cyrene (fifth station).
"But he that shall persevere to the end, he shall be saved." (Matt. 24:13)
"But exhort one another every day, as long as it is called 'today,' that none of you be hardened by the deceitfulness of sin. For we share in Christ, if only we hold our first conviction to the end…." (Hebrews 3:13-14)
"Run in such a way as to get the prize." (1. Cor. 9:24)
One of the fundamental propositions of the Ignatian Exercises is to pray for the grace you need. Thus, if you are impatient, you should pray continually for the virtue of patience. Ask, and it shall be given to you (Luke 11:9). Now, paying heed to the immense wisdom of our Catholic spiritual heritage, it is incredibly prudent to pray for the most important grace of final perseverance. In his 750 page treatise, The Spiritual Life, Father Adolphe Tanquerey makes the following observation (p. 68):
"…final perseverance is a singular and priceless gift. We cannot merit it strictly speaking. To die in the state of grace in spite of all the temptations that assail us at the last hour, to escape these by a sudden and tranquil death – falling asleep in the Lord – this is truly in the language of the Councils the grace of graces. We cannot ask for it persistently enough. Prayer and faithful co-operation with grace can obtain it for us."
Still further, in the Theological Dictionary of Father Karl Rahner, SJ, et al, it is stated:
"It is the defined teaching of the Church that actual perseverance to the end (perseverantia finalis) is impossible without a special grace (D 832); it remains uncertain whether this later will be granted (D 826); it cannot be merited, but the Christian is to pray for it and cherish the firm hope of it."
The great Dominican and Thomist, Father Garrigou-LaGrange, OP*, says this: "Therefore, to obtain this grace of final perseverance, we should frequently unite ourselves with the Eucharistic consecration, the essence of the sacrifice of the mass, pondering on the four ends of sacrifice: adoration, supplication, reparation and thanksgiving" (Providence, p.331). This is quite a beautiful and powerful recommendation. He also mentions the advice of Pope Benedict XV to have a mass said while you are living for the grace of a happy death. Make the effort – it will be well worth it! – to have a mass said for you and your spouse (or sibling, etc.) to die in sanctifying grace.
The Sacred Heart of Jesus is mindful of our need for final perseverance (I recall the prayer Jesus said for Peter's perseverance at the Last Supper, Luke 22: 31-32, and also Judas' tragic fall from grace despite such a good beginning). One of the great promises of the Sacred Heart of Jesus to Saint Margaret Mary involves a special grace of final perseverance:
"I promise you in the excessive Mercy of My Heart that My all-powerful Love will grant to all those who communicate on the First Friday in nine consecutive months the Grace of Final Penitence; they shall not die in My disgrace nor without receiving the Sacraments; My Divine Heart shall be their safe refuge in this last moment."
Of this promise (quoted above) Father Garrigou-LaGrange states:
"We may here remind the reader of the great promise of the Sacred Heart, to those who receive Communion well on nine successive First Fridays. This promise, we have said, is absolute, that it supposes that Communion has been well made for these nine times. This would be, therefore, a grace given only to the elect." (Life Everlasting, p. 262).
-Tom Mulcahy, M.A.
* Father Garrigou-LaGrange once had a student named Karol Wojtyla (Pope St John Paul II, of recent memory)
=============
-by Rev Gabriel of St Mary Magdalen, OCD, Divine Intimacy, Baronius Press, (c) 1964
Presence of God – O Lord, make me persevere in seeking You and in serving You, in spite of all the difficulties which I may encounter.
MEDITATION
St. Teresa says that anyone who wishes to give himself to prayer with profit must make "an earnest and most determined resolve not to halt" on the way he has chosen. This means that we must give ourselves to prayer, not for a stated time only, but at all times, every day, all our life; let us not be dissuaded from prayer for any reason whatsoever. "Come what may, happen what will, let those complain who will, tire yourself as you must, but even if you die half-way along the road … tend always toward the goal" (Way of Perfection, 21). Let us ever remember that this goal is the living water promised by Jesus to those who sincerely thirst for Him and His love.
Without a strong, determined resolve, the soul will too often find more or less plausible reasons for neglecting prayer. Sometimes aridity will make the soul think that it is a waste of time to devote itself to an exercise from which it seems to draw no fruit, and that it would be better to use this time in good works. Sometimes, too, our numerous employments will seem to justify this idea. At other times, the feeling of our wretchedness—especially when we consider our want of fidelity to grace—will make us think ourselves unworthy of divine intimacy and that, therefore, it is useless to persevere in prayer. It should be evident that all these pretexts are suggestions of the enemy who, sometimes under the pretext of zeal for exterior works, sometimes under that of false humility or of waste of time, does all he can to draw souls away from prayer. "No temptation," declares St. Teresa, "is more serious" than this one, "and the devil does us the very greatest harm by it" (cf. The Book of Her Life, 7 – 8). Therefore, she insists: "One who has begun to make mental prayer must never give it up, in spite of the sins into which he may fall. Prayer is the means which will help him to rise. Without prayer, this would be more difficult. He should not allow himself to be deceived by the devil to abandon prayer under the pretext of humility" (The Book of Her Life, 8).
COLLOQUY
"O Lord, I know that in order that love be true and friendship lasting, equal conditions must exist between the two friends. I also know that there can be nothing wrong in You; while my nature, on the contrary, is vicious, sensual, and ungrateful … Hence I cannot love You as You deserve.
O infinite goodness of my God! I see who You are and who I am, and seeing how different You are from me, O joy of the angels, I long to be wholly consumed in love for You! How true it is that You bear with those who permit You to be with them! How good a friend You are to them! How You lavish Your favors upon them and bear with them, and wait until their ways become more like Yours. You remember the time spent in loving You, and at the first sign of repentance, You forget all their offenses. This I know from experience, and I do not understand, O my Creator, why the whole world does not strive to draw near You in this intimate friendship. The wicked, who are not like You, ought to come so that You may make them good, allowing You to be with them, at least two hours each day, even though they are not with You but with a thousand cares and thoughts of the world, as I used to be. In exchange for the effort which it costs them to want to be in such good company (for You know that in the beginning they cannot do more, nor afterwards sometimes) You force the devils not to attack them, and make the devils every day less strong against them, and give these souls strength to conquer them. Yea, Life of all lives, You slay none of those who put their trust in You and desire You for their Friend" (Teresa of Jesus, The Book of Her Life, 8).
O Lord, give me also that holy audacity which will make me always persevere in prayer, in spite of exterior and interior difficulties, aridities, weakness, and lack of correspondence with Your grace…. You will remedy all my ills."
Love,
Matthew