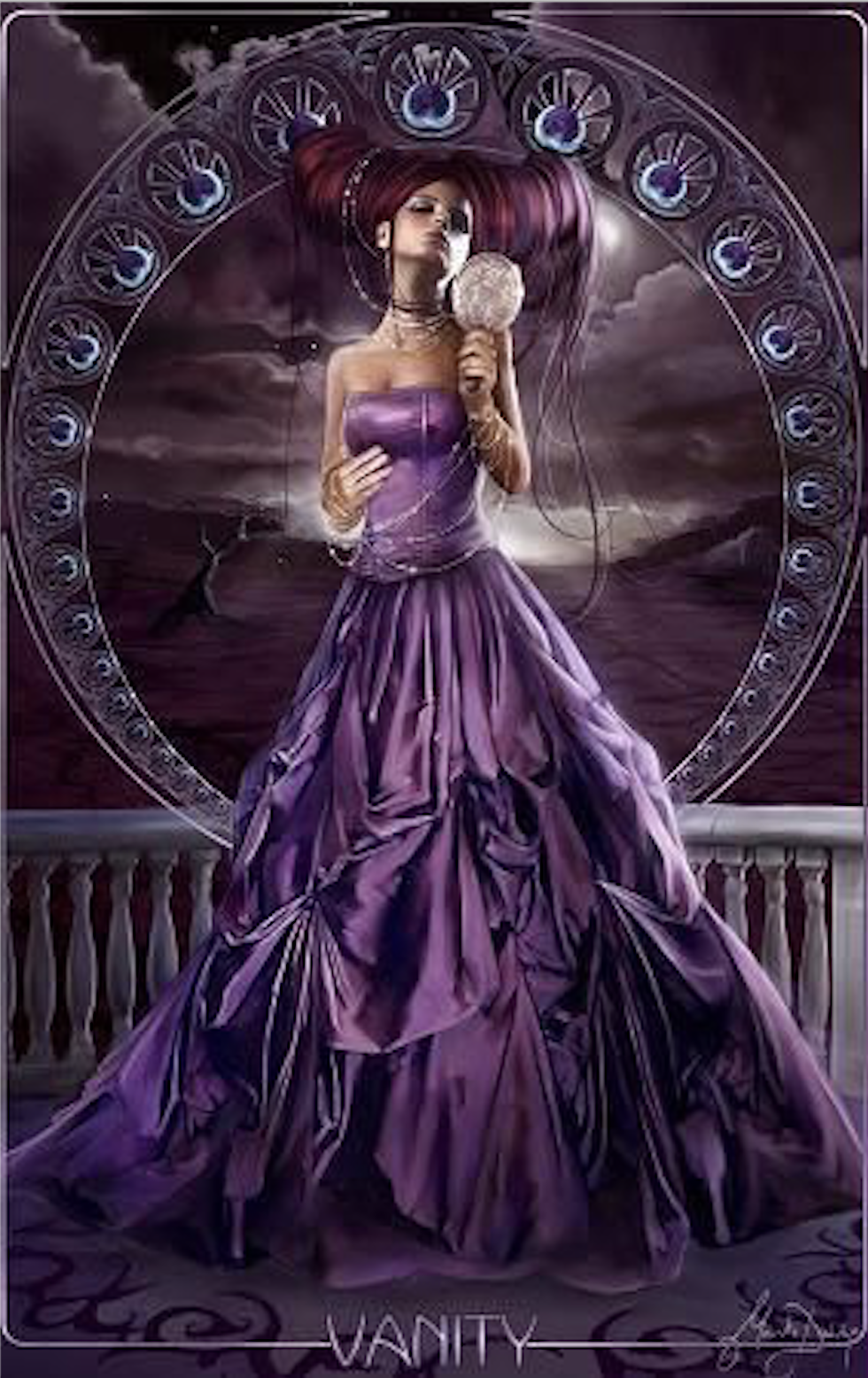 -"Wrath" by Polish artist Marta Dahlig, 12/19/04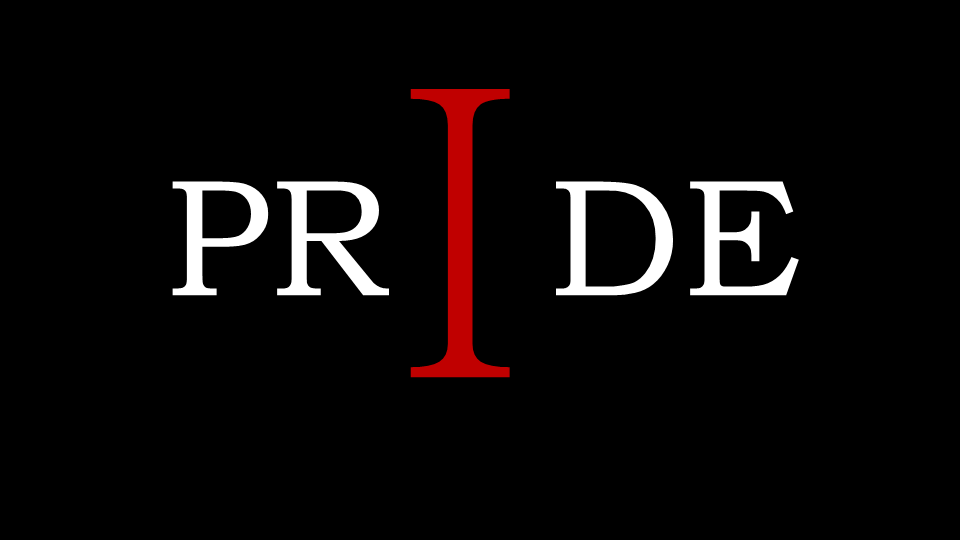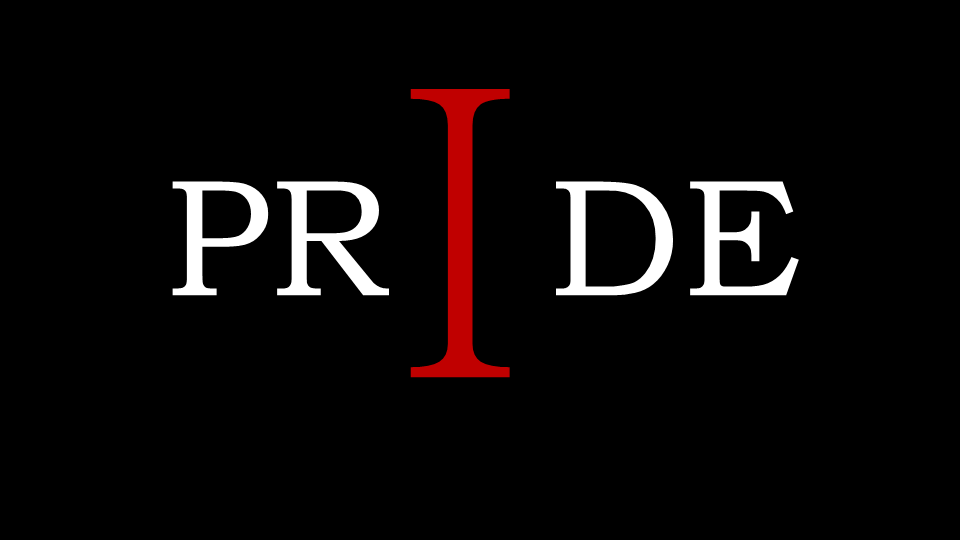 The Deadly Sins are listed by St. Thomas (I-II: 84:4) as:
Pride
Greed
Gluttony
Envy
(Saint Bonaventure (Brevil., III, ix) lists the same. The number seven was given by Saint Gregory the Great (Lib. mor. in Job.) XXXI, xvii), and held for most of the Middle Age theologists. Previous authors listed 8 Deadly Sins: Saint Cyprian (mort., iv); Cassian (instit caenob., v, coll. 5, de octo principalibus vitiis); Columbanus ("Instr. de octo vitiis princip."in"library. Max. vet. Patr. "(, XII, 23);" Alcuin (virtut et vitiis, xxvii and ff.))
In Dante's Divine Comedy, the prideful were made to walk around with their heads bowed while they were whipped.
Through Pride, Satan fell.
1 "The word of the LORD came to me: 2 "Son of man, say to the ruler of Tyre, 'This is what the Sovereign LORD says: " 'In the pride of your heart you say, "I am a god; I sit on the throne of a god in the heart of the seas." But you are a mere mortal and not a god, though you think you are as wise as a god. 3 Are you wiser than Daniel ? Is no secret hidden from you? 4 By your wisdom and understanding you have gained wealth for yourself and amassed gold and silver in your treasuries. 5 By your great skill in trading you have increased your wealth, and because of your wealth your heart has grown proud. 6 " 'Therefore this is what the Sovereign LORD says: " 'Because you think you are wise, as wise as a god, 7 I am going to bring foreigners against you, the most ruthless of nations; they will draw their swords against your beauty and wisdom and pierce your shining splendor. 8 They will bring you down to the pit, and you will die a violent death in the heart of the seas. 9 Will you then say, "I am a god," in the presence of those who kill you? You will be but a mortal, not a god, in the hands of those who slay you. 10 You will die the death of the uncircumcised at the hands of foreigners. I have spoken, declares the Sovereign LORD.' " 11 The word of the LORD came to me: 12 "Son of man, take up a lament concerning the king of Tyre and say to him: 'This is what the Sovereign LORD says: " 'You were the seal of perfection, full of wisdom and perfect in beauty. 13 You were in Eden, the garden of God; every precious stone adorned you: carnelian, chrysolite and emerald, topaz, onyx and jasper, lapis lazuli, turquoise and beryl. Your settings and mountings were made of gold; on the day you were created they were prepared. 14 You were anointed as a guardian cherub, for so I ordained you. You were on the holy mount of God; you walked among the fiery stones. 15 You were blameless in your ways from the day you were created till wickedness was found in you. 16 Through your widespread trade you were filled with violence, and you sinned. So I drove you in disgrace from the mount of God, and I expelled you, guardian cherub, from among the fiery stones. 17 Your heart became proud on account of your beauty, and you corrupted your wisdom because of your splendor. So I threw you to the earth; I made a spectacle of you before kings. 18 By your many sins and dishonest trade you have desecrated your sanctuaries. So I made a fire come out from you, and it consumed you, and I reduced you to ashes on the ground in the sight of all who were watching. 19 All the nations who knew you are appalled at you; you have come to a horrible end and will be no more.' " -Ezekiel 28:1-19
"…St. Thomas wrote that we encounter pride not principally in what we think, but in what we desire (ST II-II 162, a.1 ad 2). Through pride, someone desires something disproportionate. What one thinks does matter, however, since by coveting what exceeds him the proud man severs the strings of his swelling appetites from reality. Frequently because of this severing, he distorts his perception of himself and what is good for him. Instead, conceding both his deficiencies and his dignity, he ought humbly to tether his appetites to reality. "For which of you, intending to build a tower, does not first sit down and estimate the cost, to see whether he has enough to complete it? Otherwise, when he has laid a foundation and is not able to finish, all who see it will begin to ridicule him" (Luke 14:28-29).
Jesus identifies pride in the gospel of today's Mass: "You search the Scriptures, because you think you have eternal life through them; even they testify on my behalf. But you do not want to come to me to have life" (Jn. 5:31-47). The person of Jesus is simultaneously the greatest concession to human deficiency and the greatest affirmation of human dignity. Man rightly desires eternal life and knowledge of God, but he cannot attain these unless God holds him by his right hand. Jesus comes on account of our sinfulness and is the only one who can raise us to life with God. Yet the Pharisees want this life without Jesus.
Similarly, we may try to seek our happiness without Christ, but this is more than tenuous: it is impossible. In an era where human ingenuity has furthered the aims of human health, technology, and scientific knowledge, we have increasingly yielded to the desire to do without God both in society and in our daily lives. Nevertheless, in our quest for self-reliance we are increasingly confounded by questions of an ultimate nature and of a purpose to life…our grandiose desires result in less-than-picturesque outcomes. We either fall far short of our intended goal, or we despair, winding up unhappy. To remedy this, we must modify our desires. Of course we should desire nothing less than eternal happiness. Nevertheless, we should desire this with the help of grace and in the life to come. Jesus promises this happiness, and because we cannot attain it on our own, he gives us the grace. If we seek this grace, we can be confident that he will give it."
Love, pray for me to especially be given the grace to overcome this sin, this greatest of temptations mine. Lord, make me humble!!! (…with thanks to St Augustine, "But, not yet?" 🙂 )
Matthew