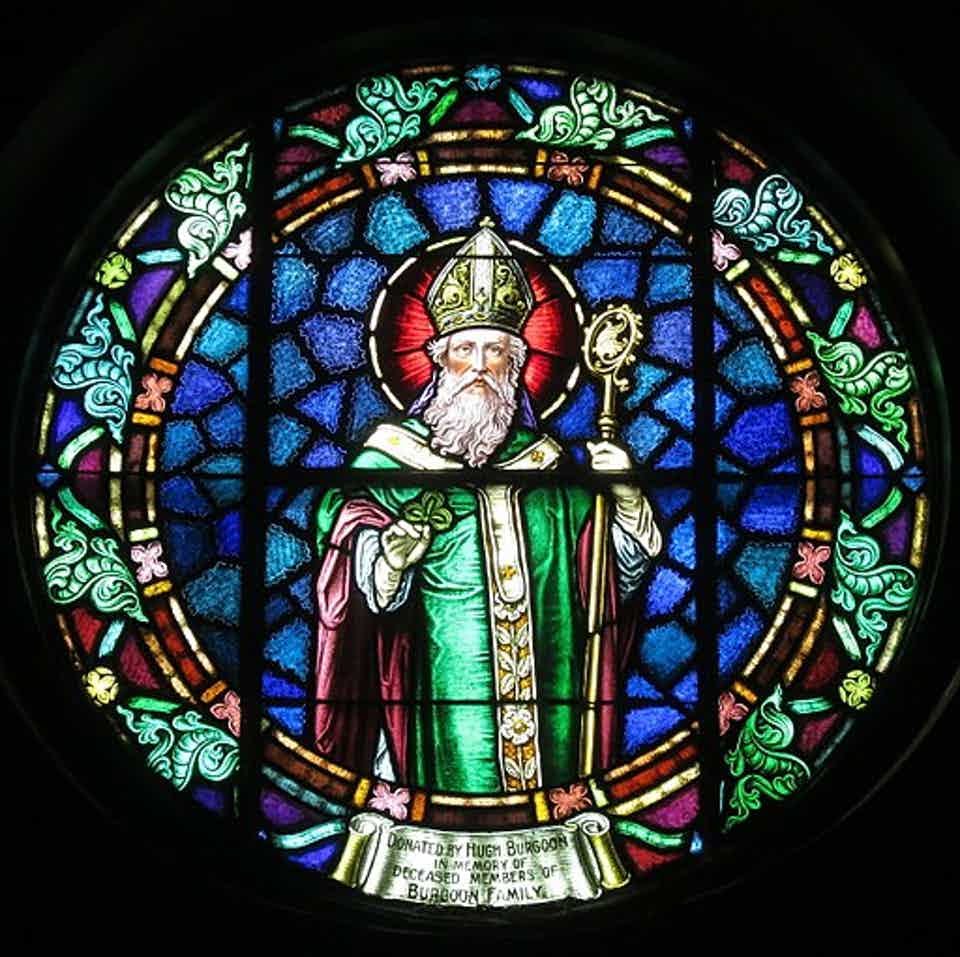 -please click on the image for greater detail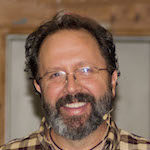 -by Dan Burke
"We have no difficulty in realizing the moral grandeur of St. Patrick's character, because it is revealed to us in all its features not only in his active life and labours, but even still more strikingly in his Confession. In the Confession, we see his character reflected as in a mirror, so that we can have no doubt as to what manner of man he was. It was written, he tells us, for that very purpose, to enable all his brethren and friends to know his 'quality'—scire qualitatem meam—and clearly see the workings of his heart. Hence it is not, and never was, designed to be in any sense a biographical memoir of the Saint. It does not deal with the external facts of his life (except incidentally), but with 'the fixed purpose of his soul'—votum animæ meæ. From this point of view, in spite of its rugged language and rude Latinity, it is a most beautiful revelation of Patrick's lofty character and exalted virtues.
"Hence it is that, apart from other considerations, and judging it by intrinsic evidence alone, all competent critics have recognised its authenticity. The language might be the work of a forger; but the spirit that breathes in every line is the manifest outpouring of a heart filled with the Holy Ghost, and inspired with one great purpose to live, and, if need be, to die, for the conversion of the tribes of Erin. We will not here enlarge on the critical proofs, both intrinsic and extrinsic, in favour of the authenticity of the Confession, because, as we have said, it has not been questioned, so far as we know, by any competent critic.
We said the Confession is a mirror which, consciously or unconsciously, reveals all the characteristic virtues of Patrick's noble character.
Humility
"First of all, as might be expected in the case of so great a saint, we note his wonderful humility. In his early youth he says he knew not the true God, with thousands of others he was carried into captivity
'as we deserved, because we did not keep God's commandments, and were disobedient to our priests, who admonished us about our salvation.'
It was in captivity that God opened the understanding of his unbelief so as to recall his sins to mind, and turn his whole heart to God. He was a stone sunk in the mire when God, in his mercy, raised him up and placed him in the topmost wall. At the end of the Confession, too, after recounting his labours in the cause of God, he emphatically declares that 'whatever little thing in his ignorance he had accomplished no one should think or believe it to be aught else than the gift of God.'
Prayer
"Then, again, Patrick is revealed to us in the Confession as a man who maintained at all times an intimate union with God by unceasing prayer. We can almost listen to the 'unspeakable groanings' of the Spirit of God communing with his soul. That wondrous spirit of prayer he first acquired in the woods on the slopes of Slemish, where a hundred times a day, and as many times at night, he bent his knees to pray in the midst of the frost and snow and rain; yet felt his spirit all aglow with divine fervour. In every crisis and in every danger his heart turned to God in prayer. During his long journeys from church to church he communed with God in silent prayer. It is said he read the whole psaltery every day with his religious family; and we know that he spent one whole Lent on the windy summit of Croaghpatrick, and another in a lonely island in Lough Derg, like our Saviour in the desert, wholly given to fasting and prayer. At Armagh he spent entire nights in prayerful vigils until his wearied body sought repose for a time before the dawn. 'His conversation was in heaven'; and it is no wonder at all that God's Angels spoke to him in familiar converse.
Zeal for the Salvation of Souls
"Another characteristic virtue of Patrick, exhibited in his whole life and labours and in the very striking language of his Confession, was his burning zeal for the salvation of souls, and his passionate love for the flock committed to his charge by God. In this respect there is a very striking resemblance between the Irish Apostle and the Doctor of the Gentiles [St. Paul]. Though most anxious to revisit his native country and friends in Britain, and to see once more the faces of his brethren, the saints of God in Gaul, he felt himself constrained by the Holy Spirit to remain in Ireland, lest he should lose any part of the fruit of his labours during his absence. He declares that for the sake of his flock he was ready to shed his blood and let his body be cast out, unburied, to be torn by wild beasts and birds of prey, and to drink to the dregs the chalice of Christ, his Lord, rather than he should lose any of the flock which he had gained for God at the ends of the earth. In the Epistle to Coroticus we find him animated with the same passionate love for his flock—"My brothers and my children, most beautiful and most loving"—he cries out in grief and bitterness of heart, "whom I have begotten for Christ, what can I do for you? am I unworthy in the sight of God and men to be able to help you?"
Detachment
"For their sake, too, lest the infidels should have any grounds for defaming his ministry, or impeding the progress of the Gospel and the salvation of souls, he declares that he gave his ministry to all without fee or reward, except what he hoped to obtain in heaven. "Though I have baptised so many thousands of men did I ever hope to get from them so much as half a scruple? Tell me when, and I will restore it. Though God ordained so many clerics throughout the land through my poor ministry, did I ever ask from any of them the price of my sandals?—tell me and I will restore it." Disinterestedness like this is quite equal to that of St. Paul, and conveys a no less striking lesson for all Patrick's successors in the ministry of the Irish Church. Is it any wonder that the people of Ireland, with the knowledge of these facts in their minds from the beginning, should love their great Apostle with a deep and passionate love which is certainly not excelled in the case of any other saint in the Calendar, except the Blessed Virgin Mary."
*from Healy, J. (1905). The Life and Writings of St. Patrick with Appendices, Etc. (pp. 544–546). Dublin; New York: M. H. Gill & Son; Sealy, Bryers & Walker; Benziger Brothers.
-from https://theconversation-com.cdn.ampproject.org/c/s/theconversation.com/amp/10-things-to-know-about-the-real-st-patrick-92253
Patrick heard voices
While chasing sheep on the hills, Patrick prayed a hundred times a day, in all kinds of weather. It paid off. One night a mysterious voice called to him, saying, "Look, your ship is ready!" Patrick knew he wasn't hearing sheep. The time was right for his escape.
Patrick refused to 'suck a man's breasts'
St. Patrick Catholic Church, Ohio. Nheyob (Own work).
Patrick made his way to Ireland's east coast and sought passage on a ship bound for Britain. The captain, a pagan, didn't like the look of him and demanded that Patrick "suck his breasts," a ritual gesture symbolizing acceptance of the captain's authority. Patrick refused – instead he tried to convert the crew.
For some reason, the captain still took him aboard.
Patrick had visions
One night Patrick dreamed that Satan tested his faith by dropping an enormous rock on him. He lay crushed by its weight until dawn broke, when he called out, "Helias! Helias!" – the name of the Greek sun god. The rock disappeared. Patrick took it as a kind of epiphany. He later wrote:
"I believe that I was helped by Christ the Lord."
Patrick had other peculiar visions, too. Back home at Bannavem Taburniae, he was visited by an angel with a message from the Irish: "We beg you, Holy Boy, to come and walk again among us." He trained as a bishop and went back to Ireland.
Patrick did something unmentionable
Years into his mission, someone, it seems, told a dirty secret about Patrick to his fellow bishops. "They brought up against me after thirty years something I had already confessed … some things I had done one day – rather, in one hour, when I was young," he wrote.
Patrick did not tell us what he did – worship idols? Engage in a forbidden sexual practice? Take gifts from converts?
Whatever it was, Patrick retrospectively understood his zealous Irish mission to be penance for his youthful sins. While he spread Christianity around Ireland, he was often beaten, put in chains or extorted. "Every day there is the chance that I will be killed, or surrounded, or taken into slavery," he complained.
Patrick duelled with druids
Two centuries after his death, Irish believers wanted more exciting stories of Patrick's life than the saint's own account.
One legend (written 700 A.D.) described Patrick's contest with native religious leaders, the druids. The druids insulted Patrick, tried to poison him and engaged him in magical duels – much like students of Harry Potter's Hogwarts – in which they competed to manipulate the weather, destroy each other's sacred books and survive raging fires.
When one druid dared to blaspheme the Christian God, however, Patrick sent the druid flying into air – the man dropped to the ground and broke his skull.
Patrick made God promise
Another legend from around the same time tells how Patrick fasted for 40 days atop a mountain, weeping, throwing things, and refusing to descend until an angel came on God's behalf to grant the saint's outrageous demands. These included the following: Patrick would redeem more souls from hell than any other saint; Patrick, rather than God, would judge Irish sinners at the end of time; and the English would never rule Ireland.
We know how that last one worked out. Perhaps God will keep the other two promises.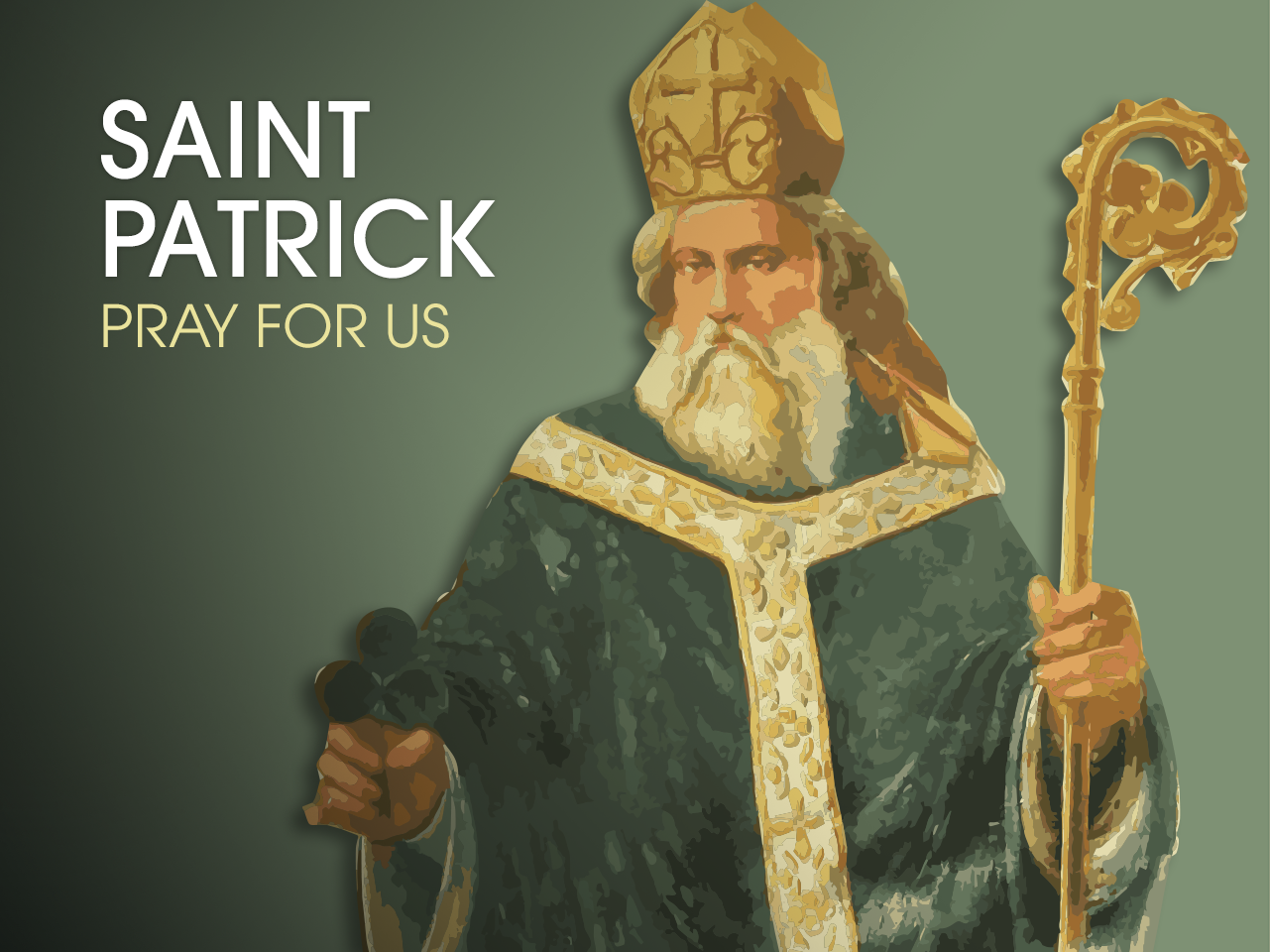 Love & begorrah!!!!
Matthew