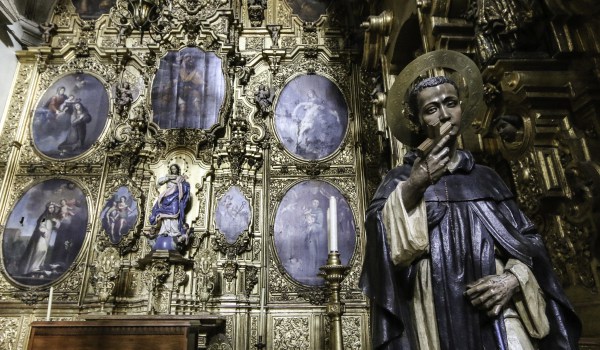 -statuary of St Martin de Porres, OP, Mexico City Cathedral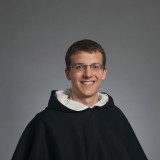 -by Br Martin Davis, OP, Br Martin was born in Georgia, attended college in Michigan, and there converted to the Catholic faith.
"Saint Martin de Porres is often seen in statues, stained glass, and pictures holding a broom and a crucifix, with a Rosary around his neck and animals at his feet. His fellow friars knew of the deep devotion he had to the Rosary, similar to his fellow cooperator brother, friend, and contemporary Saint Juan Macias. The animals depicted next to Saint Martin relate to the many stories of his communication with and compassion toward animals. The broom and crucifix represent, respectively, his practical work around the priory and his devotion to Jesus Christ crucified. By the wood of both the broom and the cross, Saint Martin sought to conform himself to Christ and achieve union with God.
Saint Martin de Porres was born in 1579 as the illegitimate son of a Spanish nobleman and a freed slave. He grew up in poverty, but when his father officially recognized him as his son, he was trained as a barber-surgeon. He faced a great deal of ridicule for being of mixed race, but Saint Martin was known for his patience in the face of insults. Because the law of Peru at the time banned Saint Martin from becoming a full member of a religious order on account of his race, he humbly accepted a lay position helping out at a Dominican priory.
Later he was offered the habit as a cooperator brother despite the law against doing so and despite his initial refusal due to humility. As a Dominican friar he attended to the sick within the infirmary of the priory. His superiors also placed him in charge of distributing alms to the poor. Despite his many responsibilities, he found a great deal of time to spend in prayer, sometimes with some divine assistance in the form of bilocation. After many years of service, Saint Martin died at the age of 59 on November 3, 1639.
While the tree of knowledge in the Garden of Eden looked very appealing to the eyes of Adam and Eve, the cross of Jesus Christ, revealed as the true tree of life, does not appeal to us in the same immediate way. But Saint Martin knew that in a world with great poverty, illness, racial prejudice, and many other hardships, mankind could find something appealing, on a deeper level than the tree of knowledge, in the cross of Jesus Christ.
Cooperator brothers, like their priestly counterparts, make vows that consecrate them to God. Through God's grace, Saint Martin perfected that consecration over his lifetime by embracing the wood of the broom and the wood of the cross.
Although early in life he wanted to go to a mission territory and die a glorious martyr's death, he instead poured himself into prayer and penance to bring himself closer into the love of God. That divine love then poured over into his help of the poor and the sick. In light of this, the depictions of Saint Martin clutching the crucifix to his heart represents his conformity to Jesus Christ through prayer and penance, while the broom represents the service he offered that flowed from his union with God. Saint Martin's hands were no strangers to the rough grain of the wood present in both these instruments. Saint Martin's crucifix and broom were types of the tree of life, that is, the cross of Jesus Christ.
Saint Martin de Porres and Saint Catherine of Siena (whose feast is today – Apr 29) can also be taken together to form a bridge of solidarity between cooperator brothers and the apostolic sisters of the Dominican Order.
Both Saint Martin and Saint Catherine worked to help the poor and the sick. Both were also consulted by bishops. Saints Martin and Catherine, like the cooperator brothers and apostolic sisters of today, found their identity in religious consecration. They turned themselves over to prayer and penance to find union with God, and then shared that love with others in various ways.
Caring for the sick was a part of the life of Saint Martin and Saint Catherine, and that tradition continues to this day. For instance, Brother Ignatius Perkins and Brother Joe Trout, from, respectively, the Eastern and Central Provinces of Dominicans, are registered nurses that bring the love and mercy of Jesus Christ to the suffering. Through Saint Martin's powerful intercession, we can pray that the love of God can continually spill over into all of our service to others for years to come."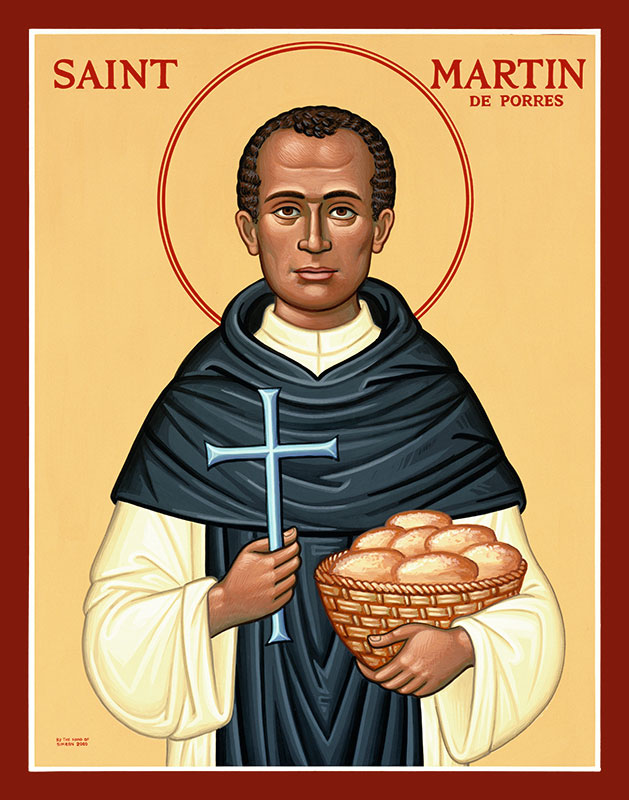 Prayer to St Martin de Porres, OP
To you St Martin de Porres we prayerfully lift up our hearts filled with serene confidence and devotion. Mindful of your unbounded and helpful charity to all levels of society and also of your meekness and humility of heart, we offer our petitions to you. Pour out upon our families the precious gifts of your solicitous and generous intercession; show to the people of every race and every color the paths of unity and of justice; implore from our Father in heaven the coming of His kingdom, so that through mutual benevolence in God, men may increase the fruits of grace and merit the rewards of eternal life. Amen.
Love,
Matthew