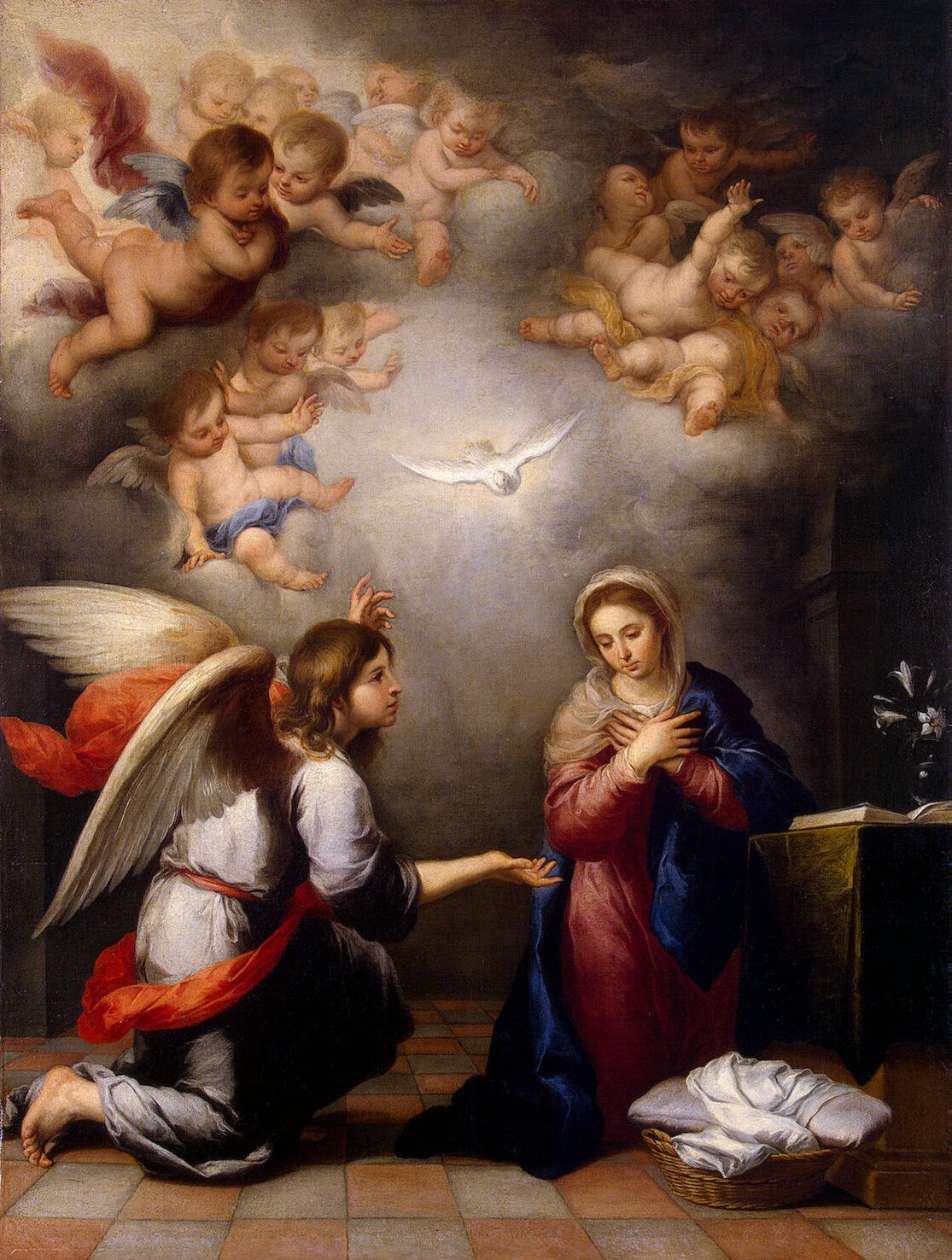 -Annunciation, 1655, by Bartolomé Esteban Perez Murillo
Among the early doctors of the Church, Saint Jerome is the staunchest defender of Saint Joseph's honor and integrity. For he clarifies that Joseph feared to take Mary home as his wife not out of any fear that Our Lady had in any way sinned. Rather, Saint Joseph, the son of David, shared his royal ancestor's fear of coming into overly close contact with the Tabernacle of the Lord, the Ark of the Covenant, wherein God dwells. "Who am I," asked King David, "that the Ark of the Lord should come to me?" (2 Sam. 6:9).
"…Uzzah reached out and took hold of the ark of God, because the oxen stumbled. The LORD's anger burned against Uzzah because of his irreverent act; therefore God struck him down, and he died there beside the ark of God…David was afraid of the LORD that day and said, "How can the ark of the LORD ever come to me?" He was not willing to take the ark of the LORD to be with him in the City of David. Instead, he took it to the house of Obed-Edom the Gittite. The ark of the LORD remained in the house of Obed-Edom the Gittite for three months, and the LORD blessed him and his entire household. Now King David was told, "The LORD has blessed the household of Obed-Edom and everything he has, because of the ark of God." So David went to bring up the ark of God from the house of Obed-Edom to the City of David with rejoicing…Wearing a linen ephod, David was dancing before the LORD with all his might, while he and all Israel were bringing up the ark of the LORD with shouts and the sound of trumpets."
-2 Sam 6:6-7, 9-12, 14-15
Joseph, believing fully that Mary had conceived by the power of God's Spirit, feared to bring her into his home lest he be overcome by the majesty of the divine mystery and overwhelmed by the presence of such sanctity. This is why he chose to honor Mary's secret, not to expose her mystery. His decision not to bring her into his home was born not out of envy but out of reverential fear. In this view, Saint Jerome is supported by the Mellifluous Doctor, Saint Bernard of Clairvaux.
Love,
Matthew