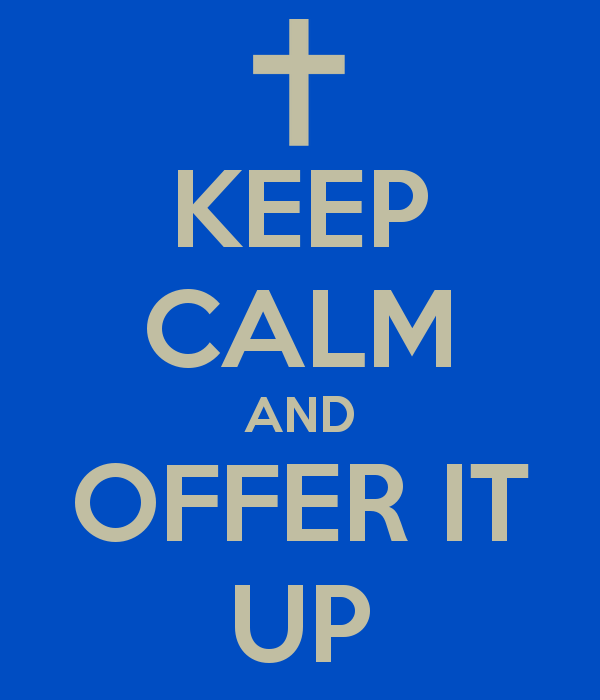 -by Lliana Mueller
"Lent causes suffering. The small (perhaps large to us) sacrifices that we make are meant to bring us closer to the cross. They are meant to bring us to greater reliance on Jesus instead of whatever it is we've chosen to give up. We can also "offer up" our myriad annoyances and sufferings, or the fact that we've committed not to eating chocolate and there is a chocolate birthday cake in the break room. These offerings can benefit our loved ones or the greater world. Your current suffering might involve feeling constantly exhausted due to the demands of caring for young children that don't sleep through the night. Maybe you're a student spreading yourself thin with academics, jobs, and extracurriculars. No matter your current state in life and the challenges that have come with it, at any given moment there is always someone suffering much, more more.
Naturally, we try to avoid suffering. It isn't pleasant. When we've experienced one setback after another, or a day when absolutely every moment seems filled with a disaster, it's easy to feel "woe is me." We are human and need to process our frustrations, and at times may need to take steps to change a situation. But the moment we begin to dwell on the negatives is the moment where selfishness creeps in and we become the most important person. We forget the sufferings of so many brothers and sisters, both within our own circles and throughout the entire world. Instead of spiraling into bitterness about the sufferings that we have been asked to carry, or even put upon ourselves in some way, what if we remembered the suffering of someone else? What if we "offered it up," benefitting another human being? In the process, we, too, can become better people.
Let's take a look at the Catechism of the Catholic Church. Though this paragraph is about illness specifically, I believe it can apply to suffering in general and how it hinders or helps us.
"Illness can lead to anguish, self-absorption, sometimes even despair and revolt against God. It can also make a person more mature, helping him discern in his life what is not essential so that he can turn toward that which is. Very often illness provokes a search for God and a return to him." (¶1501, Catechism of the Catholic Church)
As I gripe about car problems and issues at work, I forget that having a job and a car are luxuries. A stable job that allows one to support a family shouldn't be a luxury, but sadly these days it is. Poverty is a stark reality for millions of people throughout the world. Jobs that will support a family in third world countries are scarce, and many times when food is available, parents make the choice to feed their children and go without. Some people walk hours to their jobs that barely pay. Many in the United States involuntarily rely on public transit systems that can be unreliable and add large amounts of time to a commute, and that may force them to stand outside in sub-zero temperatures in order to keep a roof over their family's head. Most of what we complain about is actually a blessing, and too often we forget that.
As we finish up this Lent and walk into Holy Week, let's finish strong. Let's allow our small burdens to mature us and also, in some way unknown to us, benefit our suffering brothers and sisters. May we embrace the cross and have a greater realization of Jesus' love for us, as well as the immense sufferings that so many people throughout the world carry daily."
Love & compassion,
Matthew