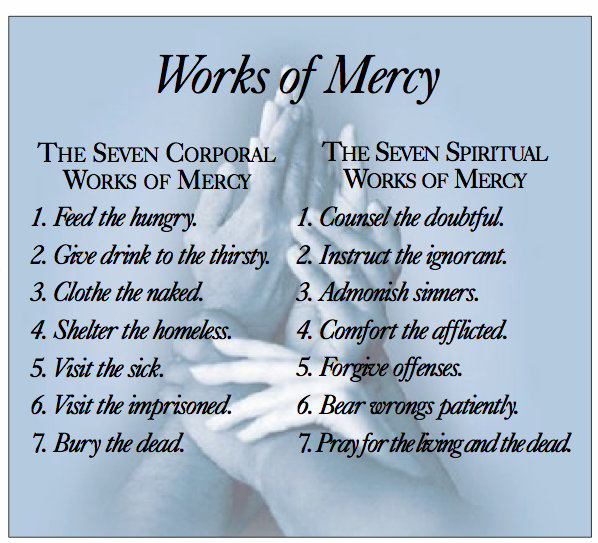 -by Nicene Guy
"One of the pillars of Lent is almsgiving (and by extension, almsdeeds). On the surface, almsgiving and almsdeeds mean only to give away money or goods to those in need. However, almsdeeds go beyond this: they are the works of mercy. I will be posting about the works of mercy each week during Lent, pairing one spiritual work of mercy with one corporal work of mercy and then offering my thoughts on the pair. I will begin these reflections with an introductory essay about the nature of mercy.
Preliminary Remarks: On Justice, Mercy, and Salvation
Justice means to give to another that which is his due. It is not always comforting to us, in that it sometimes requires some sacrifice on our part: it may cost us something sometimes, but the cost is something which we owe to another.
Mercy goes beyond this. It is sorrow over another's distress and an attempt to alleviate or relieve that distress. It is a fruit of charity, and can be related to sympathy, which is the sorrow for another's sorrow which makes the other's sorrow one's own. Whereas justice sometimes comes with a cost, and while that cost is owed to the other, mercy always comes at a price, albeit a price which does not need to be paid in the sense of being owed from one person to another. We always run the risk of joining the other in his suffering, or even of taking that suffering from him by taking it on ourselves, in which way we follow the example of our Lord.
It should be noted, on the other hand, that sometimes an act of mercy is also an act of justice. Thus, for example, all people have the right to life and to the basic necessities of food and water and clothing. However, to provide these things for another is an act of mercy on the part of the provider which does justice to the recipient. It might be added that what counts as mercy towards man is at the same time justice to God: "Make mercy your sacrifice…" Indeed, our very creation is but an act of mercy and an act of justice–we need not exist, so God is merciful to create us at all; but since He has made such things as intellect and will parts of our nature as human beings, there is an act of justice involved in creating each individual human person with these aspects [1].
Further, showing mercy to others is what in the end results in our obtaining mercy for ourselves: "Blessed are the merciful, for mercy shall be theirs" (Matthew 5:7). Indeed, this is what we will be judged on, as Christ warns us in his parable of the sheeps and the goats (also called His Discourse on the Judgment of the Nations).
We see in this passages several explicit works of mercy which pertain primarily to our bodily needs, and (reading more deeply) some explicit works which pertain more to the needs of the soul or spirit.
Two Types of Mercy
Most of the Corporal Works of Mercy are a bit more obvious (see the parable of the sheep and the goats).
There is mercy towards the body, and mercy towards the soul. The former are more obviously merciful, and often relates to our survival in this life. The latter are less obvious, and less obviously important for our survival, but in the long run are the more important because they pertain to good living in this life and to our survival in the next life. There are seven acts of mercy which pertain to the body (The Corporal Works of Mercy) and seven which pertain to the soul (The Spiritual Works of Mercy).
It is worth quoting the Baltimore Catechism here, which tells that that "We must take more care of our soul than of our body, because in losing our soul we lose God and everlasting happiness…To save our souls we must worship God by faith, hope, and charity; that is, we must believe in Him, hope in Him, and love Him with all our heart" (BC2 Q8-9). Charity towards God includes charity towards our neighbors; this charity takes the form of the works of mercy.
There are seven each of the Corporal and Spiritual Works of Mercy:
The Corporal Works of Mercy:
To feed the hungry;
To give drink to the thirsty;
To clothe the naked;
To harbour the harbourless;
To visit the sick;
To ransom the captive;
To bury the dead.
The Spiritual Works of Mercy:
To instruct the ignorant;
To counsel the doubtful;
To admonish sinners;
To bear wrongs patiently;
To forgive offences willingly;
To comfort the afflicted;
To pray for the living and the dead.
While Christ specifically names the corporal works of mercy (minus burial of the dead) during his Judgment of the Nations account, the spiritual works of mercy are generally more important still. Saint Thomas Aquinas tells us that:
"There are two ways of comparing these almsdeeds. First, simply; and in this respect, spiritual almsdeeds hold the first place, for three reasons. First, because the offering is more excellent, since it is a spiritual gift, which surpasses a corporal gift, according to Proverbs 4:2: 'I will give you a good gift, forsake not My Law.' Secondly, on account of the object succored, because the spirit is more excellent than the body, wherefore, even as a man in looking after himself, ought to look to his soul more than to his body, so ought he in looking after his neighbor, whom he ought to love as himself. Thirdly, as regards the acts themselves by which our neighbor is succored, because spiritual acts are more excellent than corporal acts, which are, in a fashion, servile.
Secondly, we may compare them with regard to some particular case, when some corporal alms excels some spiritual alms: for instance, a man in hunger is to be fed rather than instructed, and as the Philosopher observes (Topic. iii, 2), for a needy man 'money is better than philosophy,' although the latter is better simply" (Summa Theologica II-II.32.2).
As it turns out, the Spiritual Works of Mercy are metaphorically implied in the enumeration of the Corporal Works of Mercy.
In the next seven posts in this series, I will discuss each of the works briefly in turn. It turns out that each of the Corporal Works of Mercy pairs somewhat naturally (and metaphorically) with one of the Spiritual Works of Mercy. I will therefore go in order of the Corporal Works of Mercy, and then discuss the paired Spiritual Work of Mercy, which means that I will have to re-order the Spiritual Works of Mercy slightly.
—Footnotes—
[1] For that matter, Christ's Passion, Death, and Resurrection are collectively a work of mercy towards mankind, and at the same time are acts which satisfy the sometimes harsh demands of justice.
Love & always in need of His mercy,
Matthew