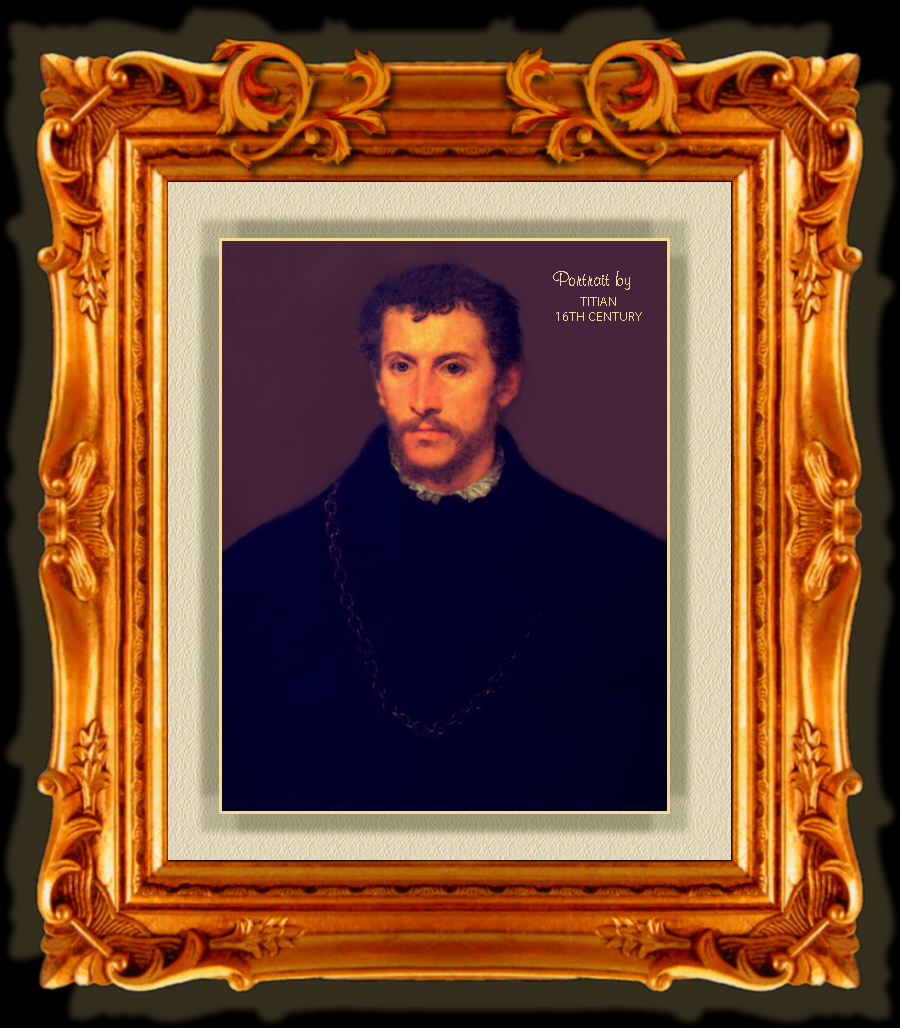 The name Edmund is a very special Christian name for the McCormicks.  McCormick/Diamond men often have the name Edmund as either a first or middle name.
Shortly after dawn on July 18, 1581, the cry went out: "I have found the traitors!" With a crowbar the false wall at the head of the stairs was torn away, revealing the huddled figures of Edmund Campion and two companions, three priests lately returned to their native England to minister to those resisting the oppression from the new Anglican Church. Their discovery set them upon the path to martyrdom.
Edmund Campion gave up a promising career at Oxford and the favor, praise, and adulation of the Queen of England and her court to become a Catholic priest and to minister to Catholics in desperate need of spiritual nourishment and of the sacraments but stranded in a hostile, deadly, and Protestant England.
Edmund Campion was born on January 25, 1540 into an England of religious and social upheaval. His Catholic parents later became Protestant.  Protestantism had usurped the Catholic Church as the spiritual authority; the dissolution of monasteries and the suppression of Catholic beliefs and believers intensified as land-hungry nobles and men of power continued, in the name of the young, sickly Edward VI, the transformation begun by Henry VIII.
Campion was 13 and the most promising scholar at Christ's Hospital school in London when he was chosen to read an address to the Catholic Mary Tudor, in Latin, upon her arrival in London as queen in 1553. Campion received a scholarship to Oxford at age 15, and, by the time Elizabeth rose to power ("restoring" Protestantism as the national religion) upon Mary's death in 1558, he was already a junior fellow.
At Oxford, Campion's erudition, charisma, and charm gained him notoriety; his students even imitated his mannerisms and style of dress.  They called themselves "Campionites".  Queen Elizabeth visited in 1566 and for her entertainment was treated to academic displays. Campion, the star of the show, single-handedly debated four other scholars and so impressed the queen that she promised the patronage of her advisor (and one of the principal architects of the Reformation in England) William Cecil, who referred to Campion as the "diamond of England."  So taken was the queen with the young Campion, and Edmund's vanity fed by the adulation of the Queen and her court, he took the Oath of Supremacy and became an Anglican deacon.  There were even whispers possibly of the Archbishopric of Canterbury in his future.
It was the hope of the crown that Campion would become a defender of the new faith which, though favored by the temporal power, lacked learned apologists. Yet even as he was ordained to the Anglican diaconate, he was being swayed toward Rome, influenced in great part by older friends with Catholic sympathies.
At the persuasion of Richard Cheyney, Bishop of Gloucester, although holding Catholic doctrines, he received deacon's orders in the Anglican Church. Inwardly "he took a remorse of conscience and detestation of mind." Rumors of his opinions began to spread and he left Oxford in 1569 and went to Ireland to take part in a proposed establishment of the University of Dublin.
Campion was appointed tutor to Richard Stanihurst, son of the Speaker of the Irish parliament, and attended the first session of the House of Commons, which included the prorogation. Campion was transferred by Stanihurst's arrangement to the house of Christopher Barnewall at Turvey in the Pale, which he acknowledged saved him from arrest and torture by the Protestant party in Dublin.
For some three months he eluded his pursuers, going by the name "Mr Patrick" and occupying himself by writing a history of Ireland.  At this point Campion was at the summit of his powers. He could have risen to the highest levels of fame had he stayed his course. But this was not to be. By the time Campion left Ireland, he knew he could not remain a Protestant.
Campion's Catholic leanings were well-publicized, and he found the atmosphere hostile upon his return to England in 1571. He went abroad to Douay in France, where he was reconciled with the Church and decided to enter the Society of Jesus. He made a pilgrimage to Rome with the intention of becoming a Jesuit.  He was assigned to the Austrian Province and to Prague, where he lived and taught for six years and in 1578 was ordained a Jesuit priest.  He might well have expected to remain there the rest of his life.
In 1580 he was called by superiors to join fellow Jesuits Fr. Robert Parsons & Br. Ralph Emerson in leading a mission to England. He accepted the assignment joyfully, but everyone was aware of the dangers. The night before his departure from Prague, one of the Jesuit fathers wrote over Campion's door, "P. Edmundus Campianus, Martyr."  That sounds so much like the living Jesuits I know and love today.  Jesuit sense of humor.  Always a bit dark, sardonic, if you've never experienced it.  🙂
English spies in Flanders learned of their impending departure and informed the English ports of entry, who awaited their arrival. Campion crossed the English Channel as "Mr. Edmunds," a jewel dealer. His mission was nearly a short one: At Dover a search was underway for Gabriel Allen, another English Catholic expatriate who was rumored to be returning to England to visit family. Apparently Allen's description fit Campion also, and he was detained by the mayor of Dover, who planned to send Campion to London. Inexplicably, while waiting for horses for the journey, the mayor changed his mind, and sent "Mr. Edmunds" on his way.
Upon reaching London, Campion composed his "Challenge to the Privy Council," a statement of his mission and an invitation to engage in theological debate. Copies spread quickly, and several replies to the "Challenge" were published by Protestant writers, who attached to it a derogatory title, "Campion's Brag," by which it is best known today.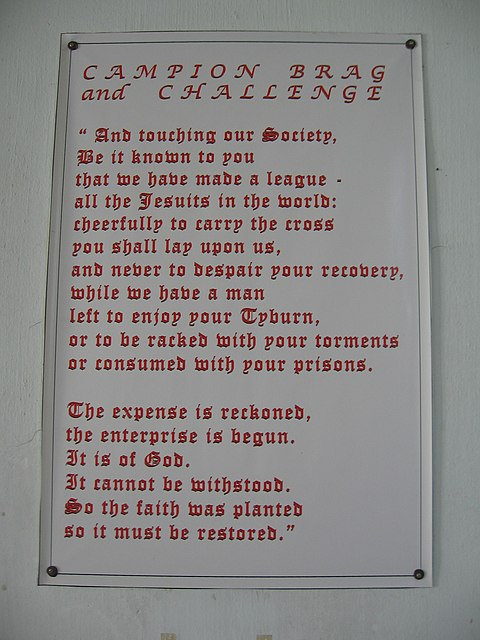 -part of Campion's Challenge to the Privy Council
Read here: https://www.ewtn.com/catholicism/library/campions-brag-5297
The power and sincerity of the "Brag" is accompanied by a degree of naivete: Campion's statement of purpose was of no value during his later trial for treason, and the challenge to debate, repeated later in his apologetic work "Decem Rationes/Ten Reasons", was as much an invitation to capture. And his capture seemed almost inevitable: Elizabeth had spies everywhere searching for priests, the most sought after of whom being her former "diamond of England."  Decem Rationes gave arguments to prove the truth of Catholicism and the falsity of Protestantism. It was printed by the end of June 1581. Many of the 400 copies printed were left on the benches of Oxford's University Church of St. Mary. Campion was still well-enough known that the book was eagerly read.
Campion and his companions traveled stealthily through the English countryside in the early summer of 1581, relying on old, landed Catholic families as hosts. They said Mass, heard confession, performed baptisms and marriages, and preached words of encouragement to a people who represented the last generation to confess the faith of a Catholic England.
There were close calls. Many homes had hiding places for priests—some even had secret chapels and confessionals—and the Jesuits had to rely on these more than once. Campion took extraordinary risks, never able to turn down a request to preach or administer the sacraments, and more than once he escaped detection while in a public setting.
His fortune changed while visiting the home of Francis Yate in Lyford Grange, which was west of London. Yate was a Catholic imprisoned for his faith who had repeatedly asked for one of the Jesuit fathers to tend to the spiritual needs of his household. Though it was out of the way and the queen's searchers were reportedly in hot pursuit, Campion was unable to resist the request.
He traveled to Lyford, heard confessions, preached well into the night, and departed without difficulty after saying Mass at dawn. Some nuns visiting the home shortly thereafter were upset to hear they had just missed Campion, and so riders were dispatched to persuade him to return, which he did.
Word of his return reached George Eliot, born and regarded as Catholic but in fact a turncoat in the pay of the queen; he had a general commission to hunt down and arrest priests. Eliot arrived at Lyford with David Jenkins, another searcher, and attended a Mass. He was greatly outnumbered by the Catholics, and, fearing resistance, made no move to arrest Campion. He departed abruptly to fetch the local magistrate and a small militia and returned to the Yate property during dinner. News of the approaching party reached the house, and Campion and his two priestly companions were safely squirreled away in a narrow cell prepared especially for that purpose, with food and drink for three days.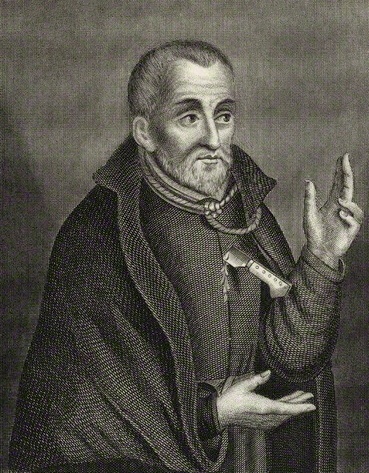 Later Eliot and Jenkins both claimed to have discovered the priests, offering the same story: A strip of light breaking through a gap in the wall leading to the hiding place was the giveaway—both men took credit for noticing it, and each reported being the one to break through the wall. No doubt each sought the credit for capturing the infamous Campion, for no priest was more beloved by the Catholics nor more despised by the crown.
Campion was taken to the Tower and tortured. Placed in a cell so small he could neither stand upright nor lie down.  After three days there he was brought to Leicester house, where he met Queen Elizabeth for a second time.  She offered him the opportunity to renounce his Catholic faith and become a Protestant minister, with the offer of great advancement. Edmund refused and was returned to his cell; five days later he was tortured on the rack. Several times he was forced to engage in debates, without benefit of notes or references and still weak and disoriented from his rackings and beatings. He acquitted himself admirably, all things considered: a testament to his unparalleled rhetorical skills.
The Crown intended to execute him.  But, they needed a stronger charge than the fact that he was a Catholic priest.  His trial was a farce. Witnesses were bribed, false evidence produced; in truth, the outcome had been determined since his arrival. Campion was eloquent and persuasive to the last, dominating the entire procedure with the force of his logic and his knowledge of the Scripture and law, but in vain.
On Nov. 14, the priests were led to Westminster Hall where charges were raised against them that they had formed a conspiracy against the life of the queen, had exhorted foreigners to invade the country and had entered England with the intent of fomenting rebellion to support the invaders.
At his trial six days later, Campion was asked to raise his right hand and take an oath; he was unable to do so because of recent torture, so another one of the priests had to lift his arm for him.  "I protest before God and His holy Angels,before Heaven and earth, before the world and I this bar whereat I stand, which is but a small resemblance of the terrible judgment of the next life, that I am not guilty of any part of the treason contained in the indictment, or of any other treason whatever." Speaking later to the jury, Campion said "Is it possible,to find twelve men so wicked and void of all conscience in this city or land that will find us guilty together of this one crime, divers of us never meeting or knowing one the other before our bringing to this bar?" But, they were found guilty of high treason and condemned to be hanged, drawn and quartered. The priests joined in singing the Te Deum when they heard the verdict.
His address to the court upon sentencing invoked the Catholic England for which he had fought, the Catholic England which was about to die: "In condemning us, you condemn all your own ancestors—all the ancient priests, bishops and kings—all that was once the glory of England — the island of saints, and the most devoted child of the See of Peter."
Campion remained in chains for another 11 days, and then was dragged through the muddy streets of London to Tyburn.  As Campion forgave those who had condemned him, the cart he was standing on was driven from under him and he was left hanging.  The executioner then cut him down and tore out his heart and intestines before cutting his body into pieces.
On December 1,1581 the prophecy hanging over his door in Prague was fulfilled: Campion was hanged, drawn, and quartered. The poet Henry Walpole, later St Henry Walpole, SJ, was there, and during the quartering some blood from Campion's entrails splashed on his coat. Walpole was profoundly changed. He went overseas, took orders, and 13 years later met his own martyrdom on English soil.
A letter of St Edmund Campion, SJ, in which, after torture, he assured Catholics that he had revealed "no things of secret, nor would he, come rack, come rope."
The actual ropes used in his execution are now kept in glass display tubes at Stonyhurst College in Lancashire; each year they are placed on the altar of St Peter's Church for Mass to celebrate Campion's feast day—which is always a holiday for the school.

-a 1631 print
"I have made a free oblation of myself
to your Divine Majesty,
both of life and of death,
and I hope that
You will give me
grace and force to perform.
This is all I desire. Amen."
-St. Edmund Campion, SJ
Love,
Matthew