John Ogilvie's noble Scottish family was partly Catholic and partly Presbyterian. His father raised him as a Calvinist, sending him to the continent to be educated. There John became interested in the popular debates going on between Catholic and Calvinist scholars.
Confused by the arguments of Catholic scholars whom he sought out, he turned to Scripture. Two texts particularly struck him: "God wills all men to be saved and come to the knowledge of the truth," 1 Tim 2:4, and "Come to me all you who are weary and find life burdensome, and I will refresh you" Mt 11:28.
Slowly, rejecting Calvinist predestination, John came to see that the Catholic Church could embrace all kinds of people. Among these, he noted, he was particularly impressed with the faith of many Catholic martyrs. He decided to become Catholic and was received into the Church at Louvain, Belgium, in 1596 at the age of 17.
John continued his studies, first with the Benedictines, then as a student at the Jesuit College at Olmutz. He joined the Jesuits and for the next 10 years underwent their rigorous intellectual and spiritual training.
Ordained a priest in France in 1610, he met two Jesuits who had just returned from Scotland after suffering arrest and imprisonment. They saw little hope for any successful work there in view of the tightening of the penal laws. But a fire had been lit within John. For the next two and a half years he pleaded to be missioned there.
It was a time of great persecution of Catholicism in Scotland. "Send only those," wrote the Earl of Angus to the Jesuit General, "who wish for this mission and are strong enough to bear the heat of the day, for they will be in exceeding danger."
Wholesale massacres of Catholics had taken place in the past, but by this point the hunters concentrated on priests and those who attended Mass. The Jesuits were determined to minister to the oppressed Catholic laity, but when captured, they were tortured for information, then hanged, drawn, and quartered.
Having grown a beard, learned a little about horse breeding, John was sent by his superiors, and secretly entered Scotland posing as a horse trader or a soldier, named 'John Watson', returning from the wars in Europe.
Unable to do significant work among the relatively few Catholics in Scotland, John made his way back to Paris to consult his superiors. Rebuked for having left his assignment in Scotland, he was sent back.
He warmed to the task before him and had some success in making converts and in secretly serving Scottish Catholics. But he was soon betrayed by a false Catholic, arrested and brought before the court.
His trial dragged on until he had been without food for 26 hours. He was imprisoned and deprived of sleep for eight days and nights. For eight days and nights he was dragged around, kept awake being prodded with sharp sticks and having his hair pulled out. His legs were crushed.  His finger nails were pulled out with pliers.  Still, he refused to reveal the names of Catholics or to acknowledge the jurisdiction of the king in spiritual affairs. He underwent a second and third trial but held firm.
At his final trial he assured his judges: "In all that concerns the king, I will be slavishly obedient; if any attack his temporal power, I will shed my last drop of blood for him. But in the things of spiritual jurisdiction which a king unjustly seizes I cannot and must not obey."  "Your threats cheer me; I mind them no more than the cackling of geese," he told his captors. Asked if he feared to die Father John replied, "No more than you do to dine."
After three trials he was convicted of treason for being loyal to the Pope, and denying the king's supremacy in spiritual matters. Finally taken to the scaffold, Fr. John's last words were "If there be here any hidden Roman Catholics, let them pray for me but the prayers of heretics I will not have".  His final prayers were a litany of the saints in Latin and then in English.
Condemned to death as a traitor, he was faithful to the end, even when on the scaffold he was offered his freedom and a fine living if he would deny his faith. After he was pushed from the stairs and began to hang, he threw his concealed rosary beads out into the crowd. The tale is told that one of his enemies caught them and subsequently became a lifelong devout Roman Catholic.  St John Ogilvie, SJ, was hanged and disemboweled 10 March 1615 at the age of 36.
The customary beheading and quartering were omitted owing to undisguised popular sympathy, and his body was hurriedly buried in the churchyard of Glasgow cathedral, in a place reserved for criminals.  No relic of his body has survived.  His courage in prison and in his martyrdom were reported throughout Scotland.
John Ogilvie was canonized in 1976, becoming the first Scottish saint since 1250.
John came of age when neither Catholics nor Protestants were willing to tolerate one another. Turning to Scripture, he found words that enlarged his vision.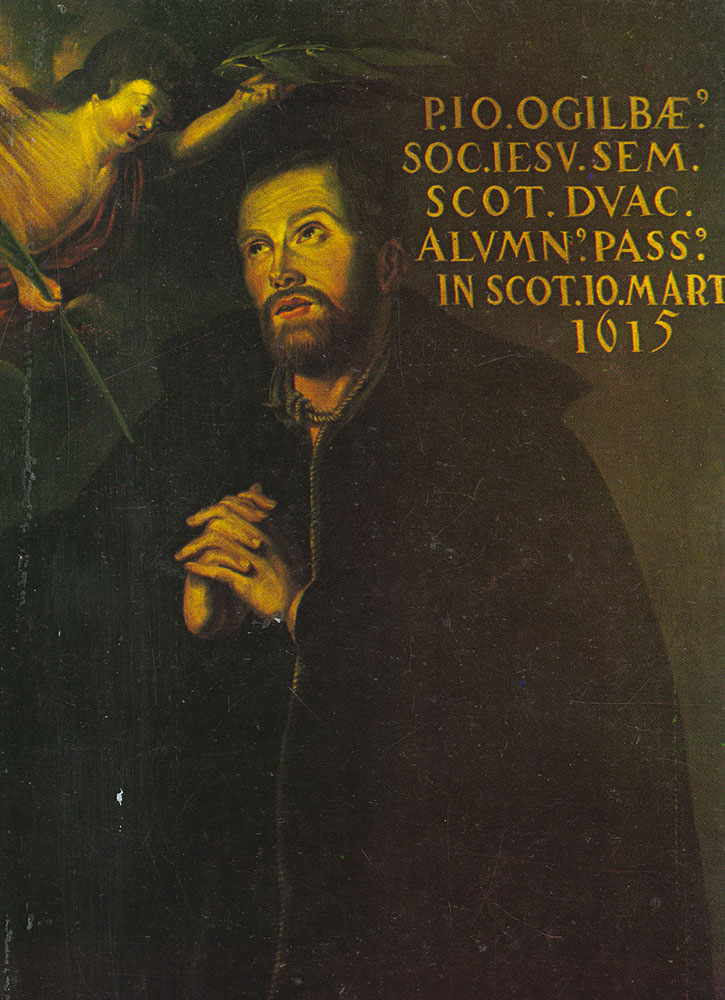 Prayer to St John Ogilvie, SJ
God our Father, Fountain of all blessing, we thank You for the countless graces that come to us in answer to the prayers of Your saints.  With great confidence we ask You in the name of Your Son and through the prayers of St John Ogilvie, SJ to help us in all our needs.
Lord Jesus, You chose Your servant St John Ogilvie, SJ to be Your faithful witness to the spiritual authority of the chief shepherd of your flock.  Keep Your people always one in mind and heart, in communion with Benedict our Pope, and all the bishops of your Church.  May Your ordained ministers always be exemplars of Your virtue, humility, service, self-sacrifice and love as they tend Your flock.
Holy Spirit, You gave St John Ogilvie light to know Your truth,  wisdom to defend it, and courage to die for it.  Through his prayers and example bring our country into the unity and peace of Christ's kingdom.  Amen.
Love,
Matthew