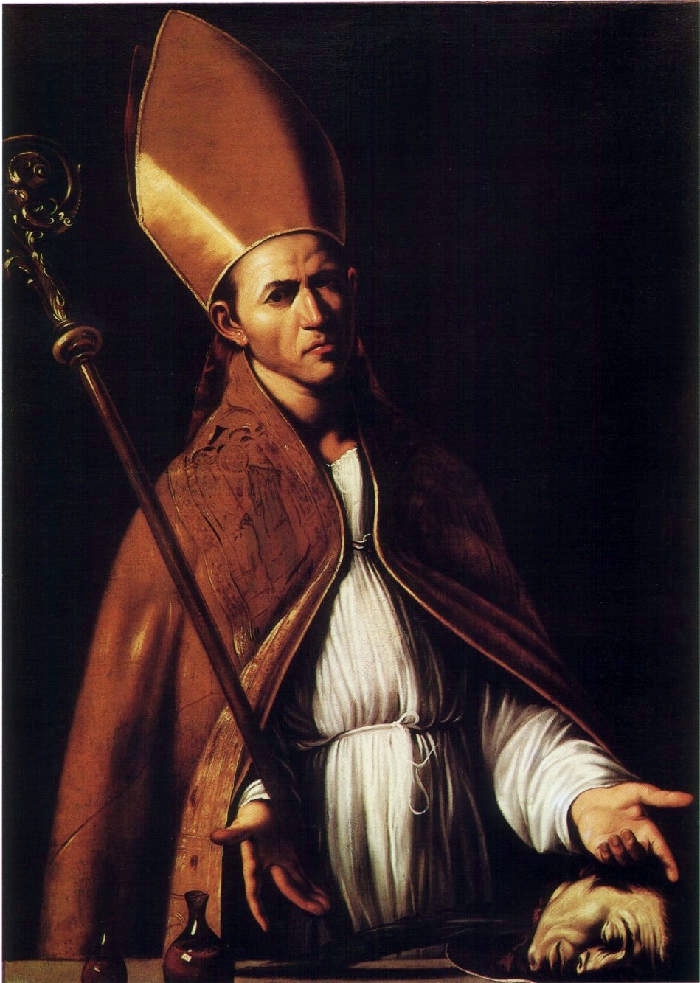 -please click on the image for greater detail
At Pozzuoli in Campania [the memory] of the holy martyrs Januarius, Bishop of Beneventum, Festus his deacon, and Desiderius lector, together with Socius deacon of the church of Misenas, Proculus deacon of Pozzuoli, Eutyches and Acutius, who after chains and imprisonment were beheaded under the Emperor Diocletian.
The body of St. Januarius was brought to Naples, and there honorably interred in the church, where his holy blood is kept unto this day in a phial of glass, which being set near his head becomes liquid and bubbles up as though it were fresh.
Timotheus, President of Campania, was the official who condemned the martyrs, that Januarius was thrown into a fiery furnace, but that the flames would not touch him, and that the saint and his companions were afterwards exposed in the amphitheatre to wild beasts without any effect. Timotheus declaring that this was due to magic, and ordering the martyrs to be beheaded, the persecutor was smitten with blindness, but Januarius cured him, and five thousand persons were converted to Christ before the martyrs were decapitated.
Blood that flows
Saint Januarius is famous for the alleged miracle of the annual liquefaction of his blood. The first certain date is 1389, when it was found to have melted. Then, over the following two and a half centuries official reports began to appear declaring that the blood spontaneously melted, at first once a year, then twice, and finally three times a year.
While the report of the very first incidence of liquefaction did not make any explicit reference to the skull of the saint, soon afterwards assertions began to appear that this relic was activating the melting process, as if the blood, recognizing a part of the body to which it belonged, "were impatient while waiting for its resurrection"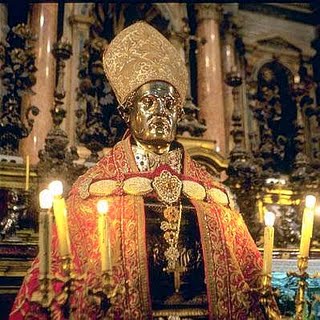 -reliquary containing the head of St Januarius, please click on the image for greater detail
Thousands of people assemble to witness this event in Naples Cathedral three times a year: on September 19 (Saint Januarius's Day, commemorating his martyrdom), on December 16 (celebrating his patronage of Naples and its archdiocese), and on the Saturday before the first Sunday of May (commemorating the reunification of his relics). The blood is also said to spontaneously liquefy at certain other times, such as papal visits.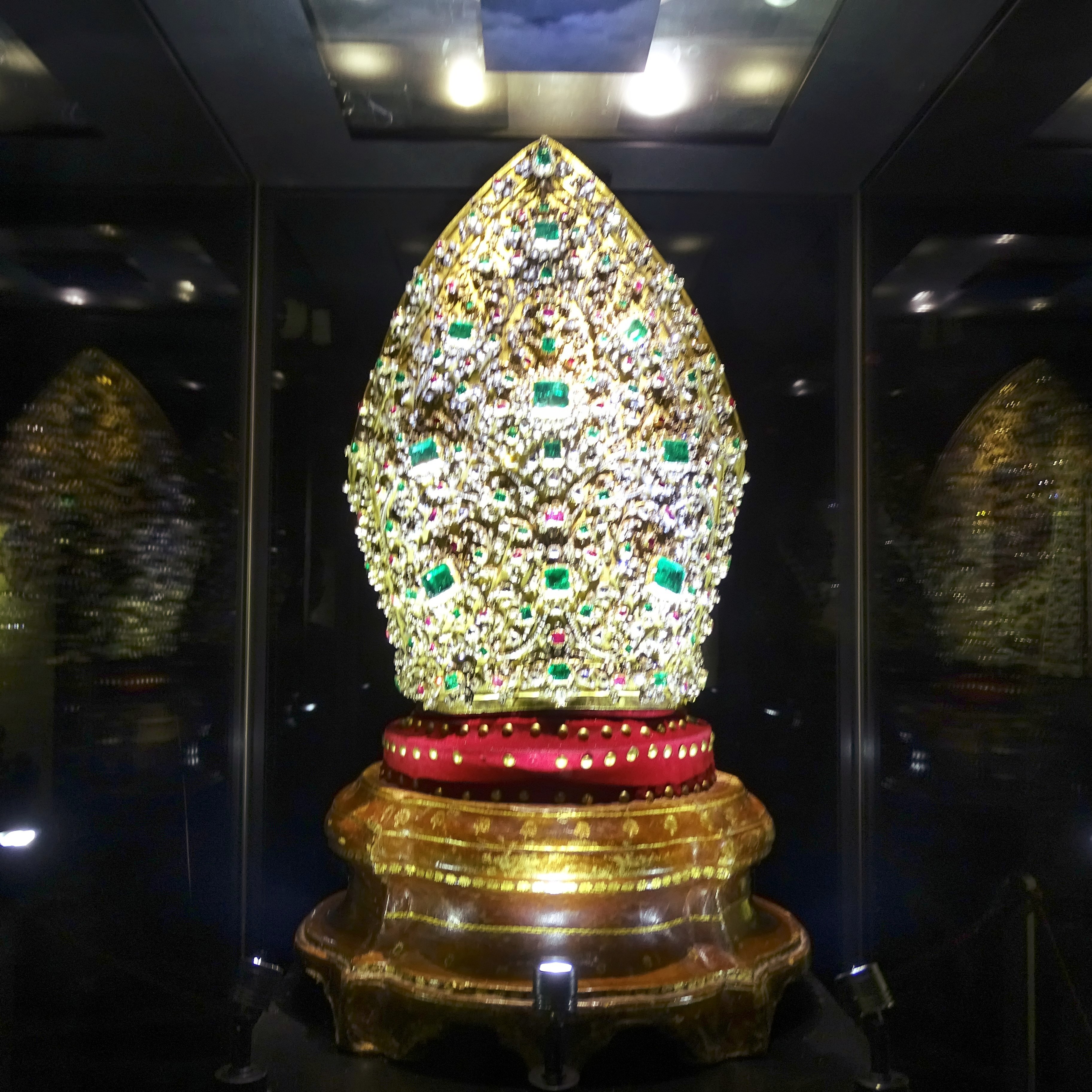 -Matteo Treglia, Mitre of St. Januarius, 1713, Museum of the Treasure of San Gennaro, Naples, Italy, please click on the image for greater detail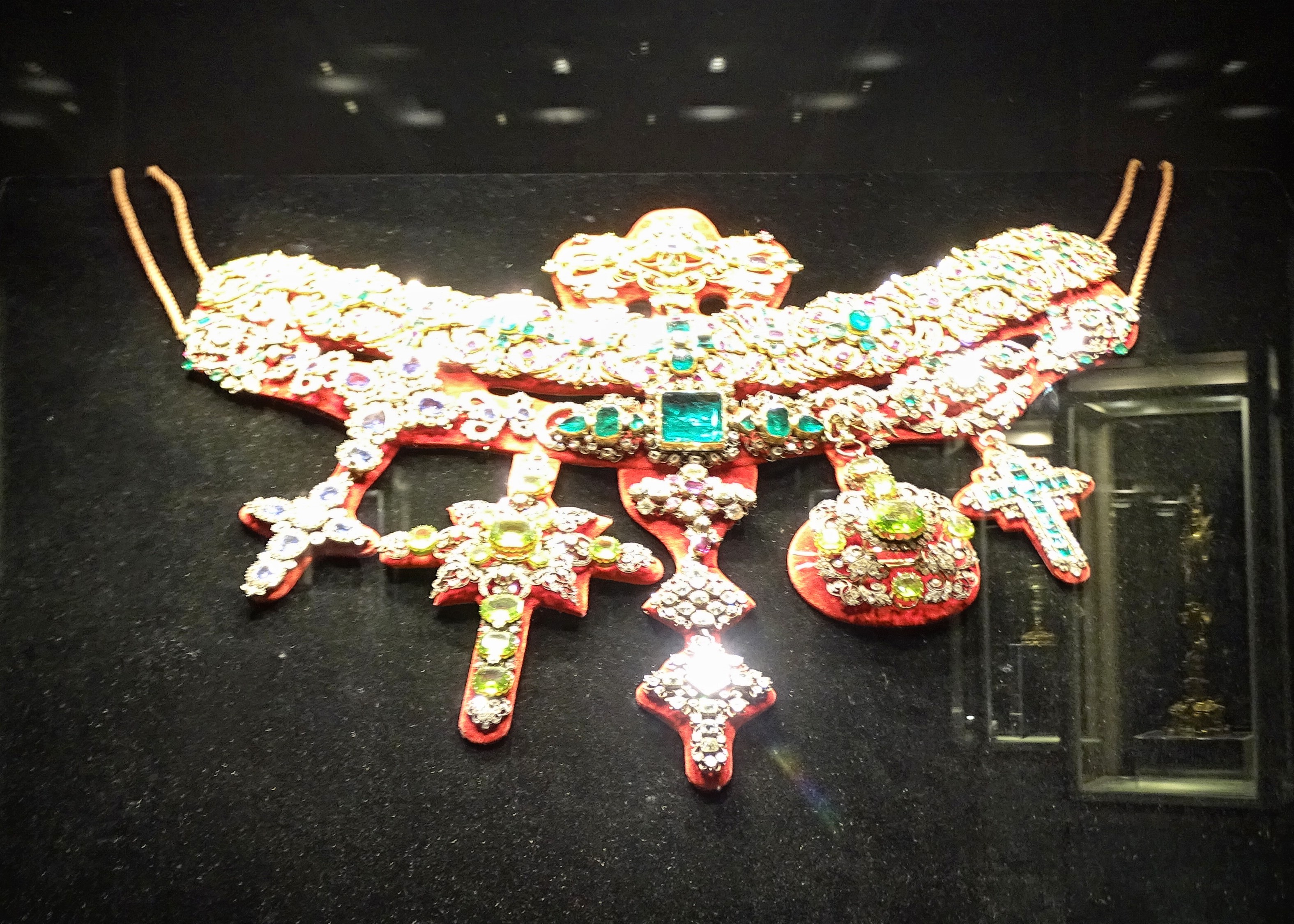 -Michele Dato, Necklace of St. Januarius, 1679, Museum of the Treasure of San Gennaro, Neaples, Italy, please click on the image for greater detail
Love,
Matthew