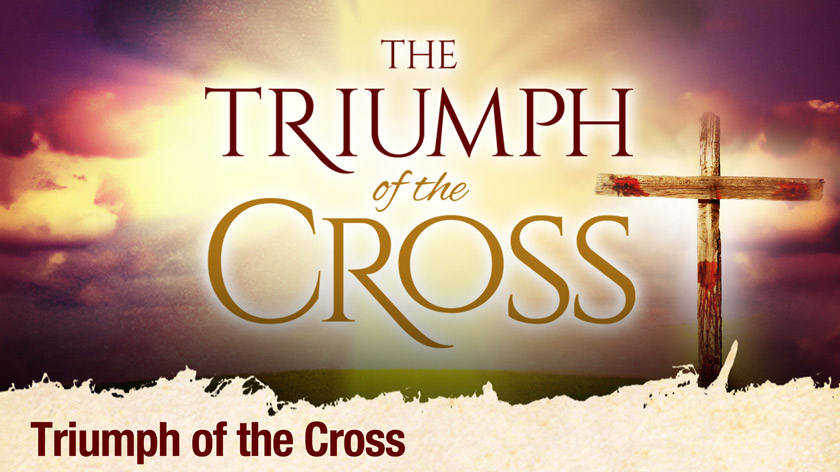 People suffer horrific things in this life. And, as Jim Morris sang, "Nobody gets out of here alive." I have long held, if you can explain the contradiction of the Cross, not easy, but then you do understand Christianity; counter-intuitive. It takes the worst, and represents the worst-also, this life can offer…and DESTROYS it, forever. Praise Him. Praise Him. Praise Him, Church. Praise Him. There is no Resurrection without the Cross. Horrific and horrifying, yes. Absolutely required? Without question or hesitation. Praise Him. Praise Him.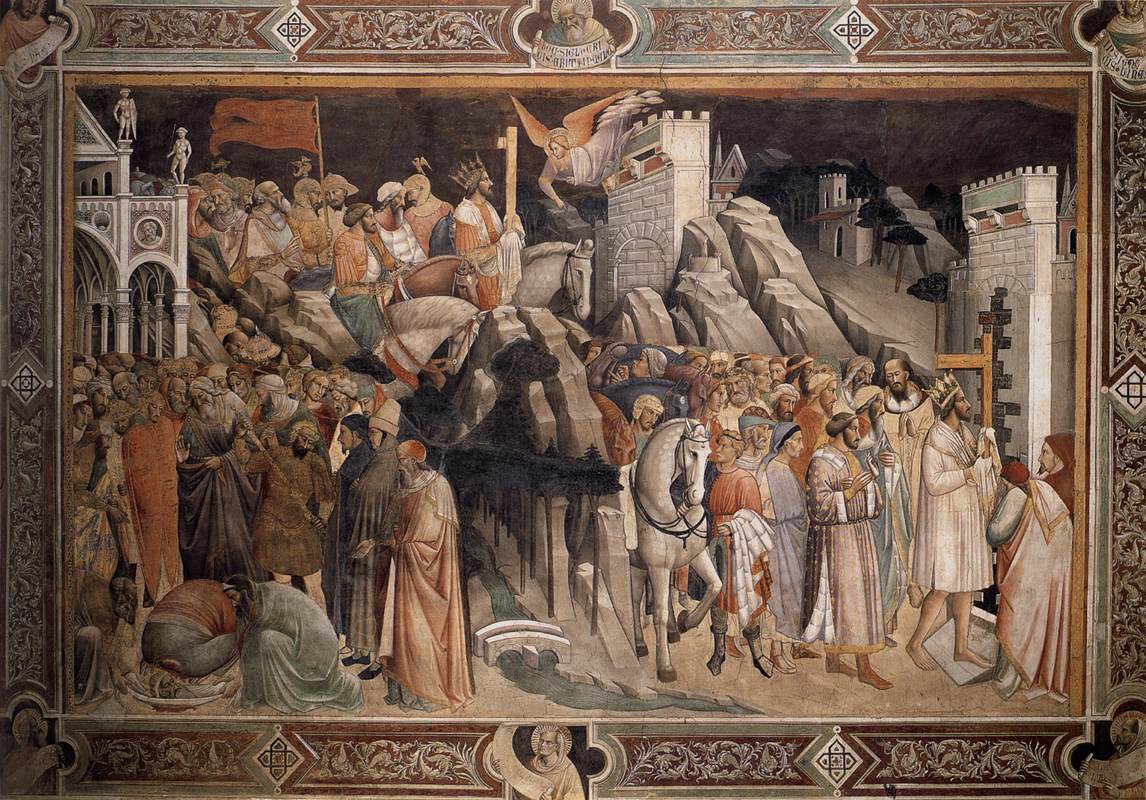 – The Triumph of the Cross, ~1380, Agnolo Gaddi (1350–1396), fresco, Santa Croce, Florence (please click on the image for greater detail)
"For many Christians, making the sign of the cross can be as mechanical as brushing one's teeth or clearing one's throat. On the one hand, it's beautiful that such a simple sign can contain such profound meaning. It's very simplicity, however, makes it easy for us to perform without giving its meaning a second thought. A good meditation on this phenomenon can be found in Sigrid Undset's Kristin Lavransdatter.
"But whenever we make the sign of the cross over ourselves or over anything that we want to protect with the cross, then we must remember how the cross was made sacred and what it means, and remember that with the suffering and death of the Lord, this symbol was given honor and power."
The cross is not a symbol invented by Christians. At the time of the early Church, the cross was already a well known symbol imbued with meaning. The cross was the symbol of death and humiliation, intended to strike fear into the hearts of would-be malefactors. Every body hanging on a cross carried with it an implicit message for the passerby, "Do not cross the state, or this will be you." The cross, however, lost its former power when it was used to kill Jesus Christ. His followers were not deterred by the threat of the cross, nor would they deny their Lord as they were being led to die his same death. One can only imagine that this must have been quite frustrating for Roman officials. But the cross no longer meant to the Christians what it still meant to the Romans. The cross had become a symbol of life because it had been defeated and shown to be powerless, similar to how the sign of surrender would later become the handing over of one's sword.
The impotence of the cross, however, could only be revealed after it had been given free rein to do its worst, and its worst had been found wanting. Christ felt the full weight of suffering and humiliation. But the suffering, instead of breaking his mettle, became an occasion for heroic courage, and the humiliation, instead of causing him shame, became an occasion for him to despise shame itself (cf. Hebrews 12:2). It was only by dying that Christ could rise, and in losing all human glory he was exalted above every mere creature (cf. Philippians 2:8-9). It was only after Christ had emptied the cross of all the power it had once enjoyed that he could fill it with a new and greater power. "We must remember how the cross was made sacred and what it means, and remember that with the suffering and death of the Lord, this symbol was given honor and power."
The sign of the cross has the power to strengthen us (Catechism of the Catholic Church, 2157), and it is good for us to avail ourselves of it often, but it strengthens us precisely to meet the trials of life head on, rather than to keep them at bay. We are called to share in the life and glory of Christ, but only through sharing in His cross. There are still many Christians who suffer death for their faith in Christ, but we who are not so sorely tried can also show our Christian mettle by carrying our daily crosses, strengthened by the knowledge that the cross is the sign that points to the empty tomb."
Love & glorious, inexpressibly joyful TRIUMPH in Him,
Matthew