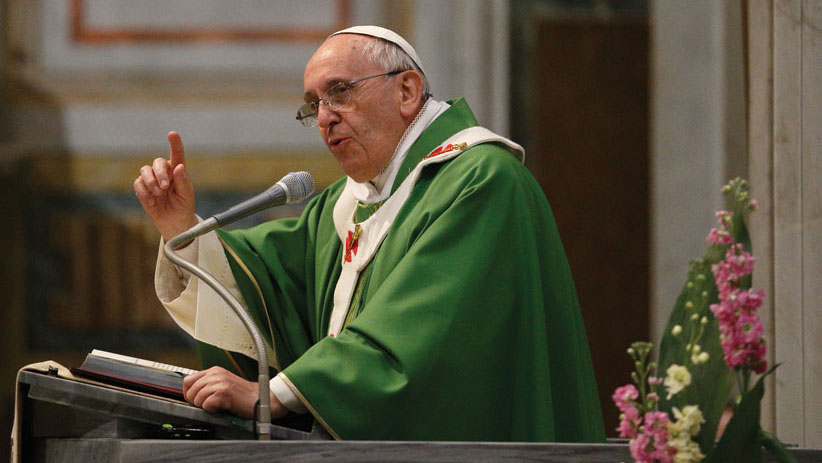 "We used to laugh at a famous story about President Calvin Coolidge, a man of few words. After returning from Sunday services, his wife asks him about the preacher's sermon. "Sin," Silent Cal replies. His wife pleads, "What did he say about it?" "He was against it."
Alas, modern culture no longer allows us to oppose sin, except for those politically correct transgressions such as being "judgmental" and emitting too much carbon into the atmosphere. But do priests and others have a choice to remain faithful to Jesus?
There is an interesting correlation between our culture—including Catholic parishes—and our recognition of sin. It was easier to talk about the wages of evil in a stable culture imbued with Christianity. As secularism crowds out the influence of Christianity on culture, some Church authorities—in response to the hypersensitivities of many Catholics—place too many restrictions on preaching sin and conversion from the pulpit. Whiplash changes in the culture often challenge the prudence of thoughtful Catholic preachers.
A century ago, Church authorities, including moralists and seminary professors, were reticent in speaking—even reading—about sexual sin. The four-volume Moral and Pastoral Theology manual by Professor Henry Davis, S.J. (first edition, May 1935) illustrates pastoral prudence in questions of human sexuality. In an otherwise easy read (in English) on the natural law and the Ten Commandments, Davis writes the chapter dealing with various types of sexual sin in Latin. The readers must be priests or mature seminarians trained in the mother tongue of the Church for their preparation as confessors. But a good confessor, though he always avoids impure speech, must understand—and occasionally carefully discuss—lascivious behavior.
As the sexual revolution of the 1960s transformed popular culture, orthodox Catholic moralists relaxed the prudential censorship and discussed the details of many sexual sins to confront pervasive errors. Pope John Paul II's "theology of the body" formed the foundation of John Paul II institutes on marriage and the family in Washington, D.C., and Rome. The institutes taught and wrote freely, providing the clergy and laity alike a firm foundation on the Church's teaching on human sexuality.
Dissident moralists went farther. Human Sexuality, published by Anthony Kosnik in 1977 under the auspices of the Catholic Theological Society of America, justified sexual debauchery ranging from contraception and masturbation to sodomy and even bestiality. Today, senior prelates and friends of the pope openly speak about the likelihood of segments of the hierarchy approving "gay unions" soon. Several German bishops, including high-ranking ones, have declared their support of overhauling Catholic moral teaching to approve unions based on sodomy.
At the same time, many orthodox priests feel pressure to dodge these topics. They often avoid the issues not only from the pulpit, but also in church bulletins. Indeed, the culture and senior Catholic churchmen place us at a disadvantage. Irish bishop Ray Browne's recent public apology for the sermons of Fr. Seán Sheehy on mortal sin is baffling, incomprehensible. Cross-dressed and occasionally mutilated males (so-called "transgender females") conduct drag-show displays for children. As senior Catholic prelates call for gay unions, old-fashioned pastoral decorum prevents orthodox priests from asking obvious questions in the same public forums. (Here is an example of a forbidden question, with apologies to Latinists: An commercium ani vel fellatio vetatur post unionem gay agnitam vel ante tantum? Our moral manuals need an update.)
It is important to remember that the protection of the innocent must be a prime objective of every priest. Such conversations from the pulpit do risk violating Catholic prudence, especially with children present. Fr. John Hardon, S.J., refers in his Catholic Dictionary to the "latency period": "The term mainly applies to the years between five and twelve, when children do not unless abnormally and unwisely aroused, react to sexual stimulation. The Church advises parents to cultivate this period for teaching children the principles of faith and training them in the moral habits they will need as the foundation of their adult Christian life." So care is certainly called for and recklessness to be avoided.
Jesus is prudent but doesn't mince words: "But I say to you, that whosoever shall look on a woman to lust after her, hath already committed adultery with her in his heart" (Matt. 5:28). St. Paul provides a similar perspective: "The men also, leaving the natural use of the women, have burned in their lusts one towards another, men with men working that which is filthy, and receiving in themselves the recompense which was due to their error" (Rom. 1:27). He adds, "For the things that are done by them in secret, it is a shame even to speak of" (Eph. 5:12). And he divorces Catholics from those who shamelessly promote willful debauchery: "But now I have written to you, not to keep company, if any man that is named a brother, be a fornicator, or covetous, or a server of idols, or a railer, or a drunkard, or an extortioner: with such a one, not so much as to eat" (1 Cor. 5:11).
Hence, the venues of preaching against sin determine the propriety of the language of Catholic morality. One size doesn't fit all. What a moral textbook, theological article, scholarly monograph, episcopal encyclical, or even a popular internet piece permits may not be suitable from the pulpit. But carefully using Scripture as a rhetorical template accomplishes much.
So it seems that warnings against contraception, fornication, adultery, mutilation, and the gay agenda are well within the prudential rhetoric of Jesus in the Gospel and Paul in his letters. We need not expand the vocabulary to include the intimate details of sexual behavior. Indeed, for the most part, penitents in confession need not go beyond confessing such acts. The priest does not need to know—nor should he inquire about—the details.
But it is a great disservice and a violation of the Gospel for a priest to neglect the condemnation of sin, especially mortal sins that lead to the fires of hell. It's always best to measure our rhetoric by the words of Jesus and the New Testament letters. Calvin Coolidge's example of direct simplicity helps, too."
Love & truth,
Matthew