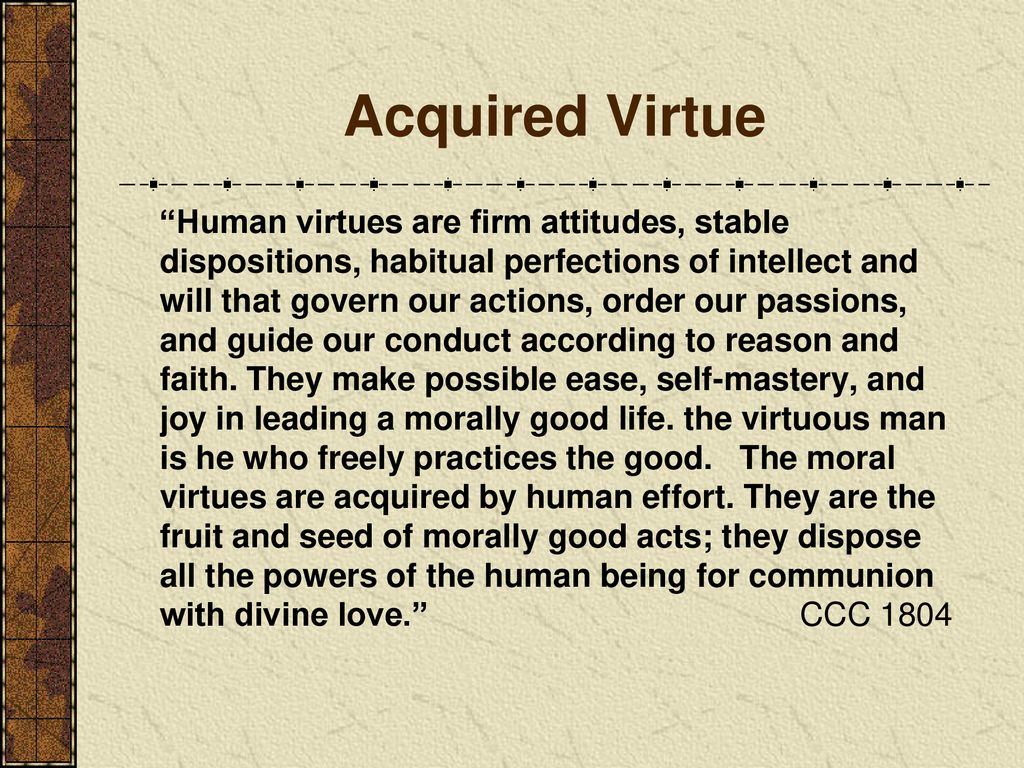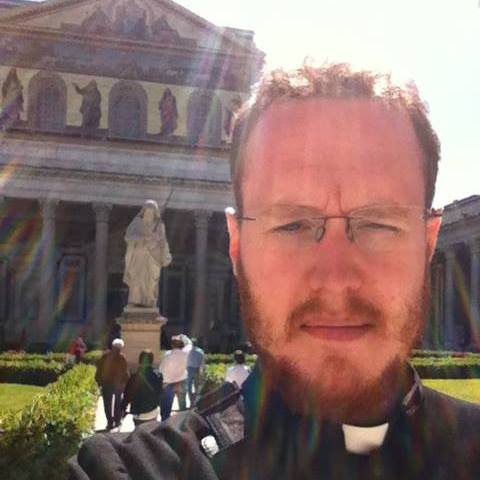 -by Fr. Christopher Pietraszko, Ignitum, Fr. Christopher serves in the Diocese of London, Ontario.
"According to St. Thomas Aquinas, natural virtue (justice, prudence, temperance and courage, and all the subset virtues) are acquired virtues. Acquired virtues are those good-habits which are developed by way of our own effort, behavior, and mind. Theological virtues, however, are "infused" virtues, where the capacity to Faith Love and Hope are understood to be supernatural. Sometimes a more generic notion of faith love and hope are ascribed to these virtues, but this type of hope, love and faith is merely natural. Rather, the supernatural type of faith, hope and love spoken of here is something that man does not have the capacity unto himself to develop.
Once baptized the Christian then has the capacity to develop these virtues, and thus analogically, the Church has said that such virtues are given at baptism. To be clear, however, this does not mean the habit is present at baptism, but the capacity. Thus, since our nature is now configured to that of Christ, our capacity to act accordingly involves as a consequence of such Divinity united to ourselves that we likewise are capable of such supernatural habits.
This capacity, once received then becomes like acquired virtues insofar as we must act and habituate these virtues, according to our own capacity. God sustains that capacity, and can in fact increase it. Think of his parables about giving more responsibilities to those who proved themselves to do well with what they were originally given. If you do well with the baptismal supernatural capacities, then you will be given more.
Finally, its important to avoid two extremes with regard to the virtues. Aquinas makes it clear that without the supernatural virtues it is impossible to be made perfect in regard to the cardinal virtues. Although there can be some health and strength in one sphere of a person's life, in others there will be deficits of growth. The reason for this is due in part to our fallenness. Second, the Theological virtues themselves are not meant to be abstractly applied to normal living – they have implications whereby they elevate the cardinal virtues into a greater context. No longer is justice merely a natural category, but now is taken up into Divine-Justice. Courage is not longer ordered towards accomplishing a natural-good, but rather a supernatural-love (think of martyrdom). Temperance is visibly noted in the mortification that Catholics practice, because the call to fast and pray is not merely ordered towards an natural good (such as health, mental-health), but now it is oriented towards the salvation of souls including our own, and the glory of God. Finally, prudence is elevated to discern not merely what is a natural-wisdom, but the Will of God, and thus we see Christ in the Garden suspending his natural disposition to avoid death, and seeks the eternal and spiritual-life chosen by the Father.
Thus we cannot compartmentalize the virtues as though they are separate entities – rather they are to have an interconnected integration and subordination. Finally, the principle with which all virtue rests upon is that man is rational. This indicates that man, as a moral agent is called embody himself by aligning himself to whatever the truth is. For if man ascribes to some illusion or falsity, he falls short of being true to his own nature.
Some contemporary philosophers have suggested that seeking the virtue of justice, for instance, implies a righteous act without any benefit. However, this is shortsighted. It is true that whistleblowers for instance can suffer at the hands of the powerful, or Christ himself be murdered for simply telling the truth in love. But it would be wrong to draw the conclusion thus that this had no benefit to those individuals who acted according to the truth of justice and goodness. What it rather indicates is that they became fully alive, truly who they were, and thus the inheritance is their own integrity – which is a good."
Love & virtue,
Matthew