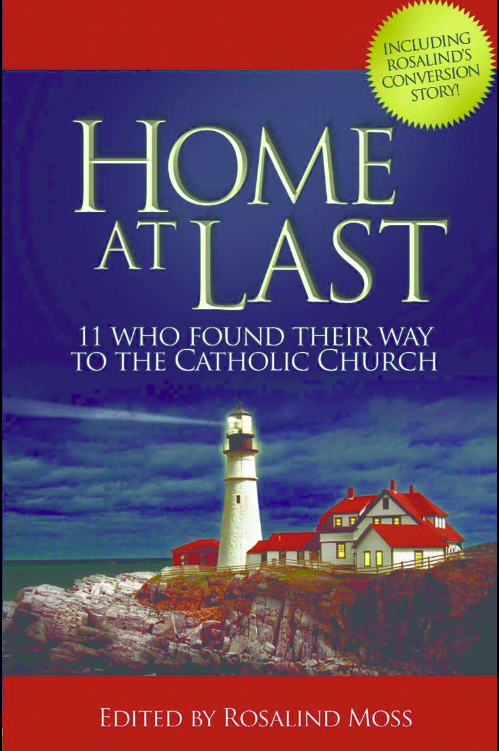 -by Howard Charest
"In the midst of a wild theological discussion, some Evangelical acquaintances asked me what I had gained by converting to Catholicism. I had embraced Evangelicalism for about five years, but its theological and spiritual inadequacies contributed to my nearly losing faith in Christ. Catholicism restored and deepened both my faith in and my love for Christ, and in so doing it began to fulfill my deepest spiritual and intellectual longings.
Raised at first as a Lutheran and then as a Presbyterian, by the time I finished high school I nevertheless had become an atheist of the scientific humanist sort. Scientific objections to Christianity, such as evolutionary theory, had been my primary stumbling block. But within a year of graduating from high school, during a personal crisis concerning the meaning of life and after I had made a commitment to embrace truth whatever it might be, I read How Should We Then Live? by the Evangelical thinker Francis Schaeffer.
His reasoned critique of humanism opened my heart to the gospel, and, recognizing myself as a sinner and morally guilty before God, I believed that through Christ's sacrifice my sins had been forgiven. I identified my conversion experience as the "born again" experience I had heard so much about during high school, and my attitudes towards life truly began to change.
Schaeffer's interpretation of Christianity left a decisive mark on me. On the positive side, I gained an interest in defending Christianity intellectually (especially through philosophy) and a fascination with the history of theology, philosophy, and culture. For this reason, he still remains a man I admire.
On the negative side, Schaeffer left me with the conviction that true Christianity equals Reformation Christianity, represented in the modern world by Evangelicalism. For the next five years I would assume, virtually without question, that Christianity stands or falls with Evangelicalism. However fascinating the Catholic intellectual and spiritual tradition might appear to be—and during the next few years I occasionally would feel a pull in this direction—intellectually I was convinced that Catholicism was an apostate religion.
Yet it was the expectations concerning Christianity raised by Schaeffer which ultimately would make my departure from Evangelicalism necessary. These expectations are best expressed by something Schaeffer wrote in The Church at the End of the Twentieth Century. He explained that Christianity is the true and highest mysticism, for it is a personal relationship with God which is grounded in rationality. In other words, Christianity is a rational answer to the question of the meaning of life, one which fulfills man's deepest spiritual longings and resolves his deepest spiritual problems. Two developments would lead me to conclude that Evangelicalism could not fulfill these expectations and that, if Evangelicalism equals Christianity, I should have to abandon the latter as well.
First, a number of emphases within Evangelicalism would contribute to my having a spiritual burnout. Second, I came to believe that Evangelical thought, based ostensibly on the Bible as its sole authority, was incapable of meeting the many intellectual challenges facing it. I would come to the conclusion that Schaeffer's defense of Reformation Christianity had serious limitations even though his critique of humanism contained important insights.
Ultimately, and much to my surprise, I would find that it is the Catholic intellectual tradition which fits the glowing descriptions Schaeffer had penned of Christianity's intellectual viability and that it is Catholic spirituality which most adequately fulfills the Christian mysticism Schaeffer hinted at.
After my conversion experience, my first Evangelical involvement was as a member of a Lutheran church. I remained as such for two years, when, through the influence of Campus Crusade for Christ, I left to become a Baptist. Looking back, I realized that part of my discontent with Lutheranism came from this: Although Lutheranism acknowledges the importance of doing good works, it seems more interested in consoling sinners than in showing them how to overcome sin. One of the benefits of being a Catholic, I have found, is a spiritual discipline centered around mortification and penance. This discipline is powerful in overcoming sin.
In the same year of my conversion, shortly after I joined the Lutheran Church, I became involved in Campus Crusade. At first Campus Crusade benefited me greatly, both spiritually and socially. Crusade's emphasis on the Spirit-filled life helped me grow in personal character, and I was encouraged to spend time reading the Bible daily.
This I loved to do, and I became an avid student of Scripture, eventually beginning a personal study of Greek in order to draw closer to the meaning of the New Testament. In addition to these spiritual benefits, Crusade's emphasis on evangelism and discipleship helped me learn to communicate my beliefs with boldness, and through the love and acceptance I found in this group I progressed considerably in social maturity.
I immersed myself in the Crusade way of life, evangelizing frequently and conducting small discipleship groups. One semester I led the Crusade group at a local community college. But the overall spirituality and practice of Crusade worked to inflict on me an intense spiritual burnout, almost destroying my Christian life. And this spirituality and practice, I would discover, is fairly typical of large segments of Evangelicalism.
The major cause of this burnout was Campus Crusade's emphasis on activity. I found that the genuineness of one's spirituality was measured by his involvement in evangelism and discipleship. This pressure created in me an assumption that, if I did not have a personal ministry, I was not living the true Christian life.
In many ways this would have a corrupting influence on me, an experience which, I would insist, is shared by other Evangelicals. For example, the need to find opportunities to share our faith and win disciples would lead us to develop friendships with people—Christians and non-Christians alike—for an ulterior motive: the practical goal of fulfilling the Great Commission. People tended to become means for us to achieve our ministry objectives and this because our lives were dominated and motivated by an activist cause.
Perhaps the most corrupting effect was the way this activism turned me into a manipulator of people. It was bad enough that I felt manipulated by my fellow Crusaders, but it hurt me more that I began to manipulate others. People had applied subtle pressure on me to become involved, and as I sought my own disciples I put pressure on them. The great amount of recognition given to those with a successful ministry further fueled this manipulation.
I fell victim to this syndrome because my life had become identified with a cause and my participation in this cause was my primary source of satisfaction. It has required Catholic spirituality with its emphasis on the path of humility and on the performing of quiet deeds of mercy and charity to begin uprooting these tendencies from my heart.
One might wonder what became of the personal relationship with Christ so tirelessly preached by Evangelicals. Certainly Crusaders emphasized the importance of this relationship, but in my experience their practical orientation limited its development.
Scripture became a tool to be controlled by the reader to develop his character and increase his ministry. Absent was the Catholic understanding that through receptive, loving meditation on Scripture Christ is conceived in our souls and begotten into the world through deeds of love. Even our praising of God was strictly active, as we looked for attributes of God in Scripture for which we could praise him. Absent was the Catholic understanding of silent, loving adoration.
As my burnout developed, I dreaded the very idea of discipleship, and my Christian life became strained. I sought deeper roots in the Baptist church I had started attending, one of the finest Evangelical churches in my area. Unfortunately, this church could do little to help me regain a sound Christian life for the simple reason that its spirituality differed little from Crusade's.
It really should not have surprised me that this church should have the same orientation as Crusade; after all, Evangelicals define themselves as Christians committed to the spread of the gospel. Their defining characteristic and reason for existing is commitment to a particular cause. This was shown vividly during a talk by a professor from Talbot Seminary. He explained we were put on Earth not to learn to worship God–after all, he reasoned, we will worship God better when we see him face to face in heaven–but to evangelize.
Evangelicals are limited by the press of practical activity. The efficacy of their public worship is crippled by its subordination to practical activity. I found that Baptist-type worship is essentially the same as Crusade's: The singing and other activities are structured primarily to encourage enthusiasm in the congregants (and to evangelize non-Christians).
Both Crusade and contemporary Evangelicalism are descended from nineteenth-century revivalism. A hallmark of revivalism was the belief that excitement was necessary to spread and revive the true religion. Often Evangelical church services are conducted as if they were designed for entertainment; there is never any dead time. The congregation is fed songs, novel prayers, and preaching, with no opportunity for contemplative prayer.
Catholicism subordinates all causes to worship. In Catholicism, the summit of the Christian life is public worship of God in the liturgy, in continuity with the worship of God in heaven by the angels and saints. There is an essential continuity between our lives in heaven and on earth. This liturgical worship begins in receptivity—that is, in contemplation, which is nothing other than receptivity to reality and to God—and ends in sacrifice as we offer ourselves to God after receiving him deeper into our lives through the Eucharist.
This worship overflows into all of life, even the most active life, for even the most active life is subordinate to contemplative and sacrificial worship. From this overflow all of our activity is elevated to worship insofar as we become living sacrifices to God, expressed through our deeds of love. Evangelism is one form of these good deeds, an act of mercy to the souls of others as we, nourished by worship, draw others through their repentance and conversion into the true worship and adoration of God. Through the examples of Catholic saints such as Dominic and Catherine of Siena I have been filled with a new desire for the salvation of others. But Dominic in particular has shown me how to evangelize in accord with my own abilities and personality—through my love of learning—rather than according to the legalistic mold of Campus Crusade.
Thus for me the greatest benefit of Catholicism has been the restoration of a deep relationship with Christ, and I learned this through reading classical Catholic spiritual writers and theologians. Contrary to popular opinion, Catholic thinkers, such as Thomas Aquinas, always understood the need for a personal relationship with Christ.
They never used this term since, after all, even enemies can know each other personally, but explained instead that by justification we are made friends and lovers of God. And these Catholic writers understood what it meant to be a friend and lover of God better than any Evangelical writer I had ever encountered.
I learned from Bernard of Clairvaux and Catherine of Siena that the most fundamental form of prayer is the loving adoration of God, a prayer which exceeds the ability of words to express. Whereas Evangelicals often think of the Spirit-filled life as one in which the Spirit controls us, Catholic writers teach that being Spirit-filled means that, as we meditate on and contemplate Christ and the Trinity, the Spirit ignites our hearts with love, and thus we willingly obey God.
Evangelicals speak often of a relationship with God based on the gratitude felt when they realized that God loves the unlovable, but my gratitude and love for God has deepened as I've learned that God by his grace goes even further and makes us lovable in his sight. It is a commonplace among Catholic writers that God by grace beautifies the soul, adorning it with virtues; he does not leave us hateful to him, but dignifies us by enabling us through the grace of the indwelling Spirit of Christ to become worthy of eternal life.
The two aspects of Catholicism which Evangelicals most often claim are a hindrance to a personal relationship with Christ, ritual and hierarchy, have become for me a tremendous help in developing that relationship.
The sacrament of the Eucharist has created in me a deep awareness of my dependence on the grace of God. Genuflecting at Mass moves me to bow before Christ's authority in all areas of my life, an experience which reflects the Catholic principle that bodily acts can influence the soul's disposition.
The hierarchical elements of the Church have helped me draw nearer to Christ. Going to confession humbles me and helps uproot sinful tendencies from my heart. Obedience to the teachings and authority of the bishops and the Pope has helped free me from bondage to my own interpretations as the measure of truth. I believe my capacity to receive Christ has been deepened through this obedience. After all, Jesus said that whoever receives His messengers receives Him (Matt. 10:40).
Even though I value these spiritual benefits more than any other benefit, it was the intellectual struggles I went through which sealed my burnout and paved the way for my turning toward Catholicism. While in Crusade I spent much time in personal evangelism. As I shared my faith with other college students, intellectual objections to Christianity were hurled at me.
Being convinced that Christianity is not an irrational religion, I strove to find answers. I consulted commentaries and the writings of various Evangelicals to find solutions. Gradually, I began to find these answers inadequate and became disillusioned with Evangelical thought, wondering if my relationship with Christ was being maintained at the expense of truth.
The first category of intellectual difficulties comprised biblical passages which conflicted with Evangelical theology. For example, in preaching that we are justified by faith alone, I often encountered the objection that James, in the second chapter of his epistle, clearly states we are not justified by faith alone.
Evangelical commentators offered explanations of how this passage could agree with the Protestant interpretation of Paul's doctrine of justification. I never found these interpretations satisfactory. I had the uneasy feeling that the passage was being explained away rather than explained.
Jesus' emphasis on the role of works in salvation further disturbed me, while Paul himself never uses the phrase "faith alone." In fact, the only time "faith alone" or "faith only" is used in Scripture is by James, and he conclusively rejects the concept: "You see that a man is justified by works and not by faith alone" (James 2:24). Schaeffer's influence prevented me from finding a solution to this problem so long as I remained a committed Evangelical.
Many other passages I encountered seemed to conflict with the broad outline of Evangelical theology and spirituality. This left me with a feeling of unease, yet I was hopeful that by trying to be more objective I could develop a more accurate understanding of biblical theology and spirituality. I was never able to do this while an Evangelical.
As I realize now, the narrow confines of Protestant theology had constricted my ability to penetrate deep into the teachings of Scripture. Ironically, after I began to read Catholic writers, especially the Church Fathers and medieval writers, Scripture began to make more sense to me.
Catholic thought opened Scripture up to me in a way Evangelical thought never could. From my Bible study I knew many Bible verses, but as I now realize their rich meanings typically eluded me. The truly decisive intellectual problem for me centered around the second pillar of Evangelicalism, the doctrine of sola scriptura, the Bible as the sole authority of faith and practice. This problem would involve me in epistemology, the study of how we can have knowledge at all.
Several specific issues gradually wore away my belief in sola scriptura. First, in my Baptist days I became interested in evangelizing Catholics, even acquiring materials from Mission to Catholics for this purpose. Seeking to find and expose the errors in the Catholic view of tradition and Church authority, I studied passages of Scripture used by Evangelicals in their polemic against the Church. Ultimately I found these arguments wanting.
Evangelicals argue that the injunction in Revelation 22:18-19 against adding anything to the "words of the prophecy of this book" secured sola scriptura and precluded Catholic tradition. But this "book of prophecy" refers only to the book of Revelation. This book was written as an individual book, not as the last section of an already-compiled New Testament.
Furthermore, I encountered passages of Scripture which positively suggested the Catholic view. In John 16:13-15 Jesus tells his apostles that the Spirit will guide them into "all truth." This presented a dilemma for me. If we allowed that this promise extended beyond the eleven apostles then present, the Catholic understanding of Tradition and the infallibility of the magisterium would become reasonable. If the promise applied only to those present and to no one else, then many of the New Testament writers, such as Paul, could not have been inspired.
One could reply that the original apostles could pass on the grace of this spiritual guidance to others, but this implies successors to the apostles—and that is precisely the Catholic position.
It is not enough to say, as some Evangelicals do, that the apostles, such as Peter, merely approved what non-apostles, such as Mark, had written. If Mark's Gospel was only "approved" by Peter, then that Gospel is only accurate, not inspired. For it to be inspired, the grace of the Spirit described in John 16 must have been passed on to Mark so he too would be inspired. Furthermore, this Evangelical argument concedes that it required the authority of the Church, with the apostles as its spokesmen, to determine what should be included in Scripture.
The challenge of secularism and atheism, from which Christianity had originally rescued me, still haunted me. I decided as I finished my studies in English to pursue a second major in philosophy, hoping to work through the philosophical challenges I had encountered while evangelizing. My studies began with epistemology.
Exposed to the scourges of positivism and Humean empiricism, I sought a foundation for response in the thought of Carl F. H. Henry, a leading Evangelical thinker. He did not help much; conceding much ground to empiricism, he argues that reason cannot prove the existence of God. Instead, all theology must be based on a single presupposition: the living God revealed in his Word. Henry presupposes the truth of (Evangelical) Christianity and proceeds to show the flaws of every other system of thought.
This question-begging not only failed to convince me, but it also showed the impoverishment of sola scriptura. Henry claimed his theory of knowledge was the biblical view, but it really stems from Descartes and post-Cartesian philosophy. It became apparent that in practice even Evangelicals don't follow sola scriptura.
I had some familiarity with the historical defense of the authority of Scripture proposed by John Warwick Montgomery, an important Evangelical theologian opposed to presuppositionalism. In his view, we become convinced by historical evidence that Christ is the Son of God and that he spoke of the inspiration and authority of Scripture. This historical approach suggested Catholicism rather than Evangelicalism.
In the next phase on my studies I began investigating the thought of philosophers such as Aristotle, Plato, Hegel, and Heidegger. These writers exhibited a depth of thought and, yes, spirituality I never had found as an Evangelical. Although I could not give up my love for Christ, I was taken captive by philosophy. Two parallel processes began. On the one hand, I moved in the direction of the liberal experience-based theology which originated with Schleiermacher in the nineteenth century. In this approach, theology is essentially reflection on personal experiences.
On the other hand, while doing research for my master's, I began studying writings of the Church Fathers and medieval theologians and mystics. I was struck by the sublimity of their reflections on the Incarnation and the Trinity, for these doctrines–or rather the realities they express–were an integral part of Catholic spirituality, not simply doctrines that must be reluctantly defended, mere intellectual liabilities. I fell in love with these central Christian truths, but they were undermined by the man-centered spirituality of the liberal theology I had embraced.
Liberation from this new spiritual mire came though Catholic thinkers such as Augustine and Aquinas, who had confronted philosophy and transformed it in the light of Christian revelation rather than retreating into an anti-intellectual ghetto. In doing this they were following the example of the apostle Paul, who exhorted us to bring every thought captive to Christ and who in his own preaching, as in Acts 17:28 and in his epistle to the Colossians, made use of Greek thought to communicate the gospel. This philosophical tradition helped me rediscover the reasonableness of the Christian faith and thus fulfilled the expectations raised by Schaeffer.
The final moment of my liberation from man-centered spirituality came with my discovery of Thomist realism, an alternative to empiricism and idealism. Three books especially helpful here were Ten Philosophical Mistakes by Mortimer Adler, Three Reformers by Jacques Maritain, and Leisure: The Basis of Culture by Josef Pieper. Realism allows us to reach beyond our sense impressions, unlike empiricism, and to be receptive to reality outside ourselves, unlike idealism. The receptivity of Catholic philosophy fully supports the receptivity of genuine Christian spirituality. Catholic philosophy and spirituality, I found, form an integral unity.
My spiritual and intellectual journey has taken me into Catholicism, where I have found the true and highest mysticism, in which there are no limitations to the depth of the loving relationship we can have with Christ, a relationship which allows us to live in accord with truth and rationality. Although I have only begun to grasp the riches of Catholic spirituality, I have no doubt that in finding Catholicism I found Christ in a more profound way than ever before in my Christian experience."
Love,
Matthew