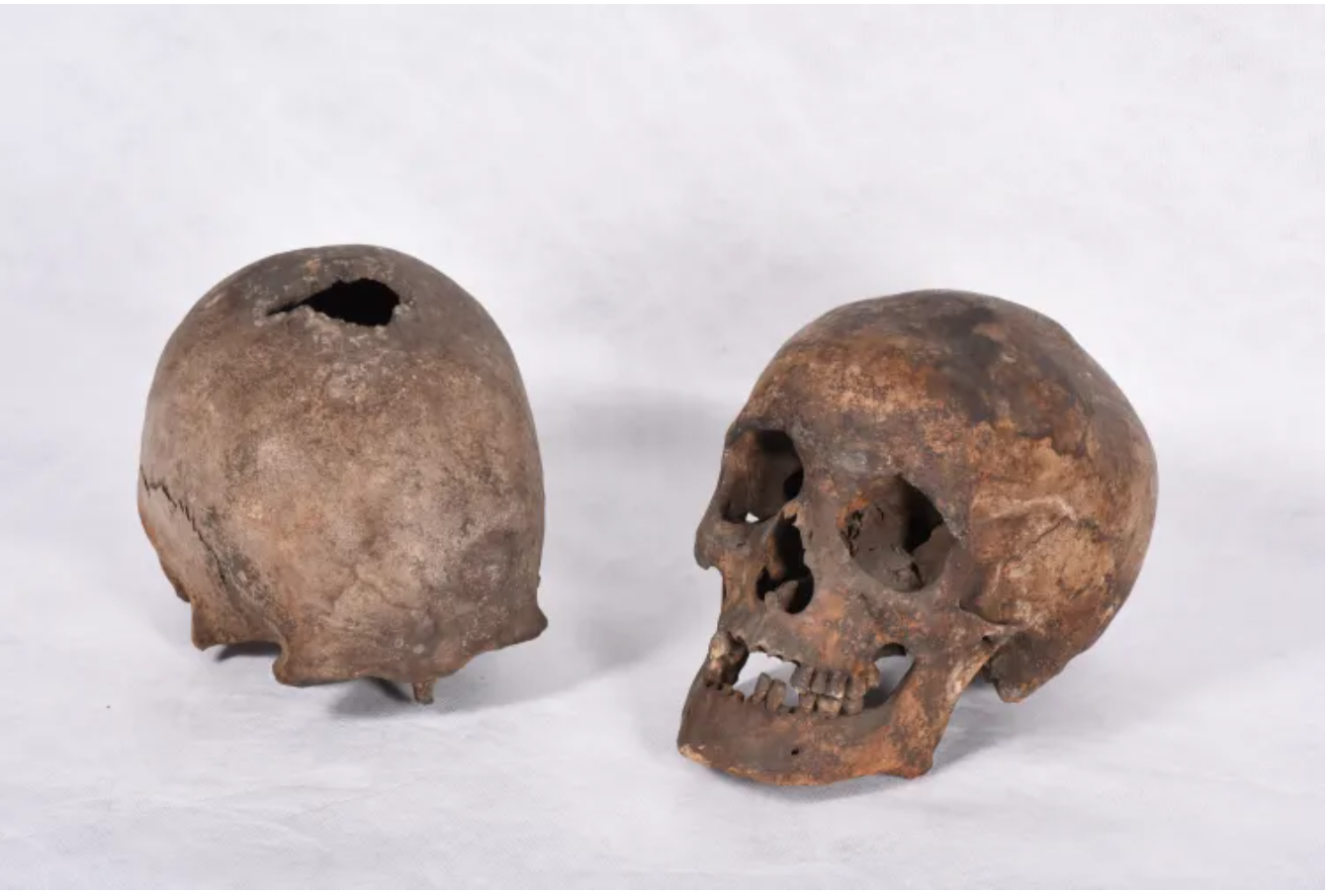 -please click on the image for greater detail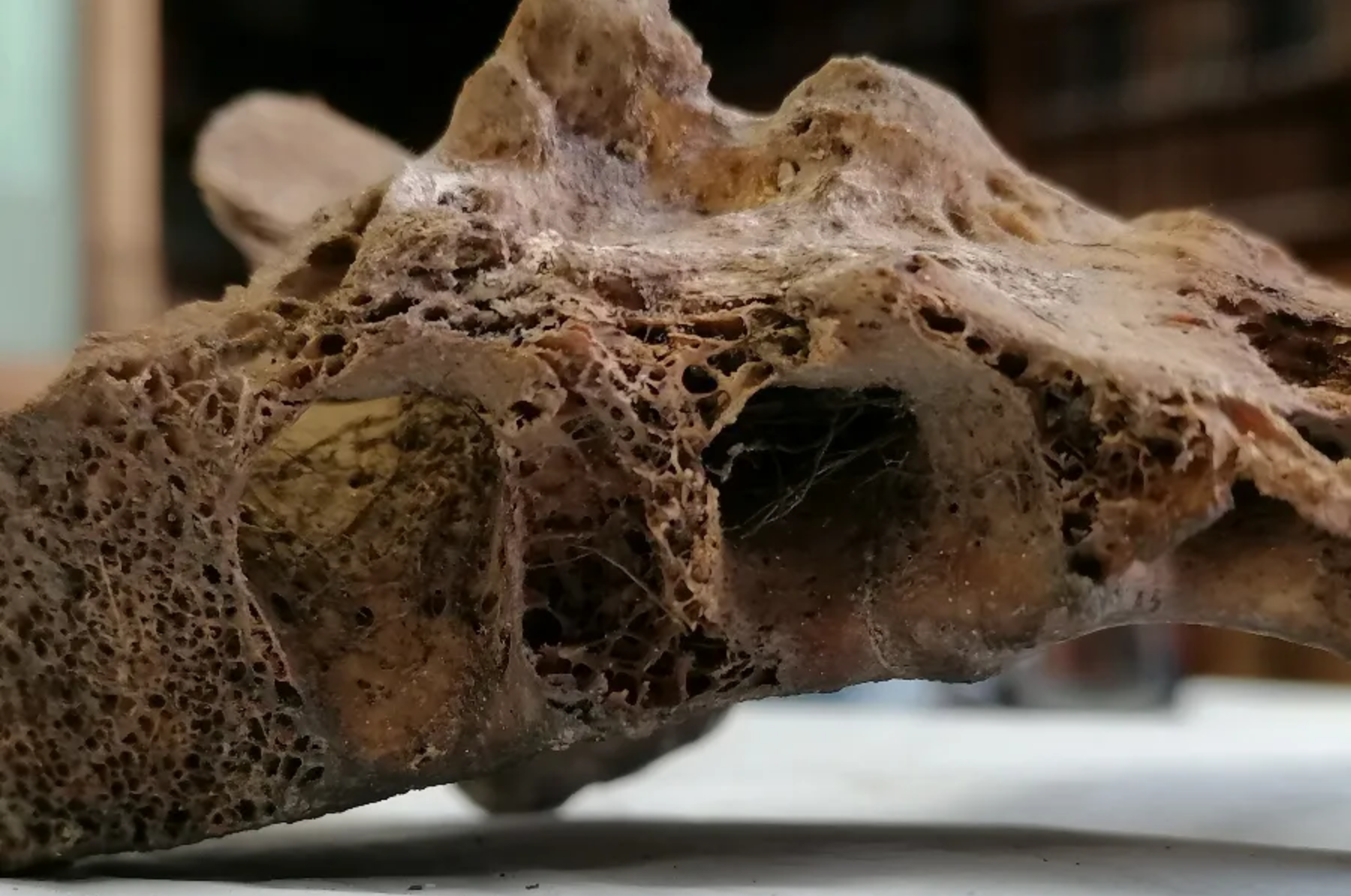 -please click on the image for greater detail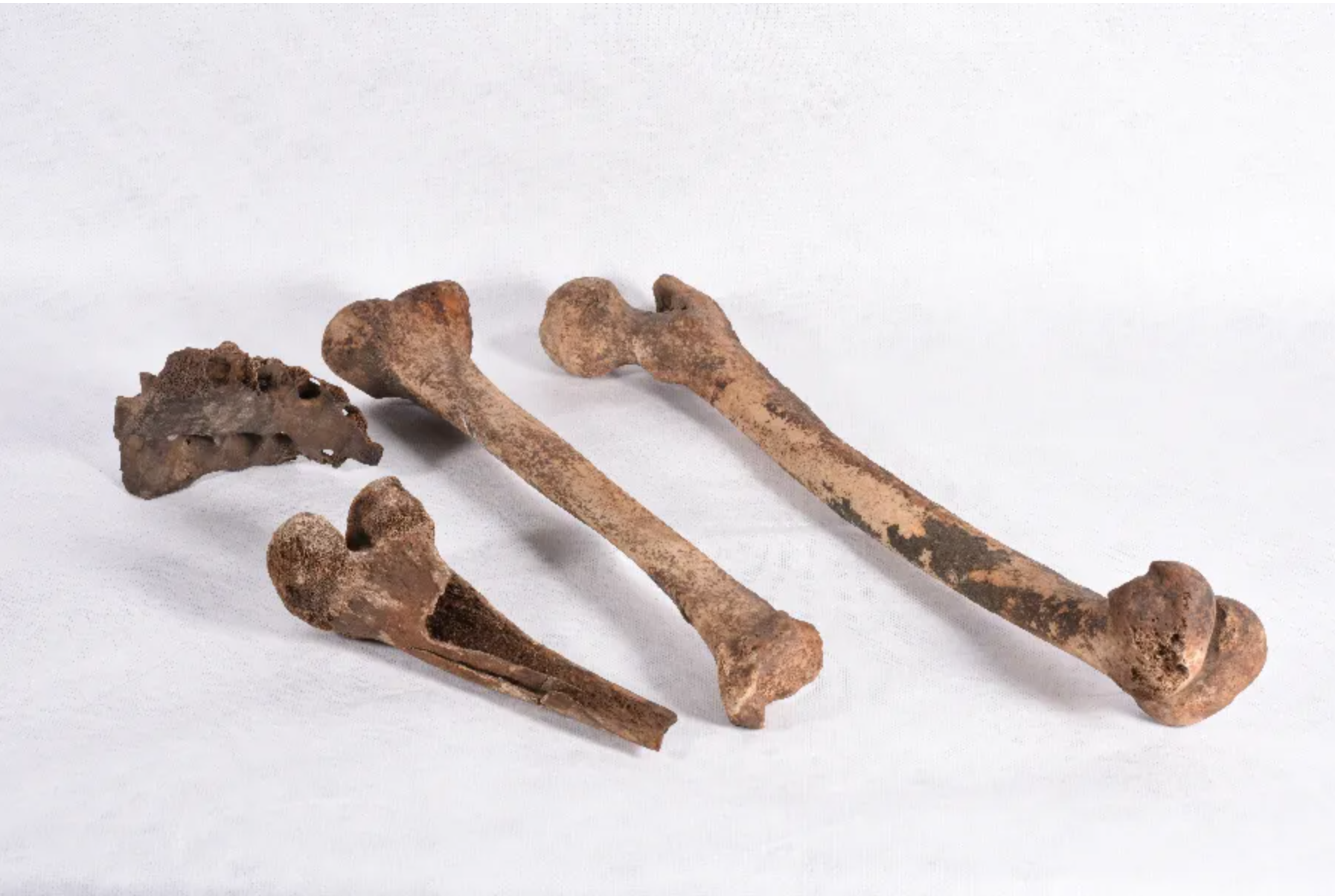 -please click on the image for greater detail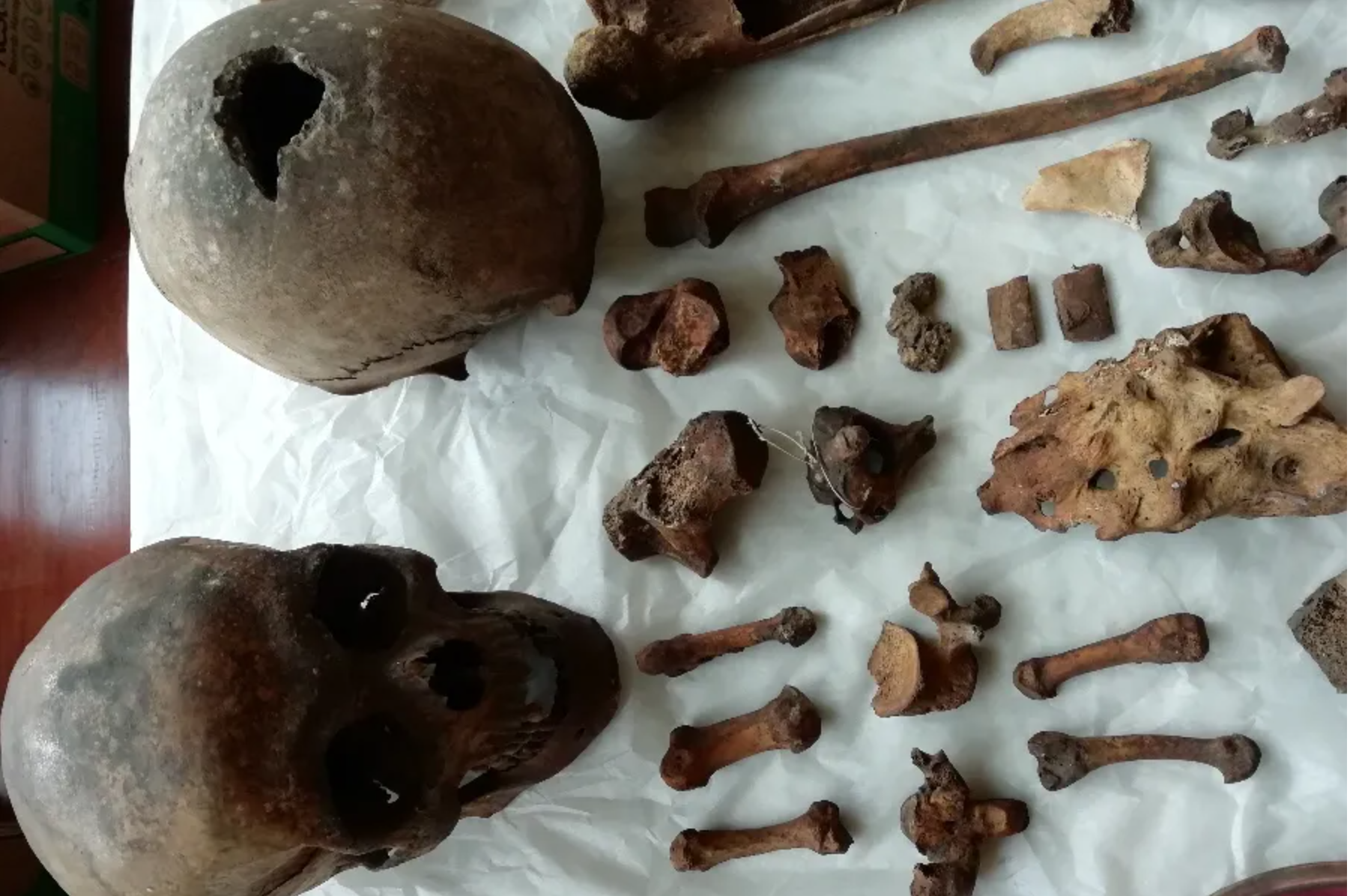 -please click on the image for greater detail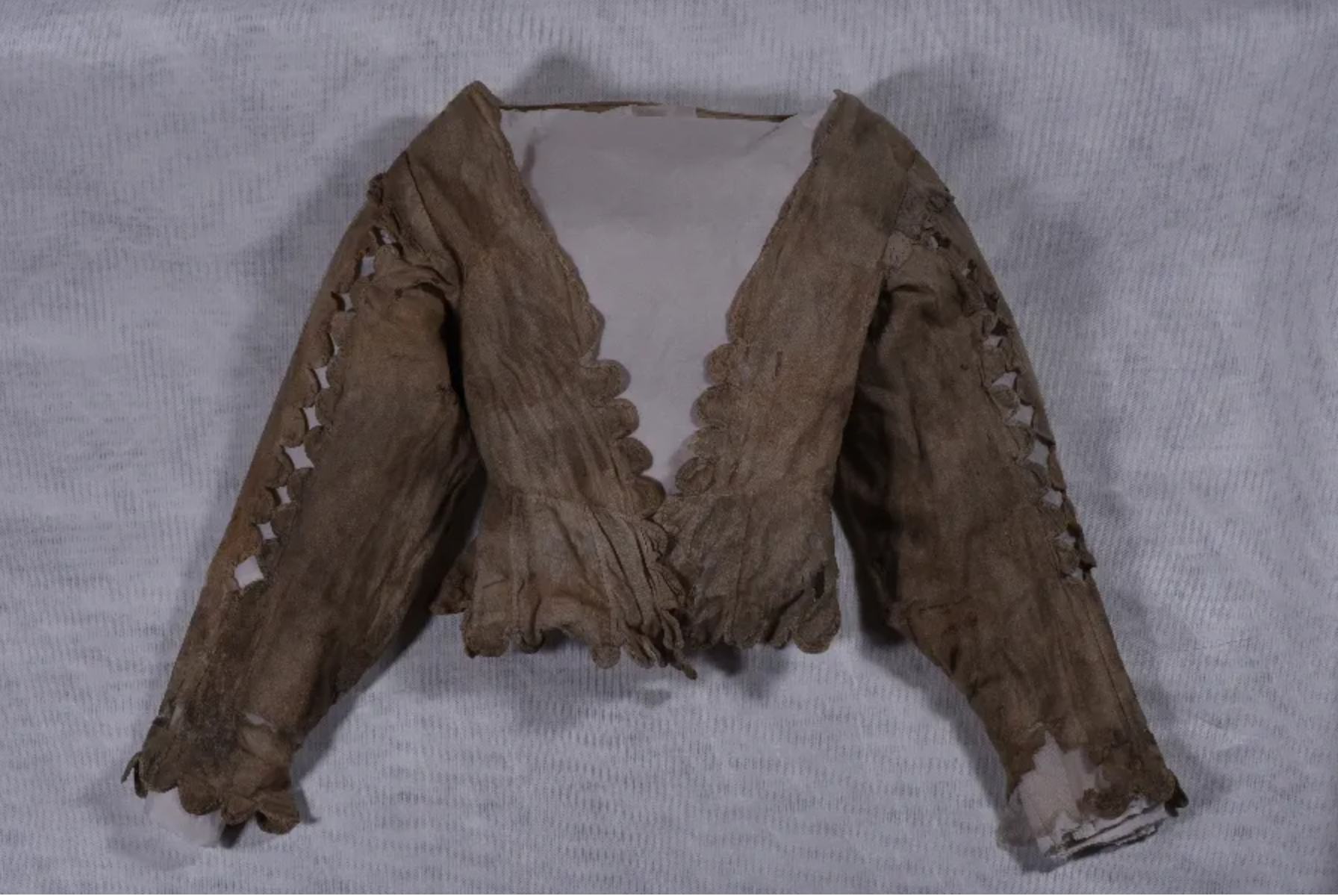 -linen jacket (~1640), woman's bodice, in which remains were found at Holywell, please click on the image for greater detail
It's a mystery that has puzzled researchers for almost 150 years. In 1878, a wooden box was discovered in an attic in the Welsh town of Holywell. It contained two skulls and a cluster of other bones, wrapped in a linen jacket.
Jan Graffius is the curator of the Stonyhurst Collections, an eye-popping assembly of Catholic martyrs' relics at Stonyhurst College in Lancashire, northwest England. She believes that she has finally solved the conundrum.
"The starting point is you look at the evidence in front of you," she told Catholic News Agency in an interview. "So you have two skulls. One has a hole in the cranium, and many of the bones that are associated with the two skulls show evidence of having been cut with a sharp knife."
"The immediate premise that you draw from that is that at least one of these two was dismembered after death and that one of the heads was stuck on a spike."
Acknowledging that the details were "quite graphic," she continued: "I examined the skull to see whether the hole in the top had been inflicted from the outside in or from the inside out. And the way the bone had been damaged indicated that the force had come from within the skull, within the cranium itself. It had also been pierced by something from inside, like a spike."
"The clinching argument was that the coccyx [pictured above] — the bone at the base of the spine — had been severed very cleanly. And when you're hanging, drawing, and quartering, the quartering is literal: you cut the body into pieces. And that indicates to me where you would normally expect the cuts to come from severing the legs from the body."
A second identifying factor, Graffius said, was where the bones were found. They were uncovered in a house connected to the Jesuit order, where relics of English martyrs were previously discovered.
"So there was an association with an English martyr, or a Welsh martyr, and somebody with a Jesuit association," she explained.
(Holywell is, in addition, home to St Winefride's Well, the oldest continually visited pilgrimage site in Britain.)
Graffius said that another clue was that the two skulls were found together, suggesting that the two figures were closely associated.
She consulted Maurice Whitehead and Hannah Thomas, academic experts on the Welsh martyrs of the 16th and 17th centuries. That led to the breakthrough.
Philip Evans was playing tennis on July 21, 1679, when he heard that he would be executed the following day. He reportedly received the news in good spirits and asked permission to finish the game in the grounds of the prison where he was being held. Not permitted to do so, he took up a harp back in his prison cell and sang praise to God for calling him to be a martyr.
Evans was born around 34 years earlier in Monmouthshire, southeast Wales. He studied at the English Jesuit College at St Omer in Flanders, entering the Jesuits at the age of 20. In 1675, he returned to his homeland to serve as a missionary: a perilous enterprise following the Welsh Reformation.
Priest hunters tracked Evans down on Dec. 2, 1678. After weeks of solitary confinement at Cardiff Gaol, he was allowed to share a cell with another condemned man, John Lloyd.
Lloyd was older than Evans. Born in Brecon, mid-Wales, he trained for the Catholic priesthood in Valladolid, Spain. He came back to Wales in 1654, knowing that he risked his life by doing so.
Evans and Lloyd were condemned to death at the Spring Assizes in 1679. A jailer allowed them considerable freedom in their final months, with Evans playing the harp as well as engaging in racket sports.
On the evening before his execution, Evans wrote to his younger sister, a nun in Paris.
"Dear Sister," he said. "I know that you are so well versed in the principles of Christian courage as not to be at all startled when you understand that your loving brother writes this as his last letter unto you, being in a few hours hence to suffer as a priest and consequently for God's sake. What greater happiness can befall a Christian man?"
Evans was the first to be hanged, drawn, and quartered the next day. Witnesses noted that his executioners showed unusual aggression. At executions of groups of Catholic priests, the first killing was often especially savage, in an attempt to persuade those waiting to recant. But Lloyd held fast to the faith to the end.
Graffius said that the experts she consulted suggested that the bones possibly belonged to the two Welsh priests.
"They both said, 'Look, this must be Evans and Lloyd because they were very closely associated in life.' They spent their last six months or so together in prison. They were executed at the same time. They were buried, or disposed of, at the same time, and they are always spoken of as a pair, if you like, because of the close friendship they had during life."
"So it makes perfect logical and historical sense for these two bones of these very closely associated men to have been rescued together, and secreted together."
The story of the bones' identification is told in an online exhibition, "'How bleedeth burning love': British Jesuit Province's Relics of the Forty Martyrs of England and Wales," inspired by the 50th anniversary of the canonization of the Forty Martyrs of England and Wales.
The exhibition was originally planned as a physical event marking the anniversary of the canonization by Pope Paul VI on Oct. 25, 1970. But the coronavirus crisis forced the organizers to change their plans, offering instead an audio and visual experience to internet users around the world.
The exhibition describes the discovery of the bones at Holywell as well the lives of Evans and Lloyd, who were among the 40 martyrs canonized in 1970.
It also features relics of the celebrated Jesuit martyrs St. Edmund Campion, St. Robert Southwell, and Blessed Edward Oldcorne, as well as two hats, a crucifix, and part of a hair shirt belonging to St. Thomas More.
Graffius said that she was "just thrilled" when she drew the evidence together and connected the Holywell bones to Evans and Lloyd.
"To be able to say with a good degree of confidence, 'this is who they are,' is very exciting," she said.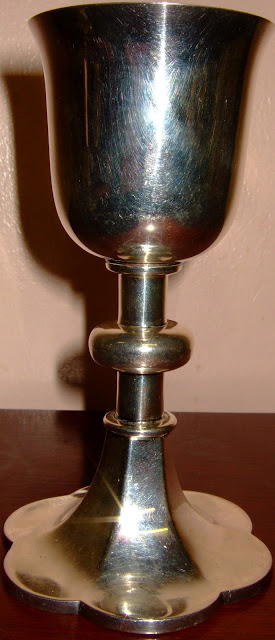 -17th century chalice believed to have belonged to St Philip Evans, SJ


-carving of St Philip Evans, SJ with his harp
Philip Evans was born in Monmouth in 1645, was educated at Jesuit College of St. Omer (now in France), joined the Society of Jesus in Watten on 7 September 1665, and was ordained at Liège (now in Belgium) and sent to South Wales as a missionary in 1675.
He worked in Wales for four years, and despite the official anti-Catholic policy no action was taken against him. When the Oates' scare swept the country both Lloyd and Evans were caught up in the aftermath. In November 1678 John Arnold, of Llanvihangel Court near Abergavenny, a justice of the peace and a staunch Calvinist and hunter of priests, offered a reward of an additional £200 (equivalent to £30,000 in 2019) for his arrest.  The normal price for a Jesuit was £50.
Despite the manifest dangers Father Evans steadfastly refused to leave his flock. He was arrested at the home of a Mr Christopher Turberville at Sker, Glamorgan, on 4 December 1678. Ironically the posse which arrested him is said to have been led by Turberville's brother, the notorious priest-taker Edward Turberville.

Father John Lloyd, a Welshman and a secular priest (a priest not associated with any religious order), was a Breconshire man. He was educated in Ghent (now in Belgium),[citation needed] and from 1649 at the English College, Valladolid, Spain. He took the 'missionary oath' on 16 October 1649 to participate in the English Mission. Sent to Wales in 1654 to minister to covert Catholics, he lived his vocation while constantly on the run for 24 years. He was arrested at Mr Turberville's house at Penlline, Glamorgan, on 20 November 1678, and imprisoned in Cardiff Gaol. There he was joined by the Jesuit, Philip Evans.
They waited five months before going to trial because the prosecution could not find witnesses to testify that they were indeed priests. Eventually a woman and her daughter said that they had received the sacraments from the Jesuit, which was true. Both priests were brought to trial in Cardiff on Monday, 5 May 1679. Neither was charged with being associated with the plot concocted by Oates. Nonetheless, they were tried for being priests and coming to England and Wales contrary to the provisions of Jesuits, etc. Act 1584, and were declared guilty of treason for exercising their priesthood.
The executions took so long to be scheduled that it began to appear that they might not take place. The priests were allowed a good deal of liberty, even to leaving the prison for recreation. The executions took place in Pwllhalog, near Cardiff, on 22 July 1679. Two plaques mark the site at what is now the junction of Crwys Road and Richmond Road in Roath, Cardiff, still known as "Death Junction".
Philip Evans was the first to die. When Evans mounted the ladder at the gallows, he said, "This is the best pulpit a man can have to preach in, therefore, I can not forbear to tell you again that I die for God and religion's sake. "He addressed the gathering in both Welsh and English saying, 'Adieu, Father Lloyd! Though only for a little time, for we shall soon meet again'. John Lloyd spoke very briefly saying, "My fellow sufferer has declared the cause of our death, therefore I need not repeat it. Besides, I never was a good speaker in my life. I shall only say that I die in the true Catholic and apostolic faith, according to these words in the Creed, I believe in the holy Catholic Church; and with those three virtues: faith, hope and charity".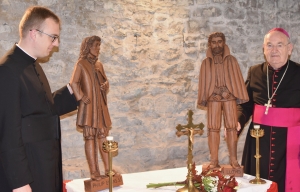 "Archbishop George Stack marked the 50th anniversary of the Canonisation of the 40 Martyrs of England and Wales by Pope Paul VI by holding Mass in the stark and grim bare stone cell at Cardiff Castle where two of these Martyrs were held before their execution on 22 July 1679.
The Archbishop and pilgrims then carried statues of Saint Phillip Evans and Saint John Lloyd to the site of their execution, then called the Gallows Field, and situated outside the Cardiff walls. It is now a busy road junction but the spot is marked by a plaque on the wall of the NatWest bank.
Almighty God, by whose grace and power your holy martyrs
Saint Philip Evans and Saint John Lloyd
triumphed over suffering and were faithful even to death:
Grant us, who now remember them in thanksgiving,
to be so faithful in our witness to you in this world,
that we may receive with them the crown of life;
through Jesus Christ our Lord, who lives and reigns with you and the Holy Spirit,
one God, for ever and ever. Amen.
Love,
Matthew