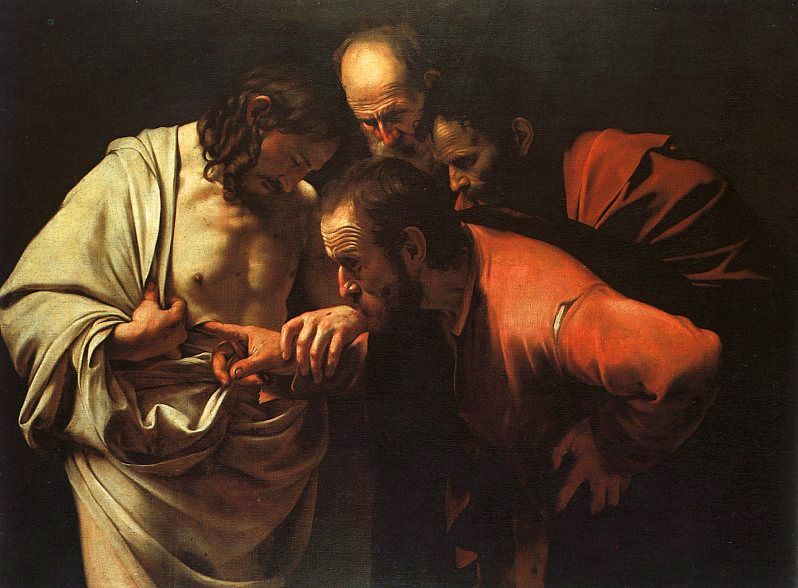 -"The Incredulity of Saint Thomas", Caravaggio, 1601–1602, oil on canvas, 107 cm × 146 cm (42 in × 57 in), Sanssouci, Potsdam, Germany, please click on the image for greater detail.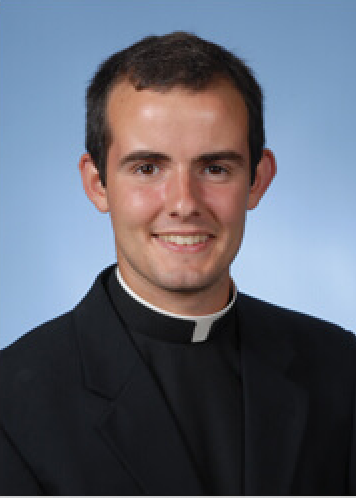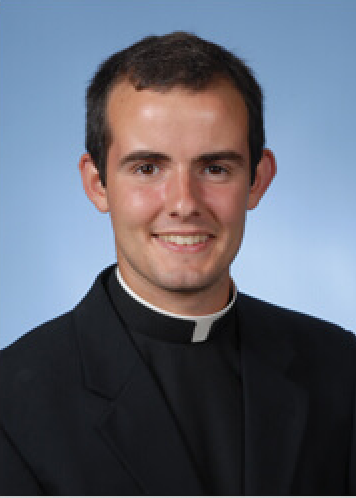 -by Fr. Joseph Gill
"It may just be a guy thing, but young boys love to tell stories of their scars. It's always humorous when I'm at the middle school and I just ask, "Hey, where'd you get that scar on your forehead?" and then the kid launches into an excited description of that time he was having a rock fight with his friend, and then he proceeds to show me three other scars and tell me their stories too.
Scars have stories. Even Shakespeare recognized this when he writes in his play Henry V about the warriors that fought with King Henry at the Battle of Crispin's Day. He writes: "He that lives through this day and comes home safe, will stand when Crispin's Day is named and will strip his sleeve and show his scars and say, 'These wounds I had on Crispin's Day!'" For these men who fought with the king, their wounds would be their badge of honor, a testament to their courage. And Shakespeare goes on to say that any man who, out of cowardice, stayed home on Crispin's Day would "hold their manhoods cheap" when in the presence of those brave warriors who bear the scars of the battle.
Jesus, then, to show His courage, His victory, shows His disciples His scars. Have you ever thought how odd that is? I mean, if you're going to resurrect into a perfect Body, why not get rid of those scars in the hands and feet? Why not look perfect?
Very simple – the scars are a visible reminder of what He endured for them. When they see the scars, they see the price of repentance – but also the Victory of Christ.
As an ancient homily from the second century says, "We had left a garden; Christ returned to a garden to be betrayed and a garden to be buried. See on His face the spittle He received in order to restore to us the life He once breathed into us. See there the marks of the blows He received in order to refashion our warped nature in His image. On His back see the marks of the scourging He endured to remove the burden of sin that weighs upon our back. See His hands, nailed firmly to a tree, for we once wickedly stretched out our hands to a tree" in the Garden of Eden.
And consider the words of St. Theodore the Studite: "The Lord, like a brave warrior wounded in His hands, feet, and side, healed the wounds of sin that the evil serpent had inflicted on our nature."
His wounds undo our wounds. His scars wipe away our scars. All of us have wounds and scars – we can't get through life unscathed. Sometimes those scars are caused by other people: maybe we've been abused, treated poorly, bullied, hated, rejected. Maybe people we love have died. Maybe we've struggled with depression, anxiety, illness, fear. Maybe the scars came because we made bad choices: the guilt of our sin, the addictions we've developed, the broken relationships that we just can't heal. All of us have wounds; all of us have scars. It would be impossible for any human being not to suffer or be wounded.
But wounds can either be healed or kill us. Wounds that are brought to Christ, the Divine Doctor, can be healed. Wounds that we hide, that we don't treat, will fester and cause misery and unhappiness – and eventually the spiritual death of hatred.
We bring our wounds to Christ through prayer and Confession. Pray about it – "Lord, what are You teaching me through my suffering? How can You use it to make me more like You? What are You calling me to let go of? How can I trust You more?" This is bringing our wounds to Christ. Then, if the wound involves our own sin, we can bring it to the Lord in Confession. Sin is the biggest wound because it wounds our relationship with God – thus, Jesus' first gift here in today's Gospel is that "repentance for the forgiveness of sins" comes through our faith in Him.
Life is tough, and sometimes we suffer. We suffer because of other people's choices, we suffer because of our own bad choices and our sins, and sometimes we just suffer because we're human. But when we get wounded, we can bring those wounds to Christ. He can forgive our sins. He can heal our wounds and make them, like His, signs of victory and triumph."
Love,
Matthew