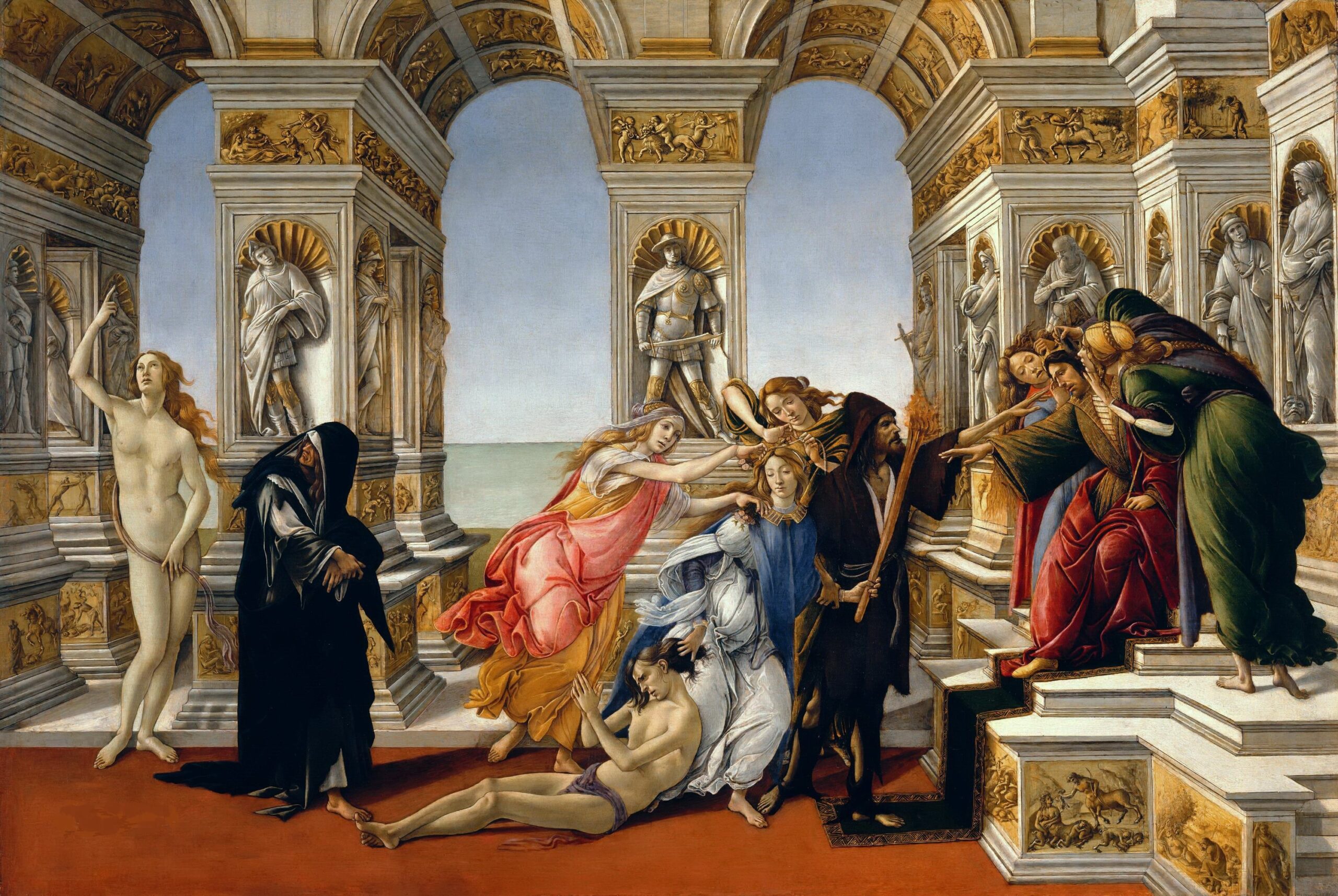 -"The Calumny of Apelles", by Sandro Botticelli, created ca 1494-1497, tempera on panel, 62 cm × 91 cm (24 in × 36 in), Uffizi, Florence. Botticelli made this painting on the description of a painting by Apelles, a Greek painter of the Hellenistic period. Apelles' works have not survived, but Lucian recorded details of one in his 'On Calumny': "On the right of it sits Midas with very large ears, extending his hand to Slander while she is still at some distance from him. Near him, on one side, stand two women—Ignorance and Suspicion. On the other side, Slander is coming up, a woman beautiful beyond measure, but full of malignant passion and excitement, evincing as she does fury and wrath by carrying in her left hand a blazing torch and with the other dragging by the hair a young man who stretches out his hands to heaven and calls the gods to witness his innocence. She is conducted by a pale ugly man who has piercing eye and looks as if he had wasted away in long illness; he represents envy. There are two women in attendance to Slander, one is Fraud and the other Conspiracy. They are followed by a woman dressed in deep mourning, with black clothes all in tatters—she is Repentance. At all events, she is turning back with tears in her eyes and casting a stealthy glance, full of shame, at Truth, who is slowly approaching." Please click on the image for greater detail.
-by ThoughtCo
"Calumny, Fr. John A. Hardon, S.J., writes in his Modern Catholic Dictionary, is "Injuring another person's good name by lying." As the Catechism of the Catholic Church notes (para. 2479), both calumny and the related sin of detraction (revealing another's sins to a third party who does not need to know about them)
destroy the reputation and honor of one's neighbor. Honor is the social witness given to human dignity, and everyone enjoys a natural right to the honor of his name and reputation and to respect. Thus, detraction and calumny offend against the virtues of justice and charity.
While detraction can cause great damage through telling the truth, calumny is, if anything, even worse, because it involves the telling of a lie (or of something that one believes to be a lie). You can engage in detraction without intending to do damage to the person you are discussing, but calumny is by definition malicious. The point of calumny is, at the very least, to lower the opinion one person has of another person.
What Can Calumny Be?
Calumny can be even more subtle and insidious. The Catechism of the Catholic Church notes (para. 2477) that a person is guilty of calumny if he, "by remarks contrary to the truth, harms the reputation of others and gives occasion for false judgments concerning them." The person who engages in calumny does not even have to specify an untruth about another; all he has to do is place doubts about that person in the minds of others.
While truth is not a defense against the charge of detraction, it is against the charge of calumny. If what you have revealed to someone about a third party is true, you are not guilty of calumny. If the person you revealed it too has no right to that information, however, you are still guilty of detraction.
Calumny goes hand-in-hand with gossip, yet, while we often think of gossip as a​ venial sin, the Catechism says (para. 2484) calumny is so serious that it can amount to a mortal sin if the lie that you tell causes grave damage to the person in question:
The gravity of a lie is measured against the nature of the truth it deforms, the circumstances, the intentions of the one who lies, and the harm suffered by its victims. If a lie in itself only constitutes a venial sin, it becomes mortal when it does grave injury to the virtues of justice and charity.
Once you have told a lie about another person, you are morally obligated to try to repair the damage you have done. As the Catechism notes (para. 2487), this applies even if the person about whom you have told the lie has forgiven you. That reparation may be much more than simply admitting that you have lied. As Father Hardon notes,
[T]he calumniator must try, not only to repair the harm done to another's good name, but also to make up for any foreseen temporal loss that resulted from the calumny, for example, loss of employment or customers.
The magnitude of the reparation must match the magnitude of the offense, and, according to the Catechism of the Catholic Church (para. 2487), the reparation may be "sometimes material" as well as moral. To use Father Hardon's example, if your lie has caused someone to lose his job, you may even be obligated to make sure that he can pay his bills and feed his family.
Like detraction, calumny is rarely ever a minor sin. Yet the most seemingly innocuous gossip can easily slip into detraction, and, as you delight in the attention of your hearer, even into calumny. It's no surprise that many of the early Fathers of the Church regarded gossiping and backbiting to be among the most common, and yet most dangerous, of sins."
4/13/2020
"For the third time in as many weeks, Pope Francis has warned not to speak ill of others, and again mentioned the devil in another striking homily this morning in the chapel of the Vatican's Santa Martha residence.
Calumny, he said, is worse than sin and is the direct expression of Satan. "We are all sinners; all of us. We all commit sins. But calumny is something else. It is of course a sin, too, but it is something more," he said, according to a Vatican Radio report.
"Calumny aims to destroy the work of God, and calumny comes from a very evil thing: it is born of hatred. And hate is the work of Satan. Calumny destroys the work of God in people, in their souls. Calumny uses lies to get ahead." Be in no doubt, he said: "Where there is calumny, there is Satan himself."
He then gave the example of St. Stephen, who was a victim of calumny, wrongly accused of bearing false witness, and was martyred because of it. The Church's first martyr, the Pope said, does not repay falsehood with falsehood. Instead, he "looks to the Lord and obeys the law", being in the peace and truth of Christ. It's the way of martyrdom, he said, and there have been numerous examples of those who have witnessed to the Gospel with great courage.
But he added – and later repeated – that the age of martyrs "is not yet over" and that "even today we can say, in truth, that the Church has more martyrs now than during the first centuries."
"The Church has many men and women who are maligned through calumny, who are persecuted, who are killed in hatred of Jesus, in hatred of the faith," the Holy Father continued. "Some are killed because they teach the catechism, others are killed because they wear the cross … Today, in many countries, they are maligned, they are persecuted … they are our brothers and sisters who are suffering today, in this age of the martyrs".
This age of "such great spiritual turmoil" reminded the Pope of an ancient Russian icon that depicts Our Lady covering the people of God with her mantle: "We pray to Our Lady to protect us, and in times of spiritual turbulence the safest place is under the mantle of Our Lady. She is the mother who takes care of the Church. And in this time of martyrs, she is the protagonist, the protagonist of protection: She is the Mother. (…) Let us state with faith: Mother, the Church is under your protection: Care for the Church."
This is the third time at these early morning Masses that the Pope has warned against speaking poorly of others. Last month he said it was the equivalent of selling someone "like a commodity," not unlike Judas, who sold out Jesus for 30 pieces of silver. A few days later, he warned against gossip, saying that complaining behind each other's backs is a temptation that comes "from the Evil One, who does not want the Spirit to dwell among us and give peace."
Since his election last month, the Pope has also made frequent references to the devil. Observers have noted this emphasis with interest, especially as explicit mentions of the devil largely fell into disuse in the years following the Second Vatican Council. With his disappearance from Church texts, exorcists complained that the rite of exorcism had become useless against demons.
Pope Francis's frequent allusions to "Satan" and the "Evil One" may well be part of an effort —one that Benedict XVI had already begun — to cast out the presence of evil and so bring back healing and harmony to the Church, and to parts of the Vatican in particular."
Love,
Matthew