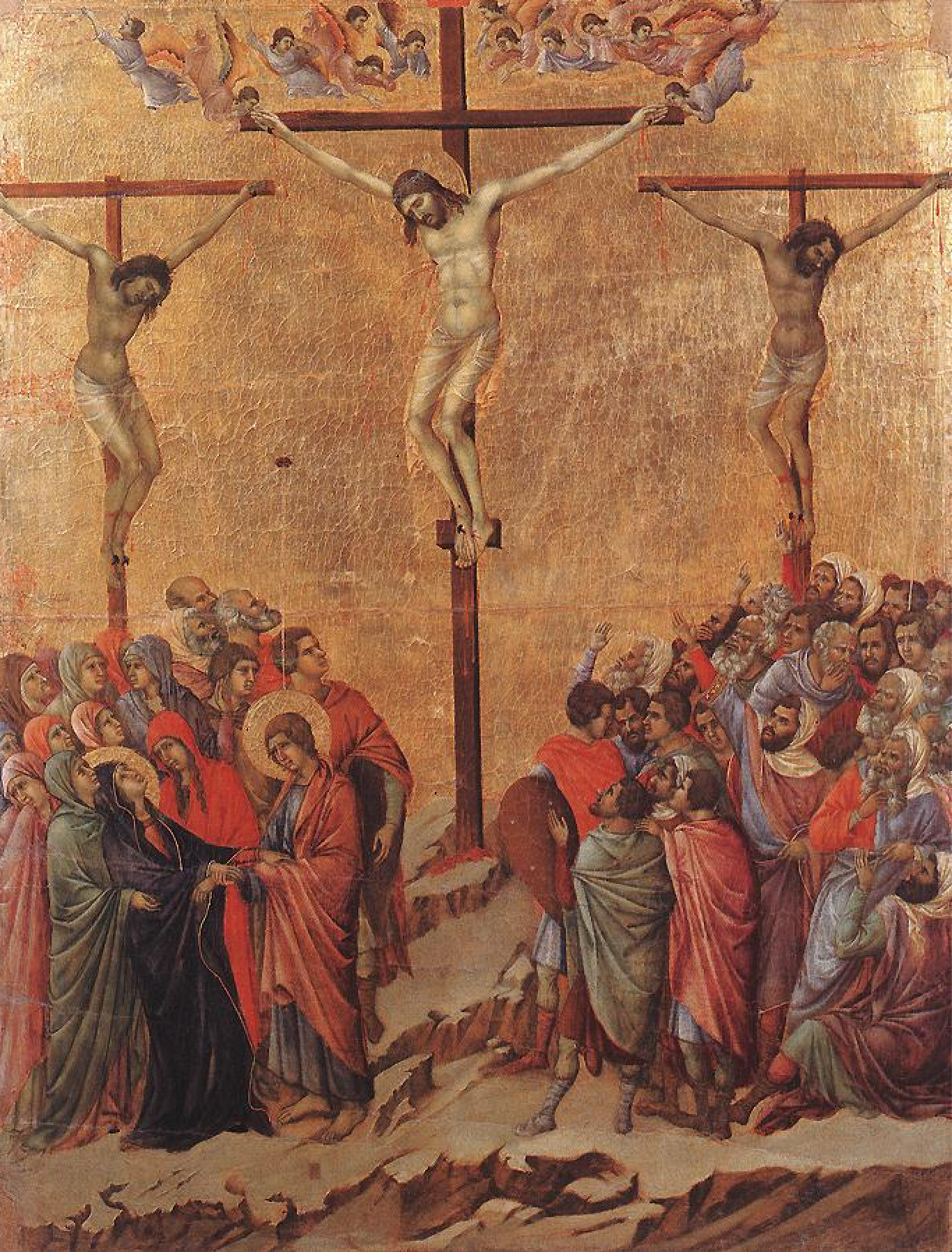 -"Crucifixion", by Duccio di Buoninsegna (1308-11), Museo dell'Opera del Duomo, Siena, Italy
"Flee to Jesus.
In the spiritual life, we are often tempted to adopt a "fix-it-myself" attitude. "If I just work really hard and overcome this habitual sin, then I'll be holy enough to approach Jesus in prayer." This attitude fundamentally misses the point.
In the first moment of temptation or in the realization of having committed a sin, we must flee to Jesus. There's no need to do anything else first.
Where do we find Jesus? On the cross. It is hard to contemplate the cross, but that is where He awaits us. Jesus is on the cross, and He is there because of me. This can be taken in two ways.
First, we must face up to the reality that He is there because of me – Jesus is on the cross because of my sins. Facing the cross, we see exteriorly what the evil of sin truly looks like interiorly. Sin destroys, mutilates, shames. Fixing our eyes on the cross, we see how our sins are a true death, how we cannot heal our own wounds and, no matter how hard we try, cannot bring ourselves back to life. We cannot, however, merely call ourselves "sinners." We must be "sinners who flee to Jesus," for He is the one who heals us.
Thankfully, He is there because of me – Jesus is on the cross because He loves me. Dying on the cross, Jesus knew every sin that every person would commit and, in turn, merited each and every grace that He wishes to bestow on us. He died once for all two millennia ago, yet we must approach Him right now to receive that grace by which we are healed and restored to life. The cross is the source of life for us. When we approach Jesus on the cross, we find that the grace needed to heal a particular sinful habit or weakness has already been won for us.
Encountering the cross daily, then, is more than gracefully enduring those hardships that come our way unprovoked, whether at the hands of others, (our own), or because of physical ailments. Encountering the cross daily entails holding these two aspects of the cross together – the shame and disorder that our own sins cause as well as the love of Jesus. When we examine ourselves and accept in humility our complete inability to heal our weakness and sins, we find that we are truly contemplating the cross of Christ and seeking it for the life it bestows. As sinners who flee to Jesus, the very acknowledgment of our sinfulness and brokenness of heart is the action by which we find ourselves at the foot of the cross, the source of life. Try as hard as we might, we cannot fix ourselves.
We must flee to Jesus."
Flee to Jesus; rest in His loving arms; rest, flee to Jesus. Lord, I rest/trust only, truly in You.
Matthew