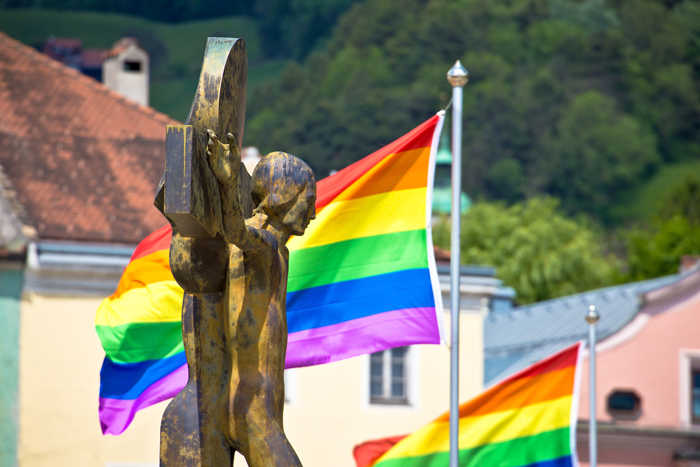 Jesus would attend a Pride parade in June. He would eat and drink with sinners. Even as He does each and every Sunday with us. Jesus' love was made manifest in His public ministry by His desire to seek out the lost and not abandon them to sin.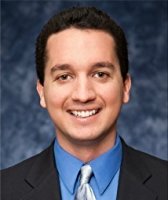 -by Trent Horn
"Jesus began his ministry by proclaiming, "The kingdom of God is at hand; repent, and believe in the gospel" (Mark 1:15), and He didn't sugarcoat His message about the sins of which people needed to repent. For example, He publicly called the religious leaders of His day "fools," "blind guides," and "hypocrites" who were like "whitewashed tombs, which outwardly appear beautiful, but within they are full of dead men's bones and all uncleanness" (Matt. 23:27).
When the Pharisees criticized Jesus' decision to dine with notorious sinners such as prostitutes, Jesus did not chastise these religious leaders for being "judgmental." Their error was not in caring too much about sin but in not caring enough about sinners. Jesus reminded them, "Those who are well have no need of a physician, but those who are sick; I came not to call the righteous but sinners." (Mark 2:17). According to New Testament professor Robert Gagnon:
"What was distinctive about Jesus' ministry was not that He refused to make judgments about the conduct of others, or even that He lowered his moral standards. On the contrary, in many areas He elevated those standards. What was distinctive was His incredibly generous spirit even toward those who had lived in gross disobedience to God for years. He expended enormous effort and exhibited great compassion in the search for the lost. Jesus did not wait for the lost to come to Him. He went looking for them (The Bible and Homosexual Practice, 212)."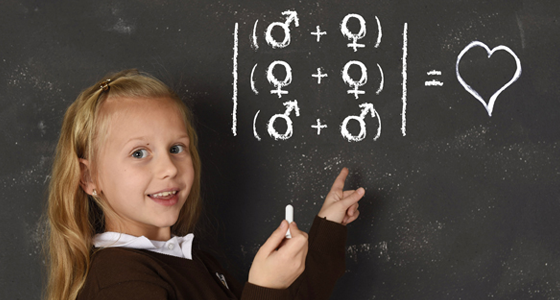 There's no reason to think Jesus wouldn't look for the lost in a place like a pride parade. I attended San Diego's LGBT Pride parade several years ago and engaged in peaceful evangelism with three men who described themselves as gay. But Jesus would never encourage people to celebrate any sin, especially grave sins that separate us from the love of God.
Some people claim that Jesus "never said anything about homosexuality," but the self-professed gay Episcopalian bishop Gene Robinson admits, "One cannot extrapolate affirmation of such relationships from that silence." Robinson instead claims that all "we can safely and responsibly conclude from Jesus' silence is that he was silent on the issue" (God Believes in Love, 83-84).
I wonder if Robinson would likewise say, "All we can safely and responsibly conclude from Jesus' silence on idolatry, incest, bestiality, and child sacrifice is that He was silent on those issues."
He likely wouldn't, because Jesus' affirmation of the Old Testament's prohibitions on, for example, murder, show He would never have supported child sacrifice. To claim otherwise would be absurd. Likewise, Jesus' affirmation of the Old Testament's prohibitions on sexual immorality show He would never have supported sexual activity between people of the same sex or any kind of behavior that violated the universal moral law.
Jesus' sexual ethics weren't based on the modern idea that consent is the only ethical norm for sexual acts and relationships. Jesus grounded His teaching in what God had revealed to humanity from the very beginning of Creation. After citing Genesis's description of how "God made them male and female" and "the two shall become one," Jesus bluntly declared, "whoever divorces his wife and marries another, commits adultery against her; and if she divorces her husband and marries another, she commits adultery" (Mark 10:11-12).
If Jesus would not approve of divorce because it violated the permanence of God's design for marriage, then He would never have approved of same-sex relationships that violate the sexual complementarity of God's design for marriage.
Some people try to diffuse the force of Jesus' teaching by saying that He was trying to be ironic, since wives weren't allowed to divorce their husbands. But although wife-initiated divorce was rare in the ancient near East, it was not unheard of. Exodus 21:10–11 describes how a slave married to her master can leave him without paying any sort of penalty if he fails to provide for her needs, including "marital rights." A second-century divorce certificate (in Hebrew, a get) addressed to a husband from his wife was discovered in the Judean desert in 1951. According to David Instone-Brewer in his study on divorce and remarriage in the Bible:
"Normally women would not write a divorce certificate such as this one, but they would ask a court to persuade their husbands to write one. Perhaps this nonrabbinic practice was influenced by the Greco-Roman world where women could initiate divorce, as wealthy Jewish women in the first century are known to have done" (Divorce and Remarriage in the Bible, 88)."
Jesus did not teach that what mattered most is finding happiness through our bodily desires. After saying lust was itself a kind of adultery, Jesus advised His hearers, "If your right eye causes you to sin, pluck it out and throw it away; it is better that you lose one of your members than that your whole body be thrown into hell" (Matt. 5:30). Jesus' hyperbole is not a recommendation of mutilation but of mortification: the disciplined subjection of our bodily desires so that they serve our heavenly destiny.
Our bodily desires are strong, but the grace of God is stronger, so anyone who struggles with disordered sexual attractions (no matter their object) should not give into despair and hopelessness. We all feel the "war in our bodies" (Rom. 7:23) tempting us to reject God's will for us, and so we should look to Christ, not as a heartless judge but as a compassionate savior Who allowed His body to be abused and killed so that our bodily desires would not condemn our eternal souls."
Love & truth,
Matthew