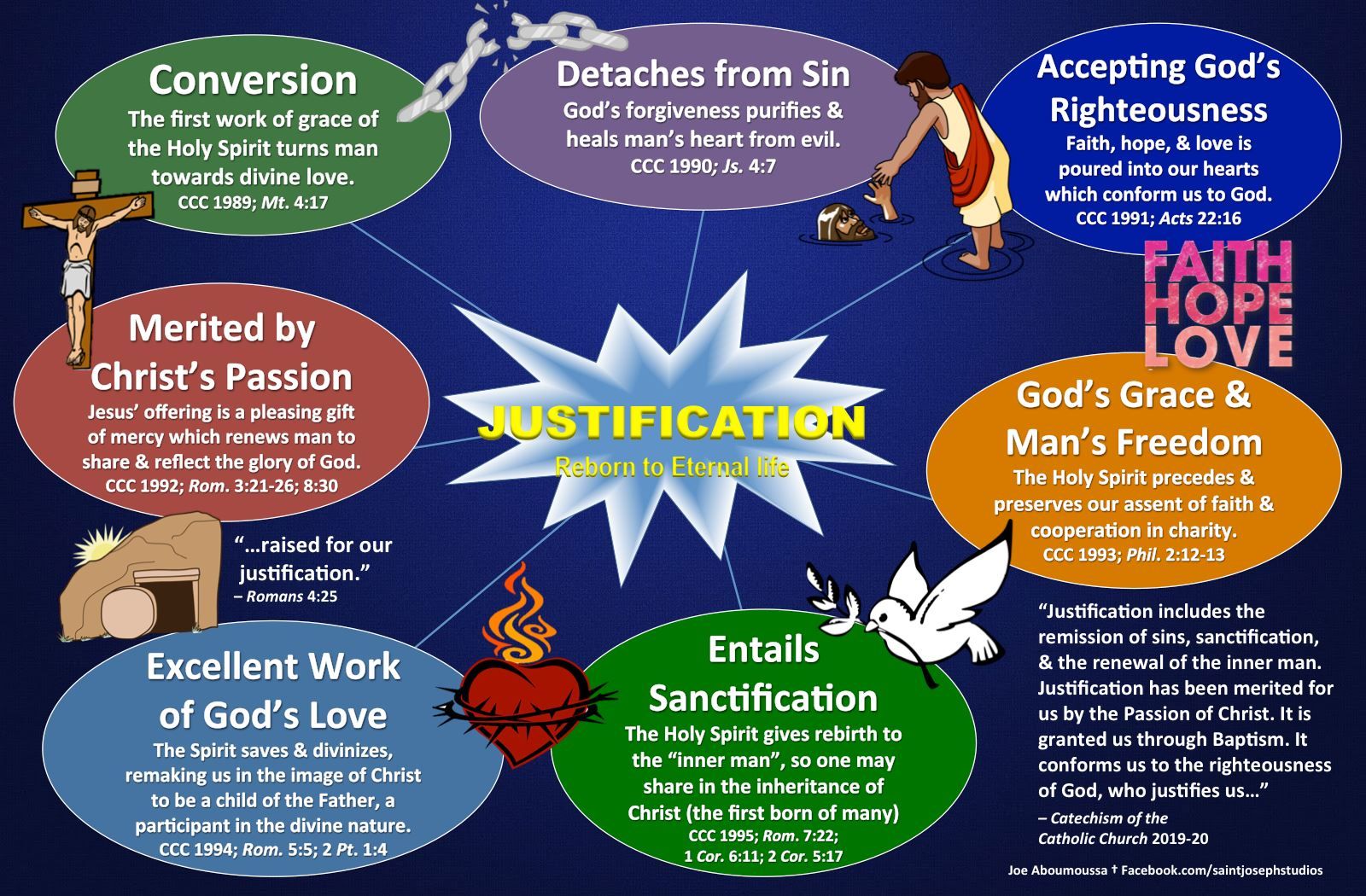 -please click on the image for greater detail
We must have sanctifying grace in our souls if we're to be equipped for heaven. Another way of saying this is that we need to be justified. "But you were washed, you were sanctified, you were justified in the name of the Lord Jesus Christ and in the Spirit of our God" (1 Cor. 6:11).
The Protestant misunderstanding of justification lies in its claim that justification is merely a legal declaration by God that the sinner is now "justified." If you "accept Christ as your personal Lord and Savior," he declares you justified, though He doesn't really make you justified or sanctified; your soul is in the same state as it was before, but you're eligible for heaven.
A person is expected thereafter to undergo sanctification (don't make the mistake of thinking Protestants say sanctification is unimportant), but the degree of sanctification achieved is, ultimately, immaterial to the question of whether you'll get to heaven. You will, since you're justified; and justification as a purely legal declaration is what counts.
Unfortunately, this amounts to God telling an untruth by saying the sinner has been justified, while all along He knows that the sinner is only covered under the "cloak" of Christ's righteousness. But, what God declares, He does. That's a primary and distinguishing difference between mortals and the divine. When God speaks, it is, it happens, it is so. "[S]o shall my word be that goes forth from My mouth; it shall not return to Me empty, but it shall accomplish that which I purpose, and prosper in the thing for which I sent it" (Is. 55:11). So, when God declares YOU justified, He makes YOU justified. YOU, not by some disguise, even the disguise of His only begotten Son, but ACTUALLY, ACTUALLY YOU!!!! Any justification that is not woven together with sanctification is no justification at all.
The Bible's teaching on justification is much more nuanced. Paul indicates that there is a real transformation that occurs in justification. This is seen, for example, in Romans 6:7, which every standard translation—Protestant ones included—renders as "For he who has died is freed from sin" (or a close variant).
Paul is obviously speaking about being freed from sin in an experiential sense, for this is the passage where he is at pains to stress the fact that we have made a decisive break with sin that must be reflected in our behavior: "What shall we say then? Are we to continue in sin that grace may abound? By no means! How can we who died to sin still live in it?" (Rom. 6:1-2). "Let not sin therefore reign in your mortal bodies, to make you obey their passions. Do not yield your members to sin as instruments of wickedness, but yield yourselves to God as men who have been brought from death to life, and your members to God as instruments of righteousness" (Rom. 6:12-13).
The context here is what Protestants call sanctification, the process of being made holy. Sanctification is the sense in which we are said to be "freed from sin" in this passage. Yet in the Greek text, what is actually said is "he who has died has been justified from sin." The term in Greek (dikaioo) is the word for being justified, yet the context indicates sanctification, which is why every standard translation renders the word "freed" rather than "justified." This shows that, in Paul's mind, justification involves a real, experiential freeing from sin, not just a change of legal status, a legal disguise. And it shows that, the way he uses terms, there is not the rigid wall between justification and sanctification that Protestants imagine.
According to Scripture, sanctification and justification aren't just one-time events, but are ongoing processes in the life of the believer. As the author of Hebrews notes: "For by one offering He has perfected forever those who are being sanctified" (Heb. 10:14). In regard to justification also being an ongoing process, compare Romans 4:3; Genesis 15:6 with both Hebrews 11:8; Genesis 12:1-4 and James 2:21-23; Genesis 22:1-18. In these passages, Abraham's justification is advanced on three separate occasions.
Can Justification Be Lost?
Many Protestants go on to say that losing ground in the sanctification battle won't jeopardize your justification. You might sin worse than you did before "getting saved," but you'll enter heaven anyway, because you can't undo your justification.
Calvin taught the absolute impossibility of losing justification. Luther said it could be lost only through the sin of unbelief; that is, by undoing the act of faith and rejecting Christ, but not by what Catholics call mortal sins.
The truth is if you sin grievously, the supernatural life, the sanctifying grace, in your soul flees back to God. Sin is mortal in that it kills the life of God's supernatural grace in us. It's not so much God's grace is vanquished, but moreso, it flees sin since it belongs to and is only in accord with the divine life, and nothing else. God's eternal life giving grace cannot/will not co-exist with serious sin. It is impossible. Nature abhors a vacuum, it fills it.  Grace also abhors the vacuum of sin, it abandons the soul so stained.
Sin is the absence of God's grace. Evil is the absence of good, of God. Both sin and evil are vacuums. They are not ontological beings unto themselves, but absences of grace and of good and of God. God's grace, His Life in YOU cannot tolerate the vacuum of sin in YOU or in Heaven. God's grace in you must be full, Lk 1:28. Otherwise, just like the Blessed Virgin Mary, Immaculately conceived, without the vacuum of original sin, God could not dwell, literally, within her or us.
We MUST have His life giving grace, His sanctifying grace within us, to be saved, to be united with the Godhead in eternity, Heaven. We then are truly justified, not covered in some disguise, but truly mirroring God in His own grace, personally; His eternal gift to us in Jesus Christ.
Love & truth,
Matthew