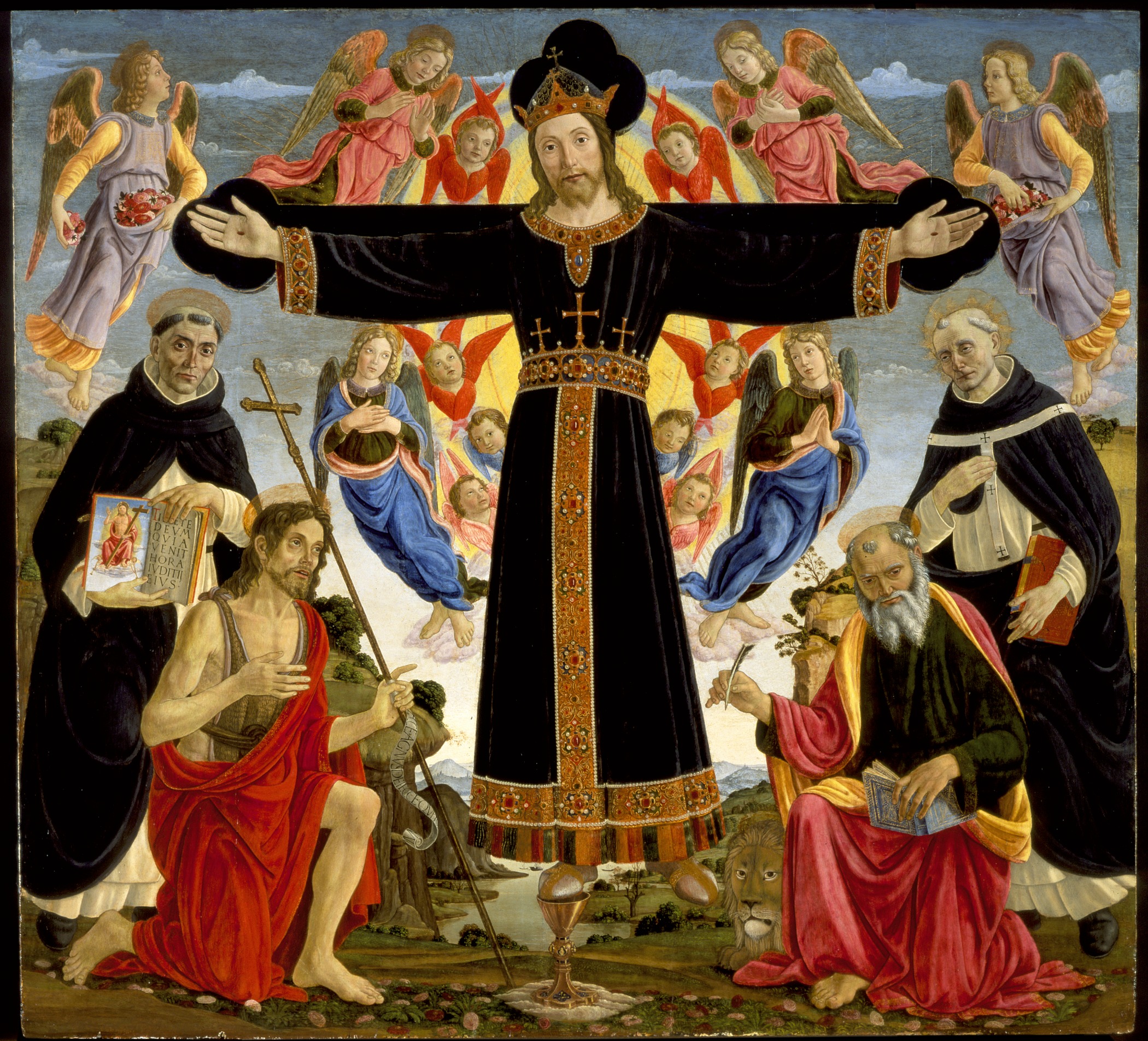 -"Christ on the Cross with Saints Vincent Ferrer, John the Baptist, Mark and Antoninus", by Master of the Fiesole Epiphany (Italy, Florence, active circa 1450-1500), painting, tempera and oil (?) on panel, 72 3/4 x 79 3/4 in. (184.79 x 202.57 cm); framed: 120.0787 x 114.17 x 18.90 in. (305 x 290 x 48 cm); sight: 79 1/4 in. (201.295 cm), Gift of The Ahmanson Foundation, Los Angeles County Museum of Art. Please click on the image for greater clarity.
There is evidence in Scripture for the doctrine of temporal punishment to repair damage even after the sin is forgiven. Thus even though his sin of doubting God's word had been forgiven, Moses was still not allowed to enter the Promised Land. (Deuteronomy 32:51–52) David was forgiven his adultery with Bathsheba, but still he had to endure the pain of seeing the child die. (2 Samuel 12:1-23)
The punishments of sin
"CCC 1472 To understand this doctrine and practice of the Church, it is necessary to understand that sin has a double consequence. Grave sin deprives us of communion with God and therefore makes us incapable of eternal life [Ed. mortal sin kills the life of grace within us], the privation of which is called the "eternal punishment" of sin. On the other hand every sin, even venial, entails an unhealthy attachment to creatures, which must be purified either here on earth, or after death in the state called Purgatory. This purification frees one from what is called the "temporal punishment" of sin. These two punishments must not be conceived of as a kind of (unthinking) vengeance inflicted by God from without, but as following from the very nature of sin. [Ed. the fulfillment of justice due to transgressions against God.  The state does not seek vengeance, but rather to fulfill justice, to the extent possible, and how one society understands, justice.] A conversion which proceeds from a fervent charity can attain the complete purification of the sinner in such a way that no punishment would remain.84
CCC 1473 The forgiveness of sin and restoration of communion with God entail the remission of the eternal punishment of sin [Ed. through the superabundant sacrifice of Christ on the Cross], but temporal punishment of sin remains. While patiently bearing sufferings and trials of all kinds and, when the day comes, serenely facing death, the Christian must strive to accept this temporal punishment of sin as a grace. He should strive by works of mercy and charity, as well as by prayer and the various practices of penance, to put off completely the "old man" and to put on the "new man." cf Eph 4:22, 24."
Sin has TWO consequences since it offends God. As a bad analogy, if you throw something like a brick at a head of state, rather than someone on the lowest social rung, apologies to the inherent dignity of man, the offense is considered greater. If you offend God, since God is infinite, your offense is infinite, and cannot be redeemed…except by God.
Even when Christ had died and risen and redeemed us from our eternal punishment due to offending God, there is still the temporal justice. The car/money must be restituted to its rightful owner, the damage must be repaired/paid for, the prosecution/sentence of imprisonment must be served. This should make complete sense to us, this temporal punishment in this life. It is nothing other than what we try to achieve for victims each and every day. And, yet, we know justice is not allows perfect in this life nor proportionate it would seem. Where is the righteousness in that reality? As in all things, it lies with God. "Indeed, the very hairs of your head are all numbered." -Lk 12:7. "Truly I tell you, you will not get out until you have paid the last penny." -Mt 5:26. God, by His promises, will bring ultimate justice to pass. Justice is a real mercy to the offended. Thomas Aquinas tells us one of the joys of the saved will be watching the punishment of the damned: ST., SUPPL., Q. 94.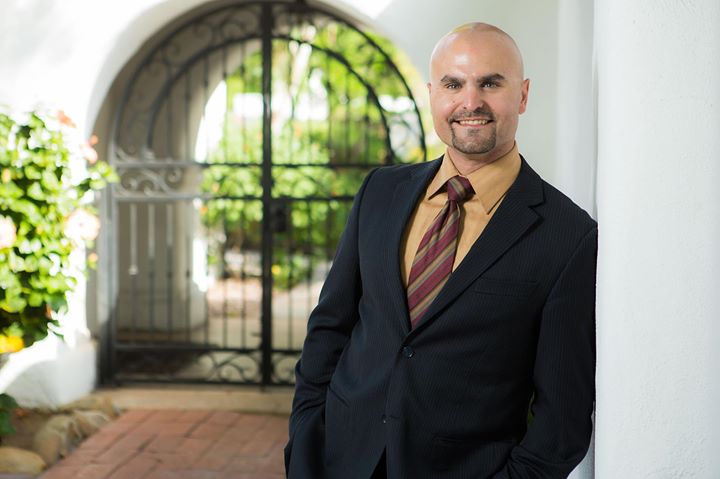 -by Karlo Broussard
"….But simply waiting to arrive at the threshold of that door (of salvation) while I'm going through tremendous suffering here and now doesn't seem to be much of a hopeful message."
I agree. But God reveals that the path to the threshold is not one of waiting but an active participation in God's providence of leading our own souls, and the souls of others, to salvation.
Consider how suffering can contribute to our obtaining eternal life. St. Paul teaches us that we can make our sufferings a sacrificial offering to God: "I urge you, brothers and sisters . . . to offer your bodies as a living sacrifice, holy and pleasing to God—this is your true and proper worship" (Rom. 12:1).
Christianity makes it possible for suffering to be used for good rather than wasted. When done through Jesus it can actually be transformed into an act of worship, and thus an act of love for God, which in turn will be rewarded with eternal life in heaven.
So we can love God through our suffering.
Moreover, when animated by love for God, suffering has the potential to conform us to Christ and make us more like him. As St. Peter says, "For to this you have been called, because Christ also suffered for you, leaving you an example, that you should follow in His steps." (1 Pet. 2:21).
By uniting our suffering to Christ and offering it to God in self-sacrificial love we become like Christ, Who offered His suffering in self-sacrificial love so that we might receive the reward of eternal life.
In this ultimate gift, we see that suffering not only can play a role in our own salvation but also in helping others obtain salvation.
Consider, for example, what St. Paul says in Colossians 1:24: "Now I rejoice in my sufferings for your sake, and in my flesh I complete what is lacking in Christ's afflictions for the sake of His body, that is, the Church."
The Church has never understood this to mean Christ's death was insufficient on an objective level. As the Catechism says, Christ "makes amends superabundantly for the disobedience of Adam" (CCC 411; emphasis added; cf. Summa Theologiae III:48:2). Rather, Christ intends for us to actively participate in that part of his redemptive work in which we are able to share, namely making satisfaction for the debt of temporal punishment due to the sin.
Satisfaction is an act whereby a sinner, out of love, willfully embraces some form of suffering, whether imposed by God (e.g., illness, natural disaster) or self-imposed (e.g., fasting, abstinence from physical pleasures), in order to remit the debt of punishment due for sin.
But because we're finite, and thus unable to make satisfaction for the eternal debt of sin, we can only make satisfaction for the temporal debt of sin. And it's that aspect of satisfaction that Christ wills for us to actively participate in, not only for ourselves but also for others.
St. Thomas Aquinas teaches that given the bond of charity among members of Christ's Mystical Body, making us "all one in Christ" (Gal. 3:28), "the work that is done for another becomes his for whom it is done: and in like manner the work done by a man who is one with me is somewhat mine" (ST Suppl. 71:1). St. Paul hints at this principle in 1 Corinthians 12:26: "If one member suffers, all suffer together; if one member is honored, all rejoice together."
The rewards for such works can't pertain to the state of another person's soul, such as putting him in a right relationship with God here on earth and beatitude in eternal life. But the rewards for these works done for another can pertain to remission of the debt of temporal punishment.
By virtue of the bond of charity, the satisfactory value of one Christian's penitential works can be applied to another Christian for the remission of his or her debt of temporal punishment. Again, Aquinas explains,
"Since those who differ as to the debt of punishment, may be one in will by the union of love, it happens that one who has not sinned, bears willingly the punishment for another: thus even in human affairs we see [people] take the debts of another upon themselves" (ST I-II:87:7; emphasis added)."  [Ed. the Treasury of Merit]
Like Christ, we can suffer in the place of fellow members of Christ's Mystical Body, enduring the pain merited by our brothers' sins, and thus become "secondary and subordinate redeemers."
This is what St. Paul meant in Colossians 1:24. For Paul, Christ wills to associate us with his redeeming work on the cross in applying the merits of his passion and death to others, at least with regard to the remission of temporal debt. And inasmuch as the debt of temporal punishment serves as an obstacle to one's relationship with God, our efforts to help remove such debt for others contributes to their salvation.
So, the suffering wrought by Covid-19 might be a discordant note in God's original score. But he's revealed that with that discordant note he wills to write a whole new symphony. And we're all called to be active participants in it.
We can trust that in the end the symphony will be a beauty to behold. And we'll be able to say with Paul, "O death, where is thy victory? O death, where is thy sting?" (1 Cor. 15:55).
Love, & Holy Thursday,
Matthew