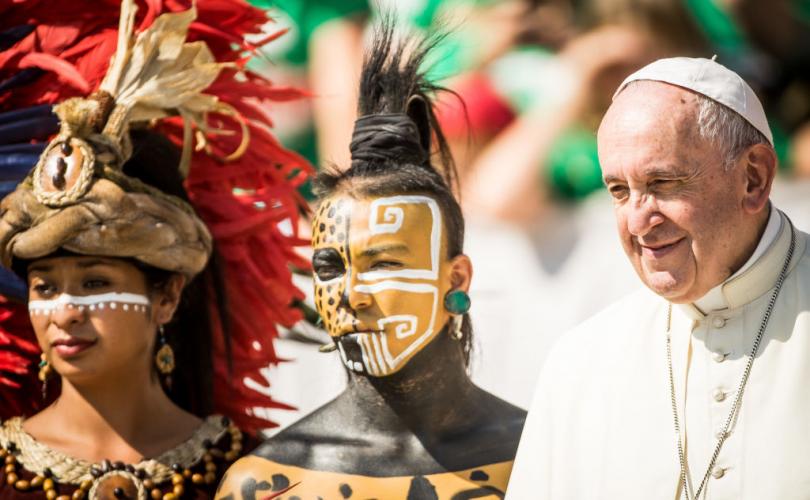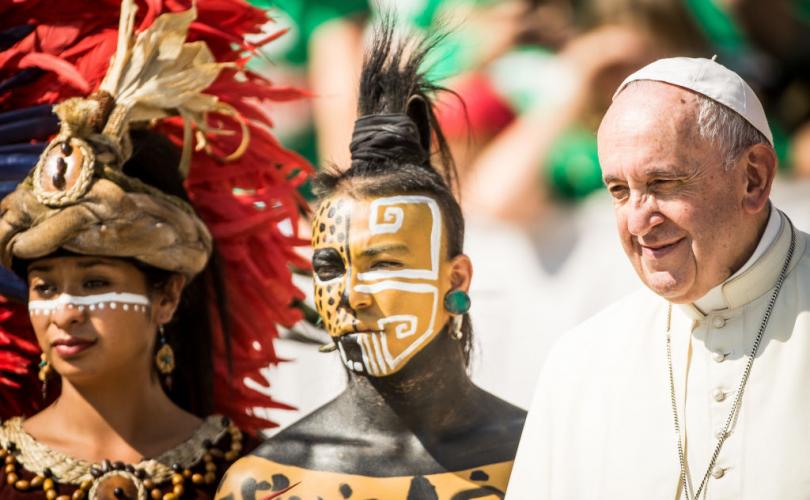 Please click on the image for greater detail.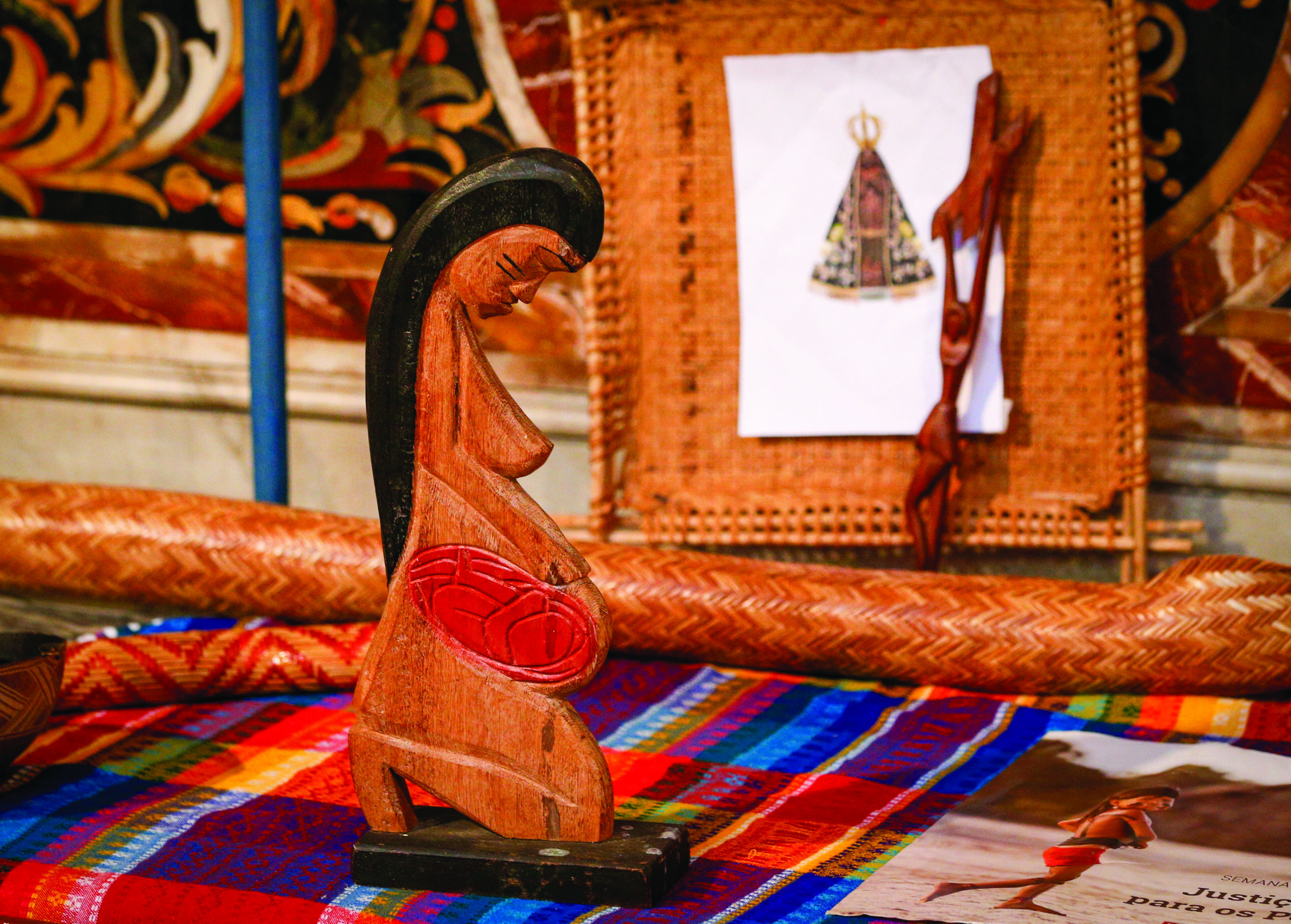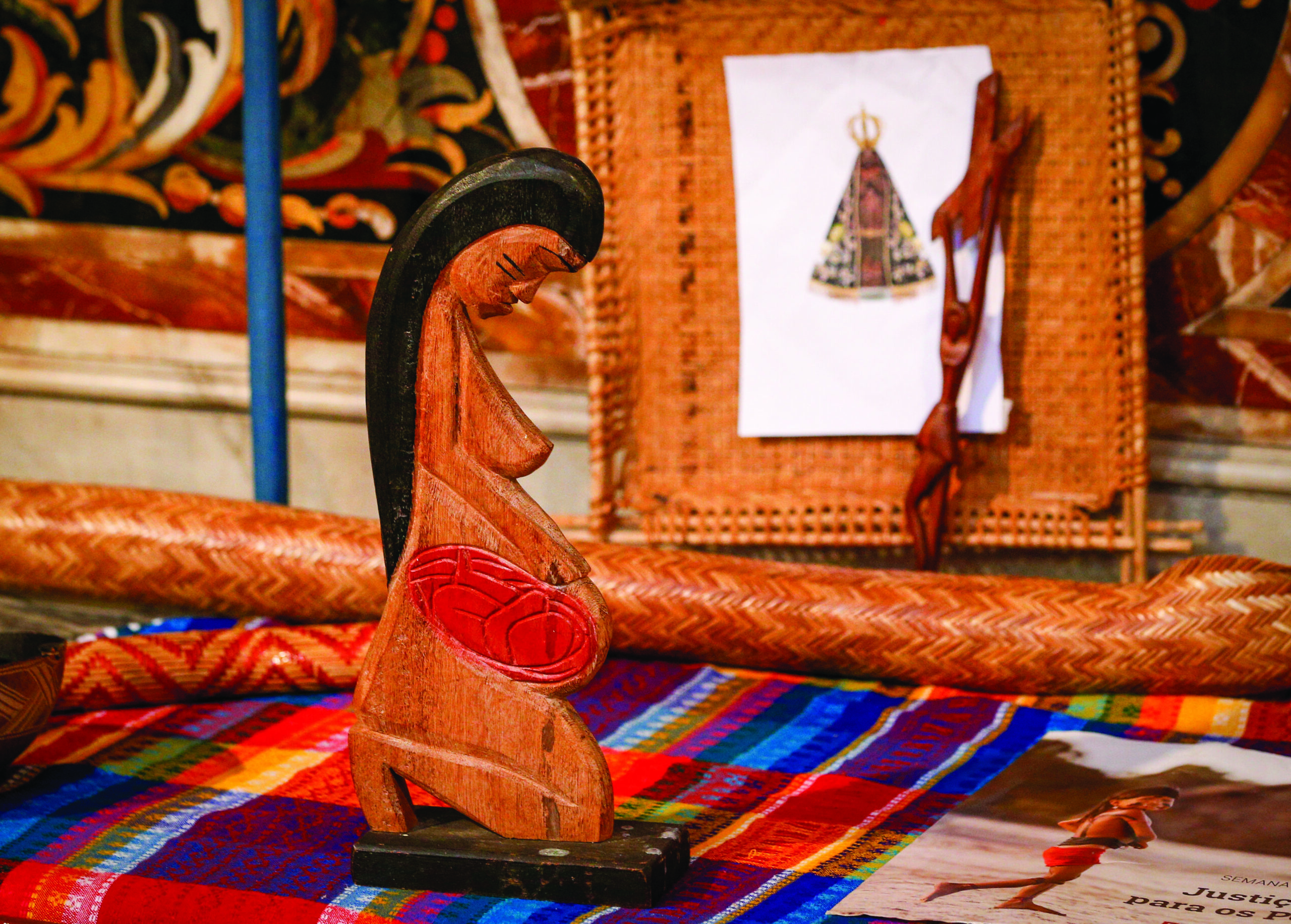 CCC 2113 "Idolatry not only refers to false pagan worship. It remains a constant temptation to faith. Idolatry consists in divinizing what is not God. Man commits idolatry whenever he honors and reveres a creature in place of God, whether this be gods or demons (for example, satanism), power, pleasure, race, ancestors, the state, money, etc. Jesus says, "You cannot serve God and mammon." Many martyrs died for not adoring "the Beast" refusing even to simulate such worship. Idolatry rejects the unique Lordship of God; it is therefore incompatible with communion with God."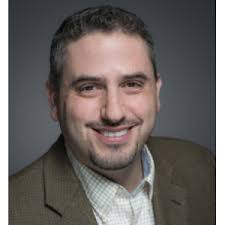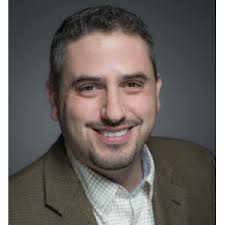 -by Todd Aglialoro, is the director of publishing for Catholic Answers Press. He studied theology at Franciscan University, the University of Fribourg, and the International Theological Institute. A New York native, Todd now lives in the San Diego area with his wife, seven children, and one small bird.
"Conflict continues to bubble over the recent Amazon Synod's embrace of indigenous practices and imagery, with some critics accusing its organizers of tolerating syncretism: an illicit blending of religious ideas or symbols. The most prominent example being, of course, the ritual performed in the Vatican gardens that included various native totems—including one of several statues of a pregnant, naked woman whose identity remains in dispute but which has been popularly tabbed (including by the Holy Father) as the nature/fertility goddess Pachamama.
Some concerned Catholics sent the statues for a swim in the Tiber, but they apparently resurfaced, no worse for wear, and were returned to their former purposes. (Either that, or they were replaced with duplicates, like when your son's hamster dies unexpectedly.) But the debate was just warming up, and last week it was joined by Card. Blase Cupich, archbishop of Chicago, who criticized the "vandalism" of those who introduced Pachamama to Sister River.
He cited the Vatican's official response to the incident, which in turn cited a passage from St. John Henry Newman to the effect that, over history, the Church sometimes adapted elements of non-Christian worship for its own sacred practices. Card. Cupich called this inculturation, which is a term we more often use to refer to the missionary practice of introducing and cultivating the gospel using the cultural touchstones of a place and people (see Redemptoris Missio 52). But it's actually a "two-way street," he said, and we must be prepared to let ourselves be inculturated by our contact with those we're evangelizing.
This is consonant with the synod's working document's express desire that, quoting Pope Francis's Evangelii Gaudium, we let ourselves "be evangelized" by the people of the Amazon, and also with an editorial in the influential Jesuit newspaper La Civita Cattolica that said the Amazon Synod was an opportunity for "the periphery" to "contribute to the transformation of the center."
Syncretism is a kind of mock-inculturation, since it doesn't transform the old and false with the light of the new and true, but seeks to split the difference between them, creating a third thing. Fundamentalist Protestants sometimes accuse Catholicism of being syncretistic from the earliest centuries—of having shaken-up biblical truth with Roman paganism to create the superstitious mystery religion/system of works-salvation/Mary-worship-cult/take-your-pick Church that exists today. And in many of the Church's historical missionary efforts there has been the danger of incomplete evangelization, producing not inculturated Christians but "baptized pagans" who retained some of their old beliefs alongside Catholic ones, or took up hybrid beliefs springing from an alchemy of old and new.
(I remember my first encounter with this: Paul Simon's 1990 album The Rhythm of the Saints. Its liner notes told the story of slaves in Brazil who after conversion to Christianity adapted their percussive pagan rituals to the veneration of saints. But what seemed at first like a textbook inculturation case was actually a prime example of syncretism: the evolution of the cult of Candomblé, a soup of Catholic, African, and native South American religious ideas.)
From the point of view of faith, then, true evangelization and true inculturation are a one-way street. Yes, Catholicism is "incarnated" in different concrete cultural expressions, and yes, on the natural level the "seeds of the Word" may be present in paganism, as unevangelized peoples give voice to their innate longing for the unknown Creator. But at root it is always the one Faith: shining, transforming, revolutionizing, making all things new. It doesn't negotiate with paganism but overwhelms and completes it with truth.
This is why the presence of naturalistic and pagan trappings during the Amazon Synod—along with statements like that of Bp. Erwin Kräutler, a principal synod player who has claimed that in decades of ministry in South America he has never baptized an indigenous person and never intends to do so—are troubling to so many. They may suggest, first, that the aim is not to Christianize pagan practices but to embrace them, in their raw form, alongside Christian ones in a syncretistic synthesis (perhaps part of a new "Amazonian rite"). And second, in a break from the usual mission approach, that the Church needs to learn from pagan Amazonia at least as much as it needs to teach it.
Inculturation versus syncretism again. It can be very easy to buy the former but take delivery of the latter. For of course it's licit to emphasize the need for the Church to preach in a people's cultural language. And it can be quite reasonable, even laudably humble, to recognize that a non-Christian culture may possess natural virtues (for example, a harmonious, anti-consumerist approach to God's creation) that can edify us in turn.
But these pursuits are different from splitting the difference with paganism in an indifferentist bargain that mushes together Mother Earth and Mother Mary as interchangeable symbols of the life-giving Divine Feminine. Or from inviting animism to backwash into Catholicism with a dose of romanticized eco-spirituality.
How do we tell the difference? By close observation.
Inculturation is grounded in the truths of the Faith. When the evangelizing Church embraces elements of non-Christian cultures, it does so in order to use them as vessels for delivering Catholic truth unadulterated. No matter what it accidentally looks, sounds, or smells like, inculturated Christianity is always recognizable Christianity: monotheistic, trinitarian, biblical, apostolic, eucharistic, historical not gnostic, orthodox in faith and morals. The Blessed Mother may be depicted with brown skin and wearing the garb of a Mexican peasant woman, but she is still the lowly handmaid of Nazareth who said yes to an angel and bore the God-man, the second person of the Triune deity who revealed himself to the fathers of Israel.
For the evangelizing Church, authentic two-way inculturation lets us learn natural lessons from the "peripheries" that promote our deeper reflection on the truths that we present and that we strive to live every day.
Syncretism, on the other hand, introduces alien novelty. It results either in an embrace of falsehood along with truth or in their combination into a new thing. And not as a clever temporary measure meant to accompany people toward acceptance of the full Christian truth, but as an end—even a desirable one, considered more sophisticated and holistically true than either Christianity or paganism by itself. "Are not those who worship divinity in the Eucharist and in the earth," the syncretist may ask, "possessors of a richer, more complete theology?"
Syncretism likewise becomes two-way when we take the wish to be "evangelized" by paganism beyond a natural or metaphorical sense and treat it as openness to a new revelation. The syncretistic impulse says not only, "Let us profit from whatever is good in this culture's love of creation or respect for ancestors," but, "Let us add its theology to our own; let us welcome its idols into our worship and bow before them."
True inculturation means that new Christians can keep their old "rhythms"—but play them only for the Lord and the saints, leaving behind their dead gods. We should recognize that difference, and pray that from the Amazon Synod only true evangelization and full conversion may flow.
Love, and EVERYBODY TAKE A BREATH!!!! AND LIGHTEN UP!!!! Who wants to join a Church of fascists? Not me.
Matthew