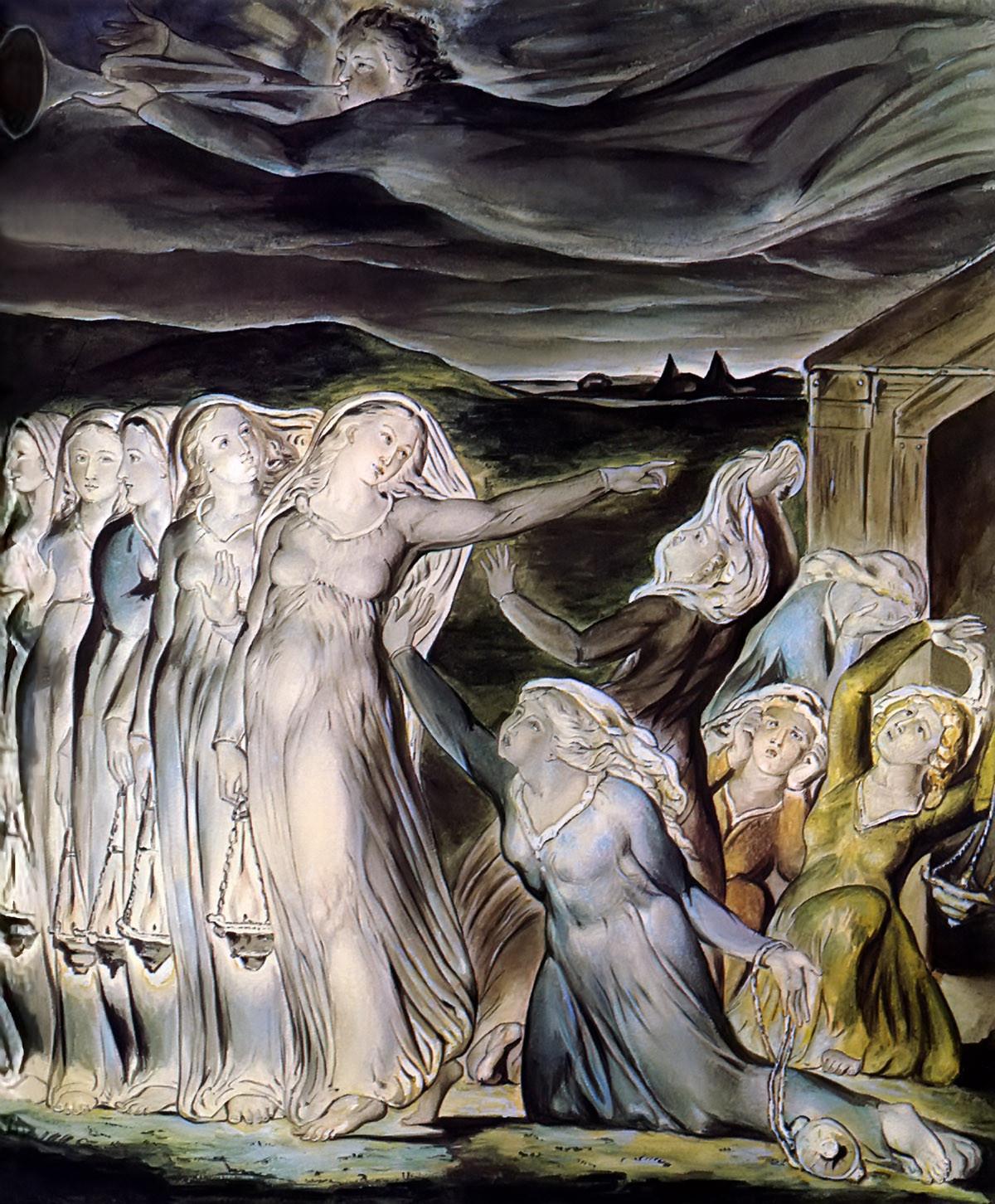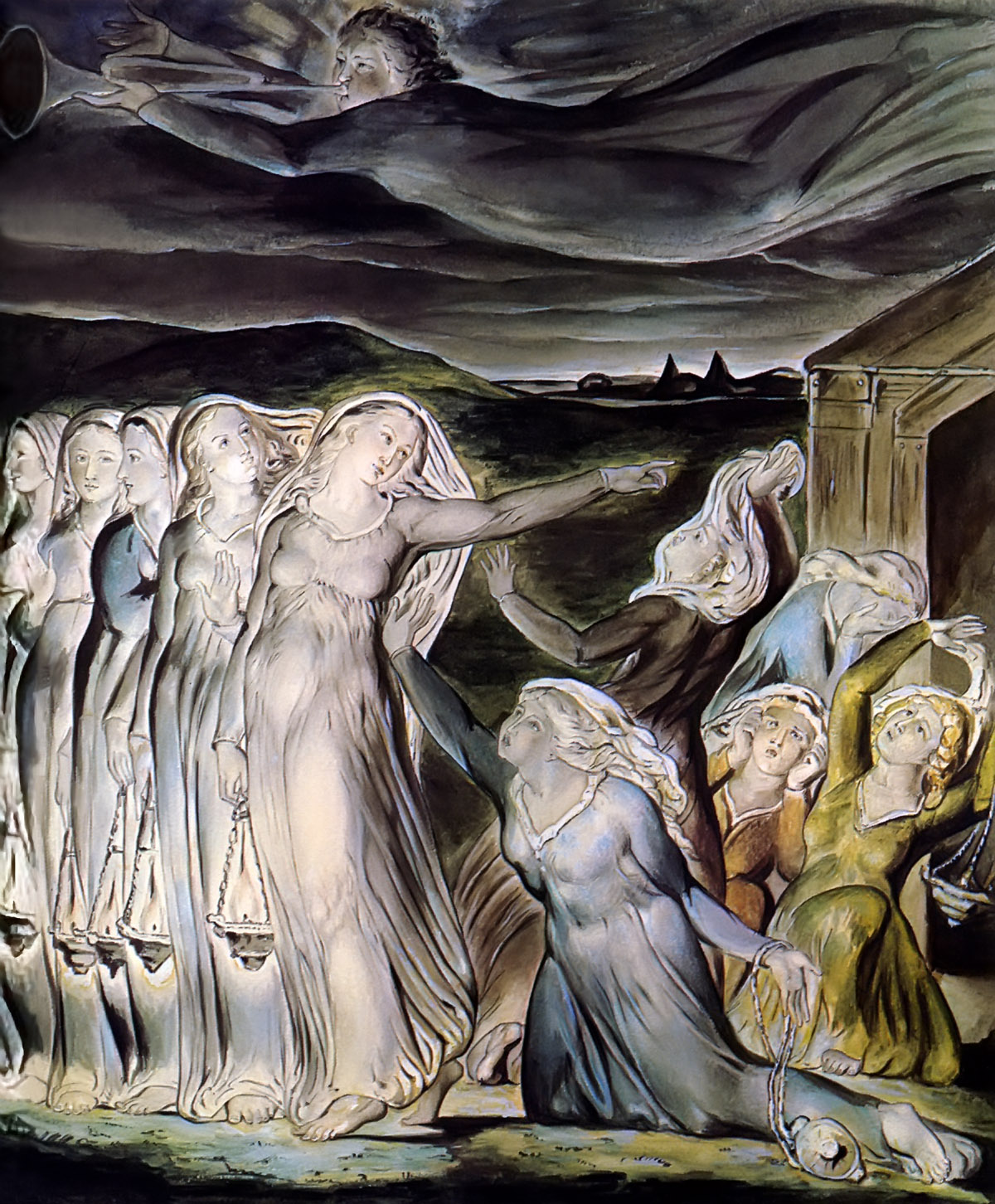 -The Parable of the Wise and Foolish Virgins (1822) by William Blake, Tate Gallery, London, UK, please click on the image for greater detail.
"At that time the kingdom of heaven will be like ten virgins who took their lamps and went out to meet the bridegroom. Five of them were foolish and five were wise. The foolish ones took their lamps but did not take any oil with them. The wise ones, however, took oil in jars along with their lamps. The bridegroom was a long time in coming, and they all became drowsy and fell asleep.
"At midnight the cry rang out: 'Here's the bridegroom! Come out to meet him!'
"Then all the virgins woke up and trimmed their lamps. The foolish ones said to the wise, 'Give us some of your oil; our lamps are going out.'
"'No,' they replied, 'there may not be enough for both us and you. Instead, go to those who sell oil and buy some for yourselves.'
"But while they were on their way to buy the oil, the bridegroom arrived. The virgins who were ready went in with him to the wedding banquet. And the door was shut.
"Later the others also came. 'Lord, Lord,' they said, 'open the door for us!'
"But he replied, 'Truly I tell you, I don't know you.'
"Therefore keep watch, because you do not know the day or the hour."
-Matthew 25
CCC 1806 Prudence is the virtue that disposes practical reason to discern our true good in every circumstance and to choose the right means of achieving it; "the prudent man looks where he is going."(Prov 14:15). "Keep sane and sober for your prayers."(1 Pet 4:7). Prudence is "right reason in action," writes St. Thomas Aquinas, following Aristotle. ST II-II,47,2. It is not to be confused with timidity or fear, nor with duplicity or dissimulation. It is called auriga virtutum (the charioteer of the virtues); it guides the other virtues by setting rule and measure. It is prudence that immediately guides the judgment of conscience. The prudent man determines and directs his conduct in accordance with this judgment. With the help of this virtue we apply moral principles to particular cases without error and overcome doubts about the good to achieve and the evil to avoid.
-by Rev Gabriel of St Mary Magdalen, OCD, Divine Intimacy, Baronius Press, (c) 1964
Presence of God – Show me, O Lord, the way of true prudence.
MEDITATION
If we wish to attain union with God, our whole life should be directed toward Him; and as our life is made up of many acts, we should see that each one is a step forward on the way that leads to Him. Supernatural prudence is that virtue which suggests to us what we should do and what we should avoid in order to reach the goal we have set for ourselves. If we wish to reach union with God, prudence tells us to conform ourself in everything to His will, to detach ourself from all things, even the least, if it be contrary to His divine will. If we wish to become a saint, we must perform these acts of charity and generosity without recoiling from the sacrifice. If we wish to become a soul of prayer, we must strive to be recollected, to avoid useless conversation, to mortify our curiosity, and to apply ourself diligently to prayer. Thus prudence prescribes what we ought to do and what we ought to avoid, whether in view of our final end—union with God, sanctity—or in view of an immediate goal—such as the acquisition of particular virtues—which, however, always must be ordered to our final end.
The parable of the wise and foolish virgins effectively demonstrates the need of this virtue. They all slept while waiting for the bridegroom to come; when he arrived, the first five were admitted into the banquet hall, the other five were refused simply because they had not had the prudence to provide themselves with sufficient oil to fill their lamps. And the parable concludes: "Watch ye therefore, because you know not the day nor the hour" (Matthew 25:13). Supernatural prudence counsels us first of all to make good use of the time God gives us and the opportunities He offers us to practice virtue, because "the night cometh, when no man can work" (John 9:4). When, through indolence or carelessness, we miss an opportunity to do a good deed, it is lost forever; others may present themselves later, it is true, but that one will never return again.
COLLOQUY
"O my God, a soul who loves You listens no more to the suggestions of human prudence. Faith and love alone influence her, making her despise all earthly things, holding them to be worthless, as indeed they are. She cares not for any earthly good, being convinced that all is vanity. When she finds that by doing something she can serve You better, she listens to no objections but acts at once, for she understands that her profit consists entirely in this" (cf. Teresa of Jesus Conceptions of the Love of God 3).
"O Lord, if I wish to be a saint, I must live entirely on a supernatural plane, always remembering that 'whatsoever is not God, is nothing,' as the author of the Imitation says; consequently, I must leave all things or make use of all to come to You.
"If I do not watch over myself, I can materialize even spiritual things by considering everything superficially, under its human aspect. Alas! O Lord, I know that at times I have acted in this way.
"Oh no! a life spent for You is so great, so beautiful! But it is not great because of any extraordinary deeds, but rather because of the love and fidelity with which I must inform even the least important duties, which transforms these least actions, as well as all my daily occupations; it is great because of the apostolic intentions which vivify my prayers and sacrifices. Teach me, O Lord, to give the greatest amount of love to each instant, to make eternal every passing moment, by giving it the added value of charity" (cf. Sr. Carmela of the Holy Spirit, O.C.D.)."
Love & prudence,
Matthew