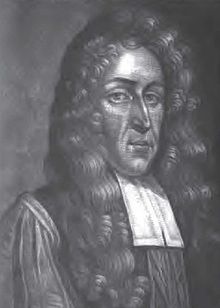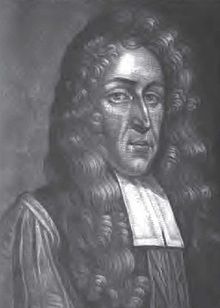 The Popish Plot was a conspiracy alleged and purported by Titus Oates, "Titus the Liar", that between 1678 and 1681 gripped the Kingdoms of England and Scotland in anti-Catholic hysteria. Oates alleged that there was an extensive Catholic conspiracy to assassinate Charles II, accusations that led to the executions of at least 22 men and precipitated the Exclusion Bill Crisis. Eventually Oates's intricate web of accusations fell apart, leading to his arrest and conviction for perjury.
Blessed Richard Langhorne (c. 1624 – 14 July 1679) was a lawyer executed as part of the Popish Plot. "The Honourable Society of the Inner Temple", commonly known as Inner Temple, is one of the four Inns of Court (professional associations for barristers/lawyers and judges) in London. To be called to the Bar and practice as a lawyer in England and Wales, a person must belong to one of these Inns. Bl Richard Langhorne was admitted to the Inner Temple in May 1647 and called to the bar in November 1654. He provided legal and financial advice for the Jesuits.  Blessed Richard followed his father into the practice of law.
Blessed Richard married Dorothy Legatt of Havering, Essex, England, a Protestant; they lived on Shire Lane in London, had two sons, Charles and Francis, both of whom became priests. Part of Richard's work was to advise the local Jesuits on legal and financial matters, which would come back to haunt him. His sons, due to the Reformation, had to pursue their seminary training outside of England. They attended the English College (for English students) at St Omer run by the Jesuits.
Oates, at first, attended Cambridge. There he gained a reputation for being fanatically hypocritical and sanctimonious, and homosexual.  Not a good student, Oates was called "a great dunce" by his tutor.
By falsely claiming to have a degree, Oates gained a license to preach from the Bishop of London. On 29 May 1670 he was ordained as a priest of the Church of England. During this time Oates accused a schoolmaster in Hastings of sodomy with one of his pupils, hoping to get the schoolmaster's post. However, the charge was shown to be false, and Oates himself was soon facing charges of perjury, but he escaped jail and fled to London. In 1675 Oates became a chaplain in the Royal Navy. Oates was soon accused of buggery, which was a capital offense, and spared only because of his clerical status. He was dismissed from the navy in 1676.
In August 1676, Oates was arrested in London and returned to Hastings to face trial for his outstanding perjury charges, but he escaped a second time and returned to London. With the help of the actor Matthew Medburne, he joined the household of the Catholic Henry Howard, 7th Duke of Norfolk, as an Anglican chaplain to those members of Howard's household who were Protestants. He soon lost this position.
On Ash Wednesday in 1677 Oates was received into the Catholic Church. Oates was involved with the Jesuit houses of St Omer in France and the Royal English College at Valladolid in Spain. Oates was admitted to a course in Valladolid through the support of Richard Strange, SJ, head of the English Province, despite a lack of basic competence in Latin.  He later claimed, falsely, that he had become a Catholic Doctor of Divinity. His ignorance of Latin was quickly exposed, and his frequently blasphemous conversation and attacks on the monarchy shocked both his teachers and the other students. Thomas Whitbread, SJ, the new Provincial, took a much firmer line with Oates than had Strange and, in June 1678, expelled him from St Omer. Oddly, at the same time, Oates agreed to co-author a series of anti-Catholic pamphlets with Israel Tonge, whom he had met through Oates' father. When he returned to London, he rekindled his friendship with Tonge. Oates explained that he had pretended to become a Catholic to learn about the secrets of the Jesuits.
In October 1677, Charles Langhorne entrusted Oates with a letter to his father. Oates returned to St Omer with a letter from Richard thanking the Jesuits for all they had done for his sons.
Being Catholic, Richard was arrested on 15 June 1667, suspected of involvement in the great fire of London in September 1666, but was released. He was arrested again on 7 October 1678 and lodged in solitary confinement in Newgate Prison for eight months on suspicion of involvement in the Popish Plot of Titus Oates. Oates claimed, corroborated by William Bedloe, that Langhorne's earlier correspondence dealt with treason.  Though Richard denied knowledge of any such thing, on 14 June 1679 he was found guilty of conspiring with the Jesuits to burn London, and sentenced to death.
As the result of a petition by his wife, a 'true Protestant', he received a month's reprieve to tidy the affairs of his clients. He was executed at Tyburn, London, on 14 July 1679. According to the Benedictines at Tyburn Convent, "He declared on the scaffold at Tyburn, that not only a pardon, but many preferments and estates had been offered to him if he would forsake his religion. As the hangman was placing the rope round his neck, he took it into his hands and kissed it."
This notice from The Tablet archives has this additional detail about his execution from a contemporary account:
"He then said, 'Pray God bless his Majesty and this kingdom, and defend him from all his enemies '; and then prayed that there might be no more blood shed, and that God would forgive them that designed or rejoyced in his death, and suddenly added, 'I shall say no more in publick.' And presently applyed himself to his private devotions, and by some words which he spake lowder than ordinary it appeared that some of his prayers were in Latin and some in English. One near him saying, the Lord have mercy on his soul,' he, turning to him, said, I thank you for your charity.' Having continued about a quarter of an hour in his private ejaculations (prayers) (though the sheriff told him he might take half an hour if he pleased), he asked whether the rope were right. A while after he said, You need stay no longer for me.' Upon which the cart was immediately drawn away, and the hangman, having struck him on the breast and pull'd his legs to dispatch him, he was stripp'd, and being quite dead, was cut down and the sentence executed upon him. . . .
"After his bowels were burnt and his body quartered according to his sentence, his corps was, by his Majesty's most gracious order, delivered to his friends, who put it into a hearse, with escutcheons about it, and was afterwards interred in the Temple church, in which place he was once a student of the laws."
"I am desirous to be with my Jesus. I am ready and you need stay no longer for me." – Blessed Richard's last words to his executioner
O Blessed News!!
-Bl Richard Langhorne
It is told me I must die.
O blessed news!
I must quit
Earth for Heaven.
My earthly prison for a liberty of joy,
My banishment for my true country.
I must pass
From time to eternity,
From misery to felicity,
From change to immutability.
I must go to fill
My spirit with a plenitude of light,
My will with a fullness of peace,
My memory with a collection of all goods,
My senses with a satiety of pleasures.
I go where I shall find
All things which I can desire,
Nothing which I can fear.
I shall no more want any good,
God shall be unto me all in all,
And my all for all eternity.
I shall see and I shall live,
I shall praise and I shall bless,
And this I shall forever do.
It is told me I must die,
Oh, what happiness!
I am going
To the place of my rest,
To the land of the living,
To the haven of security,
To the kingdom of peace,
To the palace of my God,
To the nuptials of the Lamb,
To sit at the table of my King,
To feed on His blessed sight,
To see what no eye hath seen,
To hear what no ear hath heard,
To enjoy what no mortal can conceive.
Amen.
Blessed Richard Langhorne, pray for us!!!!
Love,
Matthew