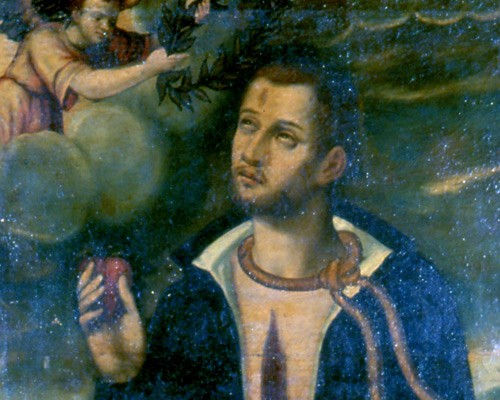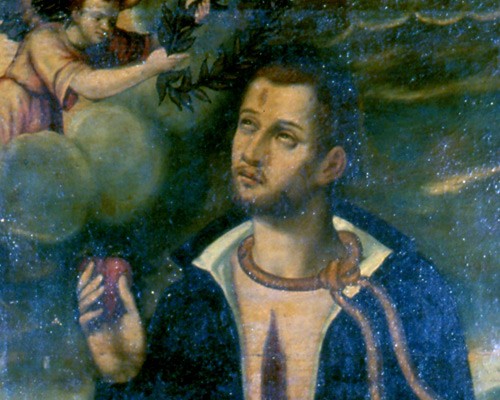 Dominic Collins was born in the seaport town of Youghal, in County Cork, Ireland. His family was well established and respected and both his father and brother were mayors of Youghal. It was in the time of Queen Elizabeth and Anglicanism was the official religion and Irish Catholics were subjected to persecution from time to time.
Although the situation was not yet critical in Youghal, Dominic felt that he did not have much future in the town. Like many others, he decided to leave Ireland and make a better life in Europe. So at the age of twenty, Collins arrived in France. He had dreams of joining the cavalry but for that he needed a horse so he worked for some time in various hostelries in Brittany, north-west France. Eventually, he was enlisted in the army of the Duke of Mercoeus, who was a member of the Catholic League fighting against the Protestan Huguenots in Brittany. Dominic had a distinguished military career lasting nine years.
He was promoted to captain of the cavalry and later military governor when he managed to recover land from the Huguenots.
Although he had a good pension following his service to the King of Spain, he began to realize that being a soldier was not the future he wanted. In the Lent of 1598, he met an Irish Jesuit, Thomas White, who introduced him to the Jesuit superiors in Salamanca, Spain, after hearing Dominic's desire to do something better with his life. Although he was now 32 years old, the Jesuit provincial thought it was wise to delay his entrance, perhaps to test the strength of his vocation. There were doubts too about his sufficiently educated to become a priest but he was willing to be a Jesuit brother. He entered the Jesuit novitiate in Santiago de Compostela in northern Spain in December 1598. When the Jesuit College was struck by a plague, Dominic tended the victims, nursing some of them back to health and comforting the others in their last hours. A report from that time describes him as a man of sound judgement and great physical strength; mature, prudent and sociable, though inclined to be hot-tempered and obstinate. He was allowed to profess temporary religious vows in the Society in February 1601.
Soon after his profession, an expedition was organized by King Philip III of Spain to assist Hugh O'Neill and Red Hugh O'Donnell in their attempt at revolt against English rule. Seven months after his profession, Brother Dominic Collins was assigned as companion and assistant to Fr James Archer, an Irish Jesuit who was being sent by the king as chaplain to the expedition. Fr Archer has specifically asked for Collins as his assistant due to his extensive military background.
The two Jesuits sailed in September 1601 on different vessels which became separated during a storm. When Bro Collins finally reached Ireland in December, two months after Fr Archer; Castlehaven in southwestern Cork on 1 December, the main squadron with Fr Archer having reached Kinsale more than two months earlier.
The Irish attacked Kinsale at dawn on Christmas Eve but were defeated. Bro Collins was reunited with Fr Archer in February 1602 and together the two Jesuits proceeded to Dunboy Castle, which the Irish had recently regained. Some months later Bro Collins found himself (Fr Archer had left for Spain to persuade the king to send reinforcements) besieged inside Dunboy Castle with 143 defenders. With the landing on 6 June of huge English forces, Dunboy Castle fortifications began to crumble under the heavy bombardment. Many of the Irish defenders were killed and the Castle surrendered. With the exception of Dominic Collins and two others, all the remaining 77 defenders were executed by hanging in the castle yard.
Dominic was later imprisoned in Cork, tortured for three months, and, despite several offers to spare his life if he would divulge information about Catholics and to renounce his vocation as a Jesuit and join the established Church, he flatly refused. He also rejected the offer of an honorable position in the English army and Protestant offers of ecclesiastical preferment if he would renounce his Catholic faith. Even his own relatives tried persuading him to renounce the faith publicly while inwardly remaining faithful to Catholicism. But this he would not do.
He was finally condemned to death and on 31 October 1602 he was taken to Youghal, his hometown and hanged. Before climbing the scaffold, he spoke to the crowd in Irish, Spanish, and English, saying he was happy to die for his faith. He was so cheerful that an English officer remarked, "He is going to his death as eagerly as I would go to a banquet." Bro Collins overheard him and replied, "For this cause I would be willing to die not one but a thousand deaths." So moved was the crowd that the hangman fled and a passing fisherman was forced to do the job.
Blessed Dominic is remembered for his constancy in the faith. Though freedom and advancement were set before him, he chose to "endure the cross, despising its shame" (cf. Heb 12:2).
Dominic's martyrdom is commemorated in a carving at St. Colman's Cathedral, Cobh, Co. Cork. Liturgically his feast is celebrated on 20 June, or 30 October (in the Society of Jesus). Today a Jesuit residence in Dublin is named for him.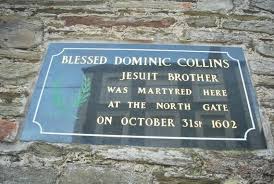 Left hanging on the gallows, the rope eventually broke and Dominic's body fell to the ground. Under cover of darkness, local Catholics took his body away and buried him with respect in a secret place. From that day he was venerated as a martyr in Youghal and his fame quickly spread throughout Ireland and Europe. In the Irish Colleges of Douai and Salamanca the Jesuits showed his portrait and many favors and cures were attributed to his intercession. Although used to the rough life of the army camp, Dominic always kept a strange innocence and gentleness. He is one of the most attractive of all the Irish martyrs.
All powerful and ever-living God, You gave us an example of marvelous courage in the blessed martyrs Dominic and his companions. For the joy that was set before them they endured the cross, despising its shame. Grant by their prayers that, faithful to Your commandments, we may bring forth the fruits of unity and peace.
Love,
Matthew