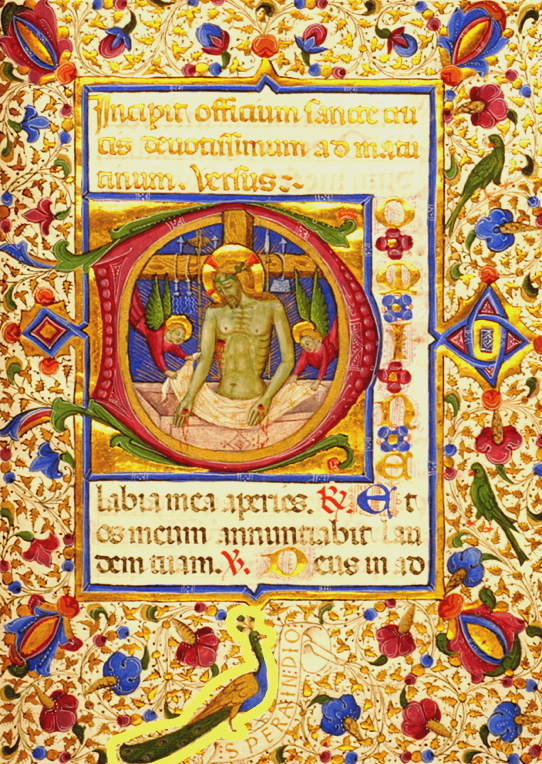 "Peacocks often appear in early Christian art as a symbol of the Resurrection and Eternal Life. There are various levels to this symbolism.
Pagan Roots
The most obvious is a carry-over from ancient pagan religions, some of which held the belief that the peacock's flesh never decayed, even after it died. Early Christians, therefore, adopted the bird as a symbol of the Resurrection, Christ's eternal, glorious existence.
Medieval Theories
In medieval times, it was also thought that peacocks molt (shed their feathers) every year, and the new ones that grow are more beautiful than the old ones. Along with this idea, medieval legends included the theory that the gorgeous colors of a peacock's feathers came from a special diet: It was believed that peacocks could kill and eat poisonous serpents, ingesting the poison and transforming it into the colors of their feathers. This too contributed to their being an apt symbol of Christ's Resurrection, since Christ "became sin" [cf 2 Corinthians 5:21] for us on the Cross, but then rose from the dead with his glorified body and wounds having conquered the powers of evil.
Regardless of the biological accuracy or inaccuracy of these traditions, they help explain why Christian artists often used peacocks as a symbol of the Resurrection and Eternal Life.
Hidden Splendor
Personally, however, I have always been moved even more deeply by another level of symbolism that we can discover in this intriguing bird.
During the normal activities of a normal day, peacocks are fairly normal looking animals. And yet, all the while they are pecking and clucking like your average fowl, a hidden splendor lies underneath. When they spread their tail-feathers, this magnificence shines forth, revealing their true beauty.
The symbolism here is clear. When you see a Christian walking along the street, you can't tell the difference between him and someone who has never been baptized. From all external appearances, they are both just human beings making their way through the hustle and bustle of daily life. And yet, underneath that ordinary appearance, the Christian soul enjoys a hidden splendor through the transforming power of God's grace. The Blessed Trinity actually dwells in the soul who lives in that grace. And the person living the life of grace has also received a plethora of spiritual gifts: the theological virtues and the other infused virtues; the gifts of the Holy Spirit; the sacramental seals coming from baptism and confirmation, etc.
These spiritual realities are habitually and dynamically present in every Christian who lives the life of grace, but they are not visible in the ordinary way. Their full splendor will only become visible when the Christian enters into eternal life and comes to share in Christ's own glorious resurrection. At that point, the hidden magnificence of each Christian's soul will be revealed, to the wonderment of all, similar to a sudden spreading of the peacock's magnificent feathers.
It's only an artistic symbol, so there isn't a perfect correlation. But it's a lovely one, in my opinion."
Love, and beauty,
Matthew